SEPTEMBER 1907 - HIRAM PRATT DIARY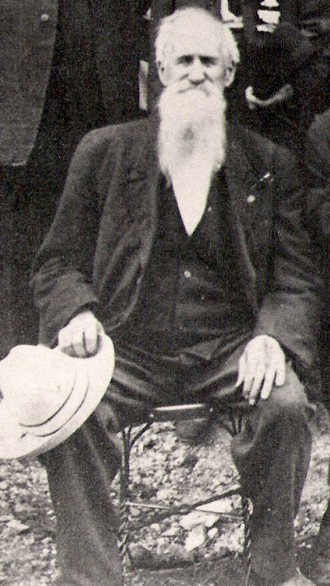 Note: These diaries were in the Waveland Public Library for decades but were disposed of by a librarian several decades ago. Luckily, another librarian's daughter (thanks sooo much Pam, at the death of her mother, Virginia Banta Sharpe found them in some belongings and gave them back for proper housing. A complete circle; however, only 14 of the 50+ diaries were saved from the library's incinerator. I'm a librarian too and thought since they'd been lost to posterity for so many years that it would be a good thing to transcribe them and give them to the world. They are currently housed in proper temperature/storage at the Crawfordsville District Public Library - typed as they were written
Note 2 : Karen Bazzani Zach (transcriber) was raised in the big 'ol town (500 people) where HA Pratt lived 5 decades before I was born. I remember the building where his little shop was and wish it was still there. What an interesting little place. ALAS! Progress ! Oh, and I've tried to type the diaries as is - mistakes & all
Note 3: Some information about Pratt -- he was born in Parke County, Indiana April 20, 1840 the oldest child of eight born to Erastus & Elizabeth Allen Pratt and died October 12, 1914 in his beloved Waveland, Indiana. He was twice married, first to the love of his life (he kept a life-sized poster of her in one of his cabinets at his barber shop, even long after his second marriage) Eliza Franklin Shaw (born Oct 23, 1841 died Oct 12, 1887), and #2 to his friend, Evaline "Eva" McMains. He was very active in the community where he and Eliza chose to live. He gave generously of his time and money to the Methodist Church in Waveland. For a few years, he served as Marshall of the town. Also, he worked diligently for his Odd Fellows, Rebekah & Knights of Phythias Lodges, was for a time on the town board, and read to those who could not read from the several newspapers he was agent for. Pratt volunteered and served for three years during the Civil War (Co. B, 36th Infantry), and spent time in the dreaded Andersonville prison. He and Eliza adopted a son, Willie Franklin Stump, age two (not sure ever officially or just had permission to take him from the Poor House in Crawfordsville) and he was an amazing young boy (high grades, worked in the church, quite musicially inclined, just an ideal child) until Eliza was taken to the hospital where she was operated on for six cervical tumors (one weighing six pounds) from which she died. Willie went wild after that and he and Hiram's second wife, Eva never got along. He ended-up in Reform School (for stealing a dollar twice from Eva among other small crimes), and later sent home to die due to consumption (what we know as tuberculosis) dying in Hiram's arms on April 12, in 1894. Hiram missed Willie and Eliza more than most I do believe as he wrote about them so often in these diaries. Just wish the rest of Pratt's diaries he wrote for over 50 years as a barber in Waveland still existed :( kbz -- ENJOY
---
Sunday Sept 1 -- I heard our pastor at the morning service. This afternoon we did intend to attend the funeral of our old townsman and fellow citizen Wm. H. Peterman but a shower of rain prevented. There was one shower succeeded another for 4 or 5 showers. I could not visit Willie's grave on the account of high weeds. Sadie went to meeting with me tonight. I paid $2 to the benevolence of the church.
Monday Sept 2 -- $4.25. Cloudy 85. Paid Tom Rice $7.60 for hay at the rate of 9 per ton. I owe him one more dollar. Paid Guy Rice a dollar. He is not in my employ any longer. I made the delivery today. Mrs. John Alfrey, Mrs. Mort Crabb of Little Rock, Arkansas, Buddy and Nancy Kelso were at our house for dinner. Mrs. Crabb will remain until tomorrow. Paid 25 c for 6 bread tickets and a dollar for Granulated Sugar. Rev. TG Pierce has started home.
Tuesday Sept 3 -- $5.10. Paid for ice used in the month of August $2.61. Ice cream 25 I got it last night, Mrs. Mort Crabb stayed over night with us and took dinner at Elmer Dietrich's and on the evening train leaving here at 3.33 for Rockville. I took her suitcase from our house to the station. Sadie and Eliza Jarvis drove up to Alfrey's this afternoon a rain storm was on at the time.
Wednesday Sept 4 -- $2.70. Cloudy 70. Paid John Spruhan $1.20 for a ton of coal put in the bin at home. Express on the return of the laundry 35. Sadie and Eliza Jarvis returned before 6 o'clock this evening. They were over in the city this forenoon and done some trading. Jennie and Raymond have returned to Topeka. Paid 30 for a water mellon. They are higher in price than last year.
Thursday Sept 5 -- $2.50. The Methodist conference is now in cession at Greencastle. The rain Tuesday did not reach very far to either side of town. Some of the farmers have oats unthreshed out in the fields in the shock. Raymond Hanna was in town this evening. I was mistaken in what I said of him on yesterday.
Friday Sept 6 -- $1.75. Eva and I are calculating on attending the conference next Sunday. We want to start thorough by horse power early in the morning of Sunday 8. We will put up at Mrs. Smalley's. She used to live in the house now occupied by Henderson Oliver and lies by the side of ours on the west. Beef steak 15 c. The nights are much cooler.
Saturday Sept 7 -- $8.30. My supper consisted of a small piece of cake from home and three dishes of ice cream. Two one gallon with crocks 20. One loaf of salt rising bread 5. One pair of garters for my use 25. I gave Eva a five dollar bill on the day she and Mrs. Jarvis went to Crawfordsville. Charles Oglesby has bought a large 2 seated automobile. The Dragon.
Sunday Sept 8 - It was 20 minutes of 3 when I got out of bed this a.m. Eva allowed it was too early. I returned and was up at 20 minutes of 4 o'clock. We were on the way to Greencastle by 6:30 and were in Greencastle by 11:30. We had to look around awhile before we could find Mary Smalley's residence. We attended meeting at Locust St church. There was a funeral in the afternoon. I attended.
Monday Sept 9 - Our horse lost a shoe from his right hind foot before we got to Russellville and made slow time. I had 2 shoes put on cost 75 c . We left for home at 20 minutes after 2 p.m. Board for "Bob" $1. Water melon 35. 1 glass of lemonade 5. We were 4 hours on the return trip. Last Saturday I paid $5.40 for 40 gal gas. I did not come up to my shop this evening. Buddy Kelso had done the milking.
Tuesday Sept 10 -- $3.05. Cloudy 67. Paid $1.35 for 25 lbs of granulated sugar. 30 for a water melon. Mrs. Smalley was our next door neighbor a few years ago. Her daughter Edith now a young woman of 19 years. She is employed in a Music store at $4 per week. Mrs. Smalley's rent cost $20 a month. She sub rents 4 rooms at $10 each. She can get all the sewing she can do and can make $4 per week.
Wednesday Sept 11 -- $7.10. Sent the Terre Haute Star $1.28 expense 5c. 10 c for a nut meg mellon 05 for a load of bread. Paid Jo Connor 75 c for delivering the papers. 35 c to Mag Moore for washing while in Greencastle I was out to the cemetery 2 times seen where Pearl Bryan was buried and Elder Oliver P. Badger. He was master of ceremony at my last marriage nearly 19 years ago. I never visited Willie's grave Sunday.
Thursday Sept 12 - Cloudy. 67. This date in October 1887 my wife Eliza F. died. This date in March 1894 Willie died. While in the city of Indianapolis today I put out $3.23 aside from what I pd The News and Star. I first called upon Miss Sallie Osborn in Ayers store by her I sent my compliments to her sister Pearl, Mrs. Fithian a married sister and her mother. I met with Clyde Giltner in Ayres' store. The car for Crawfordsville was 5 minutes late or I would have been home at 10 p.m. went to Alfreys.
Friday Sept 13 -- $1. While in Crawfordsville I spent $.65. Sealing wax 10 ice cream 05. Jim and Mary went to the State fair. I was there yesterday and did not get to see half of it. Miss Drew McCormack will marry on the 19th. Ed Cuppy took me in his automobile out to the station in time for the train due here at 10 a.m. I met him in front of Henry Starn's grocery store this a.m.
Saturday Sept 14 -- $8.20. Paid 25 c for my supper. 25 c for a water mellon. I had no one to help me and quit work at 12 o'clock. When I had arrived at home I eat a midnight lunch - milk and bread. At 11 o'clock I went to hear a new preacher. WA Smith. We took dinner and supper with her and Mrs. Frank Roseboom. Tonight I heard our pastor again. He kept me awake at both services.
Sunday Sept 15 - I find I have made a wrong entry on yesterday beginning with "At 11 o'clock." From there to the close of the diary belongs to this date. I made an attempt to visit Willie's grave but found the weeks and underbrush were too tall and dense for the comfort of the venture. Frank Roseboom and I heard the Mormon Elder preach on the street at 4:30.
Monday Sept 16 -- $4.45. Cloudy 80. Paid 50 c for a doz tin cans and a doz rubber rings. 05 for sealing wax. The weather has been a warm one. Rained a wee bit while the sun was shining. Paid Jo Connor 75. I heard two mormon elders preach on the street. They had good attention and gave a good talk . Proved every position discussed by the scriptures. They will leave in the morning.
Tuesday Sept 17 -- Cloudy. 84. $6.10. Sent the Cincinnati Enquirer 73 expense 5c. Elder EO Kelly is conducting a series of meetings in the Christian Church. He began in these meetings on the 8th of the present month but on Monday was taken sick, last Sunday he resumed his work again. The weather has been real warm. No rain today so the old sign of yesterday failed.
Wednesday Sept 18 - Cloudy. 82. $2.30. Sent the Indianapolis Star $2.50. Expense 5c. Paid Mag Moore 35. Gave the Ladies aid society 25. $1.65 for bacon at 23 c per lb. Water melon 20. There was a light shower this noon. Rained a good shower out north of town a mile or so. Paid 60 for a hundred pound of ice and took it home in the wheelbarrow. Burrin drove Bob to Judson tonight.
Thursday Sept 19 - Cloudy. 84. $3.05. Paid Bob Kelso $4.80 for 6 bushel of wheat for the chickens. For oil and gasoline $8.55. Sent JJ Campbell of Logansport for laundry work. $5. Ex 5 c. Wilber Spencer and Drew McCormick were married tonight. I received yesterday a card from Sister Clara Shaw. She wanted me to know they had rented their home for a year. Her sister Helen and niece Jennie are in Chicago.
Friday Sept 20 - Cloudy. 82. $3.10. There was a wee bit of rain fell today. The farmers would be glad to see the corn drying faster than what it is. Paid 10 c for a small bit of beef steak and 20c for three Colorado Cantelope melons. They are wonderly sweet while the meat is as green in color as green grass. Arley Shafer who lost his wife last spring is going to marry within 3 weeks.
Saturday Sept 21 -- $9.00. Cloudy 70. Paid $1.70 for a 50 pound cloth bag of Pillsbury's best flour. 35c for 2 one-pound packages of Arbuckle Arrosa Coffee and 15 c for a small tin can of vermillion paint. Eva wants to paint a chair that Mr. Burrin put a new rocker on. I had no one to help me today. I wanted to eat supper with the aid society of the Methodist Church but could not find time.
Sunday Sept 22 - Cloudy. 73. I heard Elder EO Kelly at the morning hour of service and at 7:30 at night. He talks about money tonight. He is a good speaker and deserves a larger attendance than he gets. Tonight he had a good sized audience. This afternoon I took Sadie up to her nieces (Rusk) and then took David Neely out for a buggy ride. He is 84 years old.
Monday Sept 23 -- $2.40. Beef steak 10c A bushel of apples 60. Two riding bows for my spectacles 75. and then 25 for white onions. Dues to the Knights of Pythias lodge $1.30. To Everetts McMullen 75 for distributing papers last week. I wanted to attend IOOF Lodge but could not get the time. There was a light frost last night, no damage was done to corn or vegetation. Sadie made nearly 2 gal apple butter.
Tuesday Sept 24 -- $2.35. Paid 5 c for ground cinnamon and 5 for unground. 5 c for tooth picks 10c for a water melon and $3 for a half doz. Rogers "47" table spoons Mrs. Rachel Crabb passed through here yesterday at 10 a.m. on the way to her home in Little Rock Arkansaw. (sic). 200 pound of bran and shorts for cow feed cost me $2.80. The temperature in the shop is 67 at 8 p..m
Wednesday Sept 25 - Cloudy.. $37.5. Paid 41.80 for 20 gal of oil 10c for a doz of Mango peppers 40 c for a bit of fresh pork at 12 ½ per pound. 60c for a peck of sweet potatoes. Anderson McMains and his sister Mary Ellen Alfrey took supper with us tonight. Mary will stay a few days. Elder E. O Kelly has closed the meeting. He was not well. Paid 15 for a pair of door hinges.
Thursday Sept 26 -- $.65. Paid 15 c for soldering on the water heater. 5 c for a stalk of celery. RL Rusk his wife and her son Clay Lewis, Mrs. Mary Harbeson and her sister Nancy O'dell both are daughters of John Warrick. Mary Alfrey, Anderson McMains and Will and Nancy Kelso eat dinner at our house today. We had an easy slow rain during the whole of last night.
Friday Sept 27 -- $3. Yesterdays diary should have been written on this space. The weather has turned considerable warmer. Anderson McMains returned home this afternoon. Mary Alfrey will remain over Sunday. Eva has not felt as well as for common for a few days. She eat no supper last night and a very little today. She says she will feel better after a few days rest.
Saturday Sept 28 -- $8.25. Cloudy. Paid 20 c for my supper at the restaurant. Had a fresh oyster stew. Bought 6 lbs of Genuine Jersey sweet potatoes for 25c. I had no one to help me today. Jim Alfrey came in to see me tonight. He is going to return home tomorrow afternoon. Eva is about well lots better than she was a day or so ago.
Sunday Sept 29 - Jim and Mary Alfrey eat dinner with us today. They left for home at half past one when we had done up the work inured by the dinner, I put "Bob" to the buggy and we drove over to Russellville, chatted a few minutes with Mrs. Ross and called at Bert Shigleys went to Methodist Meeting at night. A fire in the cook stove was a comfort we enjoyed.
Monday Sept 30 - Cloudy. 62. $5.15. Paid for the ice used this month $2.20. I had before this paid 60 for 100 lbs. telephone rent $2.10. Dues to the IOOF Lodge $1.40. New grown irish potatoes can be had for 65 per bushel. The unveiling of the McKinley monument at Canton Ohio took place today. President Roosevelt was the principal speaker of the day. Bob Oldshue gave me a pumpkin like pies made of it.