MARCH 1911 - HIRAM PRATT DIARY
Waveland, Indiana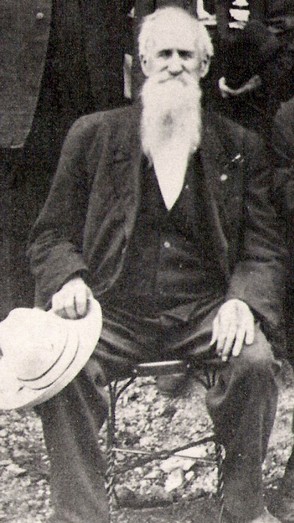 Note: These diaries were in the Waveland Public Library for decades but were disposed of by a librarian several decades ago. Luckily, another librarian's daughter (thanks sooo much Pam, at the death of her mother, Virginia Banta Sharpe found them in some belongings and gave them back for proper housing. A complete circle; however, only 14 of the 50+ diaries were saved from the library's incinerator. I'm a librarian too and thought since they'd been lost to posterity for so many years that it would be a good thing to transcribe them and give them to the world. They are currently housed in proper temperature/storage at the Crawfordsville District Public Library - typed as they were written
Note 2 : Karen Bazzani Zach (transcriber) was raised in the big 'ol town (500 people) where HA Pratt lived 5 decades before I was born. I remember the building where his little shop was and wish it was still there. What an interesting little place. ALAS! Progress ! Oh, and I've tried to type the diaries as is - mistakes & all
Note 3: Some information about Pratt -- he was born in Parke County, Indiana April 20, 1840 the oldest child of eight born to Erastus & Elizabeth Allen Pratt and died October 12, 1914 in his beloved Waveland, Indiana. He was twice married, first to the love of his life (he kept a life-sized poster of her in one of his cabinets at his barber shop, even long after his second marriage) Eliza Franklin Shaw (born Oct 23, 1841 died Oct 12, 1887), and #2 to his friend, Evaline "Eva" McMains. He was very active in the community where he and Eliza chose to live. He gave generously of his time and money to the Methodist Church in Waveland. For a few years, he served as Marshall of the town. Also, he worked diligently for his Odd Fellows, Rebekah & Knights of Phythias Lodges, was for a time on the town board, and read to those who could not read from the several newspapers he was agent for. Pratt volunteered and served for three years during the Civil War (Co. B, 36th Infantry), and spent time in the dreaded Andersonville prison. He and Eliza adopted a son, Willie Franklin Stump, age two (not sure ever officially or just had permission to take him from the Poor House in Crawfordsville) and he was an amazing young boy (high grades, worked in the church, quite musicially inclined, just an ideal child) until Eliza was taken to the hospital where she was operated on for six cervical tumors (one weighing six pounds) from which she died. Willie went wild after that and he and Hiram's second wife, Eva never got along. He ended-up in Reform School (for stealing a dollar twice from Eva among other small crimes), and later sent home to die due to consumption (what we know as tuberculosis) dying in Hiram's arms on April 12, in 1894. Hiram missed Willie and Eliza more than most I do believe as he wrote about them so often in these diaries. Just wish the rest of Pratt's diaries he wrote for over 50 years as a barber in Waveland still existed :( kbz -- ENJOY
---
On front of this diary is a piece of paper glued that says, "Waveland Ind HA Pratt, Diary for the year of 1911.
Inside there is a page to fill out that says "Remembrancer"
Reisdence Waveland PO BOX Ind. Telephone NO 24-6. Business Address Cross Street Telephone no. 6.
Other things are not filled out
Life Ins Policy Union Mutual of Maine at Portland
In case of accident notify Mrs. SE Pratt
---
Wednesday March 1 - .80. 29. There was a car on the Vandalia known as the St. Paul, Millwan ? here and Pugette Sound RY (sic). It contained an exhibit of the product of the Decota, Oregon, Washington and Montana. I passed through it twice the last time at late eventide with my wife. It was wonderfully nice and at night we attended a fun illustrated lecture. 200 pictures were
put on a white canvass showing up the country in good style. It was all very nice indeed.
Thursday March 2 - $3.10. Cloudy all day and cold. 29. Paid The News by check for papers rec'd in February $12.88. and The Laundry $5.19. One dozen mantles for my lamp cost me $1. Paid 50 c for two pound of butter got one of the pounds last week. Bob McMains was at our house last night. He provided some fresh pork. I suppose about 25 c worth. I note that what I have written on this date should have been for tomorrows report. I find that I am taking more cold.
Friday March 3 - 48. Clear most all the day. $1.05. It was 10 minutes past 2 when I got started for Milligan to meet Miranda. The train was 10 minutes late. We returned home before 4 o'clock. Nancy and Fannie were at our house to greet Mrs. Ellis. We eat supper about 5 and I resumed my place and did not return home until about 9 o'clock. Miranda is feeling fine and looking about as well as she did last fall.
Saturday March 4 -- $5.50. 39. Cloudy most of the day. A telegram from Buffalo, NY to the Kritz family announced the death of Rev RV Hunter he was Prof. Kritz's son-in-law. Charles W. Kritz and his sister, Mrs. Cowan and Kleiser are on their way to Buffalo. Paid 2.20 for telephone rent. 45 c for a beef roast. Zachie Robertson for the first time in 9 weeks was in town last Thursday. Eva treated us to a nice mess of real good apple dumplings for dinner.
Sunday March 5 - 39. Cloudy all day and damp. A very little rain fell, thunder was heard in the northwest. At 11 o'clock I went to hear Bro UG Lazenby. He preached a good sermon from the text, "Awake though that sleepest and Christ will give the light." We had a very solemn and impression communion service. Tonight Dave Russell and I went to the Baptist meeting and heard Dr. Elmore of Browns Valley. I thought he done well.
Monday March 6 -- $1.70. Cloudy and damp. 39 Paid 25 for a can of apple butter, 5 for a dish of ice cream and 10 for 2 spools of thread and 10 for a box of spagette (sic). I don't know what it is, after I eat of it will be able to judge of its quality. Paid George Lucas $5.50. Owe him 4 more last Saturday we got an extra pound of butter cost 25 cts. I wrote Almira Petty a letter and enclosed a postal card that Eva gave me to mail 25 of last Jan. I had neglected to mail it.
Tuesday March 7 -- $1.50. Cloudy and damp. 39. Paid 75 c for a small piece of fresh pork. On last Saturday I paid 45 for a roast of beef. Today a pound of Arbuckle coffee 25c. Cheese 30c. Eva had apple dumplings for dinner. An apple cost 5 and will make 3 dumplings a good meal for us three. Eva rec'd a letter from Almira Petty. She lives in Okmulgee, Oklahoma. They were well. Peach trees are in bloom weather is fine down there.
Wednesday March 8 -- $2. Cloudy all day long. 35. Paid 80 c for fresh sausage at 15 c per pound. We had spagetti (sic) for dinner. I thing (sic) it is an ordinary dish. The sausage is fine. Eva and Miranda spent the evening until bed time at Marion Collings'. If I am not detained too long I will stop there for them. We have 2 dozzen hens and got 2 eggs. Have not received more than 5 a day at any time this season. Trouble brewing between this country and Mexico.
Thursday March 9 - Cloudy. Sun shone a little. 53. $2.35. Paid Albert Wright $1. Margarette Moore 40 c 10c for salt, 55 for 3 ¾ yds shirting. 10 for two spools of white thread. The US troops are being concentrated in Texas so as to be ready if their aid is needed. Mexico is trying to put down a rebellion. A US war vessel has been ordered to go in to Mexican water for the protection of foreign interests. Sent $1.25 for Curtis Publishing Co by FW Kritz for Furrall (Ferroll) D. Bilbo.
Friday March 10 - Clear or in a manor (sic) so. 56. $5.30. A dozen oranges 25. a half dozen bananas 10. Cabbage 15. A half dozen bread tickets. Eva got word from Browns Valley that Mrs. John Hunt of Crawfordsville and Mrs. George Todd of Browns Valley would be at our house for dinner on tomorrow. There was an awful explosion of dynamite and nitro glycerene in the Dupont Powder works in Wisconsin. 1 killed 200 injured.
Saturday March 11 - Party clear. 55. $7.50. Piad of John Spruhan $3 for at on of coal for the shop and ordered another ton paid 10c for a dozen cookies 10. A half pound of lettuce 10 c. Mr. John Hunt, his wife and Mrs. George Todd were at our house for the noon day meal. They remained until after 4 o'clock. I see apples in town that retail 3 for 25 they are the largest I remember to ever have seen. A 9 pound girl came yesterday to Clay and Fannie Lewis.
Sunday March 12 - Clear. 58. A few clouds only. I went with Eva both morning and evening to her church. I was not interested in the morning sermon. Missionary, at the night. Sermon I was interested and entertained. Just 17 years ago Little Willie F. Pratt died at 2:40 of the morning. Twenty three years and five months my little woman died at 2:40 of the morning in Terre Haute. The day s of the week and date of the month are the same as in 1887 and 1894.
Monday March 13 -- $1 Cloudy but sun shone dimly. 55. Paid Albert Wright a dollar and George Lewis $3 owe him 1.56. 5 cts for a spool of thread. 10c for repairs on a rocking chair that Eva accidentally broke in getting out of. The indications are getting to look like war in Mexico. The US Army will be apt to be called on that peace may be restored and property protected. Everybody is on the look out for war news. Henry McCampbell called on me late this evening.
Tuesday March 14 -- .65. Cloudy 51. I notice the peach tree buds are on some trees almost ready to bloom. If a real cold snap comes it will be apt to damage the fruit crop. There was another exhibit car at the Vandalia Station. It was much prettier than the one here last week. I put "Bob" to the buggy and Eva and her sister Miranda went to see it. They also called at Mrs. Bloomfields and attended the lecture tonight. Paid 25 c for a lecture ticket.
Wednesday March 15 -- $0.95. Cloudy. 26. High wind and cold. Cloudy. Paid 25 c for sausage. There was several snow flurries today. I have not experienced colder weather this winter, though Mercury was down to zero. Paid John Spruhan $3.00 for a ton of coal one day last week. Sent a check of $5.10 to the JP Grimes laundry works date for next Monday. The prospect for trouble with Mexico I think will be on hands now quite soon. They have been ordered to release 2 of our citizens from jail.
Thursday March 16 - $1. 24. Clear most of the day. The high wind yesterday caused a good many fires in Indianapolis and other places. There was a house burned this evening after dark south west of town. It was years ago on the farm owned by Old Uncle Jim Seybold, but now by Wm. Jarvis who lives here in Waveland. Bob McMains took supper with us stayed all night. He will return to Crawfordsville tomorrow evening. Grass is showing up a little green.
Friday March 17 - Cloudy and rained. 43. $2.50. Bob McMains eat supper with us. I neglected to get a loaf of bread in consequence which we were a little shy on bread, however we managed to make out for the mal and had two small bits of corn bread left over. Paid 50 for butter, 2 lbs 10c for skimed milk. 25 c for milk tickets. 5 c for 2 postal cards. After night or lamp lighting we had a good shower of rain. Eva and her sister called to see Mrs. Wolfe and Burrin.
Saturday March 18 -- $5.50. Clear and cool. 29. Paid 30 for a pound coffee steel cost 30c for 6 apples 10c for a pound of crackers. 25 for a quart of nice strawberries. 10c for a dish or bowl of oxtail soup the first I ever tasted and I liked it fine. I was through my work by 10 o'clock it will be 11 before I get to bed. The weather has been rather cool all day. It was necessary to keep up a good fire all day. Mary Ellen will be down here next Friday.
Sunday March 19 - Clear most of the day. 34. I put the horse to the buggy and intended to go over to the north side and get Comrade Tommie Lampson and bring him over to hear Bro. Fertich but learned over the telephone that he was note well enough to undertake the trip. Six persons were baptized. The services were very impressive and solemn. Eva, Miranda and I attended the service tonight. I never got the least bit sleepy. The sermon was to me very interesting. There was a goodly number at each service. (Note: Tom Lamson died in August of this year and had been sick for some time).
Monday March 20 -- $6.50. 57 Clear all day. Paid $3.75 for 25 lbs of dried peaches. $1.80 for a small ham 35. for 1 ¾ lbs cheese 15 for a box to use in caring for young chicks. 25 c for fresh ham. 10c for a package of rolled oats. Sent the News a check for $2.75 ordered the News for Wm. Hershberger and Farmer's Guide one year and the Farmers Guide continued one year to AC Deer. Bob McMains is at our house tonight. He said Mary Ellen came very near dying Sunday night of stomach trouble.
Tuesday March 21 - Clear all day. 66. $1.55. T
he days and nights are 12 hours each this day. Bob Mc went form here to Rockville to see a woman that owed him $50 on a tombstone for her husband. If he failed to get the money he was going to take the stone from the grave. By the terms of sale the stone belongs to him until the last dollar is paid. I was offered a bushel of fine apples for 2.90 too high for my financial standing. Mary Ellen is getting well. She was a very sick woman for awhile.
Wednesday March 22 -- .65. Clear most of the day 56. Mrs. Aquilla Groves took supper with us today or rather tonight. The first little chicks were taken out of the nest this morning. I prepared a box for the hen and her family. We had a rain this morning at about 4 o'clock at commenced and lasted a little over an hour. Paid Albert Wright a dollar and Mrs. Moore 40 cts. A pound of butter 25 cts. There was a cold wind passed today which made it very disagreeable to be out.
Thursday March 23 - The sun did not shine very bright. 40. $.90 Paid 25 for a mop to be used at home in moping up the floor of the kitchen after meals. 10c for 4 oranges. 35 for a beef roast. 5 for a little instrument to clean out the gas lamp when it clogs. All of the tickets for the Old Time Concert are sold 325. I had. Sutton and George Loman started yesterday to make anew home in Montana. The weather is considerable colder and I think there will be frost and ice by morning.
Friday March 24 -- $2. Clear or in a maner so. 49. The old peoples concert was a success financially and socially. Mrs. Pauline Brown of Indianapolis came to see the show and to surprise her sister Miss Emma Russell Miss Josephine McMains and her sister Elsie of Crawfordsville were here and were well attended. They went up to Mary Rusks to stay until morning I had work to attend to and did not attend.
Saturday March 25 -- $6.75. Temp 59. Paid 25 c for a can of pine apple and 25 for one uncaned (sic). 5c for a loaf of bread Our town oven has been under going repairs but will be ready for baking next Monday. I was done work before 11 o'clock, but wont get to bed before 12. Paid 15 cts for my evening lunch when I get home I will have a bowl of sweet milk and bread for my midnight lunch. The peach trees I think will be in bloom next week.
Sunday March 26 - 50. Raining this morning and kept it up nearly all day. I went to hear Elder Burkhart in the Christian meeting house at 11 o'clock tonight. Eva and I went to hear him. He was more interesting to me tonight than at any other time since he has been preaching here. Emma Russell, her sister Nora Groves, Nancy Kelso and her "hubby" were callers this afternoon. The rain subsided tonight, cool now.
Monday March 27 -- $2.15. 31 Snowed nearly all day. But it did not lay on the ground. Paid dues in the Knights of Pythias $1.30 and in the IOOF $1.40. for 25 lbs of granulated sugar $1.35. For 6 tomatoes 25 to Albert Rice or Wright $1. A 24 ½ lb bag of flour 60 cts. The station at Judson burned Friday morning. The coal stove exploded from an accumulation of coal gas and when the coal was stirred it exploded and scattered the coal over the room so that a fire started (hard to read - think that's what it says KZ)
Tuesday March 28 - Cloudy rained most all day. 39. $2.75. Last Saturday I paid $1.10 for 10 gal of gasoline. The much talked of war with Mexico is not talked of now and the whole flurry has passed away. Paid 65 for the half soling of a pair of shoes and other repairs. Paid Mrs. Moore 40 cts for the washing of our wearing apparel. There will be an election held in Crawfordsville next Wednesday to decide for or against the saloon being permitted to sell strong drink.
Wednesday March 29 -- $1.30. More rain today 46. Paid a dollar for 3 brooms. Two for the home and one for the shop. Crawfordsville and Ladoga. Voted to keep the saloons out for two more years. I am real glad of it. Charles Williams went to Crawfordsville this morning to see how the "wets" and "drys" behaved themselves at the pools. Charlie is praying for the success of the "Drys." Bob Moore is doing some tree trimming and cleanring up of our premises. Cool tonight.
Thursday March 30 -- $6.20. The worse day we have had this winter not so cold but wind, rain snow and a very light display of sunshine. Paid Union Mutual Life insurance of Portland, Maine $5.47. The Standard Oil Co $1.10 for ten gallon of gasoline. Two lbs of fresh fish 30cts. It is Charles instead of Bob Moore that is cleaning up our premises. Herbert Lewis has made arrangements for the man who bought the Sam Jarvis farm to work for him this summer and perhaps longer. He will get a dollar a day and furniture. Half the coal and half telephone rent
Friday March 31 -- $3.00 Charles Moore will finish the cleaning up in the morning. Herbert Lewis says if the weather is favorable he will move out on the farm next Tuesday. I am almost persuaded to get a vacuum cleaner for our house cleaning with it we don't raise any dust and don't have to take up the carpets. The one I have in mind cost $10.50 freight added. Eva went over to spend the evening with Mag Moore.