MARCH 1890 - Hiram Pratt Diary
Barber, Waveland, Indiana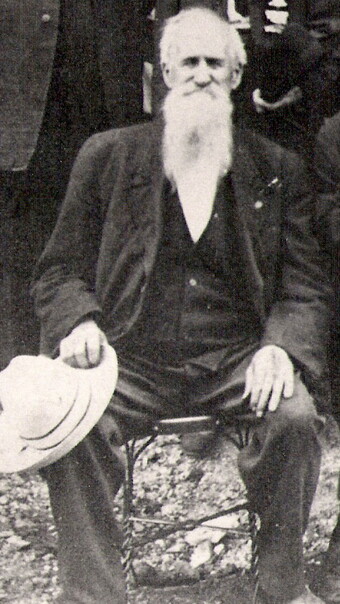 Note: These diaries were in the Waveland Public Library for decades but were disposed of by a librarian several decades ago. Luckily, another librarian's daughter (thanks sooo much Pam, at the death of her mother, Virginia Banta Sharpe found them in some belongings and gave them back for proper housing. A complete circle; however, only 14 of the 50+ diaries were saved from the library's incinerator. I'm a librarian too and thought since they'd been lost to posterity for so many years that it would be a good thing to transcribe them and give them to the world. They are currently housed in proper temperature/storage at the Crawfordsville District Public Library - typed as they were written
Note 2 : Karen Bazzani Zach (transcriber) was raised in the big 'ol town (500 people) where HA Pratt lived 5 decades before I was born. I remember the building where his little shop was and wish it was still there. What an interesting little place. ALAS! Progress !
Note 3: Some information about Pratt -- he was born in Parke County, Indiana April 20, 1840 the oldest child of eight born to Erastus & Elizabeth Allen Pratt and died October 12, 1914 in his beloved Waveland, Indiana. He was twice married, first to the love of his life (he kept a life-sized poster of her in one of his cabinets at his barber shop, even long after his second marriage) Eliza Franklin Shaw (born Oct 23, 1841 died Oct 12, 1887), and #2 to his friend, Evaline "Eva" McMains. He was very active in the community where he and Eliza chose to live. He gave generously of his time and money to the Methodist Church in Waveland. For a few years, he served as Marshall of the town. Also, he worked diligently for his Odd Fellows, Rebekah & Knights of Phythias Lodges, was for a time on the town board, and read to those who could not read from the several newspapers he was agent for. Pratt volunteered and served for three years during the Civil War (Co. B, 36th Infantry), and spent time in the dreaded Andersonville prison. He and Eliza adopted a son, Willie Franklin Stump, age two (not sure ever officially or just had permission to take him from the Poor House in Crawfordsville) and he was an amazing young boy (high grades, worked in the church, quite musicially inclined, just an ideal child) until Eliza was taken to the hospital where she was operated on for six cervical tumors (one weighing six pounds) from which she died. Willie went wild after that and he and Hiram's second wife, Eva never got along. He ended-up in Reform School (for stealing a dollar twice from Eva among other small crimes), and later sent home to die due to consumption (what we know as tuberculosis) dying in Hiram's arms on April 12, in 1894. Hiram missed Willie and Eliza more than most I do believe as he wrote about them so often in these diaries. Just wish the rest of Pratt's diaries he wrote for over 50 years as a barber in Waveland still existed :( kbz
---
Saturday March 1 - I had WW Steele to call and see Willie. He says that he is in a fair way for a spell of pneumonia. I was sorry to hear this for I have my doubts if he shall be able to pull through. I took him some canned peaches for dinner, he thought he could eat some. He ate one dish for supper he tried to eat supper but could not, only one bite. We had a real cold night last night and more of it in store for tonight. I done but little work in the shop today.
Sunday March 2-Willie has remained in bed all day. His cough is the worst of any I ever heard. When he coughs the entire chest of lungs seem in a bad case of decay. I was out to hear our pastor Henry L. Kindig this forenoon and at our Sunday school at 3 p.m. At night I went with Eva to hear Oliver P. Badger. He believes the day will come when all followers or believers in Christ will be known by the name of Christians.
Monday March 3 - Just 29 months agone (sic) was the last day my dear little woman was in this town. Waveland Ind. On the 10.23 a.m. train we left for Terre Haute. The day was Monday Oct 3, 1887. We eat our dinner on that day on the train and at night put up at Mrs. Brown's where we remained until the following Wednesday morning. Willie says he feels some better this morning. I found in his old pants pocket a pocket money purse and $2 stolen from me.
Tuesday March 4 - The Campbellite Christians are holding a district convention here this week. A couple of ladies from Ladoga was at our house for dinner and supper. Tonight misses Lou and Etta Alfrey of Crawfordsville are at our home. Mrs. Wilson of New Market dined with us. The weather is now the coldest of the season. Willie was at Mag Talburts awhile this evening. I think now he will get well again.
Wednesday March 5 - Mrs. Nancy Kelso and her daughter Mary and her two boys Mrs. Martin of Jamestown and Mrs. Wilson's daughter-in-law Mrs. Matilda Canada of New Market. Mercury was down to zero this morning. Thawing a little during the middle of the day. I was at the Campbellite Christian Church a few minutes before services were closed. The Methodist Christians are to have a series of meetings commencing next Sunday.
Thursday March 6 - The two Alfrey girls were at our house for dinner also Mrs. Nancy Kelso. Willie was up town and had his hair cut and was shaved by Frank Kritz. Mercury went down pretty low again in last night. I intend to be at the Methodist Christian prayer meeting tonight. I have not been able to see a single cloud today up to 5 o'clock. I prepared the cookstove last night for the fire this morning and Eva got up and put a match to it at 6 o'clock.
Friday March 7 - The day has been of a threatening character. The sun has not been seen today by anyone of our town. The Alfrey girls went home this morning. Willie is getting better, he thinks he will be able to resume his place in school by next Monday. Henry Alward is very near the end of the race in life. He has dropsy in the worst form. He is about 86 years old.
Saturday March 8 - Rained last night and is turning colder. I done but little work in my shop. The Republicans held a township convention at Browns Valley today. John Whittington was nominated for Trustee and RH Hodgkins for Assessor. The democrats will now hold theirs since they have the republican state before them they can better define their position. Home by half past 11.
Sunday March 9 - I was at class meeting this morning and then attended the Baptist meeting. They had or held communion services. None but those of the Missionary Baptist faith were permitted to participate. At three o'clock I was at our Sunday school. Willie was at the Baptist SS. This evening Eva and I went over to her sister Nancy Kelso's returning by 8 o'clock.
Monday March 10 - Eva had Mrs. Moore to do her washing again this week. Rain commenced to fall last night and has been at it steady all day. Willie went to school. Tonight I had a letter from Miss Carrie McHurrow her school is out and she was at Ottumwa at Bro Will's. She is not going to teach this spring and summer, but if she lives will next fall and winter. Business rather dull.
Tuesday March 11 - Mrs. Moore done the washing today. Our presiding elder HM Middleton is preaching here this week. He is a good preacher and keeps his audience awake, is wholly submissive to the will of the Lord. He leads in the afternoon meetings. The interest in the meetings are sure to increase while he is with us. I am going to give him an invitation to dine with us next Thursday. Roads are fearful bad.
Wednesday March 12 - Eva done the ironing of the clothes today. The weather is more like winter now than in the midst of winter. 29 months ago at 20 minutes of 3 o'clock my precious little woman passed over the Jordan of death. The evening before her death when I was convinced that she must go and was talking to her she said, "Don't bother me now I am so sleepy and need all the rest I can get."
Thursday March 13 - 29 months ago today my dear little pet was put away at the cemetery known as Fletcher Chapel Cemetery near Farmersburg Ind and one mile north of her father Temple Shaw's Pierson Township, Vigo Co. I have a lare (large) picture of her which I prize very highly. It has been two years now since I visited her grave. If she had been berried here, it had been visited quite often. (I think this is quite sad - it is obvious through these diaries how much he adored Eliza but her parents wanted her buried in their hometown. Eva wanted Hiram buried in Waveland, so he and his beloved were far apart but she was never out of his mind - kbz)
Friday March 14 - Our cow found a heifer calf today. We had with us for dinner Elder Middleton our Pastor. HL Kindig and wife and brother AJ Wolfe and Fount Johnson and wife on yesterday. After dinner Elder Middleton read Psalm 103 and offered prayer. Nancy Bloomfield assisted Eva with the work. We had a splendid dinner and a real nice party. Rec'd a letter from Sittie Ellis Durham. She says she is getting stout. Willie is about as well as common.
Saturday March 15 - Had a real busy day in the grocery, done but two jobs of work in the shop. Was home by 11 o'clock. Elder Middleton left here Friday morning. Eva was out there to hear him on Thursday night. We have been having real good meetings. I love to hear a good preacher expound the gospel. Elder OP Badger of Greencastle came in this p.m.
Sunday March 16 - Willie and I were at church this forenoon. I was at class meeting. It was lead by Bro RC Foster. Had a real good meeting. Willie and I were at Sunday School this evening. At night I went with Eva to hear her preacher, OP Badger. I am troubled some with rheumatism in my right knee, otherwise I am about well. Old Uncle Henry Alward is very bad off with dropsy.
Monday March 17 - I am bothered with a rheumatic pain in my right knee which at times makes me quite lame. Tonight I was at church and heard George W. Switzer of Crawfordsville. He is pastor of the Methodist Christian Church of that place. Eva was also with me at church as the house was about full we had to occupy a front seat. Eva's sister Mary Ellen has moved to Alamo, Ind this county.
Tuesday March 18 - Our cold snap is about over. Eva's sister Mary Ellen has left Crawfordsville and is now a resident of Alamo CF Moore and wife intend on going back to Michigan to be gone a year or more. Mrs. Moore at present is in bed sick CF is not very well in consequence is kept housed up all the time. Farmers complain of great damage sustained to the wheat crop by the recent cold weather.
Wednesday March 19 - The Mississippi River is over flowing a great portion of the state of Mississippi and Louisiana. The lives in places is broken. Gaps are in some instances over 400 feet wide. Mr. Henry Alward is yet living. People are wondering how a man can live so badly afflicted as he is. His legs and feet are busted so that great sores are left.
Thursday March 20 - I was at our prayer meeting tonight. The Bowen Merril Co Paper and book store has been destroyed by fire Ten firemen lost their lives in discharge of their duty. A subscription fund has been started for the reup? Of their families. The Journal believes that 20000 dollars are likely to be raised. Eva done her washing last week.
Friday March 21 - In consequence of an open winter our laboring men have been hard pressed to make ends meet. I have been carrying some of them at the grocery supplying their families with provision They promise to pay as soon as they can get work. Hope the weather will soon admit of a revival in trade.
Saturday March 22 - I have done more work in the shop today than for a long while. Frank Kritz has done a good business in the shop this week. Eva has began the making of a half dozen shirts for me. Had a letter from Sittie Ellis Durham this week she is getting stout again. Eva's mother is not in very good health. Ours is tolerable good.
Sunday March 23 - Willie spent the entire day at John Kelso's. I was at class this a.. Shaved CF Moore and then went to John Spruhan's and shaved him. He is in bed sick. Eva had a good dinner ready for me when I got home. She is a good cook and keeps the table well supplied with good eatables. Bill Durham has a position in Terre Haute at McKeane stables.
Monday March 24 - Eva had Mrs. Moore do her washing today. I bought Willie a pair of eye glasses, his eyes are sore and need a shade. We have had lots of big windy weather today. I have paid out nearly 4300 today on bills for groceries. Last month I paid nearly 24 dollars freight and drayage. Mr. Alward is yet alive -wonderful.
Tuesday March 25 - Eva and I attended the birthday party given to Wm. Bridges. It was to him a surprise as was the intent all along for several days previous. We had a good supper and spent the evening very pleasantly. Wm. H. Bridges was completely surprised - it was his 53rd birthday. He wants to live long enough to pay all of us back in the same coin.
Wednesday March 26 - Eva and Willie were at the Methodist Church tonight to witness the declamatory contest by the students of the different township. I mean schools in the township. They were well entertained. Nancy Kelso has been at our home since yesterday and will stay until some time tomorrow. I write this without the use of glasses.
Thursday March 27 - We have had a wonderfull bad day -wind has been high all day and to night very dark and rainy. Prayer meeting at the Christian Methodist Church was deferred. The prizes awarded on last night at the declamatory contest were to a Mr. Whittington and Miss Della Moore. Four carload of ice have been ordered from the northern part of Michigan by our butchers. None here this year.
Friday March 28 - This mornings papers give a fearful account of Monster Cyclone that passed through the northern part of the city of Louisville, Kentucky 1500 people are supposed to have been killed by the storm. First reports are as a general rule always exaggerated. We shall hear more nearly the truth by tomorrow papers. I have ordered 40 copies of the Journal to be sent. Weather fair and nice today.
Saturday March 29 - This mornings report of the big storm is considerably under on estimates of lives lost at Louisville. It is now supposed the deaths will not exceed 100. It is a wonder that many more were not killed since the demolition of property was so great. Willie has spent the day at play. He does not understand that it is required of him less play and more work at this period of his life. Weather has been pleasant.
Sunday March 30 - I was at class meeting this morning. It was lead by brother PM Conner, had a good meeting. Eva attended service at her church. Frank Kritz gave me $2.50 as the amount due me on the work he done last week. Willie and I were at Sunday school at 230 and tonight we attended preaching services. Mrs. Bloomfield was at our house tonight until church going time. We are well.
Monday March 31 - The receipts of the grocery last week were only $85. There is entirely too much credit business done. JE Walters a man whom I have let have groceries has left me with an account for goods sold to the amount of $8.48. I have made an effort to get my pay by having his household goods stoped at Guion some 5 miles south west of here. Others in town are likewise interested as I am.