JANUARY 1907 - HIRAM PRATT DIARY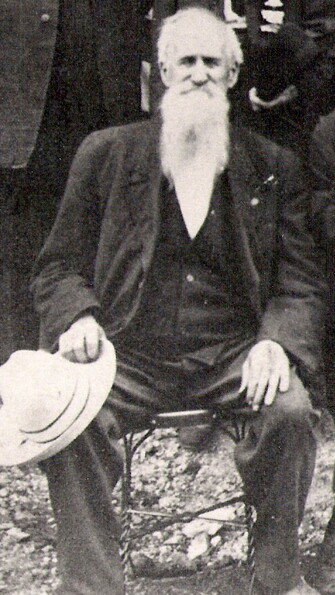 Note: These diaries were in the Waveland Public Library for decades but were disposed of by a librarian several decades ago. Luckily, another librarian's daughter (thanks sooo much Pam, at the death of her mother, Virginia Banta Sharpe found them in some belongings and gave them back for proper housing. A complete circle; however, only 14 of the 50+ diaries were saved from the library's incinerator. I'm a librarian too and thought since they'd been lost to posterity for so many years that it would be a good thing to transcribe them and give them to the world. They are currently housed in proper temperature/storage at the Crawfordsville District Public Library - typed as they were written
Note 2 : Karen Bazzani Zach (transcriber) was raised in the big 'ol town (500 people) where HA Pratt lived 5 decades before I was born. I remember the building where his little shop was and wish it was still there. What an interesting little place. ALAS! Progress ! Oh, and I've tried to type the diaries as is - mistakes & all
Note 3: Some information about Pratt -- he was born in Parke County, Indiana April 20, 1840 the oldest child of eight born to Erastus & Elizabeth Allen Pratt and died October 12, 1914 in his beloved Waveland, Indiana. He was twice married, first to the love of his life (he kept a life-sized poster of her in one of his cabinets at his barber shop, even long after his second marriage) Eliza Franklin Shaw (born Oct 23, 1841 died Oct 12, 1887), and #2 to his friend, Evaline "Eva" McMains. He was very active in the community where he and Eliza chose to live. He gave generously of his time and money to the Methodist Church in Waveland. For a few years, he served as Marshall of the town. Also, he worked diligently for his Odd Fellows, Rebekah & Knights of Phythias Lodges, was for a time on the town board, and read to those who could not read from the several newspapers he was agent for. Pratt volunteered and served for three years during the Civil War (Co. B, 36th Infantry), and spent time in the dreaded Andersonville prison. He and Eliza adopted a son, Willie Franklin Stump, age two (not sure ever officially or just had permission to take him from the Poor House in Crawfordsville) and he was an amazing young boy (high grades, worked in the church, quite musicially inclined, just an ideal child) until Eliza was taken to the hospital where she was operated on for six cervical tumors (one weighing six pounds) from which she died. Willie went wild after that and he and Hiram's second wife, Eva never got along. He ended-up in Reform School (for stealing a dollar twice from Eva among other small crimes), and later sent home to die due to consumption (what we know as tuberculosis) dying in Hiram's arms on April 12, in 1894. Hiram missed Willie and Eliza more than most I do believe as he wrote about them so often in these diaries. Just wish the rest of Pratt's diaries he wrote for over 50 years as a barber in Waveland still existed :( kbz -- ENJOY
---
Tuesday Jan 1 -- $1.65. Paid 50 c for a back bone taken from a hog. On my way home tonight I found Eva at her sister Nancy's. Frank Belton and his son Hubert left this evening for their home in Texas. They have been here 2 weeks on a visit to his mother and sister Mrs. Bell Shaul whose husband is lying on his death bed. I enter the new year in good health for one my age 66 years. Have rheumatism to contend with.
Wednesday Jan 2 -- $2.10. Paid $2.40 for 200 lbs of bran and shorts for cow feed. We have been having plenty of rain today. Paid 40 c for 4 lbs candied honey. I am getting the Crawfordsville Journal via Ladoga over the Midland at present. I never remember to have even read of so many bad wrecks on railroads as are now and have been occurring for several weeks past. Papers nearly everyday gives notice of them.
Thursday Jan 3 -- $3.40. Sent the laundry works $5 express 5. Paid box rent in the Post Office 15. Express on the return of the laundry 35. Oliver McCall $1. I went his security in at Bert Kritz's for a suit of clothes and a payee to Bert for $11.50. Frank Kritz is in a verry (sic) close call for his life. He was felled to the floor by a pain in the hearts (sic) region. He had dressed and started to go down stairs at the time of the stroke. Rain all day.
Friday Jan 4 -- $2.75. Paid Tom Rice balance on ice bill $2. 10 c for a package of corn flakes. 5c for 3 apples. I ate the last one and took the other to my "girl!" Frank Kritz is thought to be no better, I am sorry at heart for I love him like a brother. If he dies I will mourn the loss of a good friend. Last week I paid for corn feed $2.40. 200 lbs. Today is the first time this year that we have seen the great orb of light.
Note; Frank Kritz was about 60 when this happened but lived to be 83.
Saturday Jan 5 - Clear 38 degrees. $8.65. Paid 25 c for 2 lbs of fresh pork. $2.13 for 25 gal of coal oil 15 c for supper at the restaurant. Charles Jones last night bought this restaurant Ed Cuppy. Mr. Gilkinson has vacated the hotel and set up one of his own. The hotel he left is being repaired and will be reopened soon. The snow has all melted off. We have had a good sugar day. Sap flowed readily today.
Sunday Jan 6 - Before going in for church, I visited Willie's grave. The weather has been damp and muddy all day. We ate dinner at Kelso's after dinner I took "Buddy" Kelso over to see his son Bob Kelso. He is not very well. Tonight I took Eva and her sister Nancy Kelso to meeting in the Baptist Church. Henson was the preacher and a good one. Baker the regular pastor is away preaching.
Monday Jan 7 - Rain 60. $5.10. Paid John R. Canine 1.20 for a neglected grocery account. Repairs on shoes 40 c. A pair of rubber shoes 75. a broom for the house 50. McCall $2.50. I am real glad to hear that my friend, Frank Kritz is improving. I called to see him last Saturday morning and learned he was much better. The weather today was real wet, rained nearly all day. The river bottoms are overflown. A great loss to the Farmers in corn.
Tuesday Jan 8 -- $3.90. Cloudy 60.. Paid 5 c for a can of baking powder. Sent Strutz & Slotter Co of Chicago $1.86. Expense 5c. There was no rain fell today in this locality, weather warm and nice over head, no sunshine. We took dinner with Richard and Mary Rusk. Mary had prepared a good dinner which I enjoyed. John Deer preached in the Baptist Meeting house tonight. Eva went to hear him. I did intend to go, but had burmier on house ???
Wednesday Jan 9 - Cloudy 21. $1.20. Paid 50 c for 24 lbs of flour made in Ladoga. 20 c for a gal of vinegar. The weather turned cool at sometime last night. There has been no thawing today. Indications are for warmer weather by tomorrow. Sent 45 to JJ Campbell of Logansport, Ind. Expense of money order 5. Frank Kritz was "up in town" this afternoon. FN Johnson is sick of lagrip (sic). Eva received yesterday a letter from her niece Mrs. Charles Conover.
Thursday Jan 10 -- $1.25. Cloudy. 20c Express on the return of the laundry next Saturday. Paid Mrs. Mag Moore 35 c for washing our cloths. Two large apples for 5 c. There was not any thawing today. There was no sunshine. Wm. A. Dietrich of our town has received the appointment of door keeper of the senate in our present state legislator at 5 dollars per day for 60 days. Sam Shaul is yet alive.
Friday Jan 11 - Cloudy. 34. $1.30. Yesterday I sent the Star of Indianapolis $6.47. Today I sent the Star of Terre Haute $1.67. Expense in both cases 15 c. This morning early mercury was 20. This was the lowest. Paid 20 c for a pound of cheese 5c for a load of bread. 35 c for 3 lbs of fresh pork. Mary, Eva's sister is at our house tonight. She came in on the 3.45 p.m. train from Crawfordsville. No sunshine today. There was a very little today, I am well.
Saturday Jan 12 - Cloudy. 40. $7.10. Paid $2.30 for 10 gal of oil and 10 of gas. 20 c for lunch at the restaurant. 10c for a package of corn flakes. Jim Alfrey came down on the 10.07 train. He and his wife will remain until after Sunday. Frank Kritz was in my shop for a shave today. This morning I went down to Fount Johnsons and removed his beard. He is not well.
Sunday Jan 13 - I took Eva and her sister Nancy to meeting this morning and also tonight. Kelly preached two good sermons. Tonight was the first time in my life that I ever attended church where the singing was entirely omitted. It made me feel ashamed. At 5 minutes of 11 o'clock I visited Willie's grave. 12 years and 10 months ago his little body was buried. My little woman was buried 19 years and 3 months ago.
Monday Jan 14 - Cloudy 49. $1.70. Yesterday evening after church I invested 30 c in ice cream. Jim and Mary took dinner yesterday at Amanda Bloomfields. They were at our house Saturday night and on last night and went home on the 7:25 train this morning. High water is doing much damage in the south part of the state. The cold wane promised did not arrive on scheduled time. Rained today.
Tuesday Jan 15 - Rain. 34. $1.05. Bought a double boiler for cooking rice hominy, rolled oats, cereta wheat - cost $1.10. The ground was covered with snow and ice this morning and a slow rain has been falling all day. It was yet raining when I went home at 10 o'clock. Sam Shaul is yet alive, the end of life is looked for. Win Jarvis Sr has pneumonia and is considered bad sick. He is 53 years old.
Wednesday Jan 16 - Rain 36. $1.50. Paid 26 c for a beef steak. Rain has been falling all day and indications are favorable for an all nights rain. Everywhere underfoot it is a slush of water and ice. The Midland train is late again today or rather tonight. This causes the patrons of the News grow impatient when they have to wait so often and long. Eva received a good long letter from her niece, Mrs. Penn Hanna.
Thursday Jan 17 - Cloudy. 20/30. $1.05. The sun shone a few hours today. Eva had not seen the sun for so long she went out in the sunshine and took a look at the sun it looked natural. Mr. Stallman a representative of the Indianapolis New called to see me. I paid him $12.57 for papers received last month. Paid Oliver McCall a dollar and Mrs. Moore 35. Express on the return of laundry on next Saturday 35 c.
Friday Jan 18 - Cloudy 32/44. $5.05. Bought myself fa new pair of "terraces" $2.25 a pair of "gallasses" 50c. Beef steak 20c. 2 packages of prepared food 20. Rain has been falling all day. The Ohio River is above the high water mark at Cincinnati. It has cut a new rout at Evansville leaving the city some 4 miles. Sam Shaul died at 2 o'clock this morning. Mr. Hinton of Milligan droped (sic) dead yesterday at George Shepherds of heart failure.
Saturday Jan 19 - Rain. 52/68. $4.75. Three pounds of crackers 25. A spool of thread .05. Nancy Kelso gave Eva enough sausage to last us over Sunday in turn Eva gave her some Saur kraut. This has been a real warm day. At one o'clock I noticed mercury went 68 degrees. At 7, this morning Mercury was at 62. The sun shone a few minutes this forenoon, since the middle of the afternoon it has been raining. Trains late.
Sunday Jan 20 - The sun shone dimly a short time this morning. I joined the Knights of Pythias escort at the Hall and marched to the late residence of Samuel Shaul and from there to the Methodist Church where the funeral services were conducted for the benefit of the living. After the funeral we all went out to the cemetery and laid the body away. Visited Willie's grave at 10 minutes before one o'clock. Went to hear Bro Hershy tonight.
Monday Jan 21 - Cloudy. 12/28. $1.30. The weather is quite like winter today. Mercury was at 12 this morning at 7 at one it was 28. No sunshine today. Paid 15 c for a dish used to brake in. 25 c for three boxes of Toasted Cerelene Flakes made of white corn in Indianapolis We like it fine. The Baptist commenced a series of Evangelistic meetings yesterday Rev. RH Baker the Pastor in the Evangeslist. Win Jarvis Sr. is improving in health. He is able to sit up a few hours daily.
Tuesday Jan 22 - Cloudy. 28. $1.85. Paid 25 c for 3 lbs of crackers. $2.40 for bran and shorts for cow feed 200 pounds. The Ind. News did not arrive on yesterday evening and done no better this evening. Yesterday papers received tonight. Paid 15 c for two more packages of Toasted Corelene. Flakes. The sun shone dimly a short time this morning. Moon is shining tonight.
Wednesday Jan 23 - Cloudy. 8/28. $3. Sent the Crawfordsville Journal yesterday $2.80. Expense 7c. The News failed to arrive again. It has been late 3 times tonight being the third night. I have given Eva $3 this month. Paid May Moore 35 c. and Oliver McCall a dollar. There was a very little snow fell today. Did not show on the ground. Cloudy all day, but tonight the moon is to become through broken clouds. Sausage 25 from Bob Kelso.
Thursday Jan 24 - 20 Cloudy. $3.10. Sent the Indianapolis Star money order for 75 expense 5. Express on the return of the laundry next Saturday 35. The News failed again tonight. Paid 30 to talk over the telephone to the News. The papers for today will be sent me by mail in the morning. Paid 15 for repair on a shoe for Eva. Mercury was 28 this a.m. Thawed some during the day. No sunshine today. Sleeted a little. Warmer tonight.
Friday Jan 25 - Cloudy. 26/20. $1.90. Paid John Holland 5c to clean my watch. I immersed it in gasoline. I had it reconditioned for the purpose for which I used it. My watch stoped right away and refused to run. Mercury 26 this morning and at 2 1 a.m. was 20. A cold wave is promised us tonight. Enough snow fell last night to cover the ground. The News came in on time tonight. 20c I paid for a pound of Chase & Sanborn coffee.
Saturday Jan 26 - Cloudy. 0/16. $5.60. Paid 20c for supper at the restaurant. Some report mercury as low as 4 below at about 5 o'clock at 6:30 ours was at zero at 9 it was 3. It has been cold all day, but warm enough in the most favored places to thaw a very little. John Reddish helped me today. He took in a dollar and 30 c. I got half of it. We were done work by 10 o'clock. Eva aims to start to Rossville, Ill Feb 8.
Sunday Jan 27 - Cloudy. I took our horse and buggy to the hitching post and at the proper time Herbert Lewis took his grand mother to meeting. Eva and I walked. We rode home for dinner. We drove up to Amanda Bloomfields and at half past 4 o'clock I visited little Willie's grave and done up the chores at home then went to Bloomfield's and took the women (4) to church. There was no sunshine or thaw today.
Monday Jan 28 - Cloudy. 28. $5.40. Sent the News $2. Expenses 5c. No sunshine or thawing today. Out at Harry Moores the ice harvest has commenced. Ice nearly 6" thick. Paid Oliver McCall a dollar. Indications are for a bit of warmer weather. The floods are subsiding. The Ohio at Cincinnati was over 65' deep. The meeting at the Baptist Church is being well attended. I have not yet attended.
Tuesday Jan 29 - Cloudy. 24/27. $2.75. Paid 25 for a beef steak. In favorable places the snow melted. The sun shone dimly a part of the day. Anderson McMains came in this a.m. dined at Kelsos and will stay over night in our house. This afternoon at 3 ½ o'clock there was a terriffic (sic) terific (sic) or terrific explosing at Fountannette (sic) about 25 miles from here SW. A powder house - 25 killed and 15 wounded.
Wednesday Jan 30 - Cloudy. 28. $2.90. We have the promise of a fall in temperature of 20 degrees before morning. Nancy kelso went home with her brother Anderson this morning. She will be absent until next Friday evening. The weather has been damp and thawing a little in the most favorable paces. Paid for 200 pounds of cow feed 2.40. Sent the Laundry 25 ex 5. Paid Telephone rent for last month $2.10. It was after ten when I went home.
Thursday Jan 31 - Cloudy. $1.60. Paid 50 c for 2 lbs of sausage. Paid Charlie Williams $3 for a No 6. 25 year gold filled watch case $3. have given Bert Kritz an order for a No. 6 size Hampden works 15 ruby jewel cost $6.50. There was two men killed in the powder explosion at Fontanett (sic) non wounded. A slow rain has been falling all day. The drop in Mercury of 20 degrees did not arrive. Eva was at Bert Dowden's tonight.
---