OCTOBER 1907 - HIRAM PRATT DIARY
Waveland, Indiana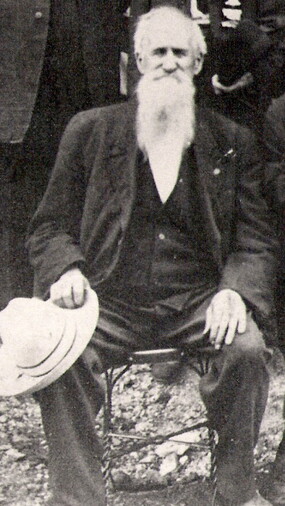 Note: These diaries were in the Waveland Public Library for decades but were disposed of by a librarian several decades ago. Luckily, another librarian's daughter (thanks sooo much Pam, at the death of her mother, Virginia Banta Sharpe found them in some belongings and gave them back for proper housing. A complete circle; however, only 14 of the 50+ diaries were saved from the library's incinerator. I'm a librarian too and thought since they'd been lost to posterity for so many years that it would be a good thing to transcribe them and give them to the world. They are currently housed in proper temperature/storage at the Crawfordsville District Public Library - typed as they were written
Note 2 : Karen Bazzani Zach (transcriber) was raised in the big 'ol town (500 people) where HA Pratt lived 5 decades before I was born. I remember the building where his little shop was and wish it was still there. What an interesting little place. ALAS! Progress ! Oh, and I've tried to type the diaries as is - mistakes & all
Note 3: Some information about Pratt -- he was born in Parke County, Indiana April 20, 1840 the oldest child of eight born to Erastus & Elizabeth Allen Pratt and died October 12, 1914 in his beloved Waveland, Indiana. He was twice married, first to the love of his life (he kept a life-sized poster of her in one of his cabinets at his barber shop, even long after his second marriage) Eliza Franklin Shaw (born Oct 23, 1841 died Oct 12, 1887), and #2 to his friend, Evaline "Eva" McMains. He was very active in the community where he and Eliza chose to live. He gave generously of his time and money to the Methodist Church in Waveland. For a few years, he served as Marshall of the town. Also, he worked diligently for his Odd Fellows, Rebekah & Knights of Phythias Lodges, was for a time on the town board, and read to those who could not read from the several newspapers he was agent for. Pratt volunteered and served for three years during the Civil War (Co. B, 36th Infantry), and spent time in the dreaded Andersonville prison. He and Eliza adopted a son, Willie Franklin Stump, age two (not sure ever officially or just had permission to take him from the Poor House in Crawfordsville) and he was an amazing young boy (high grades, worked in the church, quite musicially inclined, just an ideal child) until Eliza was taken to the hospital where she was operated on for six cervical tumors (one weighing six pounds) from which she died. Willie went wild after that and he and Hiram's second wife, Eva never got along. He ended-up in Reform School (for stealing a dollar twice from Eva among other small crimes), and later sent home to die due to consumption (what we know as tuberculosis) dying in Hiram's arms on April 12, in 1894. Hiram missed Willie and Eliza more than most I do believe as he wrote about them so often in these diaries. Just wish the rest of Pratt's diaries he wrote for over 50 years as a barber in Waveland still existed :( kbz -- ENJOY
---
Tuesday Oct 1 -- $3.65. Cloudy. 71. Paid 25 c for two mackerel fish. I always like to have a mess of this particular branch of fish at least once a year. They are a high priced fish and I hardly think that I will farther indulge in this luxury this season. I have sold the little calf to JD Fisher for $6. He will take it and some time tomorrow. Sadie sent her niece Perla a letter.
Wednesday Oct 2 - Cloudy. 80. $3.05. Paid 25 c for a few pounds of "Spareribs" 60 c for 106 lbs of artificial ice. There was a real light shower of rain between 12 and 1 o'clock. JD Fisher took the little calf away today. Last month Eva sold of the product of our cow to the amount of $7.20. Eggs were worth in the market today 20 ½ c per doz. We sold 4 doz.
Thursday Oct 3 - Cloudy 70. $8.10. Paid $2.70 for 20 gal of gal $1.45 for 100 lbs of hominy hearts. Paid Mr. Adams of Frankfort 50c for regulating my watch. He says that it is absolutely correct. I am well pleased with it thus far. Had a crystal put in it for 25. We have had lots of rain today I hope the grass will freshen up the cow pasture will be good for a month.
Friday Oct 4 - Cloudy. 68. $2.45 Paid 35 for express on return of laundry from Logansport 15 for a very small bag of corn meal. Everet McMullen 75 c Mrs. Mag Moore for washing 35. For 4 boards 14 ' long 8" wide 90c. nails 5. Mrs. Margarette Rhoads is a very sick woman. The race of life is apparently very near at hand. Sadie spent the evening at Mrs. Wilsons.
Saturday Oct 5 - Cloudy 66. $9.10. Paid 15 c for midnight lunch. I had no one to help me today. 25 for 6 bread tickets 15 for 2 lbs of cakes. We have about 2 bushel and a fourth of potatoes raised or grown in our garden. I put them into a barrel during the noon hour when I went to dinner. Mrs. Margarette Rhoads was no better when last report was sent out this p.m.
Sunday Oct 6 - Cloudy. 70. I went to hear Bro AW Smith at the morning service. When he was ready for his prayer before the sermon he looking at me and made a motion of his head which caused me to suppose I was to offer the morning prayer. I began the task when he spoke up and I was superseded. I had not properly read his actions. We all went to hear HR Baker to night at the Baptist Church house. It was his farewell last sermon.
Monday Oct 7 - Cloudy 62. We had a pretty fair shower of rain soon after the dinner hour. Mrs. Margarett Rhoads passed out of life at half past 11 o'clock. The funeral will be next Wednesday. Her husband died several years ago. They were residents here before my day in 1866. Bro. PR Baker will start for Oclahoma (sic) on the 10 a.m. train tomorrow. He is going to do the work of an Evangelist. If he finds a good location will send for his family.
Tuesday Oct 8 - Cloudy 64. $2.10. Sent the Star of Terre Haute $1.28. Expense 5c. The funeral of Mrs. Rhoads will be at the church house at 11 o'clock on the morrow. Paid 15 c for 5 squashes small ones. WH Moore had bad luck with the concrete side walk he put in last week along the south side of the Hotel corner of Howard & Cross streets. He tore it all out and has put in a new one. Eva and Nancy spent the afternoon at Russells Eva brought home a bushel of green tomatoes.
Wednesday Oct 9 -- $2.40. Cloudy 62. Fresh pork 30. A gallon of sorghum molasses 60 as good or better than I ever saw. Sweet potatoes at 6c per lb 58. Shoes repaired 50. Celery 10. A cap for winter wear $1. Everett Mcmullen 75. Eva went to the funeral. She walked. The horse was engaged to help hall the hearse. Sam McMains arrived tonight. He has been visiting a week or so in and near Crawfordsville.
Thursday Oct 10 -- $1.50. Cinnamon bark 2 oz 10. Cloves 1 ½ oz 5. The Star Indy $10.79. Expense 14. Nineteen years ago yesterday Sarah E. McMains and I were married we took a trip to Foster, MO to visit her sister Almira Petty. Paid 25 c for 3 doz sweet pickles. Sam Mc is at our house tonight. He took dinner at Kelsos. The new pastor for the Baptist church is named Hanson.
Friday Oct 11 -- $3.05. Cloudy 55. Paid 10 c for a cabbage 10 for two stalks of celery. 15 c for 1 ½ lbs of beef. 75 c for a half bushel of apples. I can't afford to use apples and have been in the custom during the winter. Billy Kelso and Sam Mc went to the sale of Durocks at Burfords and Durhams. One hog sold for $65 and one at $16. They sold 60 head. A fire in the shop stove was enjoyable.
Saturday Oct 12 - Cloudy. 52. $5. Paid 53 for 25 stamps. Envelopes 10c for lunch. This date in the year 1887 at 20 minutes of 3 o'clock of the morning my Dear (sic) Sweet (sic) little woman passed out from among the living. Our Foster (sic) son Wm. F. Pratt this date of the month of March in 1894 at the same hour of the morning passed through the valley of death. I am through God's long forbearance permitted to exist.
Sunday Oct 13 - I heard EO Kelly's sermon this morning. Mrs. Lucinda Deer accompanied Eva home for dinner and remained until church time. This afternoon Sam McMains and I took a drive stoped awhile at the Smith graveyard where Sam buried his first born child in 1855. We made another stop at Old Union Grave yard Sam never went to meeting tonight I didn't visit Willie's grave today.
Monday Oct 14 - Cloudy. 38. $4.35. Paid Everett McMullen 75. He has quit delivering papers for me. For the present I will be my own News Boy. Sent the Indianapolis Star $10.79. Ex 12. This afternoon I spent at home helping Eva to get fixed up for the coming winter. She is always glad when she goes into summer quarters and then into winter quarters. Snow was seen by some of our citizens last Sat during the rain.
Tuesday Oct 15 -- $1.10. Five quarts of Vinegar 30. Two water melons 20c Sam McMains left here for home, via Russellville. He said unless some of us got sick he would not return until after the winter had passed. Two heavy reports were heard this morning. The DuPont powder mills at Fountanett (sic) exploded 40,000 kegs of blasting powder let go.
Wednesday Oct 16-- $2.50. The News sent me 43 papers and the demand was in excess. I have ordered 43 for tomorrow. There is now reported 38 to be dead. The cause of the explosion is now thought to have been an over heated box in the glazing room. 75,000 kegs of blasting powder and 50,000 pounds of dynamite. Every house in Fountanet (sic) was damaged.
Thursday Oct 17 -- $4.20. Pad Nut butter 10c Sent the news $2.00 for a subscription for HA Sowers. 2 lbs of Arbuckle coffee 34. Express on laundry 35. Express on money order 5 c including a 2c stamp. Buddy Kelso went to Crawfordsville this afternoon to have a nerve in his left cheek repaired or fixed so it will cease to give him pain. Weather has been warm today.
Friday Oct 18 - Cloudy 56. $1.75. Yesterday paid 2.50 for gasoline (20 gal) 35c to Margarette Moore for washing 75 for half bushel of apples. 40c for 10 pounds of sweet potatoes. Buddy is reported to have stood the operation fine and is doing well. I do wish he could get permanent relief from the pain caused by that nerve in his face. Nancy Kelso is at her daughters for the night.
Saturday Oct 19 -- $8.15. Paid $4.45 for bran and shorts 25 c for a laundry soap and 15 for lunch. It was 2 p.m. when I eat dinner and it will be midnight when I get home. My feet hurt me so bad I can hardly walk about in the room. We are having delightful weather for all kinds of outdoor work.
Sunday Oct 20 - Cloudy. Buddy Kelso has not yet returned from Crawfordsville. It devolves response to see that his cows are milked at night and morning. I could not do the milking last night. Zach Robertson and I rode to church this a.m. This afternoon I took 5 little girls out riding. I went to church again but did not ride. Cool air.
Monday Oct 21 -- $12.70. Cloudy 52. Sent the Crawfordsville Journal $1.40 Expense 3c. Paid Spruhan for a ton of coal 2.75. Doran Clore 3.70 for 2 cord of stove wood. Wood cook stove length. Ice cream 30 soap ? Rheumatic cure for Eva $1. There are 9 balloons to leave St. Louis at 4 p.m. on a race for a prize. There was one last Friday night that made a run of 300 miles ?
Tuesday Oct 22 -- $3.50. Two pair of 1 ¾ cotton blankets $3.70. ½ bushel of apples 75. I don't expect to buy very many apples this season they are very scarse and of course high in price. The grade is very poor such as we are compelled to use would have been fed to hogs last year. Eva is troubled with Lumbago. She is getting better daily.
Wednesday Oct 23 -- $1.80. Paid Mag Moore 40 for washing of last weeks wearing apparrel - 1 too many r's. She has raised five cents on her old price. I have bought two calico dress patterns 11 yds cost 77. The 2 patterns and a spool of No. 70 thread cost a dollar and 60 cts. Paid 75 c for a box of 200 pieces of butter scotch - I never gave an order for this but paid it to save trouble.
Thursday Oct 24 - Cloudy. 42. $2.45. The balloons have all landed safely. The German and French balloons landed in Maine, 5 miles a part. The German in the lead. If my little woman was living she would have been 66 yesterday. The butter scotch referred to on yesterday was ordered by SW Carpenter. I knew I had not. The shirts I sent for were a failure as to the fit.
Friday Oct 25 -- $4.25. Cloudy 62. Paid $3.05 for 20 gal of oil at 9 cts per gal. 10 gal gas at 12 ½. Mrs. Rhoda Fullenwider and 5 of her children were at our house for dinner. I went over after her and took her back home after 4:30 pm. Last evening I paid 35 c for supplies and broke the comb on the first customer today. Eva had a splendid dinner for our company today Helen O'Neal of Crawfordsville is married.
Saturday Oct 26 - Cloudy 41. $7.70. Forty pounds of salt 20. Two loaves of bread 10c. A slow easy rain has been falling all day. Mr. and Mrs. Oglesby are going to have company tomorrow and the Automobile ride will have to be deferred to a more convenient time.
Sunday Oct 27 - We remained at home all day. The dampness of the weather and the air being rather chilly made it verry pleasant to sit by a rather warm stove. After dark we concluded to call at Mr. Ruben Burrin's and spend the evening until bedtime. Mr. Burrin's son Tom and family are going to move to Advance next week.
Monday Oct 28 - Cloudy. 42. $1.20. Paid $1.45 for 100 lbs of hominy harts Eva has concluded to take in another customer for milk and to discharge one of our customers for butter. The milk will bring 35c while the butter is worth 20c and requires a good deal less labor. The damp weather continues. It is not damp enough to put a stop to outdoor labor. I done verry little shop work.
Tuesday Oct 29 -- $3.05. Cloudy 46. Paid $2.10 Telephone rent for last month. Paid Margarett Moore 40 c for the weeks washing of our clothes. Eva called upon her tonight for a social enjoyment. Will Kelso made the round trip to Crawfordsville to have his face treated for the cure of a severe pain in a facial nerve. Damp weather continues. Eva got a letter form her niece Ida Feld.
Wednesday Oct 30 - Cloudy. 43. $5.10. Paid $5.65 for 11 ½ bushel of new corn on the ear. Sent 75 c to the Anti Saloon league at Terre Haute. Eva has made arrangements to go up to her sister Mary Ellen Alfrey's in the morning. I am expected to drive u pt here Sunday morning and bring her home that evening> The sun came very near casting its rays upon the earth today.
Thursday Oct 31 - Cloudy 54. $3.50. Harry Moody took Eva in the buss to the station, I did not have time to put "Bob" to the buggy. The laundry had to be taken to the station. I sent her a postal card that I received for her from Miranda Ellis at Bayo Net Ark. This being Halloween night I have put inside my room everything that could be carried away.