JULY 1888 - Hiram Pratt Diary
Barber, Waveland, Indiana - 50+ years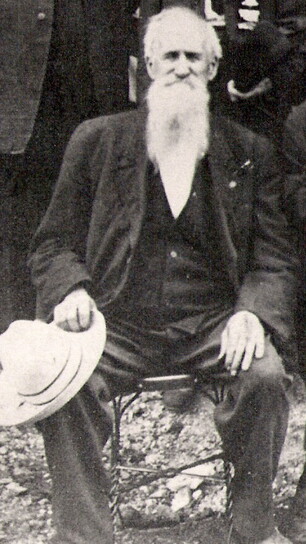 Note: These diaries were in the Waveland Public Library for decades but were disposed of by a librarian several decades ago. Luckily, another librarian's daughter (thanks sooo much Pam, at the death of her mother, Virginia Banta Sharpe found them in some belongings and gave them back for proper housing. A complete circle; however, only 14 of the 50+ diaries were saved from the library's incinerator. I'm a librarian too and thought since they'd been lost to posterity for so many years that it would be a good thing to transcribe them and give them to the world. They are currently housed in proper temperature/storage at the Crawfordsville District Public Library - typed as they were written
Note 2 : Karen Bazzani Zach (transcriber) was raised in the big 'ol town (500 people) where HA Pratt lived 5 decades before I was born. I remember the building where his little shop was and wish it was still there. What an interesting little place. ALAS! Progress !
Note 3: Some information about Pratt -- he was born in Parke County, Indiana April 20, 1840 the oldest child of eight born to Erastus & Elizabeth Allen Pratt and died October 12, 1914 in his beloved Waveland, Indiana. He was twice married, first to the love of his life (he kept a life-sized poster of her in one of his cabinets at his barber shop, even long after his second marriage) Eliza Franklin Shaw (born Oct 23, 1841 died Oct 12, 1887), and #2 to his friend, Evaline "Eva" McMains. He was very active in the community where he and Eliza chose to live. He gave generously of his time and money to the Methodist Church in Waveland. For a few years, he served as Marshall of the town. Also, he worked diligently for his Odd Fellows, Rebekah & Knights of Phythias Lodges, was for a time on the town board, and read to those who could not read from the several newspapers he was agent for. Pratt volunteered and served for three years during the Civil War (Co. B, 36th Infantry), and spent time in the dreaded Andersonville prison. He and Eliza adopted a son, Willie Franklin Stump, age two (not sure ever officially or just had permission to take him from the Poor House in Crawfordsville) and he was an amazing young boy (high grades, worked in the church, quite musicially inclined, just an ideal child) until Eliza was taken to the hospital where she was operated on for six cervical tumors (one weighing six pounds) from which she died. Willie went wild after that and he and Hiram's second wife, Eva never got along. He ended-up in Reform School (for stealing a dollar twice from Eva among other small crimes), and later sent home to die due to consumption (what we know as tuberculosis) dying in Hiram's arms on April 12, in 1894. Hiram missed Willie and Eliza more than most I do believe as he wrote about them so often in these diaries. Just wish the rest of Pratt's diaries he wrote for over 50 years as a barber in Waveland still existed :( kbz
---
Sunday, July 1-- We have a good quarterly love feast this morning. The Elder is not present but is represented by Rev. Lanham of Ladoga. Willie was at Sunday School and we were again at meeting tonight.
Monday, July 2-- $5.65 -- B&L $5. Two doz lemons .75. Post office box rent 15 cts. 3 yds of white satteene for my sister 60 cts. Spool of thread .05. Warm weather continues. Willie is laid up, having run a couple of nails in his foot.
Tuesday, July 3-- $3.15 -- 30 cts for beef. Mrs. Bloomfield is supplying uswith new sweet milk. Willie is getting better. He will be able to go out to the "Shades" tomorrow, at the 4th of July celebration. Nine months ago today my wife left for Terre Haute. Willie just laid around all day on the grass.
Wednesday, July 4-- $2.15. Ice cream since last report 50 cts. Beef 10 cts. 25 years ago I was a particpatnt in the battle of Helena, Ark. Rain this forenoon and yesterday afternoon slight rain early. Willie spent the day at the Shades.
Thursday, July 5-- $2.00 (up above the other writing --"gave Willie a nickle yesterday for fire works"). I gave Mrs. Alice Moore 50 cts for a birthday present. She is 30 years old, a widow with one child and is making her own way, honorably in the world. She was made the victim of surprise by her friends this p.m.
Friday, July 6 -- $4. Sugar $1 onions 20 cts. Spanklin ? can 50 cts. Sent Hull Vafa (?) Store Co. 6.42. Willie has about recovered from the hurt received by the running of those nails in his foot. We had a shower of rain this evening. Bat of Lactopreptine 90 cts.
Saturday, July 7 -- $9.65. Indianapolis Sentinel $5.62. Willie was a little late for the up train with Cincinnati papers. I met him at the depot. I was home by 11 o'clock. The day has been very warm.
Sunday July 8 -- Willie went to the meat market this a.m. and bought a bit of beef and a loaf of bread. When he returned I was lying on the lounge. He went out to the barn right away and was last seen by Charlie Moore who observed he was carrying a bundle under his arm and said "Willie where are you going?" He gave no reply. I first missed him at 9 1/2 o'clock. I called. No reply. I called him to dress for class meeting. He took with him 5 shirts and an extra suit of clothes, had an old straw hat on his head and was barefooted, shoes, and socks were left behind his trunk. Rained most all this p.m.
Monday, July 9 -- $6.55. Six heads of cabage 30 cts. The beef Willie bought yesterday morning cost 30 cts. The bread .05. B&L Assiociation $5. Rain all this forenight until after 11 o'clock. Pd Mrs. Bloomfield 35 cts for milk. Willie returned this evening ont he freight from Crawfordsville. He slept in an old house last night on the bare floor. This morning tried to find emplyment that he might earn a breakfast but failed. He had not had a bite to eat since eating his breakfast yesterday morning. He seemed to be very sorry for what he had done and promised to do what was right hereafter.
Tuesday, July 10 -- $2.90. 4 1/2 gal rasberries $1.80 gas 15 cts. Butter 30 cts 1 fly paper .05 cts. Willie canned the berries and has been a good boy today. He says there is no dnager of him taking another trip soon. But 20 cts. Corn 15 cts. Warm this p.m.
Wednesday Jul 11 -- 0.50 Work with me was very light today. Sent the Bluffton Manufacturing Co $16.25. Onions 5 cts. Peaches on pect 50 cts. One ham 14 1/2 lbs 2.30. The weather continues warm Repair on wash machine 15 cts. Willie seems to be glad he had got home again.
Thursday July 12 -- $2.00 Sent the Journal $12.80 Luctopeptine for my stomach .90. Eggs 2 1/2 doz 15 cts. Campaign plug hat (?) 1.50 Flag handerkerchipe .10 Meat saw 1.25 Nine months ago this morning at 20 minutes of 3 o'clock my little woman passed away.
Friday, July 13 -- #3.80 -- Sent the Commercial Gazette Co. $7.15. Onions, three for a nickle WIllie gathereed enough of rasberries for two pies. The air returned cooler awhile before day. The old lady McMains is sick so is Mrs. Butcher.
Saturday, July 14 -- Above rest of writing - "A letter from Clara." $9.05 -- Fifty pounds of lard $5. Straw hat for Willie 50 cts and cloth hat for Harry 25. One peck of green beans 15 cts. Cream 30 cts. The weather has been cool all day and threatening rain.
Sunday, July 15 -- Willie and I were at our church this am and pm. He was a tSunday School at 2 1/2. I had a good rest in the hammock. Late this evening I got the use of Mr. Warrick's buggy and horse and took sister out riding.
Monday, July 16 -- $4.80 B&L 5. White goose for two aprons for Eliza 90 cts. Bacon 25 cts. Porl .25. One bottle med for Eliza 1.25. Seven gal of gas $1.05 Willie went ou to Mr. Durham's to work in hay - milk last week 25. Shop's up 2.30.
Tuesday, July 17 -- Had the dentist Dr. Wendall of Pendleton, Ind to fill ten cavities in my teeth cost $7.50. A nice gentle rain fel this afternoon. Have ordered 4 more wash machines. Wrote a few lines to my mother.
Wednesday, July 18 -- $1.15 Sugar $1.10 qts of black berries $1. Nutmege .5 The day has been real warm. Willie came home this evening . Mr. D. gave him 75 cts for his two day's work.
Thursday, July 19 - $1.10. One chicken 20 cts one doz green corn 10 cts. Rec'd a letter from Father Shaw yesterday. He wanted to borrow $100, the first of Sept. His wheat and oats were a failure.
Friday, July 20 -- $1.30. Beef 65. Butter .15 Camping Cap for Willie 25. Answered father shaw's letter. The day has been real warm. I set up half the night with Morton Butcher.
Saturday, July 21 -- $12.45. Butter 30 cts. One 17# ham 2.38. Frank was unable to help me until after supper. We had work until after midnight. I ate supper at the hotel. Two glasses of milk and bread.
Sunday, July 22 - Willie and I did intend to go out to Old Union Church and hear an old regular baptist preacher but when I got up town I observed a promise to show Mr. Dooley had not been complied with. (This doesn't really make sense but I THINK it's what it says :( KBZ)
Monday, July 23 -- $6.50. Five cucumber 5 cts. 7 yrs corn 5 cts (ears?). 6 tomatoes .10 cts. B & L $5. I was with Eva McMains last night until after 11. The moon was in total eclipse. 26 White pearl buttens for Eliza cost 30 cts.
Tuesday, July 24 -- $1.95 Bought of Mrs. Andy Boyd, 95 cts for 3 gal and a quart of plumbs. They are the wild goose plum. Rec'd a good letter from Miss Carrie M. Harrow. A good rain would not be considered out of the way.
Wednesday, July 25 -- $3.70. Sent the Unon Mutual Life Insurance Company of Portland Maine $5.45. I have three wash machines in theway here since the 18th. The weather is real warm.
Thursday, July 26 - $21.60 -- One hundred cigars $3.25 One broom 25. A bucket of plumbs 50 cts. Mrs. Myranda Ellis of Rossville Illinois is in to see her Ma, Cinda BLoomfield is out of town on a few weeks visit.
Friday, July 27 -- $10.50 -- Paid last month rent $3. The new wheat crop in this vicinity is almost a failure. One pound onions 30 cts. Green beans one gal 20 cts. Warm today. Cream since last report 25 cts.
Saturday, July 28 -- $9.45. AOUW $2. Work was rather slack until almost night. The weather is real warm. I don't think as warm yet as at a time last year.
Sunday, July 29 - Willie and I were at our class meeting at 10 1/2 a.m. We were at church tonight. The Sunday School we omitted. I slept about 3 hours in the hammock this afternoon. The weather is oh, so warm.
Monday, July 30 -- $5.90 Building and Loan Association $5. (ahhh, B&L!) A pair of shoes 2.50 and a pair of hose .25 for Eliza. Willie was out for blackberries but did not get many. He will go out another way tomorrow.
Tuesday, July 31 -- $2.20. (Medicine for Harry 50 cts written above other writing) WW Steele, a young practicing physician of this place is in jail at Crawfordsville for drunkeness. Last night on the way home stopped at McMains and was with Eva until after one o'clock this a.m.