SEPTEMBER 1902 - HIRAM PRATT DIARY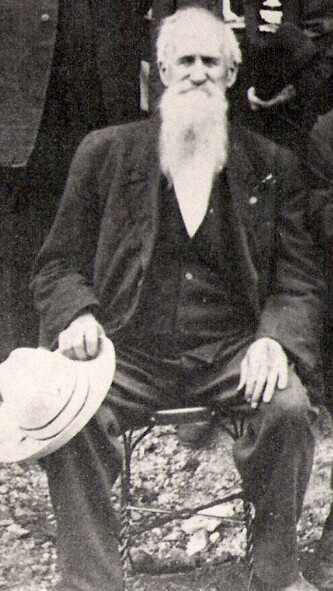 Note: These diaries were in the Waveland Public Library for decades but were disposed of by a librarian several decades ago. Luckily, another librarian's daughter (thanks sooo much Pam, at the death of her mother, Virginia Banta Sharpe found them in some belongings and gave them back for proper housing. A complete circle; however, only 14 of the 50+ diaries were saved from the library's incinerator. I'm a librarian too and thought since they'd been lost to posterity for so many years that it would be a good thing to transcribe them and give them to the world. They are currently housed in proper temperature/storage at the Crawfordsville District Public Library - typed as they were written
Note 2 : Karen Bazzani Zach (transcriber) was raised in the big 'ol town (500 people) where HA Pratt lived 5 decades before I was born. I remember the building where his little shop was and wish it was still there. What an interesting little place. ALAS! Progress ! Oh, and I've tried to type the diaries as is - mistakes & all
Note 3: Some information about Pratt -- he was born in Parke County, Indiana April 20, 1840 the oldest child of eight born to Erastus & Elizabeth Allen Pratt and died October 12, 1914 in his beloved Waveland, Indiana. He was twice married, first to the love of his life (he kept a life-sized poster of her in one of his cabinets at his barber shop, even long after his second marriage) Eliza Franklin Shaw (born Oct 23, 1841 died Oct 12, 1887), and #2 to his friend, Evaline "Eva" McMains. He was very active in the community where he and Eliza chose to live. He gave generously of his time and money to the Methodist Church in Waveland. For a few years, he served as Marshall of the town. Also, he worked diligently for his Odd Fellows, Rebekah & Knights of Phythias Lodges, was for a time on the town board, and read to those who could not read from the several newspapers he was agent for. Pratt volunteered and served for three years during the Civil War (Co. B, 36th Infantry), and spent time in the dreaded Andersonville prison. He and Eliza adopted a son, Willie Franklin Stump, age two (not sure ever officially or just had permission to take him from the Poor House in Crawfordsville) and he was an amazing young boy (high grades, worked in the church, quite musicially inclined, just an ideal child) until Eliza was taken to the hospital where she was operated on for six cervical tumors (one weighing six pounds) from which she died. Willie went wild after that and he and Hiram's second wife, Eva never got along. He ended-up in Reform School (for stealing a dollar twice from Eva among other small crimes), and later sent home to die due to consumption (what we know as tuberculosis) dying in Hiram's arms on April 12, in 1894. Hiram missed Willie and Eliza more than most I do believe as he wrote about them so often in these diaries. Just wish the rest of Pratt's diaries he wrote for over 50 years as a barber in Waveland still existed :( kbz
---
Monday, September 1 -- $3.05. Paid $4.40 for 40 gallon of gasoline. 10c for the bread bought last Saturday. I started on the trip home at 8 o'clock. Made Morton in 1 ¾ hours, stoped there 10 minutes, was in Russellville in 11/4 hours from the time I left Morton and at 12 o'clock I was at home. Aquilla Groves and wife, Mary Alfrey and Miranda Ellis were at the dinner table. Ida May McMains stayed with Eva last night. Miranda and her little granddaughter stayed too. A.J. Wolfe had traded some land and a saw mill to JM Ghormley for his stock of goods. Tom Doss is real poorly.
Tuesday, September 2 -- $5.40. Sent $2 to the Cin News Co. Paid 50 for round trip fare to Parkville. Jack Ashley is holding a series of meetings there. Eva and I went to make out a full load of 10 persons. Coming home we found the air was considerable cooler. One woman united with the church. We left home after 6 pm. And arrived at the meeting before time for preaching. It was after 10 p.m. when we got home. On the way, I noticed the ears of corn were drying fast and corn looked like it would do to cut up. Between here and Crawfordsville corn cutting going on.
Wednesday, September 3 -- $3.05. Telephone rent for last month $1 one talk 15c to Aquilla Groves of Waynetown, Ind. 1 peck of apples for cooking purposes 15c. 1 sack of flour 50c Irve Fullenwider has sold his interest in the farm to his brother, Winter and has moved to town and occupies Mavin Clore's house in the east part of town, Marne has moved out on the old home farm. I heard today that Ben Harbeson is worse. He has been down with typhoid fever for over or about 2 months. President Roosevelt came very near "to losing his life today." The carriage in which he was riding was struck by a trolley car, the horses and two of the occupants of the carriage were killed. Roosevelt slightly hurt.
Thursday, September 4 -- $1.80 - Ten pounds of Jersey sweet potatoes cost 35c. This morning TL Doss droped dead at 20 minutes past five by the clock. He had been in poor health for several weeks, had dropsy and was losing his mind. He had been a hard drinker. Took the Keeley cure and lived a sober life for quite awhile, fell from grace and tried to sober up, but I think drink hastened his death. He was an old soldier in the war of 1861-65. He was a good blacksmith. His funeral will be held in the Christian Church tomorrow at 1 p.m.
Friday, September 5 -- $3.00. Paid Bro. J.J. Fischer for the years subscription to the Western Christian Advocate $1.60. Donated to the Missionary cause $1. Phillip and Miranda have gone over to Marshall to visit relatives they left there yesterday and stayed at Kelso's tonight. I have been reading my dairy of one year ago and enjoyed it very much. I seemed to have made the trip a new for I could draw on my imagination for anything needed to make the trip complete. Mary Alfrey is at our house tonight.
Saturday, September 6 -- $7.25. Paid $.15 for apiece of Bacon at 16c per lb. 1 peck of apples 20c yesterday the body of Tom Doss was burried in the Waveland Cemetery. I was one of 6 "Old Soldier" pal (sic) bearers. The funeral was conducted all of the ministers of the town except the Methodist. Bro. Gibson made the prayer after Bro. Galey had read a chapter. Mooreman made a few remarks, he was followed by HC Riley. The deceased was a member of the 85th Ind Vol. Infantry. Peace be unto his ashes. I spent 18c for a couple of sandwiches. Tomorrow our pastor (Methodist) will close his conference year. Sermon in the ?
Sunday, September 7 -I was in my place in the ME Church at the morning service. "My peace I give unto you," was the text made by Br. John J. Fischer. It was his last or farewell sermon at the close he said, "I wish I could have a token of remembrance in the hand of each farewell hand shake, but my means are limited but I can give you to a limited extent what Jesus gave to his disciples when he was being lead away to be crucified. Some of you have been father's to me and some have been mothers. All have been good to me and have contributed to my support. My peace I leave with you. I went to church tonight with Eva. Visited Willie's grave at 11 a.m.
Monday, September 8 - $10.05. Paid 5c for a water mellon. Phillip and Miranda returned from Anderson's today. W. R. Kelso and wife went with them and had the way and got lost, went 5 or 6 miles out of the way. Last Saturday I paid $2.60 rent to the first of this month. A new year begins the 1st of September 1902. I paid last year $70 for shop rent. The Standard Oil wagon made no call here today. Ghormley's new house is about ready for the roof. This morning Fred Spruhan, Jo Butcher & Walter Penn went to the PurDue University to enter the school to learn Electrical Engineering.
Tuesday, September 9 -- $1.55. Paid Express Chares (charges) on Laundry 30c. Phillip was sick this morning and eat no breakfast. He is much better tonight. Sent the Laundry $3.15. I have gone back to JJ Campbell of Logansport - Gosnell's laundry was getting out such poor grade I had to quit them. Paid $11.65 for gasoline and oil since last report. 10c for a pound of crackers. Nancy Kelso, her daughter Mary Miranda and Eva went out to Mrs. Mary E. Russell's to spend the day. At the noon hour I went out there for my dinner. I have had a little fire in the shop stove on the account of the cool weather since the rain early this morning. A son was born to Henderson Olliver and wife this morning at 6 by the clock.
Wednesday, September 10 -- $4.25. I gave Dr. Kleiser 25c for pulling out a jaw tooth, it annoyed me all of last night and until after the morning mail was attended to, when I attended to the tooth. I now have 5 above and 5 below and none that match. One year ago tonight I started home from my visit to Iowa to see my mother. By reference to my diary, I see that I am one day to soon. One year ago today Bro. Will and I drove out to Blakesburg from Ottumwa to see Mother for the last time. Now both are dead. It wont be long until I shall greet them in the other world.
Thursday September 11 -- $1.15. Paid 35c for a pound of beef stead and two small slices of smoked ham. John McMains will stay over night with us Eva was up in the business past of town today and made a purchase of a corset and a pair of shoes at Ghormleys. I will not have an opportunity to attend the Crawfordsville Fair but am calculating to be in Indianapolis a couple of days next week and will go out to the state fair. Mrs. Amanda Bloomfield has a renter for the property joining ours on the east. The coal strike in Virginia continues and seems likely to continue for some time.
Friday September 12 -- $2.60. Paid 20c for a peck of nice apples for cooking. Yesterday morning when the train pulled in it looked like the coaches were comfortably filled, 215 found room somewhere and at Browns Valley a few more got on board, at New Market 250 more got on and at North Union a few more were taken on. There was a gentle rain falling most all night, and a good portion of the day. Clouds are breaking away at 9 p.m. The weather man of the signal service says the Mercury will go down to 40 degrees tonight. The shoes for Eva had to be returned, she could not wear them. Ott Reddish got hurt in a runaway buggy turned over. Conference is in session at Rensallaere. We will be apt to have a new preacher.
Saturday September 13 - Sent the Globe Democrat 32c. The Post Dispatch 36. The Commercial Tribune $3.61 Expense 12c There was considerable frost this morning - mercury was 36 degrees of Fareinheight at 6 o'clock this morning. Fourteen years and eleven months today since the burriel of my precious little lady - now time flies! Eight years and six months since poor Little Willie was put away. It is now 1 year and 2 days since my return from my Iowa visit. I was through work by 11, but did not leave until 12 or midnight.
Sunday September 14 - This morning I called up Carl Ghormley by telephone using Rev. EE Morman as messenger saying that I would call in a few minutes for his company to go to Ladoga - we arrived in time for Sunday school. After preaching service was over I went out home with Anderson's folks for dinner. We were one hour and 58 minutes going over via Browns Valley and returning via Carpentersville we were 2 hours and 20 minutes. Tonight I went with Eva to hear here pastor EE Moorman. Miss Ida Evans was immersed. Not so cool.
Monday September 15 -- $4.80. I bought a Pumpkin for 10c a peck of apples for 35c Express on the Laundry 30c Ice for two weeks past 98c received a postal card from Mesa Beaupre urging that Eva and I stop with them while in the city to attend the fair. The invitation was accepted and we propose to go over next Wednesday morning. We will drive over to Russellville and leave "Bob" there until we return on Friday night. I did not get to visit Willie's grave last Sunday. Our new preacher's name is OP Paxon. Bro JJ Fischer will go to Roachdale, Putnam County 15 miles from here. Pd 45c for 2 bu of oats.
Tuesday September 16 - $1.85. Paid $5.65 for gasoline and oil. I have a promise of a crude oil burner from St. Louis to be put in my shop stove on trail. It is claimed that it will make a blue flame, no smoke, no soot or dirt and to give the most perfect satisfaction. If it proves to be all right I am promised an agency. Sent $2.50 to the Cincinnati News Co. I have made arrangements for a trip to Indianapolis to attend the fair. Eva is going too. The weather has turned out real nice. Summer heat.
Wednesday September 17 -- $4.70. By 7.45 we were on our way to Russellville, "Bob" took us over in 28 minutes, left him in the care of Jim McMains' wife. Paid $3.70 for care fare and tickets to The State Fair. At 9 we were on our way and in 2 hours were at the Station in Indianapolis, Mrs. Mesa Beaupre was at the station waiting. She had her Automobile there for us. We rode 3 in a seat. She stoped at the Bank for a few minutes for some money. She lives at No. 39 South Senate Avenue and keeps furnished rooms for men, no women. I was out in the city until nearly 2 before going to bed.
Thursday September 18 - Yesterday after we had partaken of our noon meal Mesa tossed us a roll of bills into Eva's lap mounting to $9,000 to show us what she had saved. She said this house was her gold mine. There was 71 persons in the house last night. Her girl Emma tonight shoed that she was under influence of some kind of drug. I was favorably impressed yesterday of the utility of this girl, she had the appearance of a good domestic, my estimation is below par tonight. The rain prevented our going out to the Fair. We went to the insane asylum and spent a couple of hours. Seen the sights, many were hopeless cases of insanity. Sept 10c for a copy of "Every Month" and gave it to Mesa's daughter. She is a musical prodigy, 19 years old and married. Mrs. Girtie Mason.
Friday, September 19 - This fore noon we visited the museum in the State Capital building and made a trip out to Irvington and called on Rev. James C. Burkheart. He was sick of bowell complaint. After dinner we went out to the Fair and seen the many beautiful exhibits too numerous to mention. Mrs. Lou Tinsley of Crawfordsville, Measa's sister went with us. Miss Fannie Edwards got aboard of the same car. She had been to the Fair yesterday and had a ticket which she gave to Mrs. Tinsley. I bought for Eva a nice Baries diamond Broche for $2. A shirt sted for myself 25c.
Saturday, September 20 -- $6.70. Paid 50c for a sack of Flour. While in the city I spent 40c for car fare. 10c for peaches, 20c for a pound of talcum powder $2.50 for 10 lbs of Colgates shaving soap. 25c for a novelty in the way of a clock. Paid Mrs. McMains 50c for the care of "Bob". Paid last weeks shop rent $1.25. We left Indianapolis at 6 p.m. and arrived at Russellville at 8 p.m. The News was late for 3 evenings. I brought them in from Russellville last night. They were in on time this evening. 1 week of school has gone into history.
Sunday, September 21 - I went with Eva to her meeting twice today. She and I took dinner at her sister Nancy Kelso's and spent the evening. Jim and Mary Alfrey went to Crawfordsville yesterday and returned via Alamo this evening. I did not get to visit Willie's grave today. OP Paxon our new Pastor will be here Wednesday of this week. The weather is warm like unto mid summer. We were glad to get back to our "pretty little home." Home is sweet however humble if peace and happiness are within its domain. We have it in abundance God bless our home!
Monday, September 22 -- $3. Paid $3.70 for oil and gasoline. 30 express on Laundry. Rent for last week $1.35. John Gilliland's Livery barn was destroyed by fire this evening between the hours of 5 and 6. The Horses (16) wagons, buggies and harness were saved. Fire started in the haymow among the baled oat straw. Insurance was not near much to make good the loss. Several tons of hay went up in flames. Emma, Mesas help on Friday morning came very near suiciding. Stomach pump was used. She was taken to the city hospital. She used opium. Some of it was found about her bed.
Tuesday, September 23 -- $1.50. There was a real nice rain fall last night and this afternoon we had another - this one was a "goose drowner" and the indications are w will have more rain before the dawning of the morning. "Bob" got tangled in the wire fencing at noon today. I went to his rescue, he was very slightly injured. The change of time on the Vandalia will cut us out of Indianapolis News of evenings. The train will leave Terre Haute at 2 o'clock in the afternoon. The train will leave Crawfordsville too early for the Evening Journal. Mercury was up to 8 degrees day before yesterday and up to 76 this afternoon. I am not well today.
Wednesday, September 24 -- $3.05. Beef roast at 8 ½ c 55c. Sweet potatoes 10 lbs 30. House broom 50c. Several good showers of rain last night and also today. These rains are denominated Equinoxial storms. A card from Mesa Beupre to Eva asks us to come up and spend the carnival week with her. The woman that doped herself with opium recovered and came back to Mesa, she told her not to enter her house, she wanted no more to do with her. The 1 bags of oats I got of Buddy Kelso weighed 148 # 4 bushel and 20 pounds. At 25c per bushel = $1.15. John McMains went over with me to get the oats. Since the Big 4 System has taken charge of the Midland, they are having the road put in first class order and are going to do some business.
Thursday, September 25 -- $1.05. One dozzen bananas 15c. Rained again last night and several times today. Sent JJ Campbell of Logansport $5 over paid the bill 15c. Mrs. Nancy Kelso, her daughter Mrs. Mary Lewis and her son Hubert Lewis. Eva's sister Mary Alfrey, Mr. and Mrs. Elvet E. Moorman were at our house spending the day. I gave Nancy kelso - $1.15 to pay for the oats I got yesterday mention of this was made yesterday, but the money was not paid until today. John McMains is at our house tonight. Next Wednesday I want to drive to Rockville and return in half day.
Friday, September 26 -- $2.50. Paid 41.35 dues for the quarter ending to the Independent Order of Odd Fellow, 10c for grapes and 10c for 3 large apples. 25c to Harry Budd for a collar and pair of cuffs lost in the Laundry. Our new neighbors name is Gilkison. We are going to like them fine. Edith their daughter and only child is 15 years old and is attending our towns high school. There was no rain today. Cooler weather prevails. Sent the Chicago Record $4.80 and Indianapolis News $8.84. The expense was 20c Frank Belton is in the south part of Texas.
Saturday September 27 -- $6.30. One half dozen of fried oysters 20c. We were done work by 10 o'clock. Since sundown we have had a nice rain. I have procured the service of Raymond Hanna to go over to Milligan every evening for the Indianapolis News. He will be furnished with a hors (Bob) he has a buggy to use and will receive one dollar per week. I have advised the publishers and asked them to bear half the expense. RS Foster, will move back to Waveland from Eldorado, Illinois. He has been in the saw mill business down there. Rev. CP Paxon will preach here in the morning and at Russellville at night. I have not seen him yet.
Sunday September 28 - I heard our new pastor, OP Paxon at the morning hour 11 o'clock. "As my father has sent me, so I send you," is something near the words used as a text. He gave a good discourse. Eva was with me at this service. After dinner I took her to Rhoda Fullenwiders and left her there while I took a couple of little gals out for a drive. We went to Guion. I got the News due me last night we were at home by sundown. I attended church at the Presbyterian house of worship. Eva remained at Rhoda's we are at home by 10 o'clock.
Monday September 29 -- $2.40. Paid $4.80 for 40 gallon of gasoline. $1.45 for ice. 30c for beef. Last Saturday night I eat supper at the restaurant cost 20c. Bro Paxon was in to see me today. He was over at Russellville last night, the entire day, will be spent here next Sunday and then alternate Sundays at Russellville. Raymond Hanna went over to Milligan this evening for the papers. The Journals from Crawfordsville are not printed in time for the afternoon train coming this way. Mrs. Mary Belton is at her brothers in NY City, Mrs. Roberta Johnson is at Piqua, Ohio.
Tuesday September 30 -- $1.55. Paid dues in the Knights of Pythias Order $1.30. More rain fell last night and it has been drizzling all day. Raymond and Bob were in on time tonight. I have had to increase the order to 40 and 10 extra on Saturdays. I get 2 cts each by the week or 3c for a single paper. The little girls refered to last Sunday were Ina and "Tink" Barton. Ages 13 and 11. They were well pleased with their outing. They were sorely disappointed in not getting to go to Russellville to meeting. Otho Sharp's wife Ora is expected to die before morning, she has typhoid fever. Dr. BM Harbeson has been up and about for a week.
---