DAIRY OF HIRAM A. PRATT, Waveland Barber 50 + years
JANUARY 1885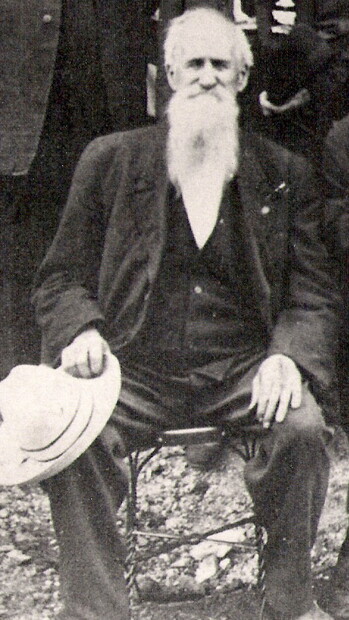 Note: These diaries were in the Waveland Public Library for decades but were disposed of by a librarian several decades ago. Luckily, another librarian's daughter (thanks sooo much Pam, at the death of her mother, Virginia Banta Sharpe found them in some belongings and gave them back for proper housing. A complete circle. I'm a librarian too and thought since they'd been lost to posterity for so many years that it would be a good thing to transcribe them and give them to the world. They are currently housed in proper temperature/storage at the Crawfordsville District Public Library - typed as they were written
Note 2 : Karen Bazzani Zach (transcriber) was raised in the big 'ol town (500 people) where HA Pratt lived 5 decades before I was born. I remember the building where his little shop was and wish it was still there. What an interesting little place. ALAS! Progress !
Note 3: Some information about Pratt -- he was born in Parke County, Indiana April 20, 1840 the oldest child of eight born to Erastus & Elizabeth Allen Pratt and died October 12, 1914 in his beloved Waveland, Indiana. He was twice married, first to the love of his life (he kept a life-sized poster of her in one of his cabinets at his barber shop, even long after his second marriage) Eliza Franklin Shaw (born Oct 23, 1841 died Oct 12, 1887), and #2 to his friend, Evaline "Eva" McMains. He was very active in the community where he and Eliza chose to live. He gave generously of his time and money to the Methodist Church in Waveland. For a few years, he served as Marshall of the town. Also, he worked diligently for his Odd Fellows, Rebekah & Knights of Phythias Lodges, was for a time on the town board, and read to those who could not read from the several newspapers he was agent for. Pratt volunteered and served for three years during the Civil War (Co. B, 36th Infantry), and spent time in the dreaded Andersonville prison. He and Eliza adopted a son, Willie Franklin Stump, age two (not sure ever officially or just had permission to take him from the Poor House in Crawfordsville) and he was an amazing young boy (high grades, worked in the church, quite musicially inclined, just an ideal child) until Eliza was taken to the hospital where she was operated on for six cervical tumors (one weighing six pounds) from which she died. Willie went wild after that and he and Hiram's second wife, Eva never got along. He ended-up in Reform School (for stealing a dollar twice from Eva among other small crimes), and later sent home to die due to consumption (what we know as tuberculosis) dying in Hiram's arms on April 12, in 1894. Hiram missed Willie and Eliza more than most I do believe as he wrote about them so often in these diaries. Just wish the rest of Pratt's diaries he wrote for over 50 years as a barber in Waveland still existed :( kbz
---
HA Pratt - April 20th his birthday age 45 written in front of book (not sure if it's his writing or someone else's' - looks like his)
---
Thursday Jan 1 -- $2.70. The day was very nice. Sun shone in the afternoon. Paid box rent at the post office. The Ottumwa Iowa Courier of Dec 30 contains an account of the execution of Pleas Anderson by a mob near Blakesburg, Iowa where I once resided. When out there last August I met with Mr. A at my bro. Ben's.
Friday Jan 2 -- $2.65 - Wife was uptown today and made a small purchase of table ware $1.80. Willie accidently (sic) broke the head of a china doll which cost me 20 cts. We are making arrangements to have a dinner part on next Friday. I bought this diary from the American news Co NY.
Saturday Jan 3 -- $11.65. There were but very little work to be done until after 3p.m. We were done by 10.45 Bought Hominy hearts (?) and shirts for corn feed $1.45. The roads are very mudy (sic) and the farmers find gravel roads quite a convenience. Indications are for colder weather. I would be glad to see it.
Sunday Jan 4 - This morning we went to hear our preacher. At 2 ½ Willie and I went to Sunday School. At night we went to church again. Bro. Davisson was quite interesting. The weather continues rather warm for the time of year.
Monday Jan 5 -- $5.20. Yesterday I gave $1 for current expresses of the Church. I paid $2 in part payment on a ham of meat. A bill of sale they did not have or all would have been paid. Coffee .25 Raisins 40 cts Pd IOOF 1.30 Vinegar one gal .25 Rained a little this p.m.
Tuesday Jan 6 -- $.45 Since 1882 I have no record of receiving a less sum than I did today. Then I got 10 cts. Rained and snowed a little afternoon. A man by the name of Joshua Hamman (Harman?) moved in town yesterday. He is going to print a paper in this town.
Wednesday Jan 7 -- $2.55 Invitation to John Spruhan and wife; Merle Evans and wife; John Wolverton and wife; John Lewis and wife; JO McCormick and wife and Rev. WC Davisson to dine with us next Friday. Last night I paid the AOUW $2.60 for dues.
Thursday Jan 8 -- $1.50 Paid .85 for dishes. 30 cts for postage stamps. 20 cts for candy. 30 cts for ½ doz lead pencils. Merle Evans has to go to Ladoga and will not dine with us on Friday. Sent 2.40 to Brickport NY for papus. No Journals rec'd today, or on the 6th.
Friday Jan 9 -- $2.30. Sent 1.50 to LB Kent of Jacksonville Ill for Banner of Holiness $1.10 to Washington DC for one years subscription to National Tribune. We had a nice dinner party today. The weather yesterday and today has been as nice as could be over head, muddy under foot.
Saturday Jan 10 -- $10.95 - I sent $2.40 to the Commercial Gazette yesterday. I paid a quarter for 3 loaves of bread. The weather has been real nice all day. My wife has been dividing among our neighbors the surplus of victuals left over from yesterday.
Sunday Jan 11 - I went over to AJ Wolfe's this morning and done some work for him, he was not able to get to the shop on yesterday. This afternoon Willie and I attended Sunday school. I acted as secretary in the absence of Minnie Conner
Monday Jan 12 -- $6.10 Paid 45 cts for coal oil. 50 cts for medicine for wife. 45 cts for one doze pencils. One doz towels $1. Sent John c. New & Son 15.62 to pay for the Journals received last month. I have ordered a lot of printing for the bank from Merril Meigs & Co of Indianapolis.
Tuesday Jan 13 -- $4.05. Late this evening my wife burnt her right hand badly. She was rendering some fat pieces of meat and while pouring the greece (sic) burn the skillet, some was spilt on the stove, she undertook to wipe it up with a rag. Rec'd a letter yesterday from brother William of Ottumwa.
Wednesday Jan 14 -- $1.60. Sent one dollar and fifty five cents to George A. Greene, Andover, NY for Peterson's Magazine. I received 1000 little advertisements of WH Moore of Brockport, NY. A very light rain has been falling nearly all day. 25 cts for a bunch of postal cards.
Thursday Jan 15 -- $2.60. My wifes hand is not burnt as bad as it at first looked to be. Yet it is a bad burn. She continues to do own work. She has commenced cutting carpet rags for a new rug carpet .50 cts for coffee. 90 cts for cough medicine for wife.
Friday Jan 16 -- $4.40. Paid .05 for eating apples and .05 cts for fire kindlers. A heavy snow storm has been on all day. Ex Vice President Schuyler Colfax will be buried tomorrow at South Bend. He died of heart disease last Tuesday in a depot in Mankato, Minnesota.
Saturday Jan 17 -- $10.95. We were done work tonight by 9:30. Snow is about 12 in deep. Trains were behind time 7 ½ hours. Paid 30 cts for 1 lb of candy. 60 cts for 3 pairs of socks and $1 for 2 prs of stockings. 25 cts for one gal coal oil. 40 cts for 2 gal gasoline.
Sunday Jan 18 - Last night was a very cold one. I remained at home until 2 ½ o'clock when Willie and I went to Sunday school. I gave 5 cts to the school. This evening we attended church. Wife could hardly keep in the path, it was so narrow. Snow deep.
Monday Jan 19 -- $4.70. I sent the Sentinel Co. $6.11. The Enquirer Co 2.55 Last night was the coldest of the season. Mercury was 16 below zero. There was nothing froze in our sleeping room but in the kitchen water froze an inch deep.
Tuesday Jan 20 -- $2.65 Cold. Mercury was reported 20 below zero this morning. The ice crop is getting to be good. Sent $1.15 to Chicago to pay for sewing machine oil cans, needles and a small piece of casting for the Singer Machine. Paid 35 cts bal on ham.
Wednesday Jan 21 -- $2.90 - Weather was not quite as cold this morning as yesterday morning. T he ice was not as thick formed in pails of water in our kitchen. Little Willie is standing the cold weather. He came home with his feet wet tonight from school.
Thursday Jan 22 -- $2.05. Stamps 30 cts. Mercury was down 31 degrees below zero at 2 o'clock this morning. Out at Mr. Demaree's it stood 33 below. This is decided the coldest report for many years. My wife did not feel like attending the dinner at Mr. Read's.
Friday Jan 23 -- $3.30. Paid 45 cts Express on printed Matter for the Bank from Indianapolis. 35 for a spinkle pot (sprinkle - watering ? pot) .10 cts for delivering cow feed. 25 for delivering a wagon load of coal from shop to house. Snowed more this afternoon cold.
Saturday Jan 24 -- $12.25. Marked out pd 45 cts for a sprinkler can so this must be correct above that it is a sprinkle pot or sprinkling/watering can but odd the price is diff than above). .35 for lamp chimneys. Sent to AG Fowler of Chicago $5.47. The weather has turned considerable warmer. Snow has been melting all day. We were done our work by 9 o'clock. I have a very bad cold.
Sunday Jan 25 - I went over to Bob Moore's this morning and shaved him. He is quite poorly. Lyford Canine took me over in a one horse sleigh. The roads are in a splendid condition. I remained at home all day. This evening at 6 ½ we went to Mrs. McMains.
Monday Jan 26 -- $2.65 - Sent 13.95 to The Merrill-Meigs & Co in Indianapolis today for printing and stationary for the bank. Pd $9.95 for 142 ½ lbs of white sugar. The train due here at 10:33 did not arrive until after dark. Pd $1 for a bottle of medicine for Willie.
Tuesday Jan 27 -- $6.30. Snow has been falling most all of this afternoon and has drifted bad. Train nine hours late. Paid the AOUW $2 one small bottle of magnetic (sic) ointment for Willie .35. The snow is about 12" deep on a level. The weather most awful cold.
Wednesday Jan 28 -- $4.70. Sent 2.00 for books. Paid 1.15 for beef 1.10 for a pair of rubber over shoes for myself. .50 cts for coal oil. Mercury was 16 degrees below zero this morning. Weather clear and cold. Willie was not at school yesterday nor today. He has a very bad cold.
Thursday Jan 29 -- $5.30. Paid 50 cts for 2 ½ lbs of peaches. The cold weather has given away to a more genial coime. Snow melted during the middle of the day. LE Acker today made out an application for life insurance on my wife for $2,000.
Friday Jan 30 -- $13.85. Since winter commenced I have paid $10.61 for cow feed not heretofore chronicled. The snow has melted off pretty fast. Indications are good for a rain but if it turns cold more snow will be the result. Snowed a little last night.
Saturday Jan 31 -- $11.70. Sent $10.10 to the American News Co. We were done work tonight by 9 o'clock. Dr. Ball of Judson was up today and examined my wife in favor of life insurance. He says that her case is a good one - weather warm.
---