1935 GOSHORN DIARY
Lula Goshorn's Journal - Ladoga, (1930-1944)
"A little background from Judy Goshorn"

My grandfather, Ezra Goshorn, kept a journal, which I have somewhere. He died in April 1930 and that is when this one starts. Lula wrote for her church magazine and the county paper, but apprently had not been keeping a journal. The first entry is a few days after Ezra's funeral, when the older (Marie, John and Roland) children were going back to their lives. Only two children were left at home, my dad, Lewis, age 15, and Ruth, age 9. The running of the farm fell to my dad and Lula. I am amazed at the work a 15-year-old boy did, while attending school and doing well there. Many of the snapshots I have are early 30s and make good illustrations for this journal :) ENJOY! - JWG
Note: Their church was the Brethren Church on 750 South - Ezra had both the pastors :)
1930 -- 1931 -- 1933 -- 1934 -- 1936 -- 1937 -- 1938 -- 1939 -- 1940 -- 1941 -- 1942 -- 1943 -- 1944 Photo is taken much earlier but a neat part of the history of the Goshorn family (sent by Judy) --
JANUARY -- Note: not all the days have entries
Jan 15 -- Amanda Hostetter died aged 91 years. Sam Himes had a stroke was taken to hospital (found out in barnlot)

Jan 23 - Sam Himes improved slightly but gain is very slow. This is Norman's birthday - 31 years old.
Jan 24 - Had second stroke on right side.
Jan 29 - About 7:30 Sam Himes died. Red cow had calf (heifer) yesterday and got milk fever today. Couldn't get a Dr. for about 3 hours. She was pretty bad then when he came. Better now 8 p.m.
Feb 5 -- Bought of Edgar Manges 40 rods No 9 ft fence 1/2 sp. barb wire 50c staples (10 lbs) for partition fence between place where Paul Mahorney lives and the Peffley place. Harry Hedgelives there. Will get 2 3nds posts of blk. Locust of him. Line posts of Chas Ward - Mace.
Feb 6 -- Ruth's birthday. Mary R's birthday 20th. Has been in bed with flu. Temp 103-4 for 5 days. Mattie Robbins died this morning with heart trouble. Edgar Mangus' (Nellie Linn Manges - see photo below) wife died this evening. Same disease.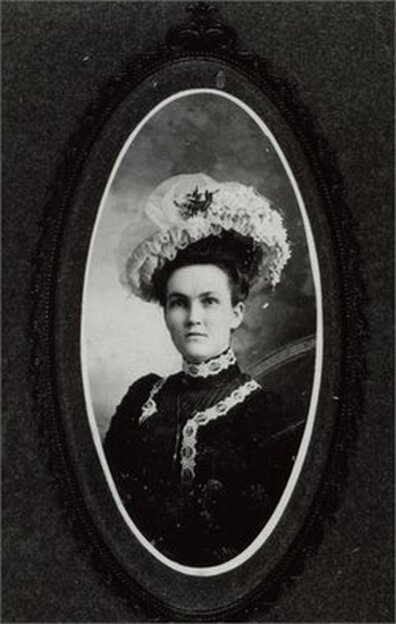 Feb 12 - Bought of Edgar Manges 40 r. No 9 - fence 422.00 1 sp. 4 point barb wire 3.25 - 10 lbs. staples 50 c. 1 roll brac wire 50 for partition fence between little woods and Himes on the south. Same amt. fencing for estate on west side of place between us and Pieffers or the old Graybill farm.
Feb 15 -- Cline Graybill took our farm census today. Of 158 farms he has taken only 5 had reports made out ready. How he did appreciate having it ready for him. Ours was made out by Lewis during holidays.
Feb 27 - Himes sale today. Stock sold high. We got the feed grinder for $4.00 and 64 good posts for 10 c each.
Feb 28 -- 40 fence posts 10c each HImes est.
Mar 2 -- First wild geese went north today and the first flock of blackbirds. Last week it was 6 above zero a couple of mornigs, today at noon 64. It will not last of course, but its a fine day.
Mar ll mild temperature but a queer feeling day. The sun looked just like the moon only whiter and shown through a bluish haze - a faint shadow on the floor has a blue cast.
Mar 12 - Sowed clover seed on wheat. Inoculated it with Urbana Culture.
Mar 15 -- Refund ck on gas & oil for 1934 $4.67. Int on 4 shares stock in Farm B Co-Op. Assn 2 3% = 60 c received today.
Mar 22 -- Sewed oats today
Mar 23 -- Lewis home for a few days spring vacation. Go thim new suit $15 first in 4 years. Gave to each of us $35 division of estate income.
March 25 - Brought Webster's bull here to breed our cows. Keep him about a month. Roland home for a weeks vacation. Might nice to have them home again.
1 gal oil a day for tractor change completely every 6 days then takes 2 gal.
Mar 31 -- Geo & Stella Kesslers 40th wedding day. He sang a solo at church.
The No. Manchester young men & women's quartette sang at the church at night. Ever number fine but the lsat, "Where He Leads I'll Follow" sung by the men and hummed in parts by the women was exceptionally fine. I'm so glad we could hear them.
April 3 -- Paul sowed oats today
April 5 -- Harley helped Geo. K sow clover seed on the 30 a oats field at far place.
April 7 -- Nora Davidson Kessler died this morning - 51 yrs old. First cousin of mine. Had a stroke two days before
April 15 & 16 -- Cold north west wind thermometer 26 above zero. Snow flurries and ground slightly frozen. Ice in all the troughs and water tank and thick enough that we made ice cream. Could have made a couple of gallons. (find a snow ice cream recipe like the one I use in 2018 here - pic from there too - it is truly delicious -- https://happyhooligans.ca/3-ingredient-delicious-vanilla-snow-ice-cream/)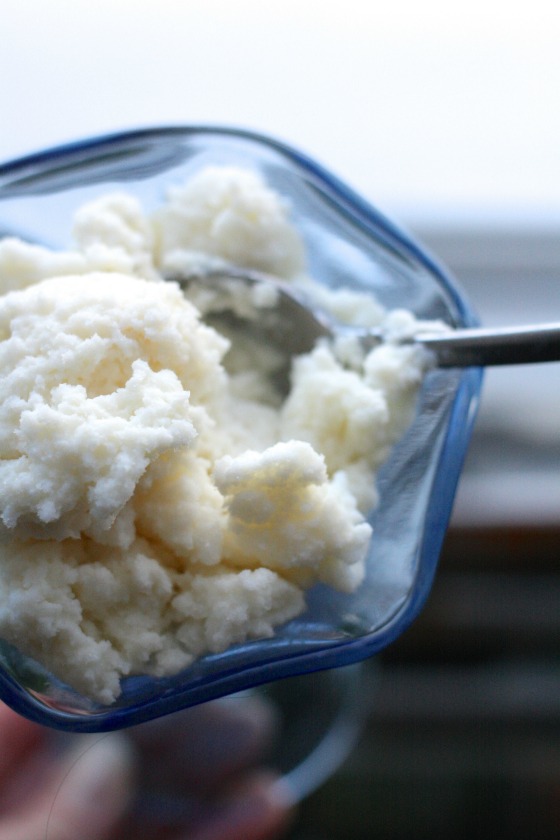 Apr 21 - Roys - Roland and Miss Helmond here for Easter dinner - first time Lewis has been away from home Easter. Boys have grown a lot since last summer. A fine family.
April 22 - Made garden. been to cold to work at it before. This has been a fine day. Had piano tuned first time in 2 years.
May 2 - Had biggest rain last night and today in over a year. Water running thru the field and almost up to bottom of garden. 1934 and '35 will beknown as dust storm years. Coming from western states it cloudy the sun and shows in heavy drifts across the sky. Gets inside the hosue and one's throat is amde sore breathing it. Many people have left their homes in the west. Crops covered or blown from the ground.
May 5 - Ruth in bed with measles. Broken out very much. Not very sick. Itchy, hot & uncomfortable. Suppose she got them from Martha Jane Henry who had them (3-day kind) the last of school. Ruth has had 2 cases of measles before this acording to the Dr. This is more than three days lon g- 5 days, then began to fade.
May 15 -- W.C. Rutan, Mace phone sheared 15 sheep 15c per head - did good job.
May 24 - Sold wool to Albert Smith, Whitesville. 15 fleeces 161 lbs 21 c. 1 dead fleece 7 bs 10c.
May 25 (Saturday) - Ruth's tonsils & adenoids removed at Culver Hospital about 9:30 Drs. Collette and Lidikay. Tonsils real bad one extremely so ever since the flu. Throat too sore to eat anything for several days. Blood seeped from adenoids for 4 days. Dr. said must keep quiet for couple of weeks.

Mrs. Ruth Servies of C'ville with baby "Mary Ellen" and Mrs. Mildred Todd of (this person divorced Mace 1936 (written sideways up sheet) near Linden with "William Lee," were patients in same ward. Room 202.
May 28 - Planted first corn in field west of Harleys. An unusually wetmonth has delayed all field work.
May 30 -- 5 days after Ruths tonsil operation hemorrhage set in from one tonsil. Went to hospital again. Dr. Lingeman, ear, nose, throat specialist said it was an unusual case. Lewis just home from college yesterday so glad he is here. Ruth in bed 4 days.
June 1 - Finished planting corn today.
June 4 -- Sowed soy beans for hay.
June 6 -- Got 2 new front tires for auto and had wheels checked. They were very much out of line and had worn the tires terribly and caused excessive vibration.
June 9 - Lewis when to Winona Lake to the ch. Conference. Took Frances Miller, Ruth Smith, Lowell Heisey, Laurence Baker, Lee Oppy. Brought Bonnie home with them. Had nice trip.
June 12 - Lancaster & Cope 311 North Jackson St. Greencastle, Ind. Coated our 2 barn roofs with black paint $34.00 Barn here measures 21 squares. Barn at harleys 30+. Lewis painted our tin roof on shed with red paint and all the gutters, troughs, etc.
June 19 -- Cool and rainy. Ruth & I attended a mother's & daughter's dinner & program in the church basement. had a nice time. About 36 present.
June 20 - Lewis started painting tin roof at Harley's. Rained & had to quit. Harley is painting inside walls of north room.
June 24 -- Bought 2 yr old Jersey Holstein cow of Herman Linn. N. Market $500.
June 28 -- Lewis & Harley finished 40 rods fencing north of the little house between his and the Bash farm.
June 29 -- WA Boone for galvanized roofing and laying it. $147.90 on barn at Paul's.
July 4,5,6 - cut wheat. So wet could not go fast. Roland home over the 4th and helped. Roy's here until Sunday. Brought nice fireworks. Roland had some also Roy went to Wis couple of days. Very sultry and humid weather. Donnie & Richard broke out with chicken pox while here. Billy had had them a couple of weeks ago.
July 11 - James Keller sprayed Canada thistles again today. Should have done it last fall. Very hot.
July 14 - Lewis, Ruth, Bonnie & Frances Miller, Ruth Smith & Eddie Cline went to Beech Grove Ch near Fortville to BYPD Confrence.
July 15 - Commenced to thresh wheat in this ring this afternoon.
July 16 - Jesse Byrd's lost everything in the house where they lived on Hattie Byrd's farm. May poured gasoline on the fire by mistake. It exploded and burned her severely about face, neck and arms. Is in a serious condition. House & all the contents burned. Just heard from Marie that Richard has been very sick with chicken pox since they went home.
July 18 - Commenced to cut oats today. Also threshed our wheat. Roland came and helped cut oats. Brought Mildred along, first she had seen of farm operation. Sold 138 & bu wheat at Whitesville E. 74 c = 102.61.
July 18 - Dr. E.C. Lidikay died today of cancer of the liver. 58 years old, had been practising (sic) medicine here 32 yrs.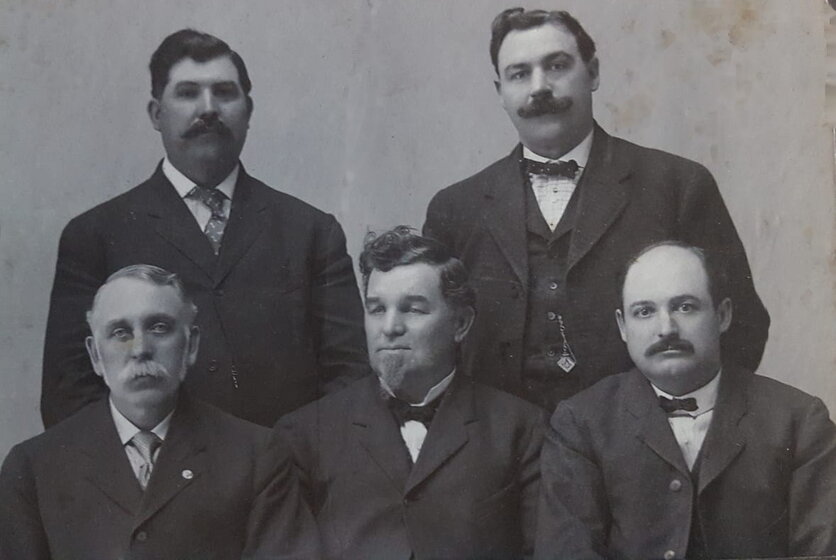 July 26 & 27 - Lewis & Harley put up 6 loads clover hay.
Aug 1 - Bought Buck lame of Arthur Clark for $10.00 sold our largest ones.
Aug 7 - 6 tons of coal from mine $ $.25 ton $25.50. Guy McClellan trucked it here. ALso truck load of cinders (which were free) from Jamestown pumping station - $6.00 for hauling (loading & unloading - to fix crib's at Harley's. Threshed oats today. All oats very light yield this year. Ours made about 2.4 a bu. to the acre. Price 22c. Sold 2 loads $31.00 Paid McClellan 2.60 for hauling 4 yds gravel for cribs & L. Reed 1.50 for 6 yds gravel. Roland home this p.m. he & Ruth & Lewis went fishing. Caught 10 cat fish larges measured 10" long. 9 sunfish. Altogether weighed 4 lbs most they ever caught.
Aug 15 - Settled for bal of cribs repair at Harleys. Put in all new floor in west crib and about 3/4 of east one. Fixed foundations and sills. Carpenter work 12.80 - total cement, cinders, gravel etc. $41.25. Lewis helped two days then had to help in threshing. Vaccinated 20 pigs - $5.70
Aug 17 -- Ordered 2 tons 2-12-6 fertilizer of Paul Stoner, Grant Rose agent $28.00 five (have?) tno delivered. Total $56.00 cash on delivery.
Aug 21 -- Lewis, Ruth and I visited Roland a short time at the chem. bldg Purdue U - W. Lafayette. Saw our first "Blimp." Looks like a huge silver sausage. R. has made some very intricate blown glass "affairs" for the U - had a nice time. --

Note:

probably NOT the one they saw but something similar - this was a google picture marked 1935 Army Blimp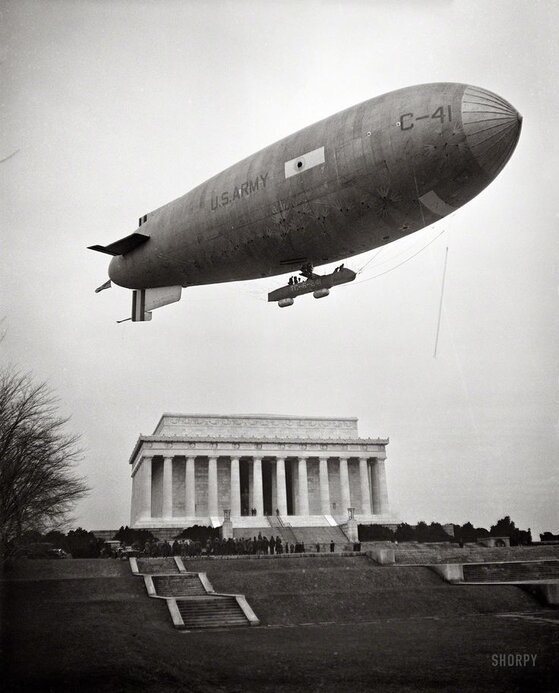 Aug 26 -- Lewis sprayed the Canada thistles on this place with sodium chlorate.

Thanks to the S. D. Dept of Agriculture so we can see what Lewis sprayed.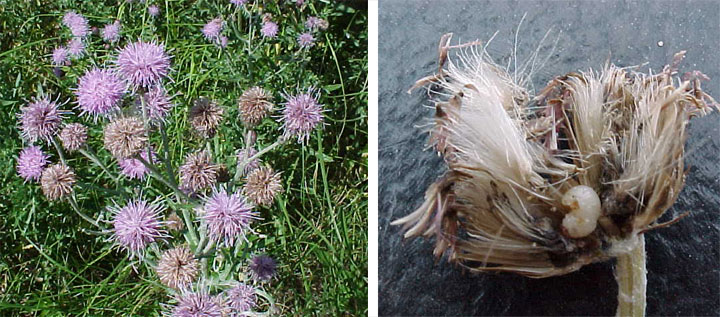 SEPTEMBER
Sept 4 - Roland home for 3 days vacation. He and Lewis & Ruth & Miss Helmond of Lafayette went to th State Fair. All had a nice time. Roland & lady friend left next day. R. working at Purdue U.
Sept 7 - Lewis left for No. Manchester. Its so hard to see the children leave. Ruth is freshman this yr in Ladoga High School.
Sept 14 - Finished putting up the soy bean hay. Clayton made it on the shares. Got 5 and a half loads each off 7 or 8 acres.
Sep 16 - W Boone for 1/2 of roof on corn crib shed at Paul's $24.09.
Sept 11 - Ollie Miller was married to Miss Clara Steiner (38 ?) of Ill. Bonnie works in CLerk's office at C'ville courthouse. Frances started to No . Manchester college - VIrginia & Rachel at home - both in school at Ladoga.
Sept 26 - Bought of Dick Rose one 2-yr. part Swiss heifer had one calf and one part Hereford heifer to have first calf in SPring $81.00 delivered here.
Sept 1 ? - Sunday - so busy with other matters failed to note a very nice trip Roland, Lewis, Ruth and I took to the Wabash river. Traveled on road 234 to Kingman, Silverwood and across the Wabash almost in sight of Cayuga. Just outside of Cayuga turned north on 63 to Perrysville, crossed the Wabash on east edge of Perrysville then came back and went over into Ill. writhin 5 miles of Danville so Ruth could say she had ben out of the state. Came east on 34 to edge of Covingtn, north to Portland Arch picnic ground but didn't stay as they charged admission Came south on 41 to Sterling then on 34 east to Hililsboro, Waynetown, Crawfordsville & Home.
Sept 28 - Claude Harshbarger was granted a divorce from his wife Clara Frame Harshbarger who is in the Insane Asylum at Evansville.
Oct 1 -- Harley commenced to sow wheat corn down badly. Sowing is slow.
Oct 2 - Claud Harshbarger and Ruth Conner were married at Danville, Ill.
Oct 5 - Finished sowing wheat in corn field by railroad. Lewis came down from Manchester last night, brought Frances Miller & Russell Baker along. so glad to see him. Roland home today also, nice to get part of the family together again at least. Ruth made the highest grade of any HS pupil the first month of school. ANd second highest on her butterfly & insect collection. Wilbur Heisey got first on those. Lewis and Roland leave tomorrow.
Oct 9 - Paul commenced sowing whet today. Sold our pumpkins to the factory yesterday. Had 670 lbs. $1.68 - 5.00 ton. Very scarce this year.
Oct 15 - Paul finished sowing wheat. Bought 36 bu at 95 c to be paid for at threshing time.
Oct 19 - Roland took Ruth & I to No. Manchester to see Lewis & where he stays. Wonderful day and a fine little visit. Wish we could have stayed longer.
Oct 27 - Sunday - Born early this mornig a son, John Herschel Jr. to John Marian at the White Cross Hospital, Columbus, O.
NOVEMBER
Nov 3 -- Roy's came over from Cincinati at noon - will leave tomorrow noon. All looking fine. So glad to see them again.
Nov 13 - Paul brought his first load of corn.
Nov 15 - Old Kate, mare we bought a few years ago of Cummings, died of indigestion today.
Nov 18 - Paul brought load of corn.
Nov 20- the first day the sun has shone the least little bit for 11 days. How we enjoy seeing it again. Weather damp and drizzles rain almost every day. Corn is down badly and spoiling in the field. Lots of sickness of various kinds. Harleys girls have light case of scarlet fever.
Nov 21- Paul brought load of corn.
Nov 22 - Paul brought load of corn. Geo. Boone helped Ge. Kessler cut 5 trees out the partition fence by Truman SMiths. Peiffer Place Paid Boone 50c.
Nov 25 - Paul brought load of corn.
Nov 26 - Paul brought load corn - we butchered a hog. Harley's got 1/2 of it.
Nov 30 - Bought timothy seed 3 bu here 2 for estate $2.00 Clover seed from seed housei s $12per bu. Bought our own of Lewis Bradley for $9. Culd not find any more for sale among farmer's. We got 6 bu 40 lbs have about 2 bu mixed seed from last yr. Lewis & Roland home for Thanksgiving. So glad to have the children come. Had first snow yesterday not much tho.
Dec 3 - Paul brought two loads corn.
Dec 4 - Paul brought one load corn.
Dec 5 - Paul brought one load corn. Geo. Kessler finished threshing his soy beans today.
Dec 6 - Paul brought one load of corn. Harley finished husking corn on the wheat field by railroad - his father helped.
Dec 9 - Paul brought load of corn.
Dec 11 - Paul brought load of corn.
Dec 12 - Paul brought 1 load of corn
Dec 13 - """""""""""""
Dec 14 - """"" (part of a load)
Dec 16 - Mrs. W.A. Boone who lived across the road north of us, died today in Robt. Long hospital following amputation of her arm. Had blood poisoning of 16 yrs. standing.
Dec 21 - Lawrence Baker fell from the running board of an auto and struck his head and shoulder on the frozen ground. Was taken tot he hospital unconscious.
Dec 25 -- A blizzrd for Christmas! Snow 5 or 6 " deep still snowing & blowing. At 8 o'clock it was 20 above zero at about 11 it was 4 below. One of the worst days I ever saw. Roland and Lewis home with us. Got nice presents from all the absent ones andnice ones from the rest too. So thankful to be able to wait on ourselves and be reasonably well. Lawrence Baker was unconscious for about 30 hours. Seems to be improving now. Clayton brought us a guinea for dinner. Very good met, too we think.
Dec 27 -- Continued cold, 10 below zero.