JUNE 1902 - HIRAM PRATT DIARY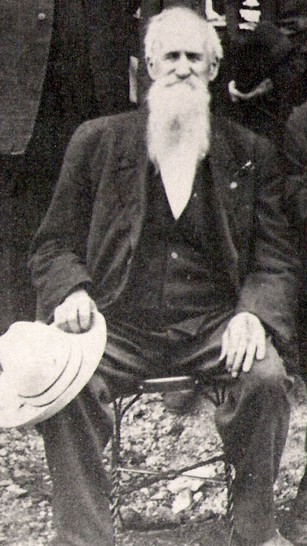 Note: These diaries were in the Waveland Public Library for decades but were disposed of by a librarian several decades ago. Luckily, another librarian's daughter (thanks sooo much Pam, at the death of her mother, Virginia Banta Sharpe found them in some belongings and gave them back for proper housing. A complete circle; however, only 14 of the 50+ diaries were saved from the library's incinerator. I'm a librarian too and thought since they'd been lost to posterity for so many years that it would be a good thing to transcribe them and give them to the world. They are currently housed in proper temperature/storage at the Crawfordsville District Public Library - typed as they were written
Note 2 : Karen Bazzani Zach (transcriber) was raised in the big 'ol town (500 people) where HA Pratt lived 5 decades before I was born. I remember the building where his little shop was and wish it was still there. What an interesting little place. ALAS! Progress ! Oh, and I've tried to type the diaries as is - mistakes & all
Note 3: Some information about Pratt -- he was born in Parke County, Indiana April 20, 1840 the oldest child of eight born to Erastus & Elizabeth Allen Pratt and died October 12, 1914 in his beloved Waveland, Indiana. He was twice married, first to the love of his life (he kept a life-sized poster of her in one of his cabinets at his barber shop, even long after his second marriage) Eliza Franklin Shaw (born Oct 23, 1841 died Oct 12, 1887), and #2 to his friend, Evaline "Eva" McMains. He was very active in the community where he and Eliza chose to live. He gave generously of his time and money to the Methodist Church in Waveland. For a few years, he served as Marshall of the town. Also, he worked diligently for his Odd Fellows, Rebekah & Knights of Phythias Lodges, was for a time on the town board, and read to those who could not read from the several newspapers he was agent for. Pratt volunteered and served for three years during the Civil War (Co. B, 36th Infantry), and spent time in the dreaded Andersonville prison. He and Eliza adopted a son, Willie Franklin Stump, age two (not sure ever officially or just had permission to take him from the Poor House in Crawfordsville) and he was an amazing young boy (high grades, worked in the church, quite musicially inclined, just an ideal child) until Eliza was taken to the hospital where she was operated on for six cervical tumors (one weighing six pounds) from which she died. Willie went wild after that and he and Hiram's second wife, Eva never got along. He ended-up in Reform School (for stealing a dollar twice from Eva among other small crimes), and later sent home to die due to consumption (what we know as tuberculosis) dying in Hiram's arms on April 12, in 1894. Hiram missed Willie and Eliza more than most I do believe as he wrote about them so often in these diaries. Just wish the rest of Pratt's diaries he wrote for over 50 years as a barber in Waveland still existed :( kbz
---
Sunday, June 1 - The funeral of Cora Moody was attended by a large gathering of the people. Rev. JJ Fischer delivered the funeral sermon. She had been sick more than a year was in her 27th years 1 months and a few days. Succumbed to disease of the lungs. Before going in the meeting house a visit to Willie's grave, I cut a few roses and laid them upon it. After dinner we (Eva and I) drove to Russellville and on our return home was overtaken by a ? and put up at Simpson Evans' a cousin of mine. His mother was a half sister of my father and the wife of Uncle "Kiah" Evans.
Monday June 2 -- $6. Paid $3.85 for 35 gallons of gasoline. We stayed all last night at Simp Evans'. Got an early start for home and arrive at about 7:30. Mary had milked the cow, said milk was wasting - running from the teats. The farmers are well supplied with rain. The South African war is at a end. The Boughers surrendered and acknowledged allegiance to King Edward VII. The house vacated by Jim Goslin is now occupied by Pearl Kelly and wife, a newly married couple. He has bought the Restaurant and bakery of Mort Acker. We had a very light rain fall early this morning.
Tuesday June 3 -- $1. Paid 10c for a half gallon measure of green beans - 10c for a pound of new tomatoes. 10c for - (there is a blank) 15c for Soda drinks. After dinner Eva and Nancy Bloomfield went to Sam Jarvis's where the ladies aid society held a meeting. We had an other good rain this morning. The ground is now to wet to be cultivated. Prospects for a good crop of all kinds of farm products are good. We have a cow and calf that run in the same lot and the cow will not let the calf suck. She was the first to become weaned. We have taught the calf to drink milk - we get the cream in first.
Wednesday June 4 -- $3. Paid 25c for the putting on one shoe on Bob McMains' mare. Eva sent a letter yesterday to her sister Almyra Petty of Okmulgee, Indian Territory. I wrote a couple of pages. Today she received a letter from Perle Petty of Kansas City, Missouri. She is well. Her plans for the future are undecided. I am lead to believe from the way she writes that she has abandoned her matrimonial venture. She has a chance to engage her services in the Hospital at Danville, Ill. We had more rain this p.m. The 17 year Locusts are here in great force.
Thursday June 5 -- $1.00. Sent 2.25 to Ivanelle (?) for laundry work. Another little rain fell today. Some of the farmers have gone over their corn the 2nd time, some have been hindered by the rains. The Locusts make a distressing noise incessantly during the day. There is a report that their exhistance will expire in 40 days after their advent. They are beginning to deposit their eggs, mainly the under side of twigs or tender part of the limbs of trees. Paid 20c for a gallon of Pure apple cider vinegar. Eva had a letter from Aquilla Groves inviting her to attend the revival meeting being held in Waynetown. She can't attend.
Friday, June 6 -- $3.50. I sent the Crawfordsville Journal $2.27 when paid for the papers receive din April. We had a beautiful shower. After Sun down, Jim Alfrey came home yesterday evening. He left Jonesboro, Ark the evening before at 9 o'clock. He reports wheat harvesting over corn nearly waist high and cotton about a foot high. The cotton crop at this date is very fine and promises large results. Penn Hanna and wife are in charge of the Hotel at the Shades this year. Business is not yet fairly open up out there as yet.
Saturday, June 7 -- $6.50. The laundry was not received today. Paid 10c for the use of the telephone and found out that it was put on the wrong train and was put off at Darlington. It will be returned to me Monday morning. Paid 40c for a beef roast at 8 ½ c per pound, 15c for a half gallon of Gooseberries. 70c for a head of cabbage, 25c for 5 Enquires made no money on these, bought to supply customers, 35c for a peck of new potatoes, had 3 showers of rain this afternoon, 2 of them were good "root searchers", was done work by 11:30 p.m.
Sunday June 8 - I attended the regular preaching service by Rev. JJ Fischer at 11 o'clock, after meeting was dismissed made my accumstomed visit to Willie's grave. On my way home stoped for Eva. Her meeting continued until about half past 12. After dinner we went to Henry Bell's and spent the evening very pleasantly. We had all the ice cream and cake we could eat. At night we attended children's day service in the Methodist Church house. There was not room for all that wanted inside. The music was good, Miss Alberta Hanna performed very gracefully in the use of the violin. Children were well drilled.
Monday June 9 -- $2.40. Paid $3.30 for 30 gal. of gasoline. Paid 15 for a 2 lb package of "Force" a preparation made from the wheat grain. It is easily prepared and good to the tast (taste imagine possibly test), said to be a wholesome food. Paid $1.15. Express charges. I had not paid for several weeks and then did not pay all. Last night was cool and this morning the grass was white not with frost but crystal drops of dew. Next Sunday Eva and I will attend church in Crawfordsville, provided we get there in time. I want to exchange horses with Bob McMains__ not trade.
Tuesday June 10 -- $2.25. Paid 25 for a gallon of unhulled peas. 10c for a quart of strawberries and to Charley Patton 75 for a bushel of corn I got last week. Weather is real warm again no rain since last Saturday. Harry McMain's wife is at Jim Alfrey's tonight. In my paper from Blakesburg, Iowa, I noticed a visit of Leo. Swiggette and wife from Portland Oregon. He is yet quite a young man and is living with his 3rd wife. They have in Blakesburg now a Telephone Central Office. Our town was lighted for the first time on last Friday night with acelylene gas.
Wednesday June 11 -- $1.50. The storm last night was on the rampage through Illinois, Wisconsin, Indiana and Iowa. Several lives of people were lost, horses, cattle and all kinds of stock suffered houses were unroofed, barns were demolished, besides there was much damage done by lightning. Several of our town people were so badly scared they got out of bed and dressed, preparatory to be blown away. Our farmers are meeting with some trouble in the proper cultivation of their corn crops.
Thursday June 12 -- $2.60. Paid $1.10 for 10 gal of gasoline sent the Globe Democrat of St. Louis 65c in stamps. Eva went over to Charley Pattons and spent the afternoon with his wife. Mrs. John H. Rice was with her. Paid 20c for strawberries and 25c for cheese at 18c per lb. We have had no rain today. Some of the farmers are at work in the corn, where the ground is well drained by tiling, it is a great help in cultivation. Yesterday we learned that Mrs. Sally Ware had died, she was a daughter of John Crutchfields.
Friday June 13 -- $5.45. Sent the Cincinnati Enquirer $1. Paid 75 c for a bushel of corn in the ear. Mary Lewis (Kelso) was at our house over the night. Eva and Mary were at Mrs. Bloomfields a while this evening. Paid 10c for a few fresh beets. We will commence using ice in the morning. It will cost 35c per hundred. Yesterday and today have been very warm. I hear some say Mercury was up to 98. Eva spent the day over at her sister Nancy Kelso's. There will be a horse show here Saturday June 14.
Saturday June 14 -- $9.70. Paid $1 telephone toll - shop rent for week before last 41.25. 24 lb sack of flour 30c for a pound and a half of beef steak. There was a little rain fell late yesterday evening. There had been none today. Gave Eva a half dollar. Emma McQuown a niece of Eva's is at our house. Eva wet over to Milligan for her. We were done work by half past 11 o'clock. Harry Barr is helping me. He wants to learn the barber's trade. Paid 20c for two dishes of ice cream. There was a festival by the women of the ME Church in the Glover room. I did not get time to go.
Sunday June 15 - I hitched the little dun mare to the buggy and took Eva to her church and I went to mind, before going in the house visited poor little Willie's grave. After meeting I took Miss Sarah Barton to FN Johnsons. Miss B. assists Mrs. Johnson in housework. After dinner I took Mrs. Rachel Crabb out riding - we were gone about 2 /12 hours, went out the road to Crawfordsville, leaving it this side of Robert Fullenwider's turned west at Freedom Church, then south at the first opportunity. Tonight I went to childrens day meeting in the Presbyterian church. Eva went to her church.
Monday June 16 -- $2.05. Paid Pearl Kelly $1 for damage done as he claimed by our cow in his garden. The whole garden was not worth a quarter of a dollar, 30c paid for beef steak, 45c for a dozen tomatoes. 5c for 6 new beets. Eva, Emma and Mary were over at Wm. Kelso's visiting today. Paid $5.50 for 50 gallon of gasoline, 10c for nails. The air has been a little cool all day, James McClure and wife of Crawfordsville started on a trip to New Mexico in search of a better climate for Mr. McClure. He has consumption and can't live much longer.
Tuesday June 17 -- $1.50 Paid Tom Wilsons little girl 55c for a 5 oz bottle of extract of vanilla. 20c for a gallon measure of green beans. I meant to have said peas. 50c for stamps sent 13 of them to the Post Dispatch of St. Louis. The weather is a little warmer, crops of all kinds are growing nicely. Bob McMains came in this morning. He stayed at Kelso's last night. Our horse, Bob is at home. He looks none the worse on the account of his absence. We will drive him to Portland Mills next Sunday to the all day meeting to be conducted by JC Ashley. Eva took her niece Emma McQuown home yesterday no today.
Wednesday June 18 -- $2.40. Paid Goslin & Co $1 for sugar. Bob McMains was expected here tonight. Don't know cause of detention. There are great preparations being made for a large crowd here on next Saturday at the Horse & Colt show. Paid 67c for 190 pounds of ice. Since taking ice I have plenty of good cold sweet milk to drink. I make my supper often times on milk and bread. Tonight when I went home there was falling a little mist of rain, it also rained a little this fore noon, but not enough to drive people in from out door work.
Thursday June 19 -- $1.55. Our merchants are making great preparation to meet the demands likely to be required on next Saturday during the Horse Show. If the weather is fare there will be a large crowd here in the afternoon. I hear of some of our farmers at work cutting clover for hay and in local ties in bottom lands wheat is being harvested. Bob McMains said that Mat McClure sent them a telegram from Chicago that her husband James McClure had stood the trip thus far without any visible signs of being any worse.
Friday June 20 -- $7.20. There was a rain fall last night, I heard not a breath of it, neither did Eva. Prof. George l. Grey said that it rained hard for the space of about an hour. Paid 25c for the shoe I had put on Bob McMain's mare and a dollar for the shoeing our Bob all round. The impression made by some that when a person owns their own rig - horse and buggy that it don't cost anything to ride - buggy ride, I am not thus impressed. I was up until after 11 o'clock last night and tonight. There are no horse flies to be of any trouble at this time, don't recollect of them being so tardy heretofore.
Saturday June 21 -- $8.20. I notice shop rent has not been reported for a few weeks ? to last Saturday. I now report $3.75 I am behind last week and this week. Gave Eva 75c . Paid 40c for dinner and supper with the women of the Christian Church. 30c for 1 ½ lb of dried beef. 35c for a tray of new tomatoes. 41 for a shirt for JJ Fischer, his was lost in the laundry. He has 2 more lost or not yet accounted for. Rec'd a letter from Carrie Harrow. She will give up school teaching and go to house keeping. Brother Will is near death, Mother is yet alive.
Sunday June 22 - By nine o'clock we were on the way to Portland Mills. Arrived in time for the morning sermon. There was not the usual number out for this service in an all day meeting as I had expected to see. Nancy kelso and her daughter, Mrs. Mary Lewis, bob Kelso and wife, Jim Alfrey and wife, bob McMains and wife, myself and wife were from Waveland. At Sam McMains we met with Sam Rambo, wife and 3 children and a daughter-in-law. Mr. Sigler, wife and son, children of S Mc"s. We had a good dinner. Had meeting at 2 ½. "Aunt Bet' is looking much better.
Monday June 23 -- $5.65. Sent $1.50 to Physical Culture Co of NY for my friends, Miss Harrow of Ottumwa Iowa. I promised this to her when out on my visit last summer. Last night I visited Willie's grave and heard Bro. JJ Fisher on "Seek ye first the kingdom of God."" Had a good sermon, not many out to the meeting. Paid $7.65 for 60 gal of gas and 10 gal of oil. Gas 11 c oil 10 ½ a gallon. Jim Alfrey is having a cistern put in by John Miles. There was frost to be seen early this morning. On our way home yesterday evening stoped a few minutes in Russellville. Wrote a letter to my bro. Wm. Don't know if he is dead or alive.
Tuesday June 24 -- $1.40. Dues in the IOOF $1.36. The Crawfordsville evening journal had a short item in it about a very severe store. The paper had to go to press before very many of the particulars were received. The Indianapolis of tomorrow will give more of the news in detail. Jim Alfrey's sister is finished. I was making change today for a man and he worked the change racket on me to the amount of $1. John Pickard has moved our on your (can't read).
Wednesday June 25 -- $2. The Evening News of yesterday and today is largely devoted to giving incidents of this storm that visited a portion of this state Tuesday late afternoon. It is estimated the damage of the growing crops about 1,500,000 dollars and mostly in Carroll County. About $2,000 damage is claimed by Crawfordsville. We never felt the least symptoms of it here - the storm is accounted the severest for 50 years credited to this state. I prepared the laundry for shipment tonight.
Thursday June 26 -- $.65. Nancy kelso and her daughter Mary were at our house today for dinner. They visited until near 5 o'clock this evening. Bought bread 5c cabbage 5c peas 20, bananas 10; 1 box sardines 10 one box of salmon 10 one gal of raspberries 40c one box of tomatoes (12) 25c. Rev. JC Crowder of Oxford, Ind his wife and twin babes are visiting at Robert Fullenwiders, Mrs. Crowder was raised by the Fullenwiders. Her husband is a good preacher. Miss Fannie Edwards is at her sister's over in Illinois, and is reported to be improving in health and eyesight. Miss Carrie M. Harrow was married today. Spent (?) Harvey Moore in DesMoines, Iowa.
Friday June 27 -- $5.45. Sent the Indianapolis News Co. $9.48 8c fee 24 # sack of flour for 65c. 1 qt of green peas 20c. For groceries $1.60. The barn of Ed Myers was struck by lightning last night set on fire and consumed He had one horse, a set of harness, farming implements and lots of other stuff to burn up. Was carrying $175 insurance. I went home early tonight on the account of approaching storm, it passed to the southwest. Rained only a very little and gentle.
Saturday June 28 -- $8.40. Paid 30c express on the laundry from Crawfordsville. They want the work sent them next Tuesday as they propose doing no work on the 4th of July. There has been a rain falling nearly all day. Tonight it rain real hard for a bout an hour. It is yet raining at half past 11 o'clock tonight. Jim and Mary Alfrey are at our house tonight. Eva is afraid to stay at home at night alone when there is indications of storm. I was done work by 11. Rent 1.25
Sunday June 29 - Eva went with me to church this afternoon. I visited Willie's grave before going in the house. From church we went over to Wm. Kelso's for dinner and spent the remainder of the day, while there a nice shower of rain fell. We had ice cream for dinner and then an extra dish before starting home. At night we attended the Epworth League entertainment in the Methodist Church. It was real interesting. Eva lost interest because of an approaching rain storm. We left our seat to go home, got to the vestibule and discovered rain falling and remained to the close. The acetylene street lights are a great help to the citizens of the town.
Monday June 30 -- $5.75. Paid $7.45 for gasoline and oil. Oil at 3 ½ gas at 11 per gal. Eva was uptown last Saturday and spent 30c for a neck ribbon. Paid 41.25 for 5 yards of black sateen for her a skirt and 5c for a spool of thread. 30c for beef roast, 63c for ice last week. Sent the Chicago Record $2.55. The Commercial Tribune $3.45 Expense 10c. Eva has concluded to go over to Rossville, Illinois during the holidays and visit her bro and sister. She can go for half fare, leave here on next Thursday and return Monday following. I don't know where we will spend the 4th. By the paper from Blakesburg, I learn mother is worse and bro. some better.