AUGUST 1903 - HIRAM PRATT DIARY
Waveland, Indiana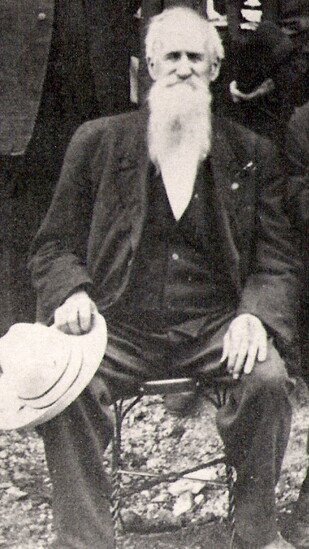 Note: These diaries were in the Waveland Public Library for decades but were disposed of by a librarian several decades ago. Luckily, another librarian's daughter (thanks sooo much Pam, at the death of her mother, Virginia Banta Sharpe found them in some belongings and gave them back for proper housing. A complete circle; however, only 14 of the 50+ diaries were saved from the library's incinerator. I'm a librarian too and thought since they'd been lost to posterity for so many years that it would be a good thing to transcribe them and give them to the world. They are currently housed in proper temperature/storage at the Crawfordsville District Public Library - typed as they were written
Note 2 : Karen Bazzani Zach (transcriber) was raised in the big 'ol town (500 people) where HA Pratt lived 5 decades before I was born. I remember the building where his little shop was and wish it was still there. What an interesting little place. ALAS! Progress ! Oh, and I've tried to type the diaries as is - mistakes & all
Note 3: Some information about Pratt -- he was born in Parke County, Indiana April 20, 1840 the oldest child of eight born to Erastus & Elizabeth Allen Pratt and died October 12, 1914 in his beloved Waveland, Indiana. He was twice married, first to the love of his life (he kept a life-sized poster of her in one of his cabinets at his barber shop, even long after his second marriage) Eliza Franklin Shaw (born Oct 23, 1841 died Oct 12, 1887), and #2 to his friend, Evaline "Eva" McMains. He was very active in the community where he and Eliza chose to live. He gave generously of his time and money to the Methodist Church in Waveland. For a few years, he served as Marshall of the town. Also, he worked diligently for his Odd Fellows, Rebekah & Knights of Phythias Lodges, was for a time on the town board, and read to those who could not read from the several newspapers he was agent for. Pratt volunteered and served for three years during the Civil War (Co. B, 36th Infantry), and spent time in the dreaded Andersonville prison. He and Eliza adopted a son, Willie Franklin Stump, age two (not sure ever officially or just had permission to take him from the Poor House in Crawfordsville) and he was an amazing young boy (high grades, worked in the church, quite musicially inclined, just an ideal child) until Eliza was taken to the hospital where she was operated on for six cervical tumors (one weighing six pounds) from which she died. Willie went wild after that and he and Hiram's second wife, Eva never got along. He ended-up in Reform School (for stealing a dollar twice from Eva among other small crimes), and later sent home to die due to consumption (what we know as tuberculosis) dying in Hiram's arms on April 12, in 1894. Hiram missed Willie and Eliza more than most I do believe as he wrote about them so often in these diaries. Just wish the rest of Pratt's diaries he wrote for over 50 years as a barber in Waveland still existed :( kbz
---
Saturday, August 1-- $9.20 -- Robert Smith of Memphis, Tennessee is visiting his relatives here. He used to live here some 20 years ago. Paid 35 c for the return of the laundry from Columbian Laundry of Terre Haute. Sent them in the box 96 to pay for the work done last week. I was done work by 12 or midnight. Weather is some cooler, more so at night.
Sunday, August 2 -- I visited Willie's grave before going into the meeting house. I did not get sleepy during the sermon. Bro. Paxon was on a good subject and was very intersting. After dinner was over we drove over to Russellville and chatted a few minutes with Jim McMains' family. Heard Bro. Paxon again tonight. Harry Shawl was immersed by Morman ? tonight.
Monday, August 3 -- $5.80. Paid AOUW $3.84. Gasolene 55 galls $9.10 Ten gallons Eocene oil $1.15. Beef steak .30 Sam McMains and Clay Lewis were at our house Saturday night. A rain began to fall at 7:45 this evening and at 9 o'clock it was still at it. The weather has been real warm, mercury was up in the nineties. Evangelistic meetings command pres. tonight ?
Tuesday, August 4 -- $2.60. Sent the commerical Tribune of Cincinnati, O $3.67. Expense 5c stamped envelopes 53. Pack of postal cards 25. The rain continued all night at about 2 o'clock this monring; the storm was at its best. Lightening flashes were continuous not a second of time between flashes and the roar of Thunder was continuous. No damage done in these parts.
Wednesday, August 5 -- $1.85. For tomatoes 10 - 2 lbs. We had two beuatiful showers of rain. Ther eis a series of Evangelistic meetings going on in the Presbyterian Church this week. Eva attended the meeting last night. This mornings papers contained the pictures of the Newly-elected Pope, Giuseppe Sarto is his name. His tills is Pins 10? He is 67 years old. A natiave of Venice, Italy.
Thursday, August 6 -- $2.60 Beef steak 20. 500 lbs ice $2.50. Three gallon of black berries 60c. Eva attended this afternoon at Abe Courtney's. The nite society by the women of the Christian Church. The New Pope will be rowned next Sunday. Eva has writen to her sister Almira Petty of Olmudge, Indian Territory. She very earnestly invited her to be present at their family reunion to be held the last Saturday in this month in Alfrey's Grove.
Friday, August 7 -- $1.95 - pack of postal cards 25. Sent the Indianapolis Sentinel 35c for 1 yrs sub to or for Wake Durham. He gave me the money several months ago. I had forgot all about it. I have not been to any of the meetings this week. I have offered $5 a month for the Bank building or old meat market room but don't know whether I can get it yet awhile.
Saturday, August 8 -- $9.35. Paid 35c for beef steak. 10 - for thread - 5c for candy. There was a little rain fell this afternoon. Paid 35 for the return of the laundry. Last Thursday I sent the Columbia Laundry $4.19. Their prices are to high. I'll have to go back to Logansport. Harry did not help me until after 7 o'clock.
Sunday, August 9 -- I put "Bob" to the Phaeton and took Mrs. Sally Smith up to the woman's meeting then my big fat woman to the same meeting then Mr. James Alspaugh to the men's meeting. "Bob" was feeling fine when I started out with him. He is the prettiest horse I know of - it is not his gate to go very fast but he is sure don't care and act the fool.
Monday, August 10 -- $4.60. Paid $6.60 for oil and gasolene. Gave Eva 25 because she claned up the litter on the walk in the barn bought her two pr of hose for 25 and a box of hair pins for 5c. Paid for cheese 25 c for crackers 10 for beef dried 25c. We are contemplating a trip to Lake Mixinkuekee tomorrow. It is 1.10 (or 110 probably) to the Lake.
Tuesday, August 11 - $1.20. I got Harvey Canine to attend to my papers and laundry business while Eva and I took a little visiting. Tickets $2.50 while at the Lake I took Miss Forest Jarvis on a boat for a trip round the Lake. I ttook us about an hour to make the trip. Bought a dish of ice cream 10 c a package of Cracker Jack 5c. Two sandwitchs 10c. Mary Lewis, Forest Jarvis and Miss Emma Russell and Harry Barr went from here to the Lake.
ON TOP OF THIS ENTRY HE WROTE: "15 years 10 months ago, Eliza died. Willie 9 years 5 months ago.
Wednesday, August 12 -- $6.80. Paid Jim Alfrey $15. Gave Eva $20. She is calculating to go and see Perla sometime in October. Paid 40 c for beef and 10 c for tomaotoes. We were expecting Henry Austin to dine with us today but he had taken sick and returned yesterday morning to his home at Pekin in Illinois. Mary and John, Eva's brother and sister eat with us at the noon meal.
Thursday, August 13 -- Logansport Laundry $3.58. Columbia Laundry $1.18. Box of Envelopes 40c. Our cow has a baby a girl calf. She went 3 1/2 days over 9 months from the date of breeding. Eva and her sister Mary were at The Spencer Reunion held in John Warrick's wood pasture. Sam and John McMains are at our house tonight. I got 58 1/2 bushel of oats from Jim Alfrey last Saturday. Telephone rent $3.
Friday, August 14 -- $1.15. Paid 25 c for a water melon; 15 c for a slice of ham. Eva went to Ladoga today. She went over the Midland left here at 8 and returned at 8 - I had the horse and buggy ready for her. Jim Alfrey attended as I had work in the Shop. Sam McMains returned home this morning. I have engaged 40 bales of straw of Bob Kelso warmer today.
Saturday, August 15 -- $6.80. The laundry was not returned to me today. We were done work by 10:45. I had no supper, for a long time I have had no time for supper and often times work until 12 oclock or nearly so. We had a wee bit of a shower of rain this afternoon. The watermelon I bought was hallow. The melon was sweet and good 1 # of butter 20 cts.
Sunday, August 16 - - I visited little Willie's grave at 11 o'clock and then went in to the meeting house and heard a good sermon by our pastor, O.P. Paxon. After dinner we went over to Russellville to attend a meeting in the tent. There was no preaching and we spent the evening at Jim McMains. Eva went with me to hear Bro. Paxon tonight.
Monday, August 17 -- $2.50. Paid $1.40 for milk. 35 c for the return of the laundry. 15 c for corn meal - 15 c for cloves; 15 c for sweet potatoes; 15 c for Saigon bark 25c for three lamp flues. Put on a new mantle on the single brown lamp - had not put on a new one for 13 months. We parted the cow and calf. It will be tuaght to drink the milk.
Tuesday, August 18 -- $3.20 - yesterday I paid for 45 gal of gas $6.08. Bought of Chas B. Taylor 1/2 gal of Apple Butter 35c. Eva called to her assistance two other women and they had a high old time in corelling the calf in order to feed it. Today at noon it was of no trouble. 100 copies of the Crawfordsville Journal was sent me for free distribution.
Wednesday, August 19 -- $8.90. We had a beautiful shower of rain at about 6 p.m. There is going to be a short crop of corn as compared with the crop of last year. The frost is sure to get its work in on a good many fields. The letter that Eva wrote her sister Almira was returned. It had a 5 days limit on it. I put it in another envelope without limitation and returned it.
Thursday, August 20 -- $1.05. Sent Chicago-Record-Herald $3 a 6 mos sub for HE Roads. Eva went out to her siter Nancy Kelso's and spent the day. I went out there for dinner. Bro. Moorman drove "Bob" out there and returned leaving "Bob" in my care. In the afternoon Moorman used "Bob" awhile and at night his wife went out for Eva. Allen's Foot ease 25c.
Friday, August 21 -- $3.05. Snet Hearst's Chicago American 70. Expense 5. The women of the Christian Society gave an ice cream social tonight. They have had a good run. I firnished them one of my gasolene lamps and was given a dish of cream. John McMains was at our house today for dinner. Bacon 85. Warmer tonight.
Saturday, August 22 -- $8.90. We were done work by 11:30 o'clock. I eat 2 dishes of cream last night and three tonight cost me 30c. Bought a large water melon for 25. The agens of the Crawfordsville Journal have been down here and have worked up a list of 24 names for the daily Journal at 10c per week.
Sunday, August 23 - We went over to Russellville this morning and attended the tent meeting conducted by Elder Legg. They are going to build a meeting house, but have not decided as to the size or cost of it. We eat dinner at Jim McMain's. Eva took over a chicken (dressed) and the melon I bought yesterday we also took over there. I went to hear S.K. Fuson in the Baptist Church last night.
Monday, August 24 -- $3.10. Paid Mag Moore for washing 35c. For milk 70 c for butter 20 for gasolen $6.08. for "Karo" a corn syrup for table was 10c for a cake of Sweet Chocolate 10c. for 49 3/4 pounds of salt 39c. for a small package from Detroit Mich a medicine for the kidneys $3.25. This has been a warm day. Mercury has been up to 90 degrees.
Tuesday, August 25 - $5.50. A cake of paraphene 15c. 2 yds of table lenine $1.00. Yesterday is reported at some places as having been the hottest of the season, 92 degrees. Sir Thomas Lipton with his Shamrock 111 is likely to be defeated in the Yacht races at Sandy Hook. The American Yacht Reliance has won two races. Three best in 5 is the winner. The cup has been held in the US over 50 years.
Wednesday, August 26 -- $2.25. Paid 50 c for a beef and ham steak. 40c for a box of Alluminum polish. Eva wantes to paint the stones we use in the home. 15 c for a cake of paraphene. I see a notice of this in yesterdays report. Received a copy of the Ottumwa sIowa Courier giving an account of the soldiers reunion at Blakesburg. It was sent me by Sister Margarett V. Pratt, my deceased brothers' wife.
Thursday, August 27 - $1.05 - yesterday we had two beautiful showers of rain and today two more. Charles Ellis, his mother and two of his youngest children came in today for the McMain Reunion on next Saturday. Philip and his daughter Mary are expected to be here tomorrow. Sent The NEws $12. 10c fee.
Friday, August 28 -- $2.25 -- paid 50c for fresh beef - 50c for a bushel of apples. Eva will dry most of these. Philip came in on the 10:03 morning train, his daughter Mary did not come. The whole set form Rossville were at our house for dinner. They are at Kelso's tonight.
Saturday, August 29 -- Paid for another 500 lbs of ice $2.50. I paid this the forepart of the week. I have made arrangements to move into the brick room once used for banking house and lately for a meat market. Rent of TL Hanna at $5 per month and am at expense of papering. Two years is all the itme he would concent for me to keep the room. Had a good dinner at reunion.
Sunday, August 30 -- The McMains Reunion was held at the edg eof this town (Waveland, Ind) south and west of Cross and Main streets. The beach (sic) grove consisted of 4 large beech (sic) trees. THe shade was large enough to admit of all to keep within the shade. I was there for dinner. James Alfrey on whose land was the assembly had prepared with the help of Charles Ellis a substantial table. It was loaded with an abundance of good things to eat 47 persons eat dinner at this table. It was agreed to hold another reunion there on the last Saturday of August next year. I took some little children out riding this afternoon. Tonight Eva went with me to hear Bro. O.P. Paxon his last sermon before conference. Cool weather. Visited Willie's grave at 7 o'clock this p.m.
Monday, August 31 -- $4.50. Sent the Crawfordsville Journal $1.83. Expense 5c. 25c for a glass jar 4 oz of library ? paste ? Yesterday I made a fire in the heating stove for the benefit of Sam and Philip McMains. They said they ad been cold all thru forenoon. The wather today is not quite so cool as it was yesterday. Paid $8.43 for 45 gal of gasolene and 10 for oil. Philip and Eva took trip to Russellville this after dinner afternoon. We had heard that Jim McMains wa son the sick list, lest they found him as well as for common. None of the McMain relatives from over there were here at the reunion. Paid the AOUW $4.09. I will have to let a part of my insurance in this fraternity go by default on account of the high rate to one my age. Next year it will cost $8.40 per month. I can't meet it. John Shanks has agreed to put the paper on the wall of my new shop for $10.