MAY 1886 - Hiram Austin Pratt Diary
Waveland Barber; CW Soldier + More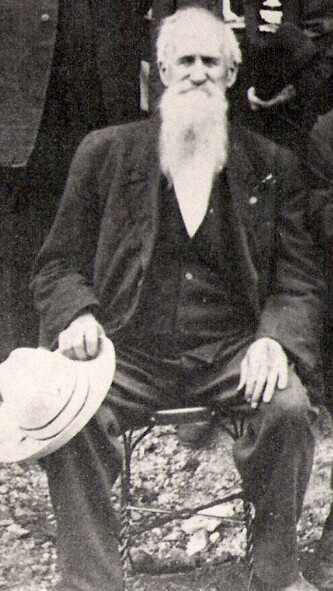 Note: These diaries were in the Waveland Public Library for decades but were disposed of by a librarian several decades ago. Luckily, another librarian's daughter (thanks sooo much Pam, at the death of her mother, Virginia Banta Sharpe found them in some belongings and gave them back for proper housing. A complete circle; however, only 14 of the 50+ diaries were saved from the library's incinerator. I'm a librarian too and thought since they'd been lost to posterity for so many years that it would be a good thing to transcribe them and give them to the world. They are currently housed in proper temperature/storage at the Crawfordsville District Public Library - typed as they were written
Note 2 : Karen Bazzani Zach (transcriber) was raised in the big 'ol town (500 people) where HA Pratt lived 5 decades before I was born. I remember the building where his little shop was and wish it was still there. What an interesting little place. ALAS! Progress !
Note 3: Some information about Pratt -- he was born in Parke County, Indiana April 20, 1840 the oldest child of eight born to Erastus & Elizabeth Allen Pratt and died October 12, 1914 in his beloved Waveland, Indiana. He was twice married, first to the love of his life (he kept a life-sized poster of her in one of his cabinets at his barber shop, even long after his second marriage) Eliza Franklin Shaw (born Oct 23, 1841 died Oct 12, 1887), and #2 to his friend, Evaline "Eva" McMains. He was very active in the community where he and Eliza chose to live. He gave generously of his time and money to the Methodist Church in Waveland. For a few years, he served as Marshall of the town. Also, he worked diligently for his Odd Fellows, Rebekah & Knights of Phythias Lodges, was for a time on the town board, and read to those who could not read from the several newspapers he was agent for. Pratt volunteered and served for three years during the Civil War (Co. B, 36th Infantry), and spent time in the dreaded Andersonville prison. He and Eliza adopted a son, Willie Franklin Stump, age two (not sure ever officially or just had permission to take him from the Poor House in Crawfordsville) and he was an amazing young boy (high grades, worked in the church, quite musicially inclined, just an ideal child) until Eliza was taken to the hospital where she was operated on for six cervical tumors (one weighing six pounds) from which she died. Willie went wild after that and he and Hiram's second wife, Eva never got along. He ended-up in Reform School (for stealing a dollar twice from Eva among other small crimes), and later sent home to die due to consumption (what we know as tuberculosis) dying in Hiram's arms on April 12, in 1894. Hiram missed Willie and Eliza more than most I do believe as he wrote about them so often in these diaries. Just wish the rest of Pratt's diaries he wrote for over 50 years as a barber in Waveland still existed :( kbz
---
Saturday May 1 - $$7.90 Sent McCain by mail $5. Finished paying for coal 2.80. Have had fire all day. Wife was up town today to see her sister Clara. Cincinnati papers did not sell very well tonight. 25000 men quit work at Chicago.
Sunday May 2 - I attended church at 10 ½. Rev LC Buckles of Terre Haute, our preachers brother was there. Services were a talk on missionary work. This afternoon I went with Charley Smith over to Mr. Ackers to see his son Jim who is bad sick and desired me to remove his beard.
Monday May 3 -- $3.90 Big rain last night. Buttons for wife's dress 30 cts three more purchased last week. Coal oil 2 gal 25. Starch 25 cts. B& L 2.50 churn dash .25 Willie & Clara went down to Terre Haute today. Clara bought a bill of Milliner goods. Put our cow in Jarvis' pasture today. She lay out too much.
Tuesday May 4 -- $5.60. Corn meal $1. Chicken feed 50 cts. Papers are filled with accounts of the strike at Chicago and elsewhere great trouble is anticipated. Already, a great deal of damage has resulted to the business interest of the country and to property.
Wednesday May 5 -- $4.75. Paid Joe Hendricks for a pair of shoes for myself 4.50. One gallon of vinegar .20 Three pounds of soda .25 Rain yesterday and today has prevented farmers from planting their corn. Clara has done a good business today.
Thursday May 6 -- $2.80. Glove Dem for HI Demaree 80 cts. Stamps .10. Wife was uptown today and paid for carpet chain and goods for Willie a suit of cloths. $5. She was with her sister Clara until late in the evening. Rained tonight before bedtime. I am well.
Friday May 7 -- $1.50. I attended the Grand Army of the Republic tonight and paid quarterly dues 50 cts. We are talking of having memorial services at the ME Church Sunday 30th of this month also to observe decoration day on the day before. McCain $5.00
Saturday May 8 -- $8.10. Sent commercial Gazette Co $5.30 for papers sold during the last month. I never went to dinner today. Willie brought it to me 2 o'clock and it was after 12 o'clock tonight when I ate my supper. The weather for several days is warm.
Sunday May 9 - Rained all the forenoon. I did not attend class meeting but took 3 pieces of bed clothing and went up stair at the barn and made a palet upon the hay and took a good nap. I dreamed of being in class meeting. Tonight I went to hear the Campbellite preacher. More rain.
Monday May 10 -- $7.55 - Sent John C. New & Son $12.06 to pay for papers sold last month including thou (?) of the Sentinel and Times. To night when I went home I could see the frequent flashing of lightening in the southwest. Weather warm.
Tuesday May 11 - $2. Paid into the Building & Loan Association 2.50. Coal oil 20. Cheese 45. Beef 50. Potatoes .25. Had a big rain last night. The ground is too wet to allow being telled ? for several days. One broom 25 cts. A man badly hurt at Bluff Mill yesterday.
Wednesday May 12 -- $1.75. For the cutting out and trimming of Willie's suit 1.85. We had another good rain last night. Farmers who have not got their corn planted are getting a little discouraged. Clara is having a real splendid trade in her Milliner business.
Thursday May 13 -- $4.55. Paid $1 for a pair of slippers for wife and sent 2 dollars to the Enquirer Co. for papers rec'd the four weeks past. We had a big rain last night and are fearful that a bad storm passed to the north east. The elements for a long time looked fearful.
Friday May 14 -- $2.45. One loaf of light bread 25 cts one bottle of shoe polish 15 cts. The indications of a storm as was seen on Wednesday night proved to have been one of great magnitude. It destroyed a vast amount of property and several lives. Atica (sic) suffered most.
Saturday May 15 -- $8.65. Beef stake (sic) 35 cts. The train due here at 11 a.m. did not arrive until 7 o'clock. T he big rain last night is reported as a terrible hard one. Chicken fee 2 bushes 50 cts. Stamps 10 cts. I have had a fire in the shop stove all day. Wife was uptown this p.m.
Sunday May 16 - We attended Divine Worship at the ME Church this forenoon and also at night. Willie and I were in attendance at Sunday School. The weather has been cool enough to require a fire to be kept up all day. There was a big frost this morning we had our vegetation covered.
Monday May 17 -- $5.25 Sent $5.05 to the American News Co 10 cts for a scythe stone. 1 lb of Pepper 30 cts one can of cocoa nut for cakes and pies. Peppermint lozengers (sic) 20. Bottle of Lemmon extract 35 cts. 2 gal of gasoline 32 cts. More frost this morning. Willie's conduct not good.
Tuesday May 18 -- $1.75. 20 pounds of salt 20 cts. Fresh fish 35. California Grapes 1 lb 10 cts. Sugar 18 pounds 1.40. I have had no fire today in the shop. The weather is cool but not cool enough for a fire in heating stoves. I have a job of work on my press for this week.
Wednesday May 19 -- $1.70. The weather has become delightful since the stormy weather of last week wife was uptown this evening and spent 10 cts for 3 bananas. The gasoline stove trade is not booming up this summer as it did last summer. I can supply the demand.
Thursday May 20 -- $2.20. We attended an ice cream festival at the Cambellite (sic) Church and spent 40 cts. There was a large crowd out. My guess on the receipts of the evening is 25 dollars. Most of the farmers have their corn planted. Paid Mr. McCall 50 for work in the garden.
Friday May 21 -- $1.40 Paid 50 for 2 bushel of chicken feed. 50 cts for repairing clipper 80 cts for 18 lbs of bacon. Tomas Roberts a neighbor living across the street from our house, droped (sic) dead while at work in his garden this morning. The weather is very nice.
Saturday May 22 -- $8. We had a good run of work after 5 o'clock. Frank did not come in until after noon. One pound of coffee 15. Paid Mrs. Read for the making of Willie's suit $3.50. This makes his suit cost 7.55 We could have bought a better one for $6.
Sunday May 23 - Wife Willie and I attended Sunday school. I mean class meeting and Willie and I attended SS. We had a thunder shower at noon. The lightning struck a locust tree in front of Mrs. Beltons West Main Street.
Monday May 24 -- $6.15. Three gals of coal oil 45 cts. One gal of pickles 40 cts. Last Monday I failed to pay my B& L Assessment and was fined 50 cts. Paid all up today $5.50. The weather is turning cooler. Storms in various parts of county yesterday.
Tuesday May 25 -- $1.80. Paid 60 cts for butcher knife 20 cts for creamery at Alspaugh's. Have had a fire in my shop stove all day. If it clears off tonight I believe there will be a big frost tonight. Wife has had to make Willie's cloths in part, over again.
Wednesday May 26 -- $1.65. Sent the American News Co 5.05. Paid last night on assessments in the AOUW $4.25. It is the arrangement to have a memorial sermon at the Methodist Church next Sunday. Rev GP Fuson of Browns Valley will preach the sermon. Weather warm.
Thursday May 27 -- $1.00. I have had but little to do today. Yet my time and presence is demanded at my place of business. It is said that if a man will KEEP his business it will KEEP him. Wife and Willie attended prayer meeting tonight. Bought two bushel of chicken feed 50 cts.
Friday May 28 -- $2.85. Bought two cans of Dameon Plumbs 25 cts. Fresh beef 90 cts. The weather continues warm and dry. The young corn would be the better were a rain to come. Our cherries are turning red in a few days will do for pies and to can up.
Saturday May 29 -- $9.55 We were not done our work until 12 o'clock or midnight. I never eat supper until through with the work. I have ordered a New Hull Gasoline Stove for a Mr. Swaim - my share of the "fat" will be 2 dollars. I am not very well.
Sunday May 30 - We had a delightful memorial service at the Methodist Church today. SP Fuson of Browns Valley gave us a good memorial sermon. The house was draped in mourning, a splendid display of National flags gave a tone of patriotic feeling to all present.
Monday May 31-- $3. Paid the Assessment in Building & Loan 2.50. 40 cts for 4 quarts of strawberries. THE GAR Post of this place decorated the graves of all ex-union soldiers in the vicinity of this place (Waveland, Ind). Services were largely attended. The weather is very nice for everybody.