1942 Lula Goshorn Diary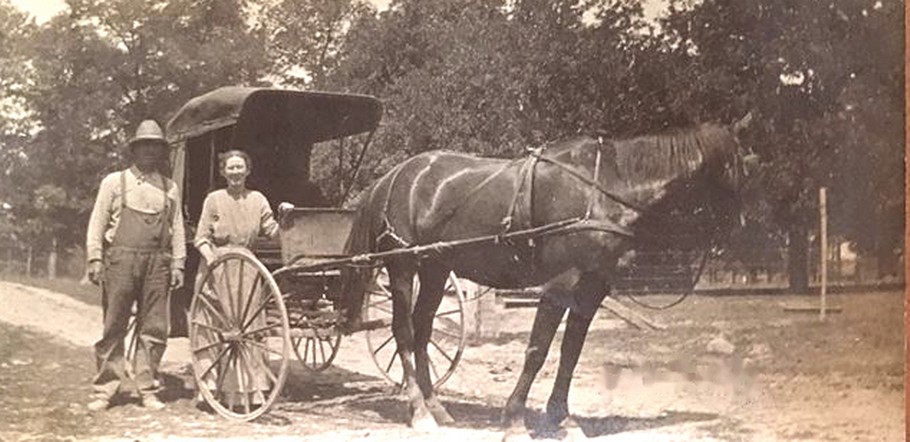 "A little background from Judy Goshorn, Lula & Ezra's granddaughter"
My grandfather, Ezra Goshorn, kept a journal, which I have somewhere. He died in April 1930 and that is when these start. Lula wrote for her church magazine and the county paper, but apprently had not been keeping a journal. The first entry is a few days after Ezra's funeral, when the oler (Marie, John and Roland) children were going back to their lives. Only two children were left at home, my dad, Lewis, age 15, and Ruth, age 9. The running of the farm fell to my dad and Lula. I am amazed at the work a 15-year-old boy did, while attending school and doing well there.
Many of the snapshots I have are early 30s and make good illustrations for this journal :) ENJOY! - JWG
Note
: Their church was the Brethren Church on 750 South - Ezra had both the pastors :)
1931
--
1932
--
1933
--
1934
--
1935
-- 1936 -- 1937 -- 1938 -- 1939 -- 1940 -- 1941 -- 1942 -- 1943 -- 1944
JANUARY 1942
Jan 4 – Ruth went back to college today after 2 weeks vacation. We do miss her so much but glad she is getting along so well. Ronald was home a couple of days just after Christmas. Very busy. US at war now with Japan, Germany and Italy. Axes are going on everything and still more demanded.
Jan 12 – We have just finished 8 days of zero to 10 below weather, with hard cold winds. Pipe to water tank at other barn froze, also wind mill shaft broke and Lewis has had to water everything by hand. Most of the stock is down there, all the hogs and several cattle. Coldest we've had in 3 yrs but I'm glad it didn't snow or blizzard. It is moderating now.
FEBRUARY 1942
Feb 9 – All time pieces were requested by the Government to be set up one hour called "War time" and to last the duration. Children start to school by lamp light now. In the winter I think it will use MUCH MORE light and fuel than less, as is the excuse for doing it – supposed to conserve electricity, etc for war use.
Feb 23 – Started selling milk to Farmer's Produce Co Cville Ind where we used to sell cream
Feb 26 – Sowed clover seed on field next to Galloways.
MARCH 1942
March 3 – Lewis rent his house to WC Paxton clear from Ft. Wayne.
March 6 – Lewis was host for Montgomery Co Sheep school tour today, conducted by Ladoga HS Ag teacher & Purdue sheep man. Ten car loads men & boys here. Said we had very good sheep and fine wool. Afternoon session held at HS. (Note from typist - kbz - not sure what kind of sheep Lewis would be raising but I needed a few pictures in this year's diary so here's a sheep in case you've never seen one - kidding, of course)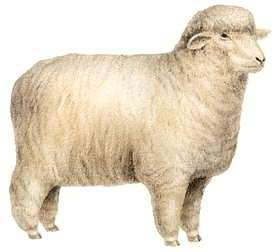 Marian operated on for appendicitis the latter part of March. We didn't know it until she was home again. Got along fine.
APRIL 1942
April 12 – John Russell Mahorney, Lois Baker and Mary Etta Ronk united with the church today.
April 20 – Made first of the garden. Has been cold for things to grow well and is cold yet. Ice froze in chicken water pants last night.
MAY 1942
May 1- Lewis finished plowing today for corn.
May 3- Small whirlwind tore a piece out of barn roof at little house place – rafters and all. 2 days before wind blew part of Lewis' shed roof up.
May 6 – Got our sugar ration book today. Are allowed ½ lb. sugar a person per week. War restriction.
May 7 – Smith & Delano finished 98 rods of fence at little house place. Along north side of woods and some dividing old orchard and front lot to barn. Lewis bought a rotary hoe today $65 our old one trade in at $10.
May 11 – Settled for fireproof shingles for north and room of house roof and shingles for porch ($2.57). Material Globe Hexagon S $4.95 per sq guttering 2.95 = nail 1.80 = lumber – 4.92: labor extra 13.50. Also bought $133.54 metal roofing nails, etc. to fix sheds at barn. Can't get more on act. War.
May 20 – Lewis took Life Ins for $5000 in State Mutual Life Ins Co Worchester, Mass $267.60 per yr prem. – Ernest Ball. Cashier Ladoga State bank agent.
May 21 – sheared sheep .25 head .258 lbs wool. Market price 47c. Had this pooled in Farm B.
May 25 – Lewis planted corn finished 8 acres in about half day. Has been a cold wet spring Scarcely any corn planet yet around here.
May 26 – Tuesday, Lewis began to disc the railroad field and by Thurs about 2 pm. Had it planted. Everyone late this yr ground too wet and cold for past 3 weeks.
May 30 – Finished planting corn. Lewis has disced all ground twice & some 3 times and planted over 44 acres corn inside a week beside filling hog water tanks and doing the chores. Has worked 17 and 18 hours a day all week.
JUNE 1942
June 2 – Sowed soy beans in field east of barn.
June 6 – Ruth home again and how glad we are to see her. She has been gone ever since Christmas holidays.
June 16 – Claud Harshbarger built new milk trough but Lewis made all the plumbing connections for intake and outlet of water. He had the hardest and most particular job of all but he fixed it fine. John Mahorney, Lois Baker and Mary Etta Ronk were baptized May 31. By Lewis Deardorff.
June 26 – Lewis & Ruth attended Uncle Martin Goshorn's funeral. Died suddenly June 24. Last of the Robert & Julianne Goshorn family.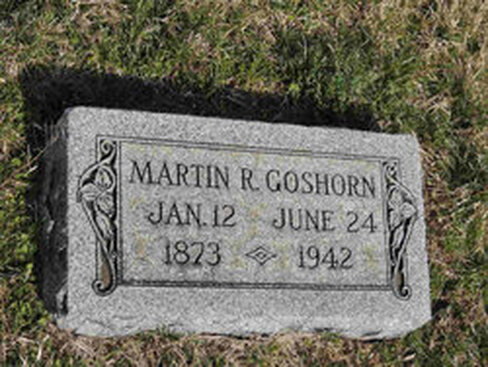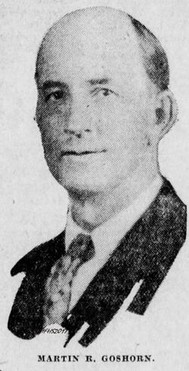 Note: He is buried in Maple Grove Cemetery in Clay City. He was born January 12, 1873 in Owen County, Indiana and died in Jasonville, Greene County, Indiana 24 June 1942 then is buried in Clay City, Clay County, Indiana. Photo from findagrave.com. His father, Robert Robison Goshorn was born in Huntingdon County, Pennsylvania 17 Nov 1833 died Clay City 23 Sept 1909. Mother Juliana Sommers (Summers on her death record, Sommers on her tombstone in Beech Cemetery, Coal City, Owen County, Indiana with Robert) born in Pennsylvania 23 April 1828 died 3 October 1899.
June 28 – Joan Rogers Lois Rogers and Patty Baker were baptized.
Bro. Albert Whitmore of Chicago is summer pastor here. Wife Dorothy children, Marylen and Anne.
JULY 1942
July 11 – Roland & Mildred came. Haven't been here since last summer. So glad to see them. War is hampering everything and it's lucky they could come at all. Marie's won't get here this year. Richard is in Swarthmore College. Earned a fine scholarship.
July 18 – New baby. Joe Paxton 10 ½ lbs came to Lewis' renters. Have 6 other children: Dick, Marjorie, Tom, Mary Jane, Irma Dean and Alva.
July 20 – Roland left his morning. I'm always sorry to see any of them leave. Its so nice to have them at home. We get lots of help by them. Last week in July had some wheat combined got 70 bu also 70 of rye. One 20 a. did not cut (of wheat) and Lewis did not cut any of his. Not worth it. Small grain all poor around here this year, rust and too much wet weather.
AUGUST 1942
Aug 19 – Limed south wheat stubble field from east end as far west as first poison vine from the west, on the north side of the field
Aug 29 – John's left today. Have been here all week. John helped out so much with hogs, etc as Ruth didn't feel well. Johnny has grown so much an dis a fine boy. We enjoyed their visit very much indeed. Wish the children didn't live so far away.
SEPTEMBER 1942
Sept 6 – Lewis took Ruth back to No. Manchester to begin her last year in college. How fast the summer has gone and so very busy. How we will miss Ruth, not only her help but her presence in the home more.Sept 17 – Commenced to sow rye in corn at little house.
Sept 23 – Finished the rye. Rain hindered sewing.
Sept 25 – Had our first hard frost & light freeze. Been down to 32 for two mornings. Very cold wind.
OCTOBER 1942
Oct 7 – Commenced husking corn but too damp to store yet. Has been unusually rainy all summer. Corn very nice large ears. Have to husk for hogs. Got 9 loads off about 4 acres over at Paul's today. Corn picker surely beats hand husking.
Oct 26 – Finished combining beans. Cold. Down to 14 above zero and cold wind. It was 14 above zero and stayed cold and windy all day.
Oct 27 – Ground so frozen couldn't sow wheat in forenoon.
Oct 28 – Finished sowing wheat on bean ground.
NOVEMBER 1942
Nov 11 – 14 above zero this morning. Finished our corn husking today. Have husked Paul's and Lewis' Many others want Lewis to husk but he hasn't had time. Has promised Kessler's and Calvin Terry. Terry has helped scoop all thru? Many days have been rainy and hindered work.
Nov 12 – Husked ½ day for Geo. Kessler.
Nov 16 – Finished husking corn for Geo. Kessler.
Nov 19 – Commenced husking corn for Calvin Terry this p.m.
Nov 20 – Lewis go this reclassification card today putting him in 11 A until May 16, 1943. May the war be ended before then is my prayer. We are glad for this respite again.
Nov 28 – Lewis finished Terry's corn husking a.m. so glad he is done. Weather has been so cold and windy Roland came yesterday eve brought Ruth along. The college isn't having a Thanksgiving vacation this year. They all go back tomorrow. Mildred stopped with her mother who fell and broke some ribs awhile back. So glad they came even this short time. Gasoline rationing begins Dec 1 so one can't drive as freely as before.
DECEMBER 1942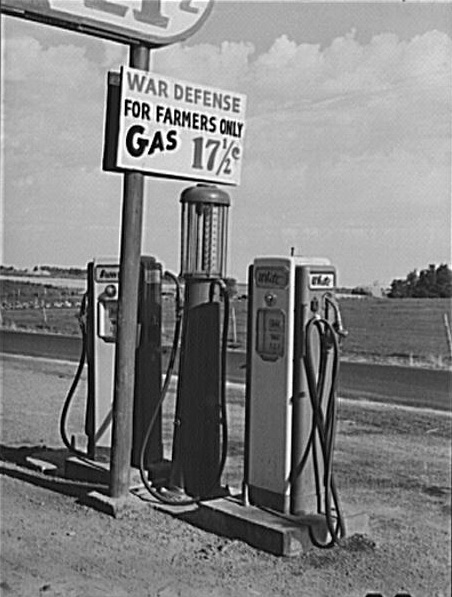 Dec 16 – Dannie Miller commenced tearing out the partition on west side dining room to give us more light. Will lay a hardwood floor in both rooms.
End of Lula Goshorn's 1942 diary