NOVEMBER 1890 - Diary of Hiram A. Pratt
Waveland, Indiana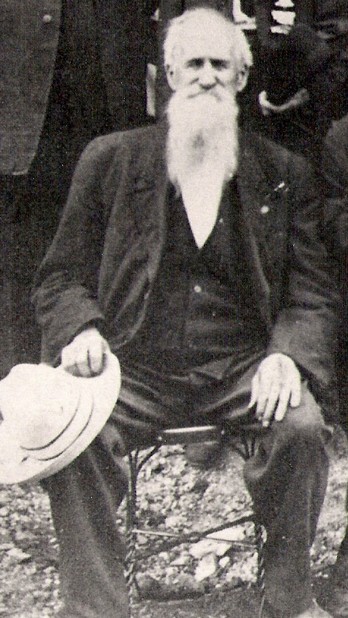 Note: These diaries were in the Waveland Public Library for decades but were disposed of by a librarian several decades ago. Luckily, another librarian's daughter (thanks sooo much Pam, at the death of her mother, Virginia Banta Sharpe found them in some belongings and gave them back for proper housing. A complete circle; however, only 14 of the 50+ diaries were saved from the library's incinerator. I'm a librarian too and thought since they'd been lost to posterity for so many years that it would be a good thing to transcribe them and give them to the world. They are currently housed in proper temperature/storage at the Crawfordsville District Public Library - typed as they were written
Note 2 : Karen Bazzani Zach (transcriber) was raised in the big 'ol town (500 people) where HA Pratt lived 5 decades before I was born. I remember the building where his little shop was and wish it was still there. What an interesting little place. ALAS! Progress !
Note 3: Some information about Pratt -- he was born in Parke County, Indiana April 20, 1840 the oldest child of eight born to Erastus & Elizabeth Allen Pratt and died October 12, 1914 in his beloved Waveland, Indiana. He was twice married, first to the love of his life (he kept a life-sized poster of her in one of his cabinets at his barber shop, even long after his second marriage) Eliza Franklin Shaw (born Oct 23, 1841 died Oct 12, 1887), and #2 to his friend, Evaline "Eva" McMains. He was very active in the community where he and Eliza chose to live. He gave generously of his time and money to the Methodist Church in Waveland. For a few years, he served as Marshall of the town. Also, he worked diligently for his Odd Fellows, Rebekah & Knights of Phythias Lodges, was for a time on the town board, and read to those who could not read from the several newspapers he was agent for. Pratt volunteered and served for three years during the Civil War (Co. B, 36th Infantry), and spent time in the dreaded Andersonville prison. He and Eliza adopted a son, Willie Franklin Stump, age two (not sure ever officially or just had permission to take him from the Poor House in Crawfordsville) and he was an amazing young boy (high grades, worked in the church, quite musicially inclined, just an ideal child) until Eliza was taken to the hospital where she was operated on for six cervical tumors (one weighing six pounds) from which she died. Willie went wild after that and he and Hiram's second wife, Eva never got along. He ended-up in Reform School (for stealing a dollar twice from Eva among other small crimes), and later sent home to die due to consumption (what we know as tuberculosis) dying in Hiram's arms on April 12, in 1894. Hiram missed Willie and Eliza more than most I do believe as he wrote about them so often in these diaries. Just wish the rest of Pratt's diaries he wrote for over 50 years as a barber in Waveland still existed :( kbz
---
Saturday November 1 - The grocery business was very tight today 425 is the total cash receipts. The weather is continues very fine. Mary Ellen, Eva's sister from Alamo is with her husband James Alfrey has gone to Beford, looking for a new situation for the barrel heading factory. I have had another dream of my little woman. I thought we were in Crawfordsville and were on our way to Lafayette where she was there operated upon.
Sunday November 2 - I went to hear our preacher. Henry L. Kindig. He arraigned Pilot for surrendering Jesus to the Jews and I wondered what would have been the result had he not done so. Where would have been all of the prophesies, and what would we have done for a Saviour? Jesus said that the time had come when the son of man was to be delivered up and that offenses must come and was to be unto the one from whom they come.
Monday November 3 - Bob McMains assisted my wife with the weeks washing. All necessary preparations are completed for the election on tomorrow. The new law for elections is called the Australian System. We will try it tomorrow. Mr. James Alfrey came in yesterday. He thinks they will move the Factory to Greencastle. The potato crop of our garden is a failure. Usually we raise enough to run us through the season.
Tuesday November 4 - The Election went off very nicely. A little Maltese cat made the blur. I was the fourth one to vote in the district of Brown Township, Montgomery Co Ind. There was no excitement at all and every one seemed well pleased with the working of the new law. The dispatches will be received here tonight. I am at home by 8 p.m. Have a bad cold, don't feel well.
Friday November 5 - Bob McMains and I were at the Midland depot this morning at rode with them down to the crossing or junction with the Vandalia about 1 miles west of town. The democrats were big winners in yesterday s battle with ballots. Their majority in this state is up in the thousands. They w il have a big majority in the next Congress. Goben for County auditor close ? 805.
Thursday November 6 - The democratic victory was overwhelming. Their victory is only temporary. In two more years the good effect of the last congress will be showing its benefit to the people. The democrats had a jollification in Crawfordsville. Eva was to see an old lady by the name of Smith. She is not likely to survive many more days. The weather is very nice.
Friday November 7 - The result of the election continues to loom up for the democratic party. Since the political skies have in part cleared away it is known that they have won a great deal smaller population than they cast in 1888. The republicans vote is about 15000 short of what it was in 1888. My predictions is that in 1892 the republican party will put them to fright. They cannot win a gain or the same issue by misrepresentation.
Saturday November 8 - The receipts of the store today were the least of any Saturday since I have been in the business only 18 dollars. I wish I could find a buyer. My interest in the grocery grade is for sale. The grand weather of the past few days is at an end. We have damp threatening weather. I do not look for bad weather to last many days yet awhile.
Sunday November 9 - I was early at the class room meeting was lead by Bro PM Conner, not very much interest this time. The attendance was light. The rain commenced falling some time last night pretty much all day it has been showery. Eva attended her church service at 11 o'clock. I was at Sunday school at 3 p.m. only 51 cts was taken in from the students. We all retired before 8 o'clock.
Monday November 10 - I helped Eva a little while at the washing before going up town. Bob McMains went to Valparaiso this morning to engage in the fruit tree business. He gets 30 per cent commission and expenses. The new church will be dedicated the first Sunday in December. They have the nicest room for worship in town. There has been no rain today.
Tuesday November 11 - Last Friday morning I sent Willie a letter and on Saturday morning sent him a few papers. I sent him the daily Crawfordsville paper 9Journal) On the account of the Pettit trial. The defense are tearing down his chances of condemnation quite remarkably. I don't believe now that he will be found guilty of the charge, yet I believe he poisoned his wife.
Wednesday November 12 - Three years ago and one month my dear precious little lady died at NO. 210 S. 13 Street Terre Haute, Ind. I made no mention of her on the third and fifth of this month, it was not because I had forgotten her. I have seen her in my dreams quite frequently - looking as natural as when in life. I have continual longings to be with her. The tears fill my eyes as I write this.
Thursday November 13 - Yesterday for the first time I met with a relative of Willie's. He is 14 years old - a son of James Stump who is a brother of Willie's. Willie's father is named Wesley Stump and is living with his son James near Fleishaures Mill on Sugar Creek. The boys name is Everett Guy Stump. He said they had heard of Willie's bad behavior was sorry he behaved so badly.
Friday November 14 - I sent Willie a pair of mittens which Eva knit for him. I send him every week six to eight papers. The Crawfordsville Journal contains each day an installment of the celebrated WF Pettit murder trial. He will be interested in reading the trial. Pettit was once a Methodist preacher and is on trial for the poisoning of his wife. Was in the same prison with Willie.
Saturday November 15 - This morning I went to church by myself and to Sunday School at 3 p.m. Bro Wolf and I called on PM Conner after Sunday school. Bro. Conner had the misfortune while at work in or on the new church to fall from off a step ladder. He has a badly sprained ankle and wrist and a cut above the right eye. Went with Eva to church tonight.
Sunday November 16 - Read Saturdays note and todays for Saturday. I made a mistake. Done a dollar and 20 cts worth of work in the shop tonight was at home by 10:30. Stoped at Alspaughs and eat an oyster stew. The receipts of the store was only 38 dollars. Mr. Shaderick is building a new barer shop for Ed Cuppy. It is an annex to the hotel. He is doing the business I once controlled.
Monday November 17 - Helped Eva a little with her washing. Eva rec'd a letter last week from Sister Eliza. The folks were all well. Rain began falling last night and continued slowly most of the forenoon. I have a couple of tickets for Anderson, Ind for the excursion next Wednesday. A party of 75 have made arrangements for a special train leaving here before half past 7 and leaving Anderson at 6 p.m.
Tuesday November 18 - Rec'd one doz cabinet photos ordered for my wife of which the negative was taken Oct 6, 1890. They are the best she ever had taken. She is well pleased with them. It is supposed the Pettit case will be given the jury by next Wednesday evening. It looks like that Pettit will go free judging from the case as presented by the defense through Col. DeHart of Lafayette. The weather is nice and fair.
Wednesday November 19 - This morning at half past 7 I left for Anderson, Madison Co, Ind. Arrived at A (?) at half past 11. Anderson is situated in the midst of the natural gass belt. I visited several points of interest of manufacturing at night seen gass burning as it comes out of the river. It was turned on for our benefit. The human mind is not capable of comprehending the enormity of this natural gass. (sic)
Thursday November 20 - Bro Kindig is engaged in a protracted meeting at New Market. Quarterly meeting was held there last Saturday and Sunday. Every person I have heard say anything of the trip yesterday say they were well pleased. The only draw back was in getting back so late. It was 2 o'clock this morning when I went to bed. The weather is very nice.
Friday November 21 - One man Aaron Miles was so well pleased with his trip to Anderson, he would not exchange the sights seen for a five dollar bill. The bottle works there put out 2 car load of, 1 and 2 pt flasks daily. I had a letter from Willie last Tuesday. He was well, he and Marco Brown, are garden boys over 500 boys are there. Willie's badge is 16. 60 head of cabbage and 6 bushel of potatoes are required for dinner.
Saturday November 22 - I done about a dollars worth of work in the shop and was home by half past 10. The receipts in the store this week were 118 dollars. The good weather continues I have seen no ice yet this season. AJ Wolfe and wife started for his brothers in Michigan tonight. They will spend the Sabath with Mrs. W's son Reece Kelso in Chicago. He is attending medical lectures.
Sunday November 23 - I called at the church this morning for class. There was no meeting. I then called on PM Conner was at home for dinner at one o'clock. I went via the Midland railroad. They have their new depot done and are occupying it. They are now having three rooms built for their engines. Yesterday I sent Willie some papers was at Sunday school at 3 p.m.
Monday November 24 - I am in hopes that I will find some one to buy the grocery before the winter is over. Wm Fullenwider is talking of it. Ed Cuppy moved into his new barber shop last Thursday. He is very nicely fixed. I wish I was in as nice a one. The weather is as mild as early autumn. It is wonderful how it hangs on. Time cold weather was her.
Tuesday November 25 - Albert Deere, a young man employed to take charge of my barber shop has let up on running it. He does not get enough work to justify him staying. I helped Eva at the washing yesterday morning. She ironed today. Old Mrs. Smith is not expected to live until morning. She is 79 years old. A letter from Bro. William leads me to hope he and his wife are to pay us a visit soon.
Wednesday November 26 - I made up a small box of goods for Willie. Two pairs of drawers and a pair of undershirts a few apples, a can of peaches and a can of maple molasses, a copy of a paper from Hoopeston and a copy of the Western Christian Advocate. He will get it on tomorrow. It also contained some candy nearly 2 pounds. Bro. Badge came in tonight and will preach Mrs. Smith's funeral tomorrow at 9 a.m.
Thursday November 27 - Eva and I attended Thanksgiving services at the Presbyterian Church. Sermon by Elder OP Badger of Greencastle, Ind. At night we attended the Variety Supper at Dietrich Hall by the ladies of the Methodist Church. The receipts were $32.75. We were home by half past 8. The good weather is still on hands and the delight of all men.
Friday November 28 - The Midland folks have commenced the grading on their line from Sand Creek to Brazill (sic) via Bridgeton. Their engine house here is nearing completion. They had 12 passengers yesterday morning. Most of them were citizens of this place. The weather is by every one remarked the nicest ever seen at this season of the year.
Saturday November 29 - I done a dollars worth of work in the shop today. Spoke to Mr. Leonard Galey about buying me out. He will give the matter some attention so he says. Ed Cuppy has a nice shop room and is getting plenty of work. I was home by 10 minutes of 11 o'clock tonight. Loyd Mc had one of his hogs killed yesterday. I ground the sausage at noon today. Eva put the seasoning in. We have plenty now.
Sunday November 30 - It seems to me that I spent the most of last night after bed time in dreaming about my little woman. I seen her as plain as in natural life. We had some trouble about identifying the house in which we went to housekeeping. She picked on a single room log house and I on a double. She was convinced of her error when told by the resident of the room that it was built that season only a dream.