April 1886 - Hiram A. Pratt - Diary
Waveland Barber, CW Soldier + More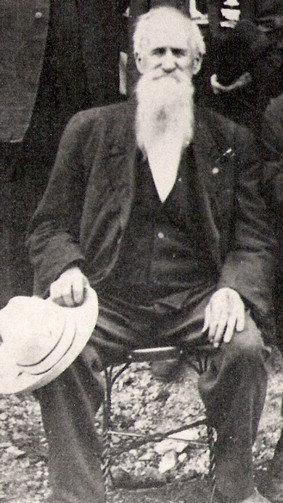 Note: These diaries were in the Waveland Public Library for decades but were disposed of by a librarian several decades ago. Luckily, another librarian's daughter (thanks sooo much Pam, at the death of her mother, Virginia Banta Sharpe found them in some belongings and gave them back for proper housing. A complete circle; however, only 14 of the 50+ diaries were saved from the library's incinerator. I'm a librarian too and thought since they'd been lost to posterity for so many years that it would be a good thing to transcribe them and give them to the world. They are currently housed in proper temperature/storage at the Crawfordsville District Public Library - typed as they were written
Note 2 : Karen Bazzani Zach (transcriber) was raised in the big 'ol town (500 people) where HA Pratt lived 5 decades before I was born. I remember the building where his little shop was and wish it was still there. What an interesting little place. ALAS! Progress !
Note 3: Some information about Pratt -- he was born in Parke County, Indiana April 20, 1840 the oldest child of eight born to Erastus & Elizabeth Allen Pratt and died October 12, 1914 in his beloved Waveland, Indiana. He was twice married, first to the love of his life (he kept a life-sized poster of her in one of his cabinets at his barber shop, even long after his second marriage) Eliza Franklin Shaw (born Oct 23, 1841 died Oct 12, 1887), and #2 to his friend, Evaline "Eva" McMains. He was very active in the community where he and Eliza chose to live. He gave generously of his time and money to the Methodist Church in Waveland. For a few years, he served as Marshall of the town. Also, he worked diligently for his Odd Fellows, Rebekah & Knights of Phythias Lodges, was for a time on the town board, and read to those who could not read from the several newspapers he was agent for. Pratt volunteered and served for three years during the Civil War (Co. B, 36th Infantry), and spent time in the dreaded Andersonville prison. He and Eliza adopted a son, Willie Franklin Stump, age two (not sure ever officially or just had permission to take him from the Poor House in Crawfordsville) and he was an amazing young boy (high grades, worked in the church, quite musicially inclined, just an ideal child) until Eliza was taken to the hospital where she was operated on for six cervical tumors (one weighing six pounds) from which she died. Willie went wild after that and he and Hiram's second wife, Eva never got along. He ended-up in Reform School (for stealing a dollar twice from Eva among other small crimes), and later sent home to die due to consumption (what we know as tuberculosis) dying in Hiram's arms on April 12, in 1894. Hiram missed Willie and Eliza more than most I do believe as he wrote about them so often in these diaries. Just wish the rest of Pratt's diaries he wrote for over 50 years as a barber in Waveland still existed :( kbz
---
Thursday April 1 - $2.45. The ground was covered about an inch deep with snow this morning. But before night nearly all was gone. Several today have been "April fooled." Talburt & Scott ordered thin printing outfit today. Clear tonight.
Friday April 2- $3.50 Coal for use at house or at home 3.25. Snowed a little today. The weather is freezing cold. I have printed 1100 election tickets, a small job print for JM Rice. I attended the Grand Army post meeting tonight.
Saturday April 3 -- $11.00 Sugar $1. Coal oil 25 cts. Wife called to see Mrs. Merle Evans who is at the point of death. I did not get to go to my meals today. Willie brought my rations to me here at the shop. Pd 4.50 for a carpet stretcher. Cloudy and cold all day.
Sunday April 4 - We were at church this forenoon. At 2.30 Willie and I were at Sunday school. Mrs. Ida Evans died about 2 o'clock. She was our organist at the Sunday School. Was sick 9 weeks, the last time she was at the church was at quarterly meeting.
Monday April 5 -- $7.35 I voted an unscratched republican ticket today. Today is observed all over the state as our spring election. This year we have an election in the fall for representatives and congressmen. B&L 2.50. American N 505 Meat 75
Tuesday April 6 -- $1.95. There has been snow and wind all day. Clara Shaw came in this evening. The republicans were successful in this (Brown) Township yesterday. A letter from John Hutton at Thayer Kansas says he has his garden made. Farmers have corn planted.
Wednesday April 7 -- $2.90. Pepperment candy 20 cts. Sent commercial gazette 5.60. The weather has been more moderate snow melted very fast. Cold enough to freeze tonight. Beef .50 Clara will not get set up in business until next week.
Thursday April 8 -- $3.25. Paid Charley Talburt 4.25 for his share of the printing done on election tickets and other job work. He and his partner say they are going to buy my printing job office. I will not take a dime less than one hundred dollars.
Friday April 9 -- $4.80. Breast pin for wife 1.25. Calico for curtains 85. Fish .25 Halls Balsam for wife .80 Albastine for ceilings 1. Buck wheat flour .35 2 pr hose .80. Lard .25 NY Tribune for George E. Hanna .95. One sack of flour .70 Hunt for white washing ceilings 1. Weather nice. Warm.
Saturday, April 10 -- $10.60. Sent the Times and Sentinel Co 3.38. The weather has been remarkable nice today. Talburt and Scott received their printing press and outfit this afternoon. Done work by 10 o'clock.
Sunday April 11 - A slow rain fell most all day. I and Willie attended Sunday school at 2 ½. Since last report I have put into the SS Collection 25 cts. We were early to bed. Presbyterians have a meeting of Presbytery here next week.
Monday April 12 -- $4.85. Pollish 25 and 55 for cow fee. B&L 2.50. Shoe polish 25 cts. Soap 30 cts. Stamps 10 cts. Box rent 10 cts. The weather is getting to be fine for out of doors work. Clara done general house work today and wife did washing.
Tuesday April 13 -- $1.30. Wife and her sister were up town today shopping. Wife spent 8.90. She made a purchase of a dress pattern and several other articles. Dress was .45 cts per yd. We are having warm weather. The Presbyter convened today.
Wednesday April 14- $2.40. Clara's room for her Milliner Shop is now cleaned up. She will go in it tomorrow. Sent 10.52 to John C. New & Son. Coal oil 4 gal 50 cts. Gasoline 4 gal 65 cts. Wife complains of her lungs paining her considerable.
Thursday April 15 -- $10.70. The weather is real warm and Spring like. Willie this evening got a horse from Webb Hanna and went after the cows. It was his first exploit on such an errand. He found them 2 miles south of town. "New Lyman" Gasoline Co have sent me circulars.
Friday April 16 -- $3.30. We have had a real wet and disagreeable day. Clara has moved into her room and is ready for customers. She is tolerably well situated or fixed up. The rain prevented Willie from going after the cows. She lays out tonight.
Saturday April 17 -- $7.40. We were done work by half past ten. The weather has been very fair. Clara was in her business room all day. She had one customer. 2 gal of coal oil 25 cts. The 7th of this month I sent the American News Co. $5.05
Sunday April 18 - I alone attended church at the morning hour - Willie and I were at Sunday school at the regular hour. Tonight we attended church. Clara said she was so sleepy she could hardly keep her eyes open. Wife's health is better.
Monday April 19 -- $5.15. B&L Association 2.50. Rent for last month 2. Beef 30 cts. Hat for Willie 20 cts. The weather is much like summer. Wife has commenced the use of the gasoline stove. Clara has plenty of callers, but as yet very little trade.
Tuesday April 20 -- $1.75. 50 cts for chicken feed. 45 cts for dress trimming for wife $1.95 for weaving 15 ½ yds of carpet. Today I reach my 46th birthday. In so far as I know the enjoyment of perfect health for which I am truly thankful to God. What shall the year bring forth.
Wednesday April 21 -- $1.90. Paid 75 cts to have the garden plowed. The weather is very warm for the time of the year. If such nice weather should continue many farmers will plant their corn next week. Wife has Lula Hunt helping her clean house.
Thursday April 22 - $1.65. One ham of meat 2.65 12 gal of gasoline 1.92. Sent to the Enquirer Co. 2 dollars by Bob Glover 200. Paid 10 cts for 3 papers of carpet tacks. $1 for 2 yds of oil cloth 5 cts for a spool of silk thread. Weather continues warm.
Friday April 23-- $2.85. postage 10 cts. Sent American News Co 5.05. Paid JT Scott $5 sent PS Westfall for this TH Mails 2.71. Talburt & Scott run off their first papers this evening and gave them away. The paper is a good one full of locals.
Saturday April 24 -- $7.75. Sent Ben Williams of Chicago on Life Insurance 3.31. Christian Herald for George E. Hanna 1. Paid 35 cts freight on machine from Indianapolis. We were done work by 12 midnight. Warm
Sunday April 25 - I attended class meeting this morning after which I went to the Presbyterian Church. At 2 ½ Willie and I went to Sunday School. At night we all went to hear Rev. JH Sammis at the Presbyterian Church preach his last sermon.
Monday April 26 -- $3.25. Paid 1.40 for medicine for wife. She would not concur (?) that anyone should come in and do her work for her. Paid in Building & Loan Association 2.50. Sugar 15# for one dollar. Clara is much encouraged in her Milliner business.
Tuesday April 27 -- $2.20. Paid in the AOUW 3.00 on Assessments. Wife was up to see Clara this evening. She is not feeling well. Weather turned cold yesterday evening after the rain and this morning a little frost was seen in favorable places. Cold tonight.
Wednesday April 28 -- $1.83 - There was a frost last night but not enough to damage any fruit or vegetables. Paid John Phillips $1 for work in garden. Wife is nearly done house cleaning will be done tomorrow. She is of the opinion it is her last time.
Thursday April 29 -- $1.75. Paid Lula Hunt $1 for assisting wife at house cleaning. Wife gave her in addition to the dollar enough of cotton goods to make a chemise. Clara has been sick since last Tuesday night. Cinda Bloomfield clerks for her.
Friday April 30 -- $2.00 Paid $1 for corn meal 50 cts for 2 bu of chicken feed. We had a cold night of it last night a white frost this morning which did not damage. Wife was not very well last night. She thinks she has consumption [tuberculosis] .