NOVEMBER 1885 - Hiram Pratt Diary
(Waveland Indiana Barber for 50+ years; CW Soldier & More)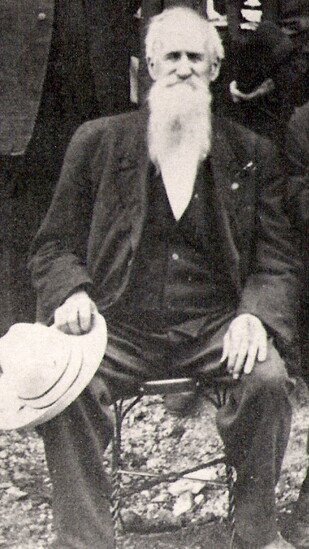 Note: These diaries were in the Waveland Public Library for decades but were disposed of by a librarian several decades ago. Luckily, another librarian's daughter (thanks sooo much Pam, at the death of her mother, Virginia Banta Sharpe found them in some belongings and gave them back for proper housing. A complete circle. I'm a librarian too and thought since they'd been lost to posterity for so many years that it would be a good thing to transcribe them and give them to the world. They are currently housed in proper temperature/storage at the Crawfordsville District Public Library - typed as they were written
Note 2 : Karen Bazzani Zach (transcriber) was raised in the big 'ol town (500 people) where HA Pratt lived 5 decades before I was born. I remember the building where his little shop was and wish it was still there. What an interesting little place. ALAS! Progress !
Note 3: Some information about Pratt -- he was born in Parke County, Indiana April 20, 1840 the oldest child of eight born to Erastus & Elizabeth Allen Pratt and died October 12, 1914 in his beloved Waveland, Indiana. He was twice married, first to the love of his life (he kept a life-sized poster of her in one of his cabinets at his barber shop, even long after his second marriage) Eliza Franklin Shaw (born Oct 23, 1841 died Oct 12, 1887), and #2 to his friend, Evaline "Eva" McMains. He was very active in the community where he and Eliza chose to live. He gave generously of his time and money to the Methodist Church in Waveland. For a few years, he served as Marshall of the town. Also, he worked diligently for his Odd Fellows, Rebekah & Knights of Phythias Lodges, was for a time on the town board, and read to those who could not read from the several newspapers he was agent for. Pratt volunteered and served for three years during the Civil War (Co. B, 36th Infantry), and spent time in the dreaded Andersonville prison. He and Eliza adopted a son, Willie Franklin Stump, age two (not sure ever officially or just had permission to take him from the Poor House in Crawfordsville) and he was an amazing young boy (high grades, worked in the church, quite musicially inclined, just an ideal child) until Eliza was taken to the hospital where she was operated on for six cervical tumors (one weighing six pounds) from which she died. Willie went wild after that and he and Hiram's second wife, Eva never got along. He ended-up in Reform School (for stealing a dollar twice from Eva among other small crimes), and later sent home to die due to consumption (what we know as tuberculosis) dying in Hiram's arms on April 12, in 1894. Hiram missed Willie and Eliza more than most I do believe as he wrote about them so often in these diaries. Just wish the rest of Pratt's diaries he wrote for over 50 years as a barber in Waveland still existed :( kbz
---
Sunday Nov 1 - Willie and I were at Sunday school this afternoon. 20 cts in to Sunday school collection. The first snow of the season fell today. Ruined most of the forenoon. We were not at church today.
Monday Nov 2 -- $6.40. Eye salve for our Willie .25 cts. Meat 20 cts. Postage cards 25 cts. Lamp 2. This is a metal lamp, known as "Electric Lamp" it gives a fine bright light. The weather has cleared up and has not yet turned cold.
Tuesday Nov 3 -- $2.25. Sausage 25 cts. Tax, state, county and gravel road $6.01. Pd McCain $3.99. I ate a raw turnip today and have not felt well since. Bob McMains has quit the manufacture of tombstones has made an assignment to Spruhan & Co.
Wednesday Nov 4 -- $2.00 85 cts for wife a return ticket to Crawfordsville 20 cts for hack ride 10 cts for dinner. $2.55 for a hat, $9.50 for a Rucian circular (?) She was out 3 dollars more for Willie a pair of pants & vest. Total $16.20. A rain has been falling all day and everything out is very wet.
Thursday Nov 5 -- $3.75. Paid 3.75 for a pair of shoes for myself. 75 cts for coal oil. Meat .45. There has been a gentle rain falling all day with very few intervals. Wife is well pleased with her bargains made in Crawfordsville yesterday. Democrats cary NY Tuesday for Gov and state officers.
Friday Nov 6 -- $2.85. Paid .25 for three lamp chimneys. We have had a little rain today. Sent the commercial Gazette $4.25 this includes payment of 3 on the Enquirer. The first regular meeting of the GAR Meets tonight.
Saturday Nov 7 -- $11.20. $2 for rent last month. We had a moderately good days work. Rev. WC Davisson will lecture here next Tuesday night for the benefit of our Sunday School. John Lewis I hardly think will be a live by this time next week.
Sunday Nov 8 - Willie and I were at Sunday school this evening at 2 ½. Tonight PM Conner, wife and daughter Minnie, Mrs. Rev. LS Buckles and daughter Ettie came in at lamp lighting - we all went to hear Elder Plunket at the Campbellite Church.
Monday Nov 9 -- $3.25. Paid 20 ccts for a pound of peppermint candy. Wife finds this excellent for throat trouble. I had to inflict corporial (sic) punishment on Willie this evening for disobedience. He absented himself from home without permit. For several weeks, I have been too indulgent. Coal oil .25.
Tuesday Nov 10 -- $2.00 25 cts for 1 pecKnights of Pythiasop corn. 5 cts for postage stamps. Sugar 75 cts. Bread 10 cts. The day has been fair. Paid 30 cts to hear the lecture by Rev. WC Davisson. A hen got killed by a trap I had set to catch rats.
Wednesday Nov 11 -- $7.85. Sent The American News Co $8.10. Sent $1.55 to NY for an Electric lamp burner. It is recommended to give a light equal to 60 candles & 7 ordinary lamps. (3) for the lecture last night. Bro Davisson is at our house tonight.
Thursday Nov 12 -- .30. Paid 35 cts for a small beef roast. Drum for shop heating stove. 65 cts. Considerable rain this afternoon. I had a big time cleaning soot out of stove flue. Paid 25 cts for 3 qt of cranberries. Wife has given an invitation for dinner tomorrow.
Friday Nov 13 - $3.20. Sent the Sentinel Co $2.45. this includes the Times act of 78 cts. Mr. and Mrs. Robertson (Zachie & wife), Mrs. Spencer, Mrs. Bloomfield, Mrs. Dulin and Cinda and Mary Bloomfield were in for dinner. Pd 20 cts for bread. Weather cooler.
Saturday Nov 14 -- $6.50. I gave Frank Kritz all that he took in at work today. Custom work was light today. Paid 50 cts for three lbs of coffee and $1.25 for cow hunting - our cow has layed out twice in the last two weeks. Cold tonight.
Sunday Nov 15 - I attended class this morning at 10 ½. At 2 ½ Willie and I were at Sunday school. Yesterday I received a letter from Bro. Ben's wife stating that he was very sick and the doctors thought it would be a close call to pull him through.
Monday Nov 16 -- $7.50. Sent John C. New & Son for daily Journals $11.55. John Lewis is very near dead. He will not recover from his present collapse but may live several hours. The weather has turned off quite warm. Two gal of coal oil 50 cts. GAR Badge 50 cts.
Tuesday Nov 17 -- $51.15. Pd interest on note in bank 3 months $1.40, being 8 per ct on 70 dollars. Paid hardware bill of 16.75. $35 on Gasoline stoves. 90 cts for a bottle of Mrs. Rohers' consumption [tuberculosis] cure for wife. John Lewis died at 20 minutes past 4 o'clock this evening.
Wednesday Nov 18 - 2.30. 20 cts for a beef stead. I have taken my overcoat to Mrs. Read to have rebound. John Lewis was buried in the Presbyterian church cemetery at about 4 p.m. Rev. Sammis of the Pres. Ch conducted the service. We will have to have a new p.m.
Thursday Nov 19 -- $1.60. 20 cts for thread. Rained last night. Post office is now without a Post Master save the deputy. I have not yet head from the $1.50 I sent to New York for lamp flues and burners. Printed three hundred tickets for Riley's lecture.
Friday, Nov 20 -- $2.50. 50 cts for GAR cuff buttons. We came very near having a spell of weather today. Work has been very little today. Paid 70 cts for a sack of flour. Wife has made arrangements to sell AJ Miller one gal of milk a day at 10 cts.
Saturday Nov 21 -- $8.20. The weather to some extent has fared up, however it is getting late enough to have unsettled weather. At present there is quite a hunch (?) among certain parties as to who shall be the new appointed postmaster. I was home by 12 tonight.
Sunday Nov 22 - Willie and I attended Sunday school at 2 ½ this p.m. The ground was white with a little round snow or sleet late this evening. Wife wrote Willie Hauger a letter. We remained at home tonight. Wife had a bad spell with her stomach.
Monday Nov 23 -- $3.80. I had a letter from Bro Ben's wife last Saturday. She said he was able to set up a little and with good attention would get up. She said that my father was bad sick or had had a bad spell. I have had no word direct from them.
Tuesday Nov 24 -- $2.90. Paid 2.85 for confectioners bill. I meant to have said stationers bill. 25 cts for starch 1.25 for cow feed; 25 cts for stove polish $1 for sugar; 3 to AOUW. The weather is burning cold, freezing a little - Mrs. Bloomfield and daughter Mary was to see us tonight.
Wednesday Nov 25 -- $3.20. Two gal of case oil 50 cts. The weather has turned warmer. There is a big snow in Penn and NY. Thanksgiving services will be held in the Methodist Church on tomorrow, at night a concert in same house.
Thursday Nov 26 -- $4.15. I never got to go to the services today and tonight was detained until after the services had been going on for over a half hour. The fair weather continues Vice President Thomas A. Hendricks died yesterday evening at 5 at Indianapolis.
Friday Nov 27 -- $1.85. Pd 54 cts to Texas Sifting Co NY .15 to BF Avery & Sons Louisville Ky. 15 cts for a head of cabage (sic). The weather is real pleasant. Paid $5 for a ton of Millet hay. Charlie Kritz is home this Thanksgiving. Lots of good fun at the church. Best night.
Saturday Nov 28 - $12.05. Bread tickets one dollar. It was 12 o'clock when I got home tonight. The weather has hardly been cold enough to keep up a fire.
Sunday Nov 29 - We attended church this morning at 10 ½. This afternoon Willie and I attended Sunday school. Put the collection 10 cts. $1 into the church fund. Our last quarterly meeting I paid 3.50. I had made no note of heretofore. Wife & I ch to nt (sic - church tonight?).
Monday Nov 30 -- $4.15. Sent Enquirer Co 2.05 American News Co. 6.05 Beef.60 Ground pepper 1. I attended IOOF Leader tonight. Last Saturday I sent by Charley Kritz 5 to THB McCain for Crawfordsville Journal. Weather very pleasant.