JANUARY 1888 - Diary of Hiram A. Pratt, Waveland Barber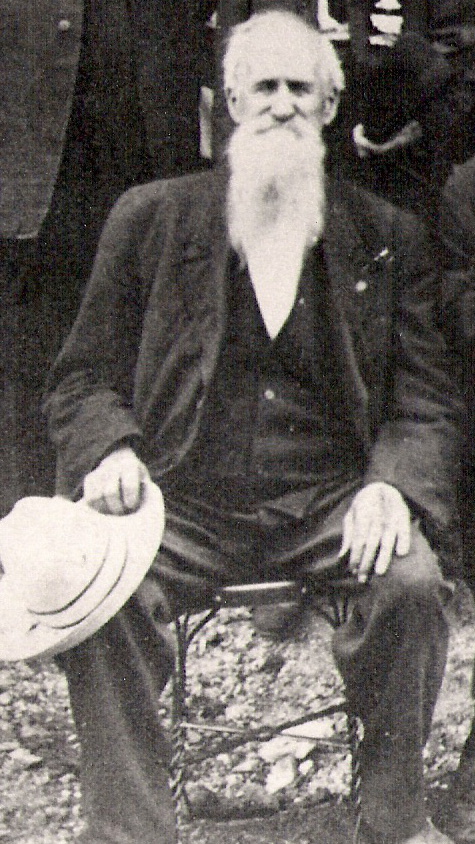 Special Note: Hiram's first wife, Eliza Shaw died 12 October 1887, so at this point, he and son Willie are bachelors. Hiram did not remarry until 1888 when he married Sarah "Eva" McMains. He had no children, other than Willie whom Eliza and he raised. Willie loved his "mother" but never got along with Eva.
Note 1: These diaries were in the Waveland Public Library for decades but were disposed of by a librarian several decades ago. Luckily, another librarian's daughter (thanks sooo much Pam, at the death of her mother, Virginia Banta Sharpe found them in some belongings and gave them back for proper housing. A complete circle; however, only 14 of the 50+ diaries were saved from the library's incinerator. I'm a librarian too and thought since they'd been lost to posterity for so many years that it would be a good thing to transcribe them and give them to the world. They are currently housed in proper temperature/storage at the Crawfordsville District Public Library - typed as they were written
Note 2 : Karen Bazzani Zach (transcriber) was raised in the big 'ol town (500 people) where HA Pratt lived 5 decades before I was born. I remember the building where his little shop was and wish it was still there. What an interesting little place. ALAS! Progress !
Note 3: Some information about Pratt -- he was born in Parke County, Indiana April 20, 1840 the oldest child of eight born to Erastus & Elizabeth Allen Pratt and died October 12, 1914 in his beloved Waveland, Indiana. He was twice married, first to the love of his life (he kept a life-sized poster of her in one of his cabinets at his barber shop, even long after his second marriage) Eliza Franklin Shaw (born Oct 23, 1841 died Oct 12, 1887), and #2 to his friend, Evaline "Eva" McMains. He was very active in the community where he and Eliza chose to live. He gave generously of his time and money to the Methodist Church in Waveland. For a few years, he served as Marshall of the town. Also, he worked diligently for his Odd Fellows, Rebekah & Knights of Phythias Lodges, was for a time on the town board, and read to those who could not read from the several newspapers he was agent for. Pratt volunteered and served for three years during the Civil War (Co. B, 36th Infantry), and spent time in the dreaded Andersonville prison. He and Eliza adopted a son, Willie Franklin Stump, age two (not sure ever officially or just had permission to take him from the Poor House in Crawfordsville) and he was an amazing young boy (high grades, worked in the church, quite musicially inclined, just an ideal child) until Eliza was taken to the hospital where she was operated on for six cervical tumors (one weighing six pounds) from which she died. Willie went wild after that and he and Hiram's second wife, Eva never got along. He ended-up in Reform School (for stealing a dollar twice from Eva among other small crimes), and later sent home to die due to consumption (what we know as tuberculosis) dying in Hiram's arms on April 12, in 1894. Hiram missed Willie and Eliza more than most I do believe as he wrote about them so often in these diaries. Just wish the rest of Pratt's diaries he wrote for over 50 years as a barber in Waveland still existed :( kbz
---
Sunday, Jan 1st -- Clara found a $10 gold piece under her plate at breakfast this morning. She was taken by surprise. The weather is cold. Clara is not feeling well this evening. She has had several callers. Medicine for her --25 cents.
Monday, Jan 2nd --$6.15 -- Clara has been in bed about all day. She received a letter from Charlie Huckleberry of Louisville, Ky. Several callers in today. Clara is wearing the watch. She is a little better tonight.
Tuesday, Jan 3rd -- $3.85-- Clara and her Ma left for home on the 11 o'clock train. I gave Clara a nice plush toilet case cost $5. Told her not to open it until she was at home. Her railroad ticket cost $1.15. Beef 25 cents.
Wednesday, Jan 4th -- $3.20. I looked for my sister Eliza yesterday and today. Do not know why she has not put in an appearance. Bread 5 cents. Willie (his son) and I are busy at home. It is much cheaper.
Thursday, Jan 5th -- $2.75 -- Dried beef, 70 cents. Have had no word from my sister, rec'd a good letter from Clara. Her father was not bad sick. She was wonderfully surprised upon opening the box. Globe Dem $1.65. Blade .585. Bread .05
Friday, Jan 6th -- $1.65 -- Rain has been failling since yesterday morning. Sent Clara a letter this morning. No word from sister Eliza yet. I have now 20 shares in the Building & Loan -- 10 in the 3rd since.
Saturday, Jan 7th -- $10.10 -- Sister Eliza will not be here before next Friday at 11 o'clock. She will leave Ottumwa, Iowa on Thursday. Bread 5 cts. Coal oil 20 ct. We have had a bad rainy day. Gave a colored man 50 cts.
Sunday, Jan 8th -- Willie and I attended the quarterly meeting this morning and tonight. Today we took dinner at Willis Staten's a colored man 1/2 mile west of town. 11 white people partook of a good dinner. Weather is cold again. Gave a colored preacher 50 cents is marked out.
Monday, Jan 9th -- $9.05 -- B & L $5. Courier Journal last week for David Canine 85 cts. 5 pounds of Apricots while Clara was here $1. 3 rabits 30 cts. Washing for last week and this $1.10. I eat my dinner at home and alone. This is a lonesome way of living.
Tuesday, Jan 10th -- $3.85 -- No word from Clara today. National Tribune 1.85. The condition of the weather is not the most favorable, cold one day and warmer the next. One loaf of bread .05. Postage, rent and stamps 65 cts.
Wednesday Jan 11th -- $5.20 -- Notary Public fees 25 cents. Tom Kendall of Logansport, Indiana of whom I used to be acquainted in Iowa before the war, and who was a member of the same co. and regiment with me at the beginning Co. B. 36 Iowa.
Thursday Jan 12th -- $2.75 -- Two packages of coffee 60 cts. Bread 10 cts dried beef 50 cts. Mrs. Frank Leslie $2.25. Wind high and snowing nearly all day. No word from Clara, I wrote her a letter to night.
Friday Jan 13th -- $1.65 -- My sister Eliza and Harry a little boy she is raising - child of our cousin Mary Cunningham Nee King, who died when he was 11 days old. now 8 years arrived today. Buss fare $1.
Saturday Jan 14th -- $7.55 -- CHicken feed 60 cents. Gave a colored boy 25 cts the fare part of the week. 15 cts to Willie for a ticket to the show in Milligan's Hall. 45 cts for fresh meat. Snow and rain today. Sister is doing first rate better than no woman.
Sunday Jan 15th -- Willie was at Sunday School at 2 1/2 p.m. I was at the Campbellite Church tonight and heard Olliver P. Badger of Greencastle, Indiana. Have had a pleasnt time at home. Home is always lonely since my little woman has gone.
Monday, Jan 16th -- $1.10. B & L $5. Cotton goods for sister Eliza 55 cts. The coldest weather of the season last night. Our house plant froze. Sister wrote our mother a letter. Lord $4.16. Hominy 15 cts. My stomach is about well.
Tuesday, Jan 17th -- $3.75 -- Eight yds of cresh (?) for toweling $1. Recd a letter from Stephen Shaw. He lives in Allerton, Ill. The weather is cold and sleighing is good. My health is now good.
Wednesday, Jan 18th -- $6.15. One yd of cotton goods for sister Eliza. 10 cts. Cincin (Cincinnati) papers 6.53. Slighing (sleighing) is fine weather is cold. Three rabbits, 30 cts. 3 bottles of medicine 2.10. My indigestion seems about well.
Thursday, Jan 19th -- Rec'd a good letter from Clara. They are having a spell of bad colds. Father Shaw is poorly with rheumatism. Clara is going to consult with a doctor in regard to her trouble. I wrote her a reply. Weather cold yet.
Friday, Jan 20th -- $5.40. Sold 64 head of chickens. Weight 264 pounds at 5 cts per pound. Two roosters at 10 cts each. The sale was made yesterday and is added to the receipts of the shop. Weather is not quite so cold. I am well.
Saturday, Jan 21st -- $10.60 -- Bought fresh meat to the mount of 50 cts a wagon load of stone wood 1.50. Tickets for the show last night 50 cts gave Mary Ellen McMains one of them (note she is sister of his 2nd wife so would become his sister-in-law in 8 years). The play was by home talent and good. 1 gal krout .35
Sunday, Jan 22nd -- We were not out of bed at 7 o'clock. Willie and I was at Sunday School at 2 1/2 p.m. The sleighing continues good. The ice crop is splendid, fully 12" thick. Went to bed at 8 o'clock. We are all well.
Monday, Jan 23rd -- $4.35 -- B & L $5. Sent $38.10 to CHicago for a new wash stand and 5.60 for a cigar case fregith 56 cents 10 cents for stamps. Sent a letter to Brother John A. Pratt at Ottumwa. Sent 4 pictures of my wife and myself.
Tuesday, Jan 24th -- $1.60 -- Sentinel Co $13.96. Shoes half soled and served up 95cts. Willies boots repaired 75 cts. 4 pieces of glass ware 75 cts. Apples (dried) 15. Med for sister Eliza 50. Box of Sweet Home Soap .25
Wednesday, Jan 25th -- $1.75. Green Apples 45 cts. Box of sundries for Clara $2.25. $1.90 to Helpmate Serving Machine co. To LB Kent Jacksonville, Ill 3.05. Life Insurance Union Mutual $5.47 AOUW $2. Sled re'd 75 cts. Mince meat 25 cts.
Thursday, Jan 26th -- 65 cts. Churn lasher (?) 30 cts. Meat 40 cts. Capsules 20 cts. Medicine for sister 50 cts. She has a bad cold. Odered for her the free Methodist $1. Snowed las tnight, sister rec'd a letter from our mother wrote a letter to Clara. I have a bad cold.
Friday, Jan 27th -- $6.45 -- 12 gal krout 50. Sam Willis 15 cts. Hay .05 Snow melted a little today. Last night I had fever and was chilly. Cold settling in my lung s- they are sore. Willie and Harry are getting a long fine. I did intend to attend GAR tonight, but not feeling well and went home.
Saturday, Jan 28th -- $8.40 -- Fresh meat 55 cts. The moon was in a total eclipse at from between 5 & 6 o'clock this evening. I had barely time to take a peep at it. Snow and she melted some. Have a cold.
Sunday, Jan 29th -- I remained at home all day until late in the evening I went over to Mr. Bloomfield's and at Mrs. McMain's for a few minutes. Mrs. John Hunt was in to see us this evening. Willie attending Sunday School.
Monday, Jan 30th -- $4.10 -- B&L -- 5 dollars. Sent the American News Co $10.10. Bottle of cough medicine for my self 50 cts. I have a very bad cold wheeze when I breathe. Snow and ice went fast today.
Tuesday, Jan 31st -- $2 -- Gody's Lady's Book and Democrats Months $3.10 for Mrs. McCormick. Not quite so warm today but enough to melt snow and ice. Penn Hanna is PA since Sunday morning he's 39 years old nearly 40, rec'd a letter form John Allen's wife. Stamps 50 cents.