OCTOBER 1902 - Hiram Pratt Diary
Waveland, Indiana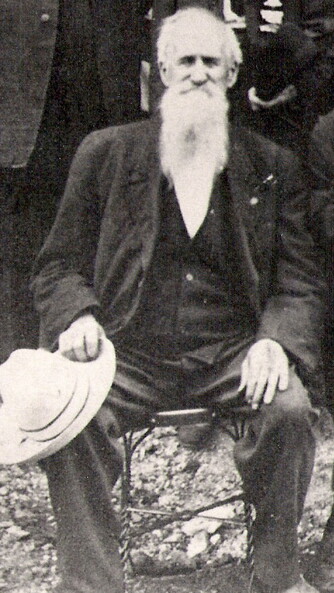 Note: These diaries were in the Waveland Public Library for decades but were disposed of by a librarian several decades ago. Luckily, another librarian's daughter (thanks sooo much Pam, at the death of her mother, Virginia Banta Sharpe found them in some belongings and gave them back for proper housing. A complete circle; however, only 14 of the 50+ diaries were saved from the library's incinerator. I'm a librarian too and thought since they'd been lost to posterity for so many years that it would be a good thing to transcribe them and give them to the world. They are currently housed in proper temperature/storage at the Crawfordsville District Public Library - typed as they were written
Note 2 : Karen Bazzani Zach (transcriber) was raised in the big 'ol town (500 people) where HA Pratt lived 5 decades before I was born. I remember the building where his little shop was and wish it was still there. What an interesting little place. ALAS! Progress ! Oh, and I've tried to type the diaries as is - mistakes & all
Note 3: Some information about Pratt -- he was born in Parke County, Indiana April 20, 1840 the oldest child of eight born to Erastus & Elizabeth Allen Pratt and died October 12, 1914 in his beloved Waveland, Indiana. He was twice married, first to the love of his life (he kept a life-sized poster of her in one of his cabinets at his barber shop, even long after his second marriage) Eliza Franklin Shaw (born Oct 23, 1841 died Oct 12, 1887), and #2 to his friend, Evaline "Eva" McMains. He was very active in the community where he and Eliza chose to live. He gave generously of his time and money to the Methodist Church in Waveland. For a few years, he served as Marshall of the town. Also, he worked diligently for his Odd Fellows, Rebekah & Knights of Phythias Lodges, was for a time on the town board, and read to those who could not read from the several newspapers he was agent for. Pratt volunteered and served for three years during the Civil War (Co. B, 36th Infantry), and spent time in the dreaded Andersonville prison. He and Eliza adopted a son, Willie Franklin Stump, age two (not sure ever officially or just had permission to take him from the Poor House in Crawfordsville) and he was an amazing young boy (high grades, worked in the church, quite musicially inclined, just an ideal child) until Eliza was taken to the hospital where she was operated on for six cervical tumors (one weighing six pounds) from which she died. Willie went wild after that and he and Hiram's second wife, Eva never got along. He ended-up in Reform School (for stealing a dollar twice from Eva among other small crimes), and later sent home to die due to consumption (what we know as tuberculosis) dying in Hiram's arms on April 12, in 1894. Hiram missed Willie and Eliza more than most I do believe as he wrote about them so often in these diaries. Just wish the rest of Pratt's diaries he wrote for over 50 years as a barber in Waveland still existed :( kbz
---
Wednesday, October 1 -- $3.00 marked out -- $1.85 I got Claud Scott to deliver the morning Journal and Sentinal and at 11 o'clock Bro. Elvet E. Moorman pastor in charge of the Christian Society of Waveland and I went to Rockville, we were 2.30 making the trip. There was a street fair in full blast, we gave it not a minutes notice, I was strictly on business - was before a medical board of examiners for increase of pension. Bought sewing machine supplies, 50c. Returning by the way of Milligan I brought over the papers. Otho Sharp's wife died a few minutes after 5 this morning.
Thursday, October 2-- $2.30. Paid 60c for a half bushel of nice apples to cook. They are also fine for eating. The funeral services of sister Otho W. Sharp was held in the Methodist church house this afternoon at 2 o'clock, Rev. OP Paxon preached the funeral discourse at the corpse of the service the corpse was taken to the Waveland Cemetery. I will refer to the cemetery here after as Maple Hill. I visited Willie's grave at 3:15 p.m. Tomorrow FN Johnson, his wife and their son Theodore will leave for a tour of Washington, DC. Stopping of to see Mrs. Cuppy at Baltimore.
Friday, October 3 -- $2. Three large apples for 10c. There has been a slow fall of rain all day long. Rained in like manner the entire night and tonight at half past 7 it is raining. Farmers that have corn cut and in the shock are of the opinion the corn will be greatly damaged by molding and rotting. The train from the south this morning was delayed until nearly 10 o'clock. The Johnsons have gone on their trip. President Roosevelt is trying to see if he can influence the operators of the Antharcite coal mines to arbitrate with the laborers and have the coal mined. There is a coal famine on now.
Saturday, October 4 -- $6.20. Ten pounds of corn meal for 15c Paid 15c for my supper at the restaurant. Last weeks rent $1.35 to Raymond Hanna for carrying the Evening News from Milligan $1. Milliner bill for Eva to Miss Florence Cowan $2. For 4 small package of "Cracker Jack" made by Ed Cuppy 20c . Cuppy is our hotel keeper. He has the nicest Pea Nut Roaster and corn popper combined I ever saw. The rain combined during the night and most of today. The conference the president had with the coal bums ? came to naught.
Sunday October 5-On the account of rain last night and previous bad condition of the roads, the trip to Greencastle was postponed. I heard two good sermons by our pastor. Didn't visit Willie's grave today. Eva and I this afternoon intended to drive out to see Mrs. Andrew Stilwell (Ethel Hodgkins) but were prevented on account of rain. Eva spent most of this afternoon at her sister Mary's her sister Nancy Kelso and Miss Emma Russell were there too, they went home with Mary from meeting. I took a nap on the lounge after dinner, but found it rather cool in the room without fire.
Monday October 6 -- $4.20. Twenty gallons $5.00. Twenty gallon of gasoline $2.40. Express on return of the laundry 30. Stamps 30. Rent for last week $1.35 Crackers 1 pound 10c. We are having some new fencing done on the south line. The old fence is getting past repairs. Raymond Hanna and Ben Canine went after the papers, they didn't take Bob. There was no rain today in the locality. The national Encampment of the Grant Army are in session in Washington City, DC. The days are getting shorter and shorter very perceptably. The coal strike in the Anthacite region is still on now in the 21st week.
Tuesday October 7 -- $3.30. Two 2 bushel bags of oats $1.15. Eva and I went out to Kelso's this afternoon and got these oats. Paid John McMains a dollar for helping on the wire fence. The wire is up but not yet stretched as tight as it will be later on. Paid 5c for a loaf of bread. The Governor of Pennsylvania has ordered out 10,000 state troops to protect men who went to go to work in the coal mines. The strike is going to be put to a close. Price of coal is now out of reach except to those who are considered wealthy. Soft coal is $3 per ton or for 25 bushel.
Wednesday October 8 -- $2.10. The coal strikers will not go to work unless there is some consessions made to their demands. For my part, I believe the laborers demands are not unreasonable. There is no reason they should mine 3,000 pounds of coal and call it a ton and not allowed to inspect the weighing and required to buy blasting powder of the operators and to buy their goods in the company's stores. I hope they may succeed in all just demands. We are enjoying delightful weather. Paid 41.25 for a bushel peaches 60c for a dozen and ½ of quart tin cans - 25 for a gallon measure.
Thursday October 9 -- $1.85. Twenty gallon of oil at 12 ½ per gal. 41.70 one dozen of California Silver Prunes 10c. Paid John McMains $1 yesterday and 50c today. He dug the potatoes, 11 baskets supposed to hold a half bushel . The miners would not return to work. They ask for a 9-hour day and to be recognized as a Union of Antharcite Coal Miners. A man by the name of Mitchel is president of the organization. The Electric street car men of New Orleans are not on a strike. The coal miners in W VA won their fight. The women of the Christian Church worked a complete surprise on their pastor and wife. Apart from the surprise was a fine line of dishes. There were 40 persons in the "mob."
Friday Oct 10 -- $1.45. Two and one quarter pounds of fresh ham 45c. Small vial of perfume 10c one loaf of bread 5c. Bob McMains wife and daughter are at our house tonight. Their little girl is 2 years old and past and can't talk at all. They were at Nancy Kelso's last night and the night before. There is good signs of more rain fall soon. Corn is not as badly damaged as was supposed. It was half past 10 o'clock when I was done work. John Pickard was paid $3.00 or by the Big 4 for work on the Midland.
Saturday October 11 -- $6.80. Oyster stew for my supper 15c. Beef steak 15c. There was no rain today. Indications were real good. Bought the first new corn of Henderson Olliver one bushel at 40c. Bob McMains and family started home after breakfast. The end of the coal strike is not yet in sight. Moorman and wife had Bob and the buggy out for a drive and to collect a few walnuts. Paid Raymond Hanna $1 for getting to me the Indianapolis News. He goes over to Milligan some 2 miles south of here.
Sunday October 12 - I put Bob to the buggy after I had dressed for church service and took Mrs. Walls her milk and took a pint to Rhoda Fullenwider, on the way I made a halt at the cemetery in the rear of the Methodist Church and visited Willie's grave. He has been dead 8 years and 7 months since 20 minutes of 3 o'clock this morning. Eliza F. Pratt has been dead 15 years since 20 minutes of 3 o'clock this morning. It seems like a long time since I last saw her I hope to meet her some sweet day. I know she is watching and awaiting: "Oh won't that be a happy meeting on the other shore!" I went to meeting with Eva Morning and evening. We went to see Ethel Stilwell Hodgkins this afternoon. Her little girl baby was two weeks old today.
Monday October 13 -- $2.15. Paid 30c for 2 pound of salt pork. 35c for Express on the return of the laundry last Saturday. Mrs. Dave ? Moore can't do our washing any more, she is keeping hour for Wm. Harshberger and we have taken the washing back to Alice Moore. She will get 35c each week for doing the work. There was some rain fall last Sunday evening. The wind was high. This morning papers contain accounts of big damage by storm near Quincy, Illinois. There was considerable frost to be seen early this morning. I came very near being on the sick list today.
Tuesday October 14 -- $1.10. Two gallon of sweet cider 30c. Mrs. Ford from the Fordice neighborhood comes to town nearly every week during the season with supplies for sale. Eva last week bought a couple of gallon of cider and some apples and made 4 quarts of real good apple butter. There is a prospect of the coal strike coming to an end. The operators have agreed to arbitration provided the miners will agree to the points to be passed upon. The weather is considerable cooler and a big white frost will be the result. My sickness was of short duration, consider myself well as common today.
Wednesday October 15 -- $2.30. I have about concluded to send to the coal bank for a couple loads of coal screenings. It will cost there 50c a load and $2 a load for hawling. Two ton at a load $5 for 4 ton seems to me to be cheap enough. This coal is considered by some unfit for use. We have a Hot Blast Florrence (sic - Furnace or brand name) and is especially adapted to this grade of coal. It was 10 o'clock when I got home tonight. I had all the laundry work to bill out after lamp lighting. Eva went over to Milligan tonight for the papers and brought Frank Kritz over to town, he had been to Indianapolis.
Thursday October 16 - 65c is all I took in today. Paid 15c to have a wood saw filed, and 35 for a saw buck and 5c for a loaf of bread. Mrs. John Alfrey was at our house to spend the day. She had with her the two youngest children. James Alfrey has contracted for 7 acres of land south side of town. Wm. Harshberger had used it several years for a brick yard. He sold it for $600. We have a substancial (sic) wire fense on the south of our realty - between us and Sam Shaul. The Moon was in total eclipse tonight. I did not see it.
Friday October 17 -- $1.95. Bob McMains was at our house tonight. I paid his horse fare at the livery 50c. Ham, two slices 25c at the rate of 22c per pound. Eva and I went over after the papers last night. Rev EE Moorman went over after them tonight. On the account of the Horse Show and week of Carnival at Indianapolis, the train was held back for the accommodations of the people as that it gets to Milligan at 7:30. This was for two nights only. A very little rain fell yesterday. Warm and nice today.
Saturday October 18 -- $5. Paid 50c for meat 25c of it for sausage, the first for this season. The High School boys of Ladoga come here today and engaged in a game of football with our High School boys and won the game in a score of 5 to 0. Bought a new buggy whip for 25c - lost our old one tonight. Eva and I went out to Milligan for the papers. Paid Raymond Hanna 75 c for this week. He only went once for them. The coal strike is to be settled by arbitration. The miners will hold a convention next Monday ratify the decision of the arbitrators. President Roosevelt is large responsible for peace.
Sunday October 19 - Before going in the meeting house I visited little Willie's grave. After the preaching service I waited about half an hour on Eva. We went to Mrs. Amanda Bloomfields for dinner. After dinner I put Bob to the buggy and got Newt Shepherd and drover over to Russellville, got back home in good time to milk the cow and get to church. At the morning service I got a little sleepy but tonight I was wide awake. Found a little time to sleep while out driving. I slept last night about 4 hours. Had no supper.
Monday October 20 -- $5.35. Sold all of the Indianapolis papers today. 7 ½ bushel of apples cost $4.50. 20 gallon of gasoline $2.40. Ice bill for two weeks $1.64. Beef roast 30c Last Thursday I sent the Laundry $5.33 and the Crawfordsville Journal $5. Bob Smith of Memphis, Tennessee is here to be at the wedding of his daughter Edith to Alec Moore on Wednesday evening of next week. Fred Seybold has gone to Crawfordsville to work he will get $11 per week. Lee Crist had a young man from New Market to help him. Paid Express on the laundry 30c. Cooler today.
Tuesday October 21 -- $2.40. sent a dollar to the Curtis Publishing Company of Philadelphia Penn. Sent 50 to The Cincinnati Performer Company for an ounce of Bo- Cep-Co. (?). It will make a gallon of toilet water worth $3 were I to buy of a supply house. Paid Henderson Olliver 80c for two bags of corn - supposed to be a bushel I a 2-bushel bag. I had no work to do tonight, have been in my shop for 2 ½ hours. At half past 8 I leave for home. Had 6 copies of the News left over or unsold. Have had no fire in the heating stove for several days. Plenty cool for fire tonight.
Wednesday October 22 -- $1.45. Sent the News Co. of Cin O $2.55 including money order fees. I had a wagon load of nut (?) coal put in the coal bin last evening cost $2.60 there was 33 bushel. The Antharcite coal miners will go to work in the morning. There is great rejoicing everywhere. The board of Arbitration will convene next Friday in the city of Washington DC. John McMains used "Bob" today in halling his winters wood. If the weather continues fine Eva and I will go over to Greencastle next Sunday.
Thursday October 23 -- $1.40. This is the 61st birthday of Eliza F. Shaw, my first wife. She has been dead 15 years the 12th of this month. I received a letter from Mr. Ashley Donahoo and wife (my sister) of Blakesburg, Iowa, informing me of the death of my oldest brother James N. Pratt, he was not for from ? 60 years old, unmarried. His death was caused by cramps and only last about two hours. He passed away at near 6 o'clock and was burried yesterday. Sister Eliza said "Poor bad Jim is gone." He made no profession of religion.
Friday October 24 -- $2.10. Eva and her sister Mary spent yesterday at their sister Nancy Kelso's. Eva brought home a bag of oats cost 55c. I heard today there was to be another change on the time card of the Vandalia. If so, I can again get the News via Guion due here at about 6 o'clock. When the Big 4 put on their trains two a day each way I may get better time yet. I have notified Mary K. Smalley of our intended visit provided the weather continues fair. My left ankle has been hurtin and since last Saturday I am in constant pain. More severe at times.
Saturday October 25 -- $7.25. Sent $9.99 including expense to the News of Indianapolis. Bob Kelso for a bushel of corn 40c. Henderson Olliver 80c for 2 bushel of corn. I was told today that Jacob Jackson was selling his at 30c a bushel. There was a light sprinkle of rain this forenoon. Paid Raymond Hanna $1 for bringing me the papers from Milligan. Paid 10c for 4 apples and 10c for a couple of small bits of beef steak for our breakfast in the morning. It is now 12 or midnight. I want to be up at 4 in the a.m.
Sunday October 26 - The rain detained us until 20 minutes past 8 a.m. We intended stopping at Turner Grimes' for dinner they were not at home, live about half mile south of Morton. We found a good deal of gravel had been scattered along the road for repairs, in ascending the hill known as the Cooper Hill a tug broke, we got out. I took hold of the broken tug and Eva the bridle and lead Bob to the top of the hill. Mr. Nugent was called upon to give aid in time of trouble. He spliced the tug by riveting. His daughter Miss Pearl Nugent treated us to a drink of real good fresh sweet cider. She will be 16 next Thursday, a very pretty sweet girl.
Monday October 27 - We arrived at Mrs. Smalley's in Greencastle too late for dinner. She had not received my card and we came in as a surprise. She was in bed afflicted with a bile. She managed to get us a small dinner which we relished. We drove out in the city and viewed the largest tin plate plant in the United States. Edith rode with us. On our way home we stoped at Sam Rambo's for dinner. I helped him husk corn for nearly an hour. We stoped at Milligan to get the evening papers, train was 50 minutes late, we came on home. Harve Barton brought them over, he was there with a conveyance for a couple of passengers. I done no work in shop today.
Tuesday October 28 -- $2.25. Beef steak 30c. Express on the Laundry 30 15 for a box to put hay in for the cow to eat of during the winter. I got Charley Williams to assist in fixing some repairs to our heating stove. It took us most of the day. Paid him $1. Mrs. Sarah McIntosh of Crawfordsville is at our house tonight. The weather has been cold enough for fire in the heating stoves fire made it more comfortable to one in a room. Paid Alice Moore for washing 35c. There is to be a course of lectures here this winter. I am not in it.
Wednesday October 29 -- $2.75. Paid Charles Patton for cow and horse feed $1. For a load of wood for cook stove $1.25. Alec Moore and Ethel Smith were married at 8 o'clock by Rev. JJ Fischer of Roachdale, Ind. Mrs. Mesa Beaupre, daughter Girtie and her husband of Indianapolis were at the wedding. They will take dinner with us tomorrow. Rev. Moorman got our horse and buggy and went out to Mrs. Young's near Freedom Church and married a Mr. Ammerman and Miss Young. The wedding was at 8 p.m. There was a little rain late tonight. The weather is cooler have had fire all day.
Thursday October 30 - $2.50. Paid rent for 2nd week in October. Received a letter from Bro. Ed. He gave an extended account of the death of Bro. James on Saturdady Oct 18 he assisted House Movers in moving house and by someone sent to Otterman and got a pint of Alcohol on Sunday afternoon it was noticed that he was to some extent intoxicated. He passed through sisters' room and remarked, "My poor old Ma is gone, she asked me to meet her in heaven and I'm going to do it." He passed out the south door and engaged in earnest prayer for about an hour and began cramping. Morphene was injected but gave partial relief at about 5:30 p.m. he died in his little house. He went to sleep and never aroused.
Friday October 31 -- $5. The weather has been very nice all day the indications are for showered tomorrow. I never left my shop until about 12 o'clock tonight. The town will be gone thorough by the boys intent on having fun. Signes will be removed side walks blockaded gates carried off and in the morning the perpetrators will view their deeds of the night before with blank amazement - innocent? Henderson Olliver put in our coal house 35 bushel of coal. Cost $2.45. This coal cost at the bank 2c a bushel and 5c a bushel for hauling.