Diary of Hiram A. Pratt, Waveland Barber
(Standard Diary #31) -- May 1870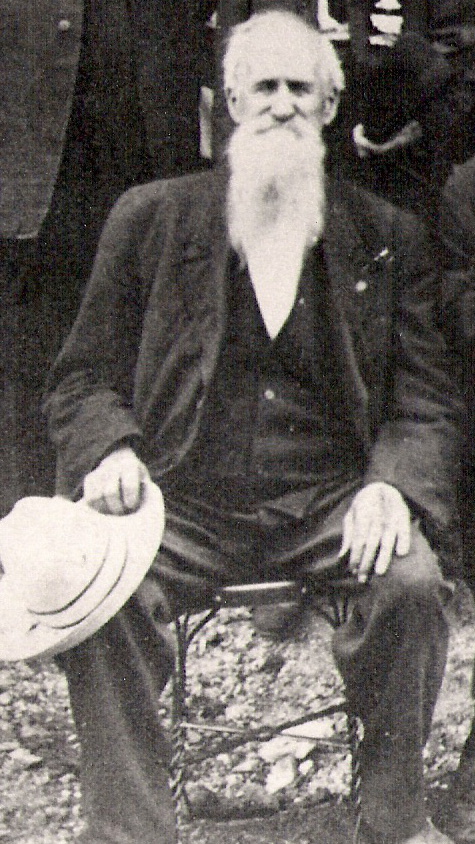 Note: These diaries were in the Waveland Public Library for decades but were disposed of by a librarian several decades ago. Luckily, another librarian's daughter (thanks sooo much Pam, at the death of her mother, Virginia Banta Sharpe found them in some belongings and gave them back for proper housing. A complete circle. I'm a librarian too and thought since they'd been lost to posterity for so many years that it would be a good thing to transcribe them and give them to the world. They are currently housed in proper temperature/storage at the Crawfordsville District Public Library - typed as they were written
Note 2 : Karen Bazzani Zach (transcriber) was raised in the big 'ol town (500 people) where HA Pratt lived 5 decades before I was born. I remember the building where his little shop was and wish it was still there. What an interesting little place. ALAS! Progress !
Note 3: Some information about Pratt -- he was born in Parke County, Indiana April 20, 1840 the oldest child of eight born to Erastus & Elizabeth Allen Pratt and died October 12, 1914 in his beloved Waveland, Indiana. He was twice married, first to the love of his life (he kept a life-sized poster of her in one of his cabinets at his barber shop, even long after his second marriage) Eliza Franklin Shaw (born Oct 23, 1841 died Oct 12, 1887), and #2 to his friend, Evaline "Eva" McMains. He was very active in the community where he and Eliza chose to live. He gave generously of his time and money to the Methodist Church in Waveland. For a few years, he served as Marshall of the town. Also, he worked diligently for his Odd Fellows, Rebekah & Knights of Phythias Lodges, was for a time on the town board, and read to those who could not read from the several newspapers he was agent for. Pratt volunteered and served for three years during the Civil War (Co. B, 36th Infantry), and spent time in the dreaded Andersonville prison. He and Eliza adopted a son, Willie Franklin Stump, age two (not sure ever officially or just had permission to take him from the Poor House in Crawfordsville) and he was an amazing young boy (high grades, worked in the church, quite musicially inclined, just an ideal child) until Eliza was taken to the hospital where she was operated on for six cervical tumors (one weighing six pounds) from which she died. Willie went wild after that and he and Hiram's second wife, Eva never got along. He ended-up in Reform School (for stealing a dollar twice from Eva among other small crimes), and later sent home to die due to consumption (what we know as tuberculosis) dying in Hiram's arms on April 12, in 1894. Hiram missed Willie and Eliza more than most I do believe as he wrote about them so often in these diaries. Just wish the rest of Pratt's diaries he wrote for over 50 years as a barber in Waveland still existed :( kbz
---
Sunday May 1 -- We were at preaching this fore noon. Bro. Hays' text was Rom 1 X .22 John Crutchfield came home with us for dinner. At 4 we went back and attended the funeral services of a little child youngest of David Phillabaum.. Preached in the ME Church by the Presbyterian Pastor assisted by Let's Celebrate. Hays. Bro. P. is a methodist while his wife is a presbyterian. (note no caps)
Monday May 2 -- The town election was almost a failure, only 21 votes poled. EM Milligan, C Smith and Wm. Rhoads are Turstees. Dr. T J Sweeney Clerk & Treasuer. Aaron VanCleave, Marshall and Assessor. I could easily have been elected again but refused to run. Have planted some garden.
Tuesday May 3 -- Rec'd a letter from Bro. Bill. Mothers eyes are getting better Bill has had sore eyes most all winter. The new store room will soon be done. He is of the notion going to the Capital for the state to attend the reunion of Iowa soldiers. Wish I could go. Bought me a couple shirts for $10 did not pay for them now Paid 1.50 for 50 # flour. 70 cents for 12 papers of pins, made more garden.
Wednesday May 4-- $1.75 is all I made today. The new marshall has not yet been qualified. The agents for VanAmburg's Menagerie and circus put up bills for exhibition in Waveland, Ind May 16, 1870. Bought 3 lamp chimneys for 25. The woods are now out in full uniform, dark green.
Thursday May 5 -- This forenoon I cut potatoes to plant and undertook to dig up a big stump, but soon it was abandoned. This afternoon John Thornton plowed my garden, harrowed and layed it off. Pd. him 1.25. pd Zoba Marshal 10 for dropping potatoes. Uncle Dave's advocate did not come this week and have ordered it sent to Kansas.
Friday May 6 -- We had a big thunderstorm last night. I never heard anythin gof it, not anymore then if it never had been. This morning we had to have a fire the air was so cool. Eliza is complaining a little not as much as for common. She is making me a shirt. Vanamburg's Show - there belongs to it 150 horses and 90 men. If the weather continues good it will be a big day for this little village.
Saturday, May 7 - $7.70 is all I made today. Crawfordsville papers say that the contract for our railroad is let and that work will begin by the 10th of next month. The indications are that the show will be extensively patronized. John T. Moore was at Uncle Daves last week. He writes that Aunt isn't satisfied. Butter 2# for .50.
Sunday May 8 - Yesterday and today we have had to keep up a fire all day. The rains have caused the air to be so much cooler. We have remained home all day. Soon after dinner we took a few minutes walk in thelittle pasture south of our garden. Eliza did not feel well and we had to soon return.
Monday May 9 - I cut some wood early this morning, then went to Mrs. Alwards to get some eggs. Got none. Read about 2 hours to old man Alexandre from the Blade. He is a Democrat of the jEff Davis order. Pd Mr Milligan rent for April $2.00. Bought goods for pr. pants and vest $8.10 and a hat for $3.70. Hat is not paid for and ordered me a pair of boots made at Mr. Hendrixsons Shoe shop that will co st $7.50 Eliza complains some of being sick at her stomach at times. Cutting out pants .80 cents
Tuesday May 10 -- My hat cost 4.00 instead of 3.70. I have a credit of 30 on it, gave 15 cents for apound of Maple Sugar pd. 2.40 for those shirts bought the 3rd of this month. Gave 25 for a fish. We have had several showers of rain and some hail today. We may look for frost if it clears off tonight. No work today.
Wednesday May 11 -- $1.60 I made today. Old Mr. Eligar Fullenwider died yesterday at Crawfordsville and buried here at the Presbyterian Cemetery tomorrow. Pd for ELiza's bonnet fixed 1.50. Bought me a pair of summer shoes for 2.35 at Davis & Hannah promised to pay for them in 30 days. Eliza health is as usual.
Thursday May 12 -- $1.30 I made today. Rec'd a letter from Ause Pratt. They were all well. Had all their crop made not made but in the ground. Aunt Susan seems to be a little on the contrary side at times. She brags on the country and at other times runs it down. Ause says it is good enough for anyone. John T. Moore is out there.
Friday May 13 -- I was uptown today done a little work. Will count it in with tomorrows work. Jo Grimes has made a botch in cutting my pants. They are to long and entirely to (sic) big in the leg. I did not want to have tites nor the largest, but a decent pair of pants. 'tis to bad.
Saturday May 14 -- $6.00 I made today. Pd Jas McCormack $5.50 for my county and state taxes. Now I owe him no more. The fore part of the day I had hardly anything to do - Eliza says she has been sick all day. I do wish she could again enjoy good health.
Sunday May 15 - We went to meeting this morning. Jessie Hill of Ladoga circuit preacher, Let's Celebrate. Hays acted Elder at Parkersburg quarterly meeting. At 3 p.m. we attended class meeting, then went out home with John Crutchfield's. This is the farthest we have been out of town since Uncle Dave moved out west. It was a very pleasant walk.
Monday, May 16 -- $4.25 I made today. ? 1.25 of it to go to the show, a large crowd of people were out. Rec'd a letter from father Shaw, he sent me a subscriber to the Blade with $1.50 to pay for the same. They were in usual circumstances. The old Gent had been sick for a couple of weeks. Pd. EW Milligan 1.00 for Scissors.
Tuesday May 17 - The Show having come and gone we are left a little lonesome today. Sent out to Julia Russells for some sweet potato plants. 85 cents. Bought Eliza a pair of summer shoes for .75. The weather is most beautiful. The youngest performers in this country were on exhibition yesterday two little boys 5 & 3 years old, were good.
Wednesday May 18 - $.70 is all that I made today. Pd for one pint hair oil 75 cents. Wrote a letter to Ause Pratt and one to my bro. Ben in Iowa. It is presumed that the show took in $1200 here last Monday. Yesterday morning a colored man killed another colored man at Crawfordsville. The President of our RR and the contractors were out looking at the proposed rent.
Thursday May 19 --$1.95 I made this forenoon. Afternoon I went out hunting with David Moore. We found 5 squirrels before we could get any. Dave had one but when we got to the creek, he gave me the gun while he tried to catch fish. I shot 5 times and killed 2 squirrels one of them I hit twice...bought 1 gal molasses 1.20. 1 box .10 1 gal vinegar .40
Friday May 20 - $1.05 I made today. Indications are that we are to have some rain soon, the ground is getting very dry. Bought 1 pint hair oil for .75 cents. Pd Grandma McIntosh 30 for work done on my vest. sent 50 to Cincinnati for a book the Trial of Dan' McFarland for shooting AD Richardson. Eliza has not been well today.
Saturday May 21 -- One brest pin and collar for Eliza .65 $3.50 is all I made today. Ian Mackfarland (mcFarland) the murderer of Albert D. Richardson has been declared not guilty upon the pleas of insanity. It is fast becoming a profession for designing person to go crazy that htey may do murder legally. My poor little woman has been very poorly today. I had to come home to dinner to see her. She will need a physician care before she will be able to go about longer.
Sunday May 22 - Eliza has kept her bed all day. I had Dr. Wm. Steele to see her this morning, he left her 5 powders. Several women have been into see her this afternoon. She is now worse off than at any other time since we have been married. Last Friday evening was when she began to grow worse.
Monday May 23 -- The little woman has beena little better today. This afternoon the Dr. was down to see her, gave her a 3-oz bottle of bitters and left 5 powders. She has not been able to set up any today. A fever has been upon her most all the time, her suffering has been very hard, has a dreadful head ache.
Tuesday May 24 - The little woman has been able to set up some today. If no bad luck, she will be so as to go about some in a few days. I have howed over one third of my garden since yesterday morning. Bought dried beef and butter crackers for 50 cents. This afternoon Taylor Grimes and Gee Grimes were arrested for assaulting JD Haley with intent to commit murder. Taylor shot at Haley once then struck Golver with a pistol, hurt him bad.
Wednesday May 25 - $2.45 is all I made today. Eliza is a good deal better, can now sit up most all the time. She has been out in the kitchen several times in the course of the day, her hands and feet have swelled some having in them rheumatic pains. This afternoon the Grimes boys were released from the constable on giveing bail for $10.00 to appear at court next Monday at Browns Valley.
Thursday May 26 -- $.35 is all I got today. Paid .15 of it for 3 cent postage stamps. Eliza has been complaining some today, her feet are sore and swolen her joints seem stiff so she can't hardly go about. Uncle Marshal and his daughter, Becka was here for dinner. Uncle had been out to Deers MIll. The weather is cool wind from the East Rec'd a letter from Bro. Ben Pratt.
Friday May 27 - Eliza has not complained so much today, yet her appetite is not good. Ben sayes that in about 3 weeks they will be ready to move in their new stove room. SJ Hurst from Corydon Iowa has moved to Baltimore MD and went in business with is Bro JJH. Ben is going to buy a case of boots of them. Aunt Margarett Grimes one son David & Mrs. Beard were here for dinner. Pd. Aunt 42 for 2 gal maple molasses. The weather is tolerable cool.
Saturday May 28 -- $6.60 - I made today in the shop. Rec'd the Burlington Hawk Eye from Iowa. I presume Bro Ben sent it to me. I have now the complete account of the trial of Dan'l McFarland for shooting AD Richardson of NY. Somebody sent me the Church Union edited by Henry Ward Beecher. Eliza had Mrs. Marshal's girl to come stay with her tonight.
Sunday May 29 -- I went to meeting this a.m. Bro Hayes preached a good sermond (sic) taking his text from the first first verse of the 2nd chapter of Paul's letter to the Collossians. Eliza did not feel able to walk that far, so she remained at home. I stayed at home the ballance of the day. Weather warm and dry.
Monday May 30 -- $.45. I made in theshop before going up to the trial. I got a chance to rid eup in Johnie Davises buggy, whiel in Browns Valley producred one subscriber to the Toledo Blade and rec'd the oney that I advanced for Foster Moody, last spring or the latter part of the winter (Feb say). Taylor Grimes was sent to jail to await his time for trial, he failed to get $800 as security. Gee gave $300 for security and will stay at home.
Tuesday May 31 - This morning I went with young Bob McMain over to their farm and helped to replant cown. In places it was nearly all missing, while we were at our work a shower of rain came up lasted about 1 1/2 hours but was not very hard a slow easy rain, this was at noon time. Mrs. Marshal's girl helped Eliza wash today.
---