DECEMBER 1902 - HIRAM PRATT DIARY
Waveland, Indiana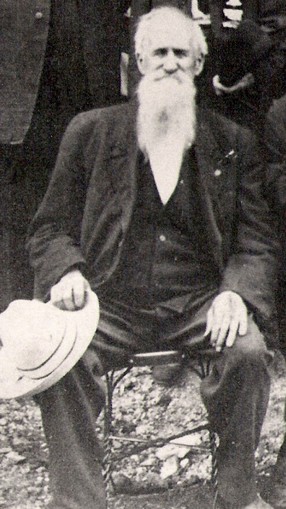 Note: These diaries were in the Waveland Public Library for decades but were disposed of by a librarian several decades ago. Luckily, another librarian's daughter (thanks sooo much Pam, at the death of her mother, Virginia Banta Sharpe found them in some belongings and gave them back for proper housing. A complete circle; however, only 14 of the 50+ diaries were saved from the library's incinerator. I'm a librarian too and thought since they'd been lost to posterity for so many years that it would be a good thing to transcribe them and give them to the world. They are currently housed in proper temperature/storage at the Crawfordsville District Public Library - typed as they were written
Note 2 : Karen Bazzani Zach (transcriber) was raised in the big 'ol town (500 people) where HA Pratt lived 5 decades before I was born. I remember the building where his little shop was and wish it was still there. What an interesting little place. ALAS! Progress ! Oh, and I've tried to type the diaries as is - mistakes & all
Note 3: Some information about Pratt -- he was born in Parke County, Indiana April 20, 1840 the oldest child of eight born to Erastus & Elizabeth Allen Pratt and died October 12, 1914 in his beloved Waveland, Indiana. He was twice married, first to the love of his life (he kept a life-sized poster of her in one of his cabinets at his barber shop, even long after his second marriage) Eliza Franklin Shaw (born Oct 23, 1841 died Oct 12, 1887), and #2 to his friend, Evaline "Eva" McMains. He was very active in the community where he and Eliza chose to live. He gave generously of his time and money to the Methodist Church in Waveland. For a few years, he served as Marshall of the town. Also, he worked diligently for his Odd Fellows, Rebekah & Knights of Phythias Lodges, was for a time on the town board, and read to those who could not read from the several newspapers he was agent for. Pratt volunteered and served for three years during the Civil War (Co. B, 36th Infantry), and spent time in the dreaded Andersonville prison. He and Eliza adopted a son, Willie Franklin Stump, age two (not sure ever officially or just had permission to take him from the Poor House in Crawfordsville) and he was an amazing young boy (high grades, worked in the church, quite musicially inclined, just an ideal child) until Eliza was taken to the hospital where she was operated on for six cervical tumors (one weighing six pounds) from which she died. Willie went wild after that and he and Hiram's second wife, Eva never got along. He ended-up in Reform School (for stealing a dollar twice from Eva among other small crimes), and later sent home to die due to consumption (what we know as tuberculosis) dying in Hiram's arms on April 12, in 1894. Hiram missed Willie and Eliza more than most I do believe as he wrote about them so often in these diaries. Just wish the rest of Pratt's diaries he wrote for over 50 years as a barber in Waveland still existed :( kbz
---
Monday December 1 - $10.80. Paid $6 for 50 gallon of gasoline express on the laundry was 30c. The new train on the Midland now in the Big Four system did make the round trip from Anderson to Brazill today. Sam Grimes of Browns Valley has moved here and is in the employ of Leslie Carrington in the meat market. 18 lbs of granulated sugar for $1. 4 lbs of cheese 70c. Bought Eva a pair of winter shoes for $1.75. Yesterday I put on my winter underwear. If I live, hope to find the weather suitable to pull them off first Sunday in May.
Tuesday December 2 -- $3.90. Commenced to rain before 12 or dinner time and kept it up until after dark. Jim Smith and wife of Alamo were detained at wife's father's Jim Alfrey. They came in yesterday. Susie was doing some sewing for Mary Ellen. Paid Bob Kelso $1.30 for corn. The big snow is all gone. It was so heavy on the trees that the limbs in many places were broken. I received yesterday 23 pounds of magazines and papers from the Cin News Co. the Presidents message to congress was out in this evenings News. It is too long for me to read. I have made a few selections of it.
Wednesday December 3 -- $1.25. Sent the Youths Companion 1 subscription for Mary & Tommy Hadley, Hall PO Morgan Co Ind $1.25. Sant Moody was baleing hay in the alley west of the Glover building and went home to supper. I spent half an hour at noon today in clearing away an apple limb from the east side of our house. Eva has an inquiry about the sale of her town lot in Terre Haute. The lot was deeded to her by her brother Lloyd McMains. She does not want to sell now. We have the promise of a cold spell of weather due here tomorrow.
Thursday December 4-- $2.55. Eva was up to see me today and invested in 50c in fresh pork chops. May Lewis eat her supper with us tonight. The weather man says we will experience a drop in temperature of 10 to 20 degrees by morning. At 8 p.m. people are remarking "It's turning colder." John Spruhan is in possession of two car loads of good coal. I am to get 4 wagon loads of it. It will cost over $3 per ton. I have to pay $1.50 a cord for stove wood 18 " in length. Prosperity is here!
Friday December 5-- $2.35. John R. Canine $1. The AOUW for last month $4.09. This includes per capita tax and Relief Fund. The cold wave looked for passed south, through Texas, Tennessee and Georgia. Frost as far south as Galveston, Texas. Snow in the north of part of Texas. The 2 carload that Spruhan got day before yesterday and all gone. It was divided out so that a good many families got a little. The sun shone for a minute today. The moon has not yet reached its first quarter and is giving some light through the open places in the clouds. We dined at Kelso's Mary Alfrey is at our house tonight.
Saturday December 6 -- $6.35. Paid George Fullenwider last Saturday 41 and today a dollar. We were done work by 11:45 but I wont be able to get home until after midnight. The weather is a little damp. Some snow is falling tonight, the ground is not frozen and the snow melts as fast as it falls. A B. Anderson a lawyer of Crawfordsville has been by the President appointed to fill Justice Bakers place in the Federal courts. He is a good lawyer and I believe will make a good judge. I am tired and sleepy.
Sunday December 7 - There was a light covering of snow on the ground this morning, turned colder during the night and the snow ceased to continue melting. I attended church at 11 o'clock. It was 8 o'clock when we got out of bed this morning. I made sure I would get sleepy while the sermon was being delivered but I did not. After the meeting, I visited the grave where in the body of poor little Willie was intered March 13, 1894. Thomas Bracket Reed died between 12 and 1 o'clock this morning in Washington City, DC.
Monday December 8-- $4.10. Paid $4.20 for coal oil 30c express 10c for 5 large apples, 20c for 2# of crackers, 30 express on the laundry. Thomas Nast is dead, he used to be a cartoonist for Harper Weekly. He could make wonderful hard bits of picture making. He first made comic drawings for Frank Leslie's Weekly. Bob McMains is at our house tonight. He put his horse up in the livery barn and eat his supper in the restaurant. At 8 o'clock this morning mercury replaced ? 2 degrees above zero at our home. In Indianapolis it was 7 above. This is the first real cold snap for the season.
Tuesday December 9 -- $1.30. David Frazier and wife of Poplar Bluff are at Jim Alfrey's tonight. They are out here by Fremont Alfrey to work on his farm. They have been married four months. She is not yet 17 years old, he is 36, twice her age and pluss 4 years. She looks like a school girl and seems as happy as a big sun flower. I got two bushel of corn from Henderson Olliver last week which cost 80c . I am going to buy a wagon load as soon as I can get a chance.
Wednesday December 10 -- $1.20. Paid 5c for a box of 3 boxes of matches, 25c for beef steak. Bob McMains was at our house last night. I paid 50c for the board of his horse. The elements are rather soft - good weather for ducks. Have had to watch the fire to keep it going, the weather being so warm. There is trouble brewing in the Republic of Venezuela. The English and German governments have claims that they intend collecting by force if need be, the ultimatum expires today.
Thursday December 11 -- $1.40. Since yesterday morning there has been a mist falling keeping everything wet and roads sloppy. At noon Eva and I removed a lot of kindling, old shingles from the corn crib preparatory for a load of corn, 31 ½ bushel cost $11. Trouble has commenced in Venezuala. The United States of North America have 61 war vesels near by for the protection of "Uncle Sams" rights. Admiral George Dewey of Manila fame is in command of the US fleet. Sent $3 to The Cincinnati News Co and bought 60c worth of stamps. Ordered the News continued 8 weeks to Mrs. ? Love?
Friday December 12 -- $1.30. 5 large apples 10c. Ten pounds of corn meal 15c. The cloudy and rainy weather continues. The roads are awful sloppy. Bad weather to get about in. The little Republic of Venesuela finds she is confronted by the real thing -w ar and now want to arbitrate. 15 years and two months ago today my dear sweet little Pet's life went out. Sweet Peace be unto her. Eight years and nine months ago our Foster son poor little Willie's life passed out and he was gone forever.
Saturday December 13 -- $6. Paid 10 for lamp flue. 25c for a beef roast. Some colder to day. No rain. Clouds are breaking up and the Sun's rays get through occasionally. Sent the Glove Democrat $1.24. The Post Dispatch 57c The Sentinel 12c stamps 10. We were done work by 15 minutes of 12. There was a little snow fell last night. Jim Alfrey and wife returned from Bridgeton this afternoon. T hey went down there yesterday - John McMains at our house last night.
Sunday December 14 - I did what I could in helping Eva with her morning work, made the bed, swept the floors of 4 rooms, brushed down the cob webs, milked the cow, fed and watered the horse, cows and chickens, carried in the coal and out the water and slop and assisted her in dressing. We walked together until we came to the Christian Church and I went on to the Methodist Christian (sic) church, finding no signs of meeting there, I went up to the Presbyterian Christian Church. Visited Willie's Grave and called at Charlie Smith's for Miss Sarah Barton who went home with me for dinner. Went to meeting with Eva tonight. Rainey all day.
Monday December 15 -- $4. Paid $3.60 for 30 gallon of gasoline express on the laundry 30c. It would be almost impossible to imagine a worse spell of bad weather, cold, rain and ice wind not so high today as last night. A short time ago we were enjoying such splendid temperature and now we have the opposite. Those of our citizens who went to Indianapolis last Saturday night to see "Ben Hur" played are too full for utterance. The whole affairs was grand and very beautiful. Paid 40c for 4 ½ yds of crash for traveling for use at home.
Tuesday December 16 -- $1.05. Paid for fresh pork steak 25 at the rate of 15 per pound. Snow fell today - scantly - only a very little. Mrs. Leonard E. Acker was burried over in Maple Ridge today. She died Sunday morning. I mean to say Monday morning in Bloomingdale, Park (sic) Co Ind. She had been complaining for several months. Moorman preached the funeral. She was a member of the Christian Church. Miss Ellen Thorn and Joseph Ragin are to marry tomorrow evening. She is 35 years old, cold weather is upon us.
Wednesday December 17 -- $2.10. I gave 10c on buying a treat for the Sunday school children. Paid 10c for repairs on stove shaking rod. The sun shined all day. It shone bright and run the Mercury up to 40 degrees. Sent the News 20c for TA Sutton yesterday for 2 weeks. The Sentinel 20c for JJ Canine 2 weeks. There is a report that JM Ghormley has failed in business is broke up. I am sorry for him. George Fullenwider was paid a dollar last Saturday for going after the Evening papers. He gets a dollar every Saturday. He is not likely to go after them after the holidays.
Thursday December 18 -- $3.40. Paid 10c for a pound of graham crackers. Sent in the Hamper to the laundry works at Logansport, Ind 45.08. Have had very nice weather today. Mercury ran up to 43 degrees. Mrs. Ella Phillips of Judson called at our house this morning and spent a couple of hours in conversation with my wife. She comes up twice a week to se a doctor for throat trouble. Dr. AJ Kleiser has been in Chicago for a couple of months attending medical lectures. He is expected home soon.
Friday, December 19 - $2.45. This afternoon I hitched "Bob" to a buggy and drove out to Joel Deers and shaved his beard off. I was paid 50c for the trip. He lives about 4 miles north of town. On account of not being well has not been off the place for two weeks. Oakey Reynolds, a son of a cousin of mine has returned from South Africa. He was in the British Army nearly two years. While a soldier was over in the city of London. He has seen lots of the world within the last two years. We are having rain at 9:30 p.m.
Saturday December 20 - $6.15. Paid George Fullenwider $1 for bringing the papers to me from Milligan. Bought 24 lb sack of flour 10 pound of sweet potatoes, 1 lb of graham crackers. Pork chops 55c at 15c per lb. Rained last night and most of today. The roads are fearful sloppy. Eva and her sister Mary were up in the business part of the town today. They never called to see me and I do not know the design of their tri p "up town." I heard a man say he would pay 95c a cord to have some stove wood cut 18" long. It is selling at $1.75 a cord. Prosperity is here.
Sunday December 21 - I was more than usually interested in the services today before going in the meeting house visited my poor little Willie's grave, it will soon be nine years since he was put away. Mrs. Etta Jones had her little child baptized with water, Charles Jones the restaurant man is the childs' father. One week ago Gen US Grant's widow died, and today her body was placed with the tomb with the remains of her husband. The tomb is on the Hudson near New York City.
Monday December 22 - $4. Paid $1.25 for 10 gallon of erocene coal oil. John D. Rockefellow (sic) head of the standard oil co. is almost sure to make a donation to some college every time there is an advance in the price of coal oil. The weather is not yet very cold. Yesterday was the shortest day of the year. Now that the days are lengthening, cold will to strengthening. Last year by this time some people had put up their supply of ice. We have the promise of fair and warmer weather.
Tuesday December 23 -- $3.20. Paid 60c for flou last Saturday. Sent the Coulter Optical Co. of Chicago $3.05. Expense 7c ordered set of silver plated table knives and forks, and a sample case. Sent to Springfield Massachusettes 10c for ag old wire name broache and an expansion finger ring. I can expect much owing to the price. The name is Evaline. The weatherman has promised colder weather and fair for tomorrow. Miranda Ellis and her grandson Earnest Ellis came in from Rossville, Illinois today. They are going to stay over Sunday. We all eat dinner at Jim Alfrey's I paid 20c for 2 large nice apples to eat.
Wednesday December 24 -- $3.35 Miranda Ellis and her grandson Earnest came in from Rossville this morning and not yesterday as stated. The mistake came from being behind in my dairy (I am writing on Dec 26 and this is the 24. Mirandy is at our house tonight. Earnest is over at Kelso's. The weather is considerable colder this evening. We are invited out to dinner on tomorrow at Wm. Kelso's. Bob and Kate are coming down from Crawfordsville, Wallace Scott was married to day to a girl of Darlington.
Thursday December 25 -- $1. Sent the Cincinnati News Co. $3. Expense 7c. The Indianapolis News $11.25. Expense 12c. I sent to the Laundry this morning 9 packages the smallest lot I ever sent away. After paying expenses I will have 6c for my work. I walked out to Kelsos for dinner. The table was twice filled. I got in on the second filling. Had a real good dinner. Della McCall and John Conway were married yesterday afternoon. They will live in Logansport. Her husband is in the railroad employ, don't know in what line.
Friday December 26 -- $1.50. Paid 50c for a quart of oysters, and 50c for having two shoes put on Bob's hind feet. He could hardly walk over the rough frozen ground, had been without shoes for several days. I did not know they were in need of shoes until day before yesterday evening, could not get him shod yesterday. Mercury was 3 degrees above zero at half past 6 this morning. Eva received today a package from her sister, Almira Petty of Okumagee, Indian Territory containing handkerchiefs for Kelsos' and Alfreys and ourselves. I left the shop tonight at half past 10 o'clock. We have the promise of warmer weather tomorrow.
Saturday December 27 -- $6.30. My work did not amount to much until late in the afternoon, by 11 o'clock I was at the end Paid Express on a package from A. Coulter & Co. of Chicago 30c. I t contained a set of silver plated knives (6) and a set of Crown Silver forks (6). I gave them to Eva. The package came in yesterday evening. There was also in the package a sample package of the same kind of goods to be used in soliciting orders. The trouble in Venezuela has been submitted to the League Trebrenal for settlement without war. ?
Sunday December 28 - We entertained today for dinner. William Kelso and his wife Nancy their daughter Mary Lewis and her two boys Herbert and Clay and Miranda Ellis. Jim Alfrey, Mary his wife and Jim McMains, Nancy Kelso will remain with us over the night. At 10 o'clock I took Mrs. Walls some milk and made the usual visit to Willie's grave. I have not been to church today. There was no church service in the Methodist house of Worship. This being the pastors day at Russellville.
Monday December 29 -- $2.30. The Crawfordsville Journal contained an account of the death of our very dear friend James McClure. The above should be under date of Jan 1, 1903. I am writing this on the 5th of January. Consequently am several days behind. Miranda and Nancy stayed with their sister Mary Alfrey tonight. I have not yet secured a dairy for next year. I thought I asked the Cincinati News Co. to send me one, as they have ? I conclude it was not included in the order. I hear of an instance where ice is being harvested, the party does not live in this locality. Ice is not thick enough yet.
Tuesday December 30 -- $2.25. I hitched "Bob" to Fullenwiders buggy, used by George to after the papers and took Nancy Kelso over home. I went in the house to warm when Mary Lewis, her daughter said I smell something that smells like hot wood. Nancy thought it was caused by the room being warm and the oil cloth under the stove was what caused the odor. Jim Alfrey later in the day about 10 a.m. made the discovery that the plank used in boarding up or closing the fireplace was fired by browning soot having rolled down against it. A big fire was thereby averted.
Wednesday December 31 -- $1.60. Twenty gallons of gasoline cost $2.40. I am writing this Jan 5, 1903 at 8 o'clock p.m. by the light of a 750 candle power American Arc Light. The lamp is at least 10' distant. I am not using spectacles or any other help for the eyes. Am 62 years old, my next birthday is April 20. Miranda Ellis left here this morning for her home in Rossville, Illinois. I am truly thankful to the Lord for all his blessings bestowed during the year.
Also included was the 1st day of January, 1903 -- below
Thursday Jan 1, 1903 - $3.40. The gasoline in the lamp has been exhausted and I am now writing with the aid of "specks." The date is Jan 5, refer to Dec 29. It was thought he was getting along fine until this cold spell overtook them, he took a viable ? cold which soon closed his lungs and he died. The body is expected to arrive in Crawfordsville next Sunday at 1 p.m. the funeral service is to be held in the ME Church house Monday morning at 9:30. I would like to be at the funeral but can't see to read my tille (? Title? ) clear. I hope Eva may see her way clear. Jimmie McClure was our good friend.
---