JANUARY 1911 - HIRAM PRATT DIARY
Waveland, Indiana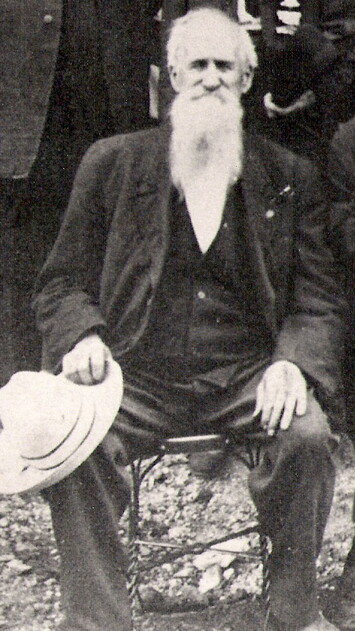 Note: These diaries were in the Waveland Public Library for decades but were disposed of by a librarian several decades ago. Luckily, another librarian's daughter (thanks sooo much Pam, at the death of her mother, Virginia Banta Sharpe found them in some belongings and gave them back for proper housing. A complete circle; however, only 14 of the 50+ diaries were saved from the library's incinerator. I'm a librarian too and thought since they'd been lost to posterity for so many years that it would be a good thing to transcribe them and give them to the world. They are currently housed in proper temperature/storage at the Crawfordsville District Public Library - typed as they were written
Note 2 : Karen Bazzani Zach (transcriber) was raised in the big 'ol town (500 people) where HA Pratt lived 5 decades before I was born. I remember the building where his little shop was and wish it was still there. What an interesting little place. ALAS! Progress ! Oh, and I've tried to type the diaries as is - mistakes & all
Note 3: Some information about Pratt -- he was born in Parke County, Indiana April 20, 1840 the oldest child of eight born to Erastus & Elizabeth Allen Pratt and died October 12, 1914 in his beloved Waveland, Indiana. He was twice married, first to the love of his life (he kept a life-sized poster of her in one of his cabinets at his barber shop, even long after his second marriage) Eliza Franklin Shaw (born Oct 23, 1841 died Oct 12, 1887), and #2 to his friend, Evaline "Eva" McMains. He was very active in the community where he and Eliza chose to live. He gave generously of his time and money to the Methodist Church in Waveland. For a few years, he served as Marshall of the town. Also, he worked diligently for his Odd Fellows, Rebekah & Knights of Phythias Lodges, was for a time on the town board, and read to those who could not read from the several newspapers he was agent for. Pratt volunteered and served for three years during the Civil War (Co. B, 36th Infantry), and spent time in the dreaded Andersonville prison. He and Eliza adopted a son, Willie Franklin Stump, age two (not sure ever officially or just had permission to take him from the Poor House in Crawfordsville) and he was an amazing young boy (high grades, worked in the church, quite musicially inclined, just an ideal child) until Eliza was taken to the hospital where she was operated on for six cervical tumors (one weighing six pounds) from which she died. Willie went wild after that and he and Hiram's second wife, Eva never got along. He ended-up in Reform School (for stealing a dollar twice from Eva among other small crimes), and later sent home to die due to consumption (what we know as tuberculosis) dying in Hiram's arms on April 12, in 1894. Hiram missed Willie and Eliza more than most I do believe as he wrote about them so often in these diaries. Just wish the rest of Pratt's diaries he wrote for over 50 years as a barber in Waveland still existed :( kbz -- ENJOY
---
On the front of this diary is a piece of paper glued that says, "Waveland Ind HA Pratt, Diary for the year of 1911.
Inside there is a page to fill out that says "Remembrancer"
Reisdence Waveland PO BOX Ind. Telephone NO 24-6. Business Address Cross Street Telephone no. 6.
Other things are not filled out
Life Ins Policy Union Mutual of Maine at Portland
In case of accident notify Mrs. SE Pratt
---
Sunday Jan 1 - Temp 15. Cloudy and a little snow. $2.80. Paid Albert Wright 1 dollar for distributing the Evening News last week. I wrote 1909 once the last year when it should have been 1910. I am going to try to avoid a like mistake this year. I enter the New year thankful to my Heavenly Father for all I have and am in this world. My health is good, I have a good appetite sleep is sweet and restfull. For which blessing I do thank the Lord every day of my life.
Monday Jan 2 - Cloudy and snowed a little Temp 10. $3.85. Sent the News 55 c for Bud Clore to have the News sent 6 weeks to him in Jacksonville, Florida. He will leave here on the train due to leave the station at 3.33. p.m. Ten lbs. of buck wheat flour cost 40 c. Mince meat at 15 c a pound 50 cts worth. Lamp chimney 10c mercury at our house at 7 this morning registered 7 ½. Several places it was below several degrees. Emma Russell returned home today.
Tuesday Jan 3 - Cloudy and cold with a little snow. $2.80 10 degrees. Bud Clore and his wife and sister will leave for Florida tomorrow afternoon, I made a mistake yesterday when I said what I did and it was today instead of what I said about Emma Russell's return. I had neglected to make my diary yesterday I thought I was reporting for today. Leslie Ware is here on a weeks visit. He is a policeman at Linton in Green Co at $100 per month.
Wednesday Jan 4 - Cloudy with nearly sun down. Temp 9. $4.05. Paid John Rosebaum 41 c to balance an account in settlement. I owed him $24.02 and he me $23.79. This morning between 6 & 7 by the clock Mercury registered 2 degrees. At Tommie Robertsons it was zero. The Evening News reports it at 12 today 9 degrees. We had pancakes for breakfast this morning made from real genuine Buckwheat flour. They are hard on butter and molasses.
Thursday Jan 5 -- $1.30 Clear as a bell all day. 18. Sausage 42 c. Ribs 33. Padlock 25 to be used on the corn crib door. Farmer's Institute opens here on tomorrow to run two days. Emma Russell will be one of the entertainers tomorrow night. We will try and be there. A spool of thread 5. Two pound of butter 45. The wind is high tonight. When I left home after supper mercury was 29. I had a close call this morning to get to the train with the laundry.
Friday Jan 6 -- $1.60. Cloudy 25. Sun shone a few times. Received 57 papers had 3 left over. Bro Fertich is helping in a protracted meeting in New Richmond, Ind. The sun has been rising for several days at 7.07 and has been setting a little later daily - the 21st of Dec 1910 it set at 4.20 tonight 4.35. The days are getting longer. Jas. F. Alfrey is to be made a return of surprise next Tuesday his 72 anniversary. Eva and I are calculating to be there.
Saturday Jan 7 -- $7.10. Cloudy a part of the time 43. Paid 46c for two packs of Arbuckle Coffee 20c for 2 lbs of sweet potatoes. 25 c for my supper I was through my work by half past 9 and was at home at half pas 10. Charlie Kritz came in for his laundry and I got him to cut my hair. Ethel McMains is working for the Crawfordsville Journal in the race for one of the prizes to begin to the ones who got the most patrons for the paper by Feb 4.
Sunday Jan 8 - Cloudy Sun shone a little 40. ? was high. There was no preaching at any of the church houses today. I was getting about ready to get a pint of oysters for our dinner when a call came in from RL Rusks. Mary his wife called us up there for dinner. It was 11 o'clock by the time we got there. Stayed until after 4 when we started home. Eva stopped off at Mrs. Bloomfields. I went on home and returned for her we got home a little after 9.
Monday Jan 9 -- $3.65. 42. I gave 50 c for a shirt to present Jim Alfrey tomorrow his 72 anniversary. We are at Mrs. Jennie Hannas tonight. Round trip tickets cost us 41.20. Spent 5c for a package of pop corn 10c for a dozen steel pens and pen holder. I am writing with one of the pens (it's niceJ) Hunts round point pens is the trade brand. They will write any position in which they are held. I wanted to try them to see how I would like them. They are okay.
Tuesday Jan 10 - Clear or nearly so all day. 43. Eva took a dress skirt over to the Graham store and exchanged it for one she bought last summer after she couldn't wear it. Mr. Will Goben took Eva and Jennie to Jim Alfreys. I got down there in good time to help in the surprise. Jim said he was expected Eva and I but none others. He got 28 cards of congratulations besides some good and useful articles.
Wednesday Jan 11 -- $1.40 Cloudy and damp 43. We dined with Mrs. McCoy today. She was Mrs. Doolin before her last marriage and was a citizen of this place. She has a nice home. Her husband weights 265 and is rather short. I was very well impressed with his demeanor and for a fat man take him to be rather handsome. He is a good entertainer and a clever man. I think she done well in giving up her pension to take him.
Thursday Jan 12 - Rained all day 47. $4.35. I was too late to get the laundry off on the first train up this morning. This date in October 1887 my little lady died in Terre Haute at 2:40 of the morning and was taken to her fathers near Farmersburg and was put away in the cemetery at Fletchers Chappel. She has a father, mother and sister burried there now. This date in march 1894 our Foster son Wm. F. Pratt died here in this town at 2:40 of the a.m.
Friday Jan 13 -- .90. Rained a slow gentle rain all day. 43 temp. Paid 15 for a can of pink samon (sic). 5c for a load of bread. Eva came down o the train due to leave here at 3.33. p.m. I with the horse and buggy was of the station to meet her. I was real goad she returned. Home is wonderfully lonely if she is absent. Jim, got 41 cards for a postal shower. Anderson and family were expected to arrive this evening from their visit in Baltimore.
Saturday Jan 14 -- $11. I was done work by ½ past 8. Several persons came in and paid their accounts. The collections are counted as money received. The Lower house of Congress have passed a pension bill giving soldiers who have attained the edge of 42 years 12 dollars. 70 yrs $25 -75 $36. I'd get an addition of $10 per month. I would be glad if this bill would be endorsed by the senate and signed by President Taft. It would put me on easy street.
Sunday Jan 15 - Cloudy and cooler a little rain. Eva and I attended our respected church societys today. Next Sunday there will be no preaching in any of the meeting houses. This will be changed after this month so that there will be services in two of the meeting houses every Sunday. ON the 5th Sunday some arrangements will be made for that occasion. A union service held in some one of the church houses would be the proper thing to do I think. We had a real pleasant time at home.
Monday Jan 16 -- $1 Cloudy and after dark snow was falling and in a few minutes the whole surface of the earth in this part of the world was as white as snow. FN Johnson have gone to Florida to be gone until spring. George E. Hanna and wife are off on a visit to relatives and friends in Kentucky. Paid Albert Rice a dollar. Last week a dollar two meat 25. Butter .25 Milk 25.
Tuesday Jan 17 -- $1.75. 23 degrees. Snowed lightly nearly all day. The snow is close on to 5" deep. Paid Mrs. Margarett Moore 40 cts. George Lucus (sic - Lucas?) 1.10. Mary Williams has been sick for six weeks and is in bad condition, her recovery is doubtful. We are doing without the usual supply of apples this winter. Prices range from 50c a peck to $2.75 a bushel or 2 for . 5 c to 1 for 5c. We don't have to have them -snowing tonight.
Wednesday Jan 18 -$3.10. Cloudy. Damp and Cool. 26 degrees. The snow is 5" deep a very little of it fell today. Spent 10c for candy. Bob McMains is at our house tonight he drove down from Crawfordsville. Anderson his brother got home from his visit with his sons Harrison and Henry on last Saturday. RL Rusk had the use of the little wagon to go out to his brother Johns to get a couple of hogs and brought us a few messes of sausage. Frank Shanks will return to Chicago this week.
Thursday Jan 19 -- $.30. Cloudy and damp 26. When I went home last night the moon and stars were shining. The sun was observed all day. The snow packed considerable and dripped from the house tops a very little. George E. Hanna and wife left yesterday for an extended trip south. There is a medicine show here to run all the week. Full house every night. Bob McMains took his sister (my wife) to the show. He will take dinner at Bob Kelsos tomorrow.
Friday Jan 20 - Cloudy. Damp 32. $.50 Two pounds of Arbuckle coffee 40 cts at Charley Kritz's. At all other places would have to pay 23 cts a package. SW McCormick is a grandfather. A boy baby came to his daughter Mrs. Spencer for the forepart of the week. Bought a quart of Olives for 35. Eva has learned to eat them. I got them for her. She will not have me buy any apples for the reason of the high price. She says she don't have to have them.
Saturday Jan 21 -- $3.20. Snowed all of the afternoon. Paid $3.75 for a box of prunes. 25 lbs 20-30 to a pound the largest I ever saw I have ordered 25 pounds of large yellow Crawford peaches they will cost the same as the prunes. Two loaves of brad 70. 1 lbs of butter 25. Eva got a letter from her sister Miranda mailed in Hoopeston - just two months ago. She left there for Beyo Meto Arkansaw (sic). She will be here soon.
Sunday Jan 22 - Clear or very nearly so all day. There was no preaching in any of the church houses today. Richard Rusk and wife Budy Kelso and his wife spent the most of the day in our home. Eva put up a nice spread. We all enjoyed it fine. This morning early I called on Ben Harbeson for a copy of last nights News. Had 6 nice apples and I gave them to my old sweetheart.
Monday Jan 23 -- $1.05. 31. Sent The News 2.50 for AC Deer. He ordered the News and Indiana Farmer continued another year. I gave Charley Kritz 15 of the prunes they weight a half lb. I like them fine. The snow nearly all went off. I wrote a letter to Mirana Ellis on a postal card. Paid 5 c for a box of soap powder. Mary Williams I not getting well very fast. Eva allowed she would call to see her tonight.
Tuesday Jan 24 - Cloudy 41. $1.35. Eva called to see Mary W. last night. She is a very sick woman. While there her sister Mary Ellen sent her word over the telephone that Mr. James McCoy and wife of Crawfordsville would be at our house for dinner. Extras for dinner cost $1.15. They have concluded to stay all night and will to John Pickard's for dinner and return home. The weather is damp and streets sloppy.
Wednesday Jan 25 -- $.30. Salt 5 c. It has been raining most of the day (36). The Methodist society began a protracted meeting tonight. There will be a preacher here to help from Linden. The lecture last night was disappointing to the patrons. His wit was not of the style to entertain. I never attended anyone for the entire course went home after 8 by the clock. Tomorrow night I will aim to attend church.
Thursday Jan 26 - Cloudy and damp no rain 52. $4.55 Sent the Indianapolis News $15.22 and a subscription to the News for Mr. WJ Bott of $2.25. included in the check. A statement from our bank shows that Jan 1 I had $67.36 on deposits. That I have during the year 1910 deposited $827.25. Paid Mrs. Moore 40 and Albert Wright a $1. I was too late in getting to the train with the laundry and had to send it up this afternoon. Streets and all roads are very sloppy.
Friday Jan 27 - Cloudy. Rained this morning before day accompanied by lighting and thunder. 56. $4.00 The ground is free from frost and the water has passed down and the muddy streets are a thing of the past. I went to meeting tonight and heard Bro. Grant Howard of New Richmond. The king down of heaven is like unto a woman who went and hid heaven in 3 measures of meal and it became all leavened. He was original and interested me very much.
Saturday Jan 28 -- $3.20. 44. Cloudy and damp. Late this evening Mercury lowered until it got pretty cool. Paid 55 for a beef roast at 15 per pound. 15 for a can of apple butter 25 for 6 apples one sells for 5 c. A pound of butter 25. I had a very poor days run of business. Total receipts 3.20. There was a new preacher tonight at the Methodist Church house. He will preach tomorrow and tomorrow night. I hope to hear him at each meeting.
Sunday Jan 29 - Cloudy rain 32. I went to hear Brother Jones. He talked about the old land marks of the Methodist Church. His text was "Prove all things and hold fast to that which is good." Then in the afternoon I intended to hear him again. I did hear him but was a little late what I did hear was good I would like to hear him at every meeting. He enjoys the fullness of Gods love. He expresses himself forcibly and so sweetly. People love to hear him.
Monday Jan 30 -- $7.15. Ten cts for matches 25 for a can of Pine apples. $1 to Albert Wright 41 to John Holland for groceries 10 for milk 10 in the contribution collection yesterday. I went out to hear Brother Jones tonight text "Without me ye can do nothing and about abiding in the vine." It was a good holiness sermon and no mention was made of it. His talk has the right kind of a ring, and not a flaw in it from beginning to end and I like it fine. God be with James. ? (Jones?)
Tuesday Jan 31 - Cloudy. 34. With raw damp cool air. $1.15. Paid 35 for uncured ham 15 for a can of apple butter Lippincotts brand. I never ate better. I had some work to do this afternoon when it was time to go to meeting and was thus by hindered. Tonight I went and had Bob McMains in company. He and Miss Ethel McMains are at our house tonight. Paid 60 c for a large shop ball used to carry away accumulations of filth. The Methodist preacher stationed at Rockville was at the meeting last night.
---