JULY 1895 - Hiram Pratt Diary
Waveland, Indiana (Stanrd Diary #31)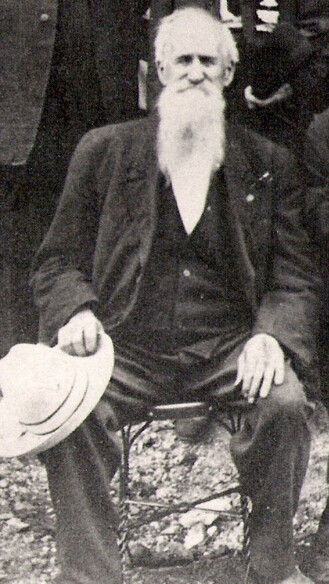 Note: These diaries were in the Waveland Public Library for decades but were disposed of by a librarian several decades ago. Luckily, another librarian's daughter (thanks sooo much Pam, at the death of her mother, Virginia Banta Sharpe found them in some belongings and gave them back for proper housing. A complete circle; however, only 14 of the 50+ diaries were saved from the library's incinerator. I'm a librarian too and thought since they'd been lost to posterity for so many years that it would be a good thing to transcribe them and give them to the world. They are currently housed in proper temperature/storage at the Crawfordsville District Public Library - typed as they were written
Note 2 : Karen Bazzani Zach (transcriber) was raised in the big 'ol town (500 people) where HA Pratt lived 5 decades before I was born. I remember the building where his little shop was and wish it was still there. What an interesting little place. ALAS! Progress !
Note 3: Some information about Pratt -- he was born in Parke County, Indiana April 20, 1840 the oldest child of eight born to Erastus & Elizabeth Allen Pratt and died October 12, 1914 in his beloved Waveland, Indiana. He was twice married, first to the love of his life (he kept a life-sized poster of her in one of his cabinets at his barber shop, even long after his second marriage) Eliza Franklin Shaw (born Oct 23, 1841 died Oct 12, 1887), and #2 to his friend, Evaline "Eva" McMains. He was very active in the community where he and Eliza chose to live. He gave generously of his time and money to the Methodist Church in Waveland. For a few years, he served as Marshall of the town. Also, he worked diligently for his Odd Fellows, Rebekah & Knights of Phythias Lodges, was for a time on the town board, and read to those who could not read from the several newspapers he was agent for. Pratt volunteered and served for three years during the Civil War (Co. B, 36th Infantry), and spent time in the dreaded Andersonville prison. He and Eliza adopted a son, Willie Franklin Stump, age two (not sure ever officially or just had permission to take him from the Poor House in Crawfordsville) and he was an amazing young boy (high grades, worked in the church, quite musicially inclined, just an ideal child) until Eliza was taken to the hospital where she was operated on for six cervical tumors (one weighing six pounds) from which she died. Willie went wild after that and he and Hiram's second wife, Eva never got along. He ended-up in Reform School (for stealing a dollar twice from Eva among other small crimes), and later sent home to die due to consumption (what we know as tuberculosis) dying in Hiram's arms on April 12, in 1894. Hiram missed Willie and Eliza more than most I do believe as he wrote about them so often in these diaries. Just wish the rest of Pratt's diaries he wrote for over 50 years as a barber in Waveland still existed :( kbz
---
Monday July 1 -A very light rain last night. Clear today '80. $3.00. Pd 15 for PO Box rent .15 for Daily Journal. .50 for ice used last week. Life Insurance Piqua, Ohio IOOF 2.30. Sent Gazette Company $1.50. Postage 25 cts. Pd Alec Moore for the loss of a neck tie 50 cts. The LaGardo troop left this morning for New Market. They did not have enough money to pay board and left a ladies gold watch with Eva promising to redeem it on next Thursday night.
Tuesday July 2 -- $1.50. Paid assessment in AOUW 2.85. The first of the month I bought 1 pecKnights of Pythiasotatoes for 30 and 2 small head of cabbage for 10 cts. The weather is real warm though cool enough at night for comfortable sleeping under one cover. The watch that Mrs. Lagardo left on pesd? With Eva I think is well worth the balance due on their board $14.50. The Cubans are being sorely pressed by the Home Government Spain.
Wednesday July 3 -- $1.45. 84. Clear. I have had no work in the shop today nor on yesterday. Collections on laundry and sale of gasoline has bee the source form which the receipts were made. Tomorrow will be a gay day at the "shades" a place of cool resort some 5 miles north of here. The fire alarm given night before last was to call out the firemen. They responded and were at work in 4 minutes.
Thursday July 4 - 1.70. Clear. 80. 33 years ago today I was engaged in battle at Helena, Ark. There were 3500 union soldiers and about 18000 rebel. We were engaged from day light until after 11 o'clock afternoon I visited portions of the battle field and at night was on picket. The next day detailed at the hospital. 8 years ago today my deceased wife Eliza and I were in Terre Haute. I brought home a watermelon. Big time celebrating tonight.
Friday July 5 - 2.00 Clear .82. Eva got a letter from Mrs. LaGardo at New Market. She will be down here on next Sunday. I sent to Terre Haute Laundry last Tuesday $4.39. Paid 55 cts for a bag of cow feed. Mary Kelso Lewis was at our house a few minutes this evening. So was Sarah Catherine McMains. I loaned her "10 nights in a Barr Room."
Saturday July 6 -- $4. Cloudy 80. The laundry was late again. If I can't get it on the first train up I will have to go elsewhere. Paid .30 cts for 10 lbs of onions and 10 cts for 2 small cabbage. This evening we had a real nice rain. The wheat crop is the poorest we have had for years. Occasionally there is a chance good field of wheat. Eva has her dress which she bought in Crawfordsville about done.
Sunday July 7 - Cloudy 86. Bro. Campbell has a real god sermon today. He did not preach tonight. The threatened rain prevented the people from turning out. Yet there was a fair turn out at the Baptist Church. Mr. David Fullenwider was at our house for dinner and will remain until morning. Before going into Sunday school I visited Willie's grave. Rained tonight.
Monday July 8 -- $2. Cloudy 80. Last months rent of 3.00 was paid on June 29th. Last Saturday I paid express on Laundry basket 35 cts. Mrs. LeGardo did not put in an appearance as she promised she would. She has forfeited the gold watch and chain left with Eva as security for board bill. I attended the Good Citizens League meeting in Milligan Hall. The object is to create a public sentiment in favor of a rigid enforcement of our state laws.
Tuesday July 9 -- $1.50. Cloudy 70. Yesterday paid for 72 ½ gals of gasoline $8.33. Last Saturday night I gave 20 for a beef steak and on Sunday I gave the Sunday school 05 cts and paid 40 cts for Living Hymns a new song book for church purposes. Eva visited at John Warrick's today, her sister Mary Ellen came in at 10 a.m. and took her in a buggy. The weather is considerable cooler. Lloyd went out home with his sister Mary E. Alfrey.
Wednesday July 10 -- $1.55. Clear 68. Mercury was 56 when I went to bed last night and this a.m. at 5 o'clock it stood at 46. In some favored localities there was considerable frost. A man whose farm is near Darlington this county had about 2 acres killed by the frost. Eva has concluded the LaGardo's do not intend to redeem the watch. We were at Wm. Kelso's for dinner, had new green beans, warmer this p..m
Thursday July 11 -- $1.00 Clear 77. Eva visited Mrs. Dr. JP Russell's family today. They live a half mile south of here. The Dr. is dead for more than a year. The first story of the new bank building is up. It has an iron front which will add to its general appearance. I took beef steak home for breakfast cost 10 cts. 2 ladies jackets or vests cost 40 cts.
Friday July 12 - 1.00. The weather is as warm (80) even. Paid 35 cts to have the watch injund ? repaired. It runs now as good as any watch, but needs regulating. Paid 25 cts for 2 ½ lbs of beef. 5gh Bob McMains his wife are at our house tonight. RD Smalley our neighbor has gone to buying chickens, I hope he will do well. I was at prayer meeting last night, had Pastor RM Campbell. I am well.
Saturday July 13 - Clear $7. 80 degrees. Eva attended the play intitled (sic) 10 Nights in a Bar Room. The tent was full of people and were well pleased. The LaGardo show left their board bill improvided ? for in New Market. The watch they left with Eva is worth $15 so says our Jeweler. Paid 25 cts for 6 # of white beans. 15 for beef steak. The weather is very warm this evening. The laundry basket came in this morning.
Sunday July 14 - I was at our Sunday school this morning but before going in I made my usual visit to Willies grave. I cut down several burdock weeds that were growing in the neighborhood of the grave. After class meeting Bro. Mc L. Wasson and I went to the Presbyterian Church and heard their new preacher for 25 minutes. He is looking for a job. I think they will get a good one if they get him. RD Smalley joined church tonight.
Monday July 15 -- .90. Clear 84. Last Saturday I paid 70 cts for a couple of young chickens. The weather today has been quite warm. Wheat is yealding (sic) the poorest for a number of years. Some as low as a bushel to the acre and some as high as 23. A part of the windows in the new hotel were put in today. The boys parade the streets every evening on their bicycles a two wheel rig one in front of the one behind.
Tuesday July 16 - Clear. 88. $2.00. Wonderful warm today. Anderson McMains his son Haris and James Alfrey were in town today. They had been out at the "shades" and are going to stay at Alfreys tonight. Eva and Mary Lewis were at Mrs. Shueys this afternoon. Paid ten cts for a bottle of tomato catsup. 25 cts for ½ lb of Nutmeg. Sam Cully and wife parted today. She went home with her mother at Bloomington, Ind. Sam is a baker by trade. Sugar 1.00
Wednesday July 17 -- Cloudy 80. $1.50 Eva did intend to visit at Rhoda Fullenwiders but for the rain her conveyance didn't come. Mr. Harr and Mrs. Harvey are now debating the Silver question in Chicago. It will continue 10 days. Harr is for the coinage of both gold and silver so as to keep both at par at a ratio of 16 to 1. Harvey is for the free and unlimited coinage of silver 16 to 1 and a full legal tender. I want to read every line of the debate.
Thursday July 18 - Clear. 92. $2.00. The debate by Harr and Harvey starts out very interesting. Nice large plums are selling at 12 ½ cts per gal. There are in great abundance. We Eva did not get to go to Rhoda Fullenwiders Mary her sister she was intending to got with. I guess she went a blackberrying. Anderson and his son Harris have spent a few days at the Shades. Harris and wife done the camping. Anderson and wife the visiting.
Friday July 19 - Showers 90. We are blessed with another warm day. I was at our regular prayer meeting last night. Had a good spiritual meeting. Bro. Campbell was the leader. Paid Bert Kritz for a pair of shoes. I had bought them several mos ago and paid the last on them today. Paid 10 cts for a doz new tomatoes. I received a box of celery today and turned it over to John R. Canine.
Saturday July 20 -- $7.10. Rain. 90. We had a good shower early this morning and two this p.m. Nancy Kelso and daughter Mary and Mary's two boys were at our house for dinner. Paid 30 for 1 potatoes. 30 for 1 doz lemons. 15 for 1 doz bannans 70 for 7 cucumbers. 10 cts for 3 stalks of celery. 30 for 1 watermellon. 30 cts for 2 ¾ lbs of beef roast. Total $1.52 and 5 cts worth of tomatoes. I am done work by 10 p.m. The laundry come in this morning.
Sunday July 21 - Clear. 88. Warm weather unabated. Before going into the Sunday School I made my accustomed visit to Willie's grave. After Sunday School Bro. Campbell preached a good sermon on Temperance. He spoke tonight on the same subject "The Good Citizens League" is the name of an organization for the promotion of a better observance of the laws. It is organized here. Sunday school coll 5 cts.
Monday July 22 -- $3.00. Rain 80. I have ordered Frank Belton to keep our refrigerator kept full of ice for a few weeks. I want to see how much It will cost and if not too much will have it continued during the summer. Eva done her washing and got the cloths dried. The rain was early in the morning. Paid Standard Oil Co $2. TL Hanna has commenced the building of his new brick store room.
Tuesday July 23 - Clear 78. $2.00. The 95 gallon of gasoline delivered me last week is in a manner all gone. The brick work on the new bank building is completed. It is the first building to have an iron front in the town. The plasters are putting the white coat on the New hOtel. Business at the Shades is booming. Trains on the Midland it is claimed will run through to Brazill next month.
Wednesday July 24 -- $3.00. Clear 80. Eva made arrangements with Mary Ellen at prayer meeting for a visit to Rhoda Fullenwiders on tomorrow. A good nice shower of rain would be a real blessing. Crops are not suffering but to lay the dirt would be a nice thing. Bro. Campbell went over to Greencastle today and will not be back for our prayer meeting tomorrow night.
Thursday July 25 -- $2. Clear 76. Eva and Mary got off on their visit by 9 o'clock and returned at about 5. They were well pleased with their entertainment. Bro Mc L. Wasson had the prayer meeting tonight. We had quite a good feast. Bro W. is a good leader. He leads in singing at all the services when present. Bro. Wolfe has not been at any of the prayer meetings for a good long time.
Friday July 26 -- $3.05. Clear 81. Yesterday I paid for 95 gal of gasoline $10.93 Paid Scott & Son 65 cts for the cutting out a pair of pants. The goods cost 2.43. Eva will do the making of them. I have made arrangements with Will Cuppy for the Agency of the daily papers and am to take charge of them the first of Aug which will be next Thursday. A very light sprinkling yesterday.
Saturday July 27 -- $9.65. Cloudy. 74. We had a beautiful rain this morning before day. It was raining at midnight last night. I borrowed out of Bank $40 - less 25 cts for interest. Paid building & Loan $30. Union Mutual Life Insurance 5.47. 30 cts for meat (Beef) 10 cts for a head of cabbage and 10 c for 2 stalks celery. Rep on our music box 50. The Laundry was in on time this am.
Sunday July 28 - Cloudy. 76. I was at Sunday school at ¾ past 9 o'clock at the class of the SS. We had a short service in class meeting lead by Bro AC Gyer our former pastor. At its close I went to hear John H. Sammis at the Presbyterian meeting house. He was once a pastor here for that society. He looked very natural, his hair being a little whiter. On the way home I visited poor little Willies grave. Went with Eva at night to hear TJ Shuey.
Monday July 29 -- $1.65. Cloudy. 80. The daily papers have an account of a fearful storm in North Dacota (sic). The hail destroyed about 80 acres of wheat at Kansas City. Water was 25 feet deep in one of the streets. The sidewalk was washed away and a ditch washed out 8 ' deep Paid 15 for the daily Journal. Eva done her usual Mondays work. The cloths were dryed in good time. There were signs of rain which did not mature.
Tuesday July 30 -- $1.80 Clear 71. Paid on Life Insurance on the 29. AOUW 2 dollars and IOOF Mutual at Piqua, Oh 2.30. There was a sad accident occurred on the farm of Joel Deer's near the Shades. A visitor from Terre Haute to the shades was out with a 32 caliber rifle hunting in crossing over a rail from the gun was discharged, the ball entering near the naval and ranged upward. He cried out, "My God, Abner, I am shot." The two men that was with him did not see him fall, but were close at hand.
Wednesday, July 31 -- $1.65. Eva has been faithfully at work today making preserved and canning plums for which we have an abundance. She runs sealing wax over the rubber of the Mason Jars and thinks she has a sure thing against their spoiling. She has been having fearful bad luck and seems to think "witches" are at work against her. Nancy Bloomfield has canned some fruit for her in the ordinary way and no bad luck follows.