March 1886 - Diary of Hiram A. Pratt
Waveland Barber, CW Soldier + More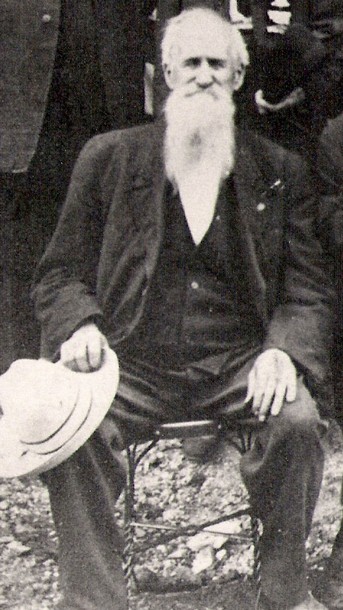 Note: These diaries were in the Waveland Public Library for decades but were disposed of by a librarian several decades ago. Luckily, another librarian's daughter (thanks sooo much Pam, at the death of her mother, Virginia Banta Sharpe found them in some belongings and gave them back for proper housing. A complete circle; however, only 14 of the 50+ diaries were saved from the library's incinerator. I'm a librarian too and thought since they'd been lost to posterity for so many years that it would be a good thing to transcribe them and give them to the world. They are currently housed in proper temperature/storage at the Crawfordsville District Public Library - typed as they were written
Note 2 : Karen Bazzani Zach (transcriber) was raised in the big 'ol town (500 people) where HA Pratt lived 5 decades before I was born. I remember the building where his little shop was and wish it was still there. What an interesting little place. ALAS! Progress !
Note 3: Some information about Pratt -- he was born in Parke County, Indiana April 20, 1840 the oldest child of eight born to Erastus & Elizabeth Allen Pratt and died October 12, 1914 in his beloved Waveland, Indiana. He was twice married, first to the love of his life (he kept a life-sized poster of her in one of his cabinets at his barber shop, even long after his second marriage) Eliza Franklin Shaw (born Oct 23, 1841 died Oct 12, 1887), and #2 to his friend, Evaline "Eva" McMains. He was very active in the community where he and Eliza chose to live. He gave generously of his time and money to the Methodist Church in Waveland. For a few years, he served as Marshall of the town. Also, he worked diligently for his Odd Fellows, Rebekah & Knights of Phythias Lodges, was for a time on the town board, and read to those who could not read from the several newspapers he was agent for. Pratt volunteered and served for three years during the Civil War (Co. B, 36th Infantry), and spent time in the dreaded Andersonville prison. He and Eliza adopted a son, Willie Franklin Stump, age two (not sure ever officially or just had permission to take him from the Poor House in Crawfordsville) and he was an amazing young boy (high grades, worked in the church, quite musicially inclined, just an ideal child) until Eliza was taken to the hospital where she was operated on for six cervical tumors (one weighing six pounds) from which she died. Willie went wild after that and he and Hiram's second wife, Eva never got along. He ended-up in Reform School (for stealing a dollar twice from Eva among other small crimes), and later sent home to die due to consumption (what we know as tuberculosis) dying in Hiram's arms on April 12, in 1894. Hiram missed Willie and Eliza more than most I do believe as he wrote about them so often in these diaries. Just wish the rest of Pratt's diaries he wrote for over 50 years as a barber in Waveland still existed :( kbz
---
Monday March 1 - $8.85. One gal coal oil 15 cts. B& L $2.50. Sent 50 cts A Currier. Essec Co NY for a razor sharpener. Do not know what it is or what it looks like. The Presbyterians will continue their meetings throughout the week. Weather is fair and not very cold.
Tuesday March 2 --$3.25. Sent the Commercial Gazette $4.00. The day has been very nice -the streets are getting dusty. Wife complains of a hurting in the lower part of the abdomen. She was hardly able to go about yet she done her ironing. My health is very good.
Wednesday March 3 -- $3.25. Sent $3 to LB Kent, Jacksonville, for Thomas J. Hanna and myself for the Banner & Holliness. Sent the Commercial Gazette $3.75. Expenses 10 cts. Stamps 25 cts. This has been another beautiful day. Sam Jones and Stan Small are in Chicago.
Thursday March 4 -- $3.85. Paid $2 on a sewing machine from Nashville, Tenn. I will keep the machine here until next Monday. It runs by a spring motor weather (rather?) fine. Wife is yet complaining. She refuses to have a doctor come see her.
Friday March 5 -- $3.55. Sent 85 cts to Inter Ocean for JC Simpson. Wife and I concluded it best to tell our little boy Willie that he was not our child by birth, but by adoption. He knows the whole story now. Sugar 85 cts. Sweet potatoes 40 cts.
Saturday March 6 -- $16.90 - One gal of Maple Molasses $1. Beef 45 cts. We were done our work by 10 ½. Have a good days. I did not get to go home to my dinner, met Willie coming to the shop with it.
Sunday March 7 - We attended service at the Methodist Church at 10 ½. Wife did not attend church until at night. Willie and I were at Sunday School at 2 ½. Snow is falling tonight. I do not think it will remain for it is too warm. Wife is not very well tonight
Monday March 8 -- $4.50. 2 gal of coal oil 30 cts. B&L Association $2.50. I have relocated goods for a new suit of cloths (sic) - Old Uncle Johnnie Milligan was buried this afternoon. He died last Friday morning. The snow is all gone. Sent the machine to Rev. Buckles at Terre haute.
Tuesday March 9 -- $3.85. One pair of scissors $1. Pd Scott $5. Sent American News Co 5.05. Toledo Blade 1.45. North Am Review $4.05. 4 Shocks of cow fodder $1. The weather is cool and a little snow has fallen not enough to show.
Wednesday March 10 - $4.15. Paid 1.50 for a couple of silver dollars that were punchered (sic - have a hole in them Pratt writes). Cow feed $1. Chicken feed 70 cts. 1 bottle of medicine for wife for the cure of kidney complaint 90 cts. 1 bottle cough medicine for Willie 80 cts. The ground was covered with snow this morning.
Thursday March 11 -- $2.10. Paid 50 cts for a pound box of baking powder with it I draw a prize worth about as much as the powders. It was a pitcher. 25 cts for a crystal for Willies watch. 35 cts for a pint of glycerine and 10 cts for a wisp, the Vigilance Committee, whipped Mike Daily last night.
Friday March 12 -- $1.40. Paid $1 for 4 bushel of chicken feed. Sent Indianapolis Times $3.50. The Sentinel $1.47 Wife paid 20 cts for two handkerchiefs. A new snow fell last night. It all disappeared today. Charley Kritz came in tonight to go back tomorrow.
Saturday March 13 -- $8.20. We were done work by 10 ½. The snow that fell last night all disappeared today. Sold 45 Cincinnati papers. 20 commercials. The biggest strike among Loobring (?) men ever in this country is now in full blast. It is principally on the Ghold (sic) system McCain $5.00
Sunday March 14 - I attended and led class meeting at 10 a.m. We had a good meeting. Every person gave testi (testimonial?) money that were called upon. At 11 o'clock I attended services at the Presbyterian Church. At night I retired at an early hour.
Monday March 15 -- $4.70. B&L Association 2.50. IOOF for quarterly dues 2.60. A pair of shoes for myself 2.25. Commercial Gazette 3.75 The weather opened out beautiful this morning but before night colder and threatening rain.
Tuesday March 16 -- $2.80. 70 cts for a sack of flour. To night I received from my brother Wm. at Ottumwa the sad news of bro. Ben's death. He died yesterday at 11.25. Was 38 years old to a day. Had been married 15 years to a day. In religious views he was an Infidel. His death was caused by drink. NO HOPES OF HEAVEN.
Wednesday March 17 -- $4.25. Paid Scott $1. 30 cts for cards and stamps. Bro. Ben's remains were taken to our old home, Blakesburg, Iowa for burial which took place yesterday afternoon at about 2 o'clock. I did intend to write his widow a letter today but had not time.
Thursday March 18 -- $2.95. Meat 20 cts. Wife was up town today and spent 60 cts for little trinkets. The weather has been most delightful. Too warm for a fire. Willie in company with some other boys went fishing the afternoon. He caught three.
Friday March 19 -- $2.20. Onion sets 30 cts. Two head of cabbage 15 cts. Medicine for Willie 25. John C. New & Son 10.70. Wife paid Leula Hunt 50 cts for poticing (?) the yard r lawn (not sure what this is - kbz). I wrote sister Rhoda, Bro. Ben's widow a letter. The weather has been most delightful.
Saturday March 20 - 7.80. 2 gal of coal oil .30. Rained most all day. The wind has been high and along toward night burned colder and a fire was necessary. The entertainment by the Sappenfield troup has caused a wonderful sight of slighty remarks.
Sunday March 21 - We attended church at the Methodist House at 10 ½. This afternoon Willie and I attended Sunday school. Since last report I have put in the collection of SS 30. Snowed, blowed and sunshine din all a blustering day.
Monday March 22 -- $6.80. Dye for coloring confest (?) rags 35. Beef 25. B&L 2.50. Soap for cloths washing $6. Mrs. Woolsey was forcibly taken to Crawfordsville jail today or rather this evening. She had previously been arrest for selling whisky unlawfully, her husband is in jail, too.
Tuesday March 23 - Paid in the AOUW in assessment $2. The weather has become spring like grass is showing up. Wheat in many fields will hid e a rabbit. Billy Hauger of Newman, Ill came in this evening on a visit. He will soon move to Tuscola, Ill.
Wednesday March 24 -_ $2.40. Paid on goods for shop use from Theo A Kochs of Chicago 11.70 including Express charges. For 3 qts of Cranberries 25 cts. Charley Hunt is cleaning up our garden. Rec'd a letter from Brother Ben's widow. The day has been a very nice one.
Thursday March 25 -- $2.40. Cow feed 65 cts. Pickles 55 cts. The weather is considerable warmer. The two Willies went fishing this after noon. They caught enough to make a skillet smell a little fishey. Charley Hunt has working for us.
Friday March 26 -- $2.45. Two gal of coal oil 25 cts. Another beautiful day. Willie Hauger returned to Newman Ill this morning. Next Saturday week he will accept a night clerkship in the Beach Hotel at Tuscola, Ill. Willie & Charley Hunt went fishing this p.m.
Saturday March 27 -- $8.75. Paid 50 cts for beef. 20 cts for stamps. The republican township convention convened at Browns Valley. Tom Patten for Trustee, Jim Simpson, Assessor, PM Conner Justice of Peace. Conner (although it looks like Commercials ?) failed to get in.
Sunday March 28 - I attended and took the leadership of class meeting this morning. We had a good meeting Bro PM Conner and wife were at our house this evening set 'till 8 o'clock. Willie and I attended Sunday school at 2 ½ p.m. had a review for the quarter.
Monday March 29 - B&L Association 2.50. State and county tax $4.80. The 13.25 of this month I sent TH B McCain $5 each time. $10. The indications are for a spell of bad weather. Clara Shaw has promised to come up tomorrow or next day.
Tuesday March 30 -- $1.85. A rain set in yesterday evening, it is getting colder. Democrats in convention today nominated AJ Wolfe for Trustee Bro W is a good man and will be hard to beat at the polls. Paid box rent 10 cts for the qtr.
Wednesday March 31 -- $4.45. There is a troup playing at the Milligan hall tonight. Charlie Talburt & I have printed 1100 election tickets. There was a high wind and snow to face as I went home tonight. Very disagreeable weather.