January 1886 - Diary of Hiram Austin Pratt
Waveland, Indiana Barber 50 + Years; CW Soldier + More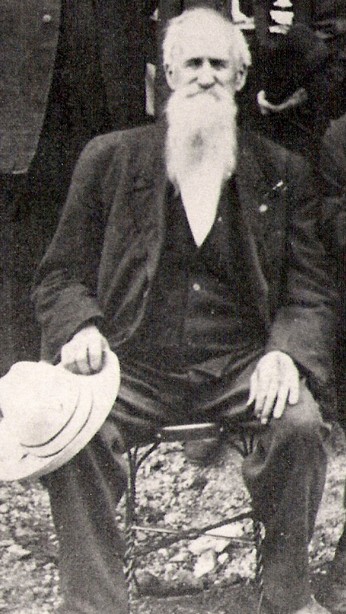 Note: These diaries were in the Waveland Public Library for decades but were disposed of by a librarian several decades ago. Luckily, another librarian's daughter (thanks sooo much Pam, at the death of her mother, Virginia Banta Sharpe found them in some belongings and gave them back for proper housing. A complete circle. I'm a librarian too and thought since they'd been lost to posterity for so many years that it would be a good thing to transcribe them and give them to the world. They are currently housed in proper temperature/storage at the Crawfordsville District Public Library - typed as they were written
Note 2: Karen Bazzani Zach (transcriber) was raised in the big 'ol town (500 people) where HA Pratt lived 5 decades before I was born. I remember the building where his little shop was and wish it was still there. What an interesting little place. ALAS! Progress !
Note 3: Some information about Pratt -- he was born in Parke County, Indiana April 20, 1840 the oldest child of eight born to Erastus & Elizabeth Allen Pratt and died October 12, 1914 in his beloved Waveland, Indiana. He was twice married, first to the love of his life (he kept a life-sized poster of her in one of his cabinets at his barber shop, even long after his second marriage) Eliza Franklin Shaw (born Oct 23, 1841 died Oct 12, 1887), and #2 to his friend, Evaline "Eva" McMains. He was very active in the community where he and Eliza chose to live. He gave generously of his time and money to the Methodist Church in Waveland. For a few years, he served as Marshall of the town. Also, he worked diligently for his Odd Fellows, Rebekah & Knights of Phythias Lodges, was for a time on the town board, and read to those who could not read from the several newspapers he was agent for. Pratt volunteered and served for three years during the Civil War (Co. B, 36th Infantry), and spent time in the dreaded Andersonville prison. He and Eliza adopted a son, Willie Franklin Stump, age two (not sure ever officially or just had permission to take him from the Poor House in Crawfordsville) and he was an amazing young boy (high grades, worked in the church, quite musicially inclined, just an ideal child) until Eliza was taken to the hospital where she was operated on for six cervical tumors (one weighing six pounds) from which she died. Willie went wild after that and he and Hiram's second wife, Eva never got along. He ended-up in Reform School (for stealing a dollar twice from Eva among other small crimes), and later sent home to die due to consumption (what we know as tuberculosis) dying in Hiram's arms on April 12, in 1894. Hiram missed Willie and Eliza more than most I do believe as he wrote about them so often in these diaries. Just wish the rest of Pratt's diaries he wrote for over 50 years as a barber in Waveland still existed :( kbz
---
Friday Jan 1 - $4.30. Paid 30 cts for beef. The New Year finds us all well. The weather pleasant more like spring than winter. Paid 40 cts for tickets to the New Years "Golden Stair" at the ME Church. $3 for a watch chain for Willie.
Saturday Jan 2 -- $10.60. we were done work by 10 ½ had a good days run. The weather continues beautiful. Hardly cold enough to keep up a fire. This weather is remarkably fine in wheat. Willie spent 50 cts unbeknown to us bought a home (?) toy pistol & checkers.
Sunday Jan 3 - With the approaching of the morning a rain began to fall and has kept it up all day. I went to church this forenoon. At 2 ½ p.m. Willie and I were at Sunday School. We did not go out tonight to church.
Monday Jan 4 -- $8.35. Last night we were in at Mrs. Bloomfields for an hour or more in social converse . The family consists of a mother & 3 grown daughters, Nancy, Lucinda and Mary. They are the best neighbors we ever had.
Tuesday Jan 5 -- $1.50. yesterday I paid Express Charges on a barrel from NY containing one doz lamp burners and 3 doz chimneys. $1.95. Oysters while Clara S. was here 30 cts. She was at our house from Thursday to Saturday of last week. (Note: Clara S. is his sister-in-law, Eliza's sister, Clara Shaw).
Wednesday Jan 6 -- $3.45. Sent Commercial Gazette 2.25. The Terre haute Gazette 1.29 in both cases the expense of remittance is counted. The weeKnights of Pythiasrayer is being observed at the Presbyterian and Methodist churches. A protracted meeting at the MEC next week.
Thursday Jan 7 -- $7.20. Sent PS Westfall for the mail. 3.70 Beef 60 cts. The weather is considerable colder. A light skiff of snow has fallen within the last day or two. Wife and Mrs. Hunt attended prayer meeting tonight. I was not through work in time.
Friday Jan 8 -- $3.50. Paid 50 cts. Express charges in pay for the bank. We are now having first-class winter weather -snowed most all day. Mrs. Lydia Farmer her sister-in-law and Carrie Talbert were at our house for dinner. A letter from Clara & Billy H.
Saturday Jan 9 -- $5.53. Have paid $5 into the Building & Loan Association. I have 5 shares and my wife has five - each share represents $200. The weather is very cold. Paid on bill of paper from Chicago $2.65. Papers from Cin failed. From Indpl's came in tonight.
Sunday Jan 10 - This afternoon Willie and I attended Sunday School. The weather is so very cold we have concluded it were better to remain in doors. I called on the Bloomfield girls to see how they were getting along. They were comfortable.
Monday Jan 11 -- $6. Paid into the B&L Savings Fund 2.50. Mercury was 20 degrees below zero this morning. Sent the Hectograph Manufacturing Co of NY $11.62 - Cost 12 for exchange on NY. This pays for the lamp burners rec'd the 4th.
Tuesday Jan 12 -- $1.85. 30 cts for cod fish. 40 cts for coal oil - sent for Globe Dem for Ed Oldshue 95 and to the Enquirer Co 2. Containing subscription for Ed Oldshue. Sent the American News Co $5. A protracted meeting is in progress at the Methodist Church.
Wednesday Jan 13 -- $8.75. Paid 40 cts for two pairs of cotton hose. The cold weather gave way to genial sunshine. Snow melted a little in favorable places. Paid 70 cts for a sack of four. Mrs. Spruhan has returned the Sewing machine. I returned a lot of books and paper to the American News Co of NY. Postage 50 cts.
Thursday Jan 14 -- $3.05. Sent THB Mc $5. One gal coal oil 15. The first I ever bought and I think will be the last. (crossed out is 30 cts for cod fish). The cold weather is gradually leaving. We attended the revival meeting tonight. I have not had a chance to go in day time.
Friday Jan 15 -- $1.40. Sent $2.73 to John C. New & Son for daily papers. The Times Co is to be paid out of this. $1.08. We are ? having a very wet time. Snow is going off with a rain. Paid $9 for a half car load of coal. This will be enough to run us through.
Saturday Jan 16 -- $12.55. For an umbrella 1.15 For Coal oil 15 cts. Chees (sic) & Cakes 10 cts. I did not get time to go to my dinner today and did not get home until half past 10 tonight. Weather has turned colder again. Mask Social at Hall tonight.
Sunday Jan 17 - We attended church this morning. At 2 ½ Willie and I were at Sunday school. Tonight wife, Willie and I were at church again. Snowed a little today. This cold snap is not beginning to be as cold as the other.
Monday Jan 18 -- $8. Paid in the BL Association 2.50 for a spring for clock in the shop 75 cts. 60 cts for Peppermint Lozenges 10 for bluing. Wife is not feeling well, yet she would do her usual week's work. Snowed more today. I have a bad cold.
Tuesday Jan 19 - $1.40. I was installed Receiver of the AOUW tonight. Paid on assessment 2 and on dues! Snowed a little more today. Sent 1.65 to Tribune of Washington DC. The meeting at the Methodist Church is to continue during the week.
Wednesday Jan 20 -- $1.90. A pair of rubber shoes .75. Pickles 3 doz .25. A rain has been falling all day. Wife attended church this afternoon. She said the meeting was the best of the series. $1.20 interest on $60. 3 mos.
Thursday Jan 21 -- $1.50. For fresh meat 55 cts one bottle of cough medicine for myself 90 cts. Snow fell last night and today. We were at church tonight and heard the story of the prodigal son related in a very uninteresting mode.
Friday Jan 22 -- $2.70. Paid $1.50 for my share of the hauling of that car load of coal. 25 cts for a shoe brush. 75 cts for a pair of skates for Willie. The weather has turned several degrees colder since this forenoon. Zero and below by morning.
Saturday Jan 23 -- $7.45. Sent 80 cts to Interocean for Joe Burford. The day has been cold and but five from the country have been in town. There was one addition to the church last night. There was no meeting today but were tonight.
Sunday Jan 24 - Our minister went to his appointment at New Market for today. I was at class meeting this morning. More than usual interest was manifested tonight Bro Byerly lead the meeting we were present. Had a good meeting.
Monday Jan 25 -_ $5.30. Sent $5.47 to Ben Williams at Chicago to pay on Life insurance. 50 cts for coal oil. .25 cts for boot blackening. B& L Association 2.50 2 prs of cotton hose for wife 40 cts. The weather has turned considerable warmer.
Tuesday Jan 26 -- $3.10. I charge McCain with .80 for stamps and envelopes. 20 cts for stamps for myself. The snow melted considerable today. Sam Jones an Evangelist from Georgia is holding a protracted meeting in Cincinnati Big Times.
Wednesday Jan 27 -- $1.70. Meat 35 cts Soap 75 cts. Starch .25 Buckwheat flour .25. Chicago InterOcean 10 ct. Rain has been slowly falling all day. Willie accidentally upset a 2 gal jar of cream just as he and his Ma were ready to start for church. They did not get to go.
Thursday Jan 28 -- $1.55. Sent by mail to THB McCain $5. Pd 84 cts for 12 yds of calico for wife a dress. 20 cts for cuff fasteners. I barely get my letter on the train tonight. Gave the letter to the baggage man. Rained more today. My cold is better.
Friday Jan 29 -- $1. Paid 75 cts for prunes - 5 cts for Apples. Paid 50 cts for two prs of cotton socks or half hose. A slow rain has been falling all day or turned cold later this evening, real cold tonight as we faced the wind going home from church.
Saturday Jan 30 -- $7. Paid rent for Jan 2 dollars. Sent Globe Democrat 36 cts for two papers during the next week. We were done work tonight by 10 ½. The cold weather has been rather hard on our customers, as but my few were in town.
Sunday Jan 31 - Snowed a very light fall last night. We attended church tonight and this forenoon. Tonight Willie arose for the prayers of the church. There has been 4 accessions to date. Willie and I attended Sunday school at 2:30 p.m. Weather cold and clear.
---