NOVEMBER 1907 - HIRAM PRATT DIARY
Waveland, Indiana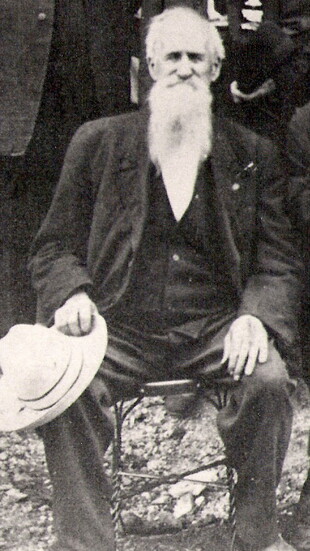 Note: These diaries were in the Waveland Public Library for decades but were disposed of by a librarian several decades ago. Luckily, another librarian's daughter (thanks sooo much Pam, at the death of her mother, Virginia Banta Sharpe found them in some belongings and gave them back for proper housing. A complete circle; however, only 14 of the 50+ diaries were saved from the library's incinerator. I'm a librarian too and thought since they'd been lost to posterity for so many years that it would be a good thing to transcribe them and give them to the world. They are currently housed in proper temperature/storage at the Crawfordsville District Public Library - typed as they were written
Note 2 : Karen Bazzani Zach (transcriber) was raised in the big 'ol town (500 people) where HA Pratt lived 5 decades before I was born. I remember the building where his little shop was and wish it was still there. What an interesting little place. ALAS! Progress ! Oh, and I've tried to type the diaries as is - mistakes & all
Note 3: Some information about Pratt -- he was born in Parke County, Indiana April 20, 1840 the oldest child of eight born to Erastus & Elizabeth Allen Pratt and died October 12, 1914 in his beloved Waveland, Indiana. He was twice married, first to the love of his life (he kept a life-sized poster of her in one of his cabinets at his barber shop, even long after his second marriage) Eliza Franklin Shaw (born Oct 23, 1841 died Oct 12, 1887), and #2 to his friend, Evaline "Eva" McMains. He was very active in the community where he and Eliza chose to live. He gave generously of his time and money to the Methodist Church in Waveland. For a few years, he served as Marshall of the town. Also, he worked diligently for his Odd Fellows, Rebekah & Knights of Phythias Lodges, was for a time on the town board, and read to those who could not read from the several newspapers he was agent for. Pratt volunteered and served for three years during the Civil War (Co. B, 36th Infantry), and spent time in the dreaded Andersonville prison. He and Eliza adopted a son, Willie Franklin Stump, age two (not sure ever officially or just had permission to take him from the Poor House in Crawfordsville) and he was an amazing young boy (high grades, worked in the church, quite musicially inclined, just an ideal child) until Eliza was taken to the hospital where she was operated on for six cervical tumors (one weighing six pounds) from which she died. Willie went wild after that and he and Hiram's second wife, Eva never got along. He ended-up in Reform School (for stealing a dollar twice from Eva among other small crimes), and later sent home to die due to consumption (what we know as tuberculosis) dying in Hiram's arms on April 12, in 1894. Hiram missed Willie and Eliza more than most I do believe as he wrote about them so often in these diaries. Just wish the rest of Pratt's diaries he wrote for over 50 years as a barber in Waveland still existed :( kbz -- ENJOY
---
Friday Nov 1 -- $2.45. Cloudy.52. Yesterday I sent a money order for $14.62 to Caws Fountain Pen & Ink Co Vessay Street 46 NY Expense 10c. We have had a rain nearly all day a part of the time it rained hard. The little creeks are in a flourishing condition. By invitation I eat my noon meal with Richard and Mary Rusk. T here was very little of mischief commited last night.
Saturday Nov 2 -- $5.75. Cloudy. Paid 45 for supper and for breakfast in the morning. I went to get an early start in the morning for Crawfordsville. I wont expect to find Alfrey's at home and if I can to late to meet them there will continue to the city. It rained all night and has been quite damp today. A light mixture of snow was seen in the rain.
Sunday Nov 3 - Cloudy. I was out of bed 10 minutes after 5 and worked faithfully to get an early start but did not get off until half past 8. It was 15 minutes of 11 when I got to Jim Alfreys. I continued over to the city and attended church heard Wilfley in the Christian Ch Anderson McMains wife, 2 daughters and a son eat dinner with us at Alfreys.
Monday Nov 4 - Cloudy. $2.55. Paid 55 c for a piece of fresh pork at 12 ½ cts per lb. 5c for a paper of tacks. Pension voucher executed by John Rosebaum cost 15. 100 lbs of cracked corn for chicken feed $1.50 and a dollar and 30 for I have forgot the item. We were home last night by 10 minutes of 6 o'clock. The road was a wee bit heavy and "Bob" didn't want to go as well as at other times.
Tuesday Nov 5 - Cloudy. 58. $4.00. Sent the Indpl's Star 10 for BF Porter done this on yesterday. We had the first meat on new corn meal of any on hereabouts. I made the meal by the use of a small food chopper or cutter yesterday at noon. Dr. WL Straughan took me home for dinner yesterday in his fathers automobile a part of the time he made 25 miles an hour weather continues very damp.
Wednesday Nov 6 - Cloudy 45. $1.60. Twp pumpkins 25. 1 screw driver 15. Sent the Terre Haute Star $1.26 for 3 cts. Twelve states held elections yesterday. The republicans elected the Governor and mayor of Louisville. TL Johnson democrat was again elected mayor of Cleveland. The day has been rather damp no rain fell but there seemed to be a dampness in the air. Paid Margarette Moore 40.
Thursday Nov 7 -- $1.05. Partly cloudy 45. Piad 25 for wire, nails, and staples. I spent the entire afternoon assisting Charley Moore in putting up a wire fense between our lot and that of Oliver's. We have a gate to make and hang and are done. Eva called on Mrs. Burrin this afternoon. The President is well pleased with the decision of the battle of hallots (or bottle of something?) on last Tuesday.
Friday Nov 8 -- $2.20. Cloudy 52. Ten rounds of sweet potatoes 35. Five bolts for the hanging of the gate in line with the fense (sic) built yesterday. Twenty gal of oil $1.80. 35 c express on the laundry. I got word today from Caw's Fountain Pen & Ink Co of NY that my order for ink and the fountain pens had been filled. The report of the marriage of Jos Tague and Daisy Baker is not true.
Saturday Nov 9 -- $10.80 Cloudy 48. Paid 75 c for a 24 pound sack of flour. The frost was in appearance a light fall of snow. Our Bob let himself out of the stable at some time last night. He reached over the gate and with his nose pushed the prop from under the cleete ? nailed on the door. When he had done this he went back in the stable and pushed the door open.
Sunday Nov 10 - Cloudy 40. I have made a note of very few days this year that I have observed no clouds, oftentimes we have had sun shine all or nearly so all day yet clouds could be seen and the day not absolutely clear. I heard our new Elder at this mornings appointment. Mr. and Mrs. Frank Roseboom and their son Homer were with us for dinner. Tonight I went with Eva to hear Oscar O. Kelly at Christian Church.
Monday Nov 11 -- $2.40. Cloudy 45. Paid Charles Moore $2.20 for putting up the wire fence and making of the gate. 3 pounds of crackers 25c. The laundry was returned this morning, it got behind time last week by returning it the same day it was sent away. Our Bob returned from the funeral of Harve Hallet's little boy at noon. He helped hall the herse. Snowed a little yesterday p.m. I was asleep. Note: This little boy was Fred Jackson Hallett 4 Sept 1900 - 9 Nov 1907 died of St. Vidas Dance.
Tuesday Nov 12 -- $1.40. Cloudy 35. Paid Mag Moore 40 for doing the weeks washing. I am now writing with Caw's Fountain Pen with ink specially prepared for such style of pens. The ink is green in color at first but after awhile it will turn a permanent black. I received the ink and pens from NY today. Budy Kelso went to Crawfordsville to have his face doctored.
Wednesday Nov 13 -- $2.40. Cloudy 35. $2.40. Money order for $10.80 and 72 cts in stamps sent to Indianapolis Star. Money order for JJ Campbell of Logansport Ind $5 expense on both of them 15c 20 years and one month ago today my sweet little women was burried (sic) in cemetery at Fletchers Chapel near Farmersburg Vigo Co Ind. Willie our foster son was burried 13 years 8 months ago today.
Thursday Nov 14 -- $1.35. Cloudy 39. Mercury early this morning was at 20 degrees. Eva and I removed the fallen leaves from the lawn. Buddy kelso will be home in the morning. He was at Mary Alfreys for dinner. John Tague and Daisy Baker are to be married tomorrow. The report of their marriage last week was not true. There is a scarcity of ready money for circulation.
Friday Nov 15 -- $17.55 Clear 40. Yesterday I paid for coal $1.25. Today I settled with Kleiser & Ball and paid them for 6 months rent $24 and sent the union Mutual Life Ins Co of Portland Maine $5.37 Expense 5c. There was 7 tubs full of leaves on our lawn, the east side. I carried them off. A representative of the News called this p.m. David Osborn called at our house yesterday evening.
Saturday Nov 16 -- $11.60. A bottle of Abbott Bros Rheumatic cure for Eva $1. Jo (sic) Tague and Dasie (sic) Baker went to Crawfordsville today and were married sure. Sam Scott helped me tonight. We were done our work by half past 11 o'clock. T he money market is yet closed. Banks are paying depositions $10 a day when they call for it. Buddy kelso is home, but no better.
Sunday Nov 17 - When dressed and ready for church it was 25 minutes of 12 or noon. Through the influence of my wife I did not go to church. She went with me tonight. We took dinner at Kelsos. We were partners on the dinner. I furnished half of the oysters and all of the crackers. The day has been real pleasant. Mrs. Baker her son John and daughter Clara will leave for Kansas next Tuesday.
Monday Nov 18 -- $5.70. Sent Crawfordsville Journal $1.40 1 sub for Dr Kleiser and one for Dorcus Durham. I have Oliver B. McCall to deliver the News. He is to get 2 c per copy per week for the service he starts out with 63 papers. Last Thursday I paid 35 c ex on laundry and sent the laundry $5. To the union Mutual Life Insurance Company of Portland Maine $5.37 ex 7.
Tuesday Nov 19 --- $1.95 Cloudy 50. Lamp burner and 2 lamp flues 25. Paid Chas Patton a dollar in part payment for a barel of apples. The indications for rain was good yesterday and also this morning. Eva and I are invited out to a reception given by the Pithian Sisters in the Knights of Pythias hall. Eva stoped in the way at Wm. Jarvis' to wait until the hour of 8 o'clock.
Wednesday Nov 20 - Cloudy. 47. Rained all day and a part of last night and apart of the fore part of tonight. SF Whittington a former citizen of this town but now of Seattle, Washington called to se me yesterday. He is 80 and is on his way to Oclahoma to spend the winter with a daughter. We were nicely entertained by the Pithian sisters last night at the hall.
Thursday Nov 21 -- $2.25. Cloudy 47. Two lemons 5c $1.50 for 100 pounds of sucreme (saccrine?) for cow feed. It is a great milk and butter producer. Eva and her sister Mary held a conversation over the telephone line late this p.m. They - Jim and Mary are going to visit us next Saturday and remain until after dinner Sunday. Tonight I have my gasoline light in use. It makes a good light.
Friday Nov 22 -- $7.20. Cloudy 44. Bought a 9 x 12 rug to be used in place of a carpet cost $13.50. Sausage 30. Prunes 25. Sweet potatoes 35. Rice 25 yesterday evening I rigged up my gasoline lamp - had not used it for nearly 2 years. Mr. Burrin soldered a few small holes in the crown of the tank where a pressure was required and now it works fine. The rain at night is lighter than in day.
Saturday Nov 23 - Clear 47. $5.50. "Sucrene a darie feed for cows 100 pounds $1.50" marked out. It is highly recommended as a milk producers. I done all the work by myself today and was through with it by half past 11. By the time I get home and my supper eaten it will be past 12 or midnight. I gave 5 c for a couple of bunion pads and was relieved.
Sunday Nov 24 - Clear 45. Jim and Mary came in this morning. They took dinner with Kelsos and are at our house tonight. We attended church both morning and evening. Bro. Kelly will be here two more times. I would like to have him stay another year. I have contributed 5 dollars each year to help out on his salary. Jim and Mary will go home in the morning.
Monday Nov 25 - Cloudy. 51. 4.75. Twelve cakes of laundry soap 50. Express on laundry last week 35. My gasoline lamp is now giving the best of results. Paid 15 c for 6 bunion pads have 2 of them on my left foot and am entirely relieved from the severe pain. I had to endure. I put one on my wifes foot she was not relieved to the extent I was. The air is a little cooler.
Tuesday Nov 26 - Cloudy. 44. $2.30. Paid Oliver McCall for the deliver of last weeks papers $1.12, a box of stove polish 10. Shank of a hog 10. Three lbs of Crackers 25. 1 pint of oysters 20. A son was born to Alonzo Deer and wife yesterday a first born. Note: this was Wendall Deere (25 Nov 1907 - 2 April 1953 died Davenport, Iowa born Waveland, Indiana). Bob Kelso put a wagon load of corn in our crib today. I don't know how much. He keeps the account and I pay him in the run of the year. The Banks are about ready to remove pay on checks.
Wednesday Nov 27 -- $3.35. Cloudy 61. Sent JJ Campbell of Logansport $5. Ex 5c. The Enquirer 93 c ex 5c. There has been a slow easy rain falling since 12 or noon. The corn Bob Kelso brought me was 31 bushel at .45. per bushel. He was owing me $2.75. I now owe him $13.75. Eva received a letter from her niece Mrs. Penn Hanna at Topeka, Kans. Raymond is well at work.
Thursday Nov 28. -- $2.10. Clear 56. One pint of oysters 20c. This day is by proclamation of the president as a day of National Thanksgiving to Almight God for the many for the many (sic) and inormeoal ? blessings. Bestowed during the year. We eat our dinner alone. Had fried oysters, lemon pie, milk, sorghum and maple molasses, butter, jams and jellies, and other trimmings. The day was clear. Home by 10 p.m.
Friday Nov 29 - Clear. 56. $2.30. A 10 lb sack of corn meal 15. A 24 pound sack of wheat flour 75. The air since noon has been rather chilly. Yet Mercury did not register a low as it seemed like it ought to. One week ago today I sent the Journal of Crawfordsville a dollar for Isaac Ritter for the daily Journal. He has not got a copy yet and today I sent them a letter of inquiry.
Saturday Nov 30 - Cloudy 33. $7.30. Paid 30 for enough beef steak for dinner and supper.
Buddy Kelso eat his dinner with us. Sam Small will not be at the First Methodist Church in Crawfordsville tomorrow but is to be there the next Sunday I hope to hear him. Prof Kritz had two barns to burn tonight between 9 and 10 o'clock. I don't know the loss in grain, horses, hogs, farm implements, hay, etc. Snow this am.