JULY 1907 - HIRAM PRATT DIARY
Waveland, Indiana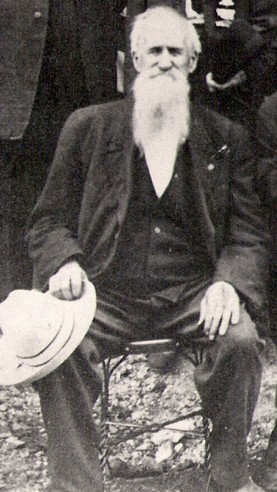 Note: These diaries were in the Waveland Public Library for decades but were disposed of by a librarian several decades ago. Luckily, another librarian's daughter (thanks sooo much Pam, at the death of her mother, Virginia Banta Sharpe found them in some belongings and gave them back for proper housing. A complete circle; however, only 14 of the 50+ diaries were saved from the library's incinerator. I'm a librarian too and thought since they'd been lost to posterity for so many years that it would be a good thing to transcribe them and give them to the world. They are currently housed in proper temperature/storage at the Crawfordsville District Public Library - typed as they were written
Note 2 : Karen Bazzani Zach (transcriber) was raised in the big 'ol town (500 people) where HA Pratt lived 5 decades before I was born. I remember the building where his little shop was and wish it was still there. What an interesting little place. ALAS! Progress ! Oh, and I've tried to type the diaries as is - mistakes & all
Note 3: Some information about Pratt -- he was born in Parke County, Indiana April 20, 1840 the oldest child of eight born to Erastus & Elizabeth Allen Pratt and died October 12, 1914 in his beloved Waveland, Indiana. He was twice married, first to the love of his life (he kept a life-sized poster of her in one of his cabinets at his barber shop, even long after his second marriage) Eliza Franklin Shaw (born Oct 23, 1841 died Oct 12, 1887), and #2 to his friend, Evaline "Eva" McMains. He was very active in the community where he and Eliza chose to live. He gave generously of his time and money to the Methodist Church in Waveland. For a few years, he served as Marshall of the town. Also, he worked diligently for his Odd Fellows, Rebekah & Knights of Phythias Lodges, was for a time on the town board, and read to those who could not read from the several newspapers he was agent for. Pratt volunteered and served for three years during the Civil War (Co. B, 36th Infantry), and spent time in the dreaded Andersonville prison. He and Eliza adopted a son, Willie Franklin Stump, age two (not sure ever officially or just had permission to take him from the Poor House in Crawfordsville) and he was an amazing young boy (high grades, worked in the church, quite musicially inclined, just an ideal child) until Eliza was taken to the hospital where she was operated on for six cervical tumors (one weighing six pounds) from which she died. Willie went wild after that and he and Hiram's second wife, Eva never got along. He ended-up in Reform School (for stealing a dollar twice from Eva among other small crimes), and later sent home to die due to consumption (what we know as tuberculosis) dying in Hiram's arms on April 12, in 1894. Hiram missed Willie and Eliza more than most I do believe as he wrote about them so often in these diaries. Just wish the rest of Pratt's diaries he wrote for over 50 years as a barber in Waveland still existed :( kbz -- ENJOY
---
Monday July 1 -- $5.55. Clear 74. Paid $2.10 telephone rent a dollar to Guy Rice 30 for Talcum powders 50 for the sprinkling of the street. Perla had arrived home from her visit a few minutes before us on yesterday evening. She reports having had a real nice visit. I failed yesterday to visit Willie's grave. Sent Chicago Record Herald $6.40 expense 10. Farmers are not very much elated over the new crops.
Tuesday July 2-Clear 71. $4.40. Sent the Enquirer 73 cts. Expense 5. Paid $615 for 50 pounds of lard 40 c for 3 ½ pounds of meat. Perla and Mary Elizabeth went up to Jim Alfreys to visit a few days. She says she is enjoying her visit just the best kind. I sent her husband Dr. Charles C. Conover a copy of last Sundays Star (Indianapolis) postage was 6 c 96 pages in the paper. Cool tonight.
Wednesday July 3 -- $2.45. Clear 70. One orange for Eva 5. Scythe Sneed 65 c and 10 c for grinding of the blade. Mr. Ruben Burrin had the use of Bob the little wagon to convey his fishing outfit to The Narrows of Sugar Creek. He took 3 of his grandchildren. Sadie and I are calculating on going to her bro. Andersons tomorrow. Wheat harvest will be here next week.
Thursday July 4 - We eat dinner at Anderson McMains today. Jim and Mary, Perla and daughter Harison McMains and family from Baltimore, Md leaving McMains and wife from Indianapolis and several of the neighbors and friends out of Crawfordsville were there too. We had a very fine spread and later in the evening we had patriotic songs and 3 gal of ice cream. Home by 1:30.
Friday July 5 -- $1.50. Twenty five pound of sugar 1.40 30 gal of gas 4.50. Thus far 30 people lost their lives yesterday by accident to the celebration of the 130th birthday of our National Independence. The weather is pretty warm now. At 5 p.m. Mercury 90. Paid 25 c for 2 lbs of new green beans. We will try and have a mess of them for dinner tomorrow.
Saturday July 6 - Cloudy. 87. $6.30. P aid 30 c for a few slices of fresh pork. The green beans were relished for the noon meal. Lunch tonight 20. Frank Clark was taken suddenly sick just as I finished cutting of his hair. Dr. Kleiser was called to his assistance. His sickness lasted about an hour when he was taken home in a buggy. We came very near having a shower today.
Sunday July 7 - Cloudy. I visited Willie's grave twice today. Eva went with me to meeting tonight. This afternoon we had a fair shower of rain after the rain I took 2 of Wm. McCalls girls out riding. Naoma 11 years old and Mabel 7 they had never been out south of town farther than half a mile. Their mother died shortly after Mabel was born. The weather is so warm, we need no covering when in bed.
Monday July 8 -- $6.10. Paid Guy Rice a dollar there is some talk of a war between this country and Japan but I think it will end in talk. There is some trouble brewing out in California which can be fixed up without resort to arms. I look for a war between this country and Japan for the mastery of the Pacific Ocean. Our cow found a calf a girl sometime last night. She is getting along fine.
Tuesday July 9 - Cloudy. $5.60. Paid Mag Moore 35. For ice cream 20 c. John Holland for chicken feed and 3 pounds of coffee and a bottle of olives $1.35. For myself I can say olives are the poorest things I ever tried to eat. They are greene in color, hard, sour and salty. Very poor in tast (sic) for me to eat. I hear some say they are a fine pickle and they seem to be very fond of them. There is signs of more rain soon.
Wednesday July 10 - Cloudy. $2.10. Piad John R. Canine 80 c for a 24 pound bag of flour and 12 pound of corn meal. Perla and daughter and Miranda Ellis came in on the 10 o'clock train. Sam McMains is at WR Kelsos tonight. We had a fine rain late this afternoon. The corn was in need of water. The wheat harvest is on. Doran Clore took me down home in his Automobile "Maxwell."
Thursday July 11 - Cloudy. A splendid shower of rain today. $3.75. Repair of gasoline cour? Cost 20. I had to make a purchase of a pair of shoes for myself. Bought of Charlie Kritz and will settle for then next Christmas. We were blessed with several good rains today. I began the use of our cows milk this am. She will never be able to give better milk than now. The milk was good 3 days before the calf came. Cooler tonight.
Friday July 12 - Cloudy. 70. $3.75. Sent the Indianapolis Star $10.81. Expense 12. Yesterday I paid $3 for 20 gal of gas. 2 lbs of green beans 25 the half soling of my shoes cost 75. Green beans and onions day before yesterday 30. This date of the month in Oct 1887 my precious little lady passed to the great beyond. It will be 20 years this next Oct since she left us, never more to return. Willie died this date in March 1894. A half doz bananas 10c.
Saturday July 13 -- $5.75. Cloudy 70. 15 c for lunch .25 for 3 lbs of crackers 25 for green beans. 10 for bananas. 70 c for Express on laundry. Mrs. Joseph McMains called in to see me. She took dinner at Kelsos and went home with Mrs. Nellie Hodgkins Deer to stay over Sunday. They are graduates of Culver Hospital. Sam Scott helped me in the shop tonight. I gave him 50c and retained 30c.
Sunday July 14 - I heard a farmer pastor of the Methodist church at 11 o'clock. Bro. Crook was our pastor 6 years ago. He is now district supervisor of the Terre Haute District of the Anti Saloon League. He is superintendent over nine counties. I have agreed to pay into the organization. 25 per month for one year. Visited Willie's grave at 20 minutes past 12. Heard Crook at the Christian Church tonight.
Monday July 15 -- $4.70. Cloudy 70. Paid Irve Fullenwider $13.35 for putting up a cement milk trough at our house. Street sprinkling 50 c. 20 c for Eva at Hannah & Kritz's. Yesterday I gave her a dollar to pay on preachers salary. We had a lovely shower of rain this morning. Corn is growing fine now. Mercury was up to 81 in my shop today and remained so until after dark from noon today.
Tuesday July 16 - Cloudy. 80. $15.90. We had a splendid rainfall. My wife says it is a good sign if it rains on a Monday that it will rain two more days that week. I have known the sign to fail a good many times. Perla and her little girl are at Ethel Stilwell's tonight. They will return tomorrow evening. Herbert's wife took them out in our buggy. The farmers are delighted with the fine outlook for corn crop.
Wednesday July 17 -- $5.60. 100 lbs of hominy hearts $1.30. 100 lbs of Mill feed for the cow $1.25. Sent the Anti-Saloon League of Terre Haute 75. The calf has been taken from the cow and we are teaching it to drink the milk. It is learning real fast. Ethel Hodgkins Stilwell brought Pearl and daughter home this evening. Pearl thinks it will be in order for her to return home next week. She has gained 5 pounds in weight since she came here.
Thursday July 18 - Cloudy 88. $5.00. Paid $4.50 for 30 gal gasoline. Sent eh laundry of Logansport $5. Ex 05. Three loaves of bread 15. One doz of bananas 20. nails 5. I don't believe I get every item for which I pay out money for I notice now and then that an item has been omitted. There was another splendid rain this morning and a light shower. This morning a horse belonging to the mail carrier of Browns Valley was killed this a.m.
Friday July 19 - Cloudy 82. $3.25. Bacon 55 c a head of cabbage 05. Pearly and "Bosie" the little girl are at Mary Kelso Lewis Rusks tonight. We were favored of a light shower this afternoon. Paid 10 for 3-5 bags of table salt. Buddy Kelso is considerable better today. He suffers no one knows how severe with his left side of the face. Sadie is standing this hot, weather fine.
Saturday July 20 - Cloudy. 83. $5.85. Paid 25 c for 6 loaves of bread. 35 c for beef steak. Had no one to help me today. My feet are so sore in the bottoms, I can hardly walk at times. Paid 15 for lunch. Clock is striking 12 the hour of midnight. We had some company call on us tonight from Crawfordsville. Harrison McMains would have been our guest his wife too - a telegram from Rossville announced death of wife's mother.
Sunday July 21 - I went with Perla to the Baptist Church. She wanted to see May Demaree. Himelbauer. I went from there to the Methodist Church and heard Bro. Hershey and was back to the Baptist Church in time to go home with Perla. I visited Willie's grave at the noon hour. I had a very pleasant dream of him last night. He gave me a dollar.
Monday July 22 - Cloudy 89. $1.90. Paid 25 for 3-6 oz cans of Chicago yeast Baking Powder. May Demaree Himelbauer and her little boy spent the day at our house. Perla has set the day a week from next Thursday to return home. Kansas City, Mo. We had Betty Herley and her mother Mrs. Banta of Crawfordsville with us for dinner yesterday. Warm. Rained a little.
Tuesday July 23 -- $1.55. One doz bananas 20 - 6 onions 05. Bob Kelso has put a part of a load of hay in our hay mow don't know at present for how much per ton it is worth. The Moon is in eclipse tonight. The cloudy atmosphere prevents a clear vision. It commenced 5 minutes after 9 about one half of it will be darkened by the earths shadow. Paid Guy Rice a dollar Mag Moore 35.
Wednesday July 24 - Cloudy. 90. $7.90. Paid 35 for expenses on return of the laundry. I pay this amount every week. Paid Mag Moore 35. for doing our weeks washing. Perla and May Himelbauer were at Ethel Stilwells today. The moon was eclipsed in part tonight and not last night. The clouds were too dense for us in the part of the world to see any part of it. I hear that the post office will be moved to new quarters soon.
Thursday July 25 - Cloudy. 87. $3.65. Perla spent the day at Dave Demarees with his daughter Mrs. Himelbauer. Mercury was not so high today. A light shower yesterday and today. Soda 05. 3 fans 05. Sent the News of Indianapolis $11.13. Expense 12 cts. The Post office was moved tonight to a room across the street from my shop and one door south and between the Bank and Spencers Hardware store.
Friday July 26 - Cloudy. 76. $3.25. A small sack of flour 80. A peck of apples for cooking 15. Today we took dinner at Mrs. Amanda Bloomfields. The women spent the day there visiting. Mercury at 10 o'clock tonight is 66. The air feels perfectly cooler. One week from tonight Perla will be at her home in Kansas City, Mo. The Methodist Meeting house is being repapered and otherwise beautified. The pastor has a lay off.
Saturday July 27 -- $7.75. Cloudy 75. Paid 40 c to have an umbrella repaired good askew. Paid $7.50 for 50 gal of gas when I sell all of it will have gained $1.25. The air has been a good deal cooler today than on yesterday. Perla and May Hemelmire or Hemmiliour (Note: I believe it is spelled Himmelbauer) went to The Shades this afternoon. George E. Hanna is not expected to live until morning. He has euremic blood poisoning.
Sunday July 28 - Cloudy. 70. It was 20 minutes 8 o'clock when Perla little Mary Elizabeth and I were on the way to take dinner with Jim and Mary Alfrey, we crossed Rock River (Sugar Creek) on a long iron bridge. The road was over a hilly country until we had crossed the creek. It reminded Perla of parts of Arkansas more than she had sun on any of her trips. We were at Jims by 12 or noon. At home by 7 o'clock pm. Went to hear Kelly tonight.
Monday July 29 -- $4.40. Cloudy 75. Rained a little yesterday evening. Paid 25 for 6 bread tickets and 40c for a beef roast. I have changed the number of my PO box from 174 to 70. I can see if any mail is in my box and not go inside the office. We seen some very sorry looking corn in the hilly part of the country passed over on the way to Alfreys. Oats and wheat were fairly good. On the return we seen quite the reverse, all crops were good.
Tuesday July 30 - Cloudy. 82. $2.35. Paid 15 c for a doz ears of new corn. Our barn is now loaded with a supply of hay and baled oats. Straw for the cow and Bob. It is not yet paid for but will be during the next month. Sent the Cincinnati Enquirer 60 expense 5cts. Perla got a draft from her husband for $20. She went out to Wm. Rusks for a gal of syrup.
Wednesday July 31 -- $1.40. Cloudy. 74. Dishen ? for Pearly and her daughter 75. We had a nice gentle shower this afternoon. Paid Wm. Milligan for a ton of hay $9. Telephone rent for July 2.10. Mag Moore 35. Street sprinkling 50. Cheese 25. Gasolene 2.90 for 20 gal. Pearly was at her cousin Mary Rusk's for supper. George Hanna was not so bad afflicted as was reported.