AUGUST 1888 - HIRAM PRATT DIARY
Barber in Waveland, Indiana for 5-+ Years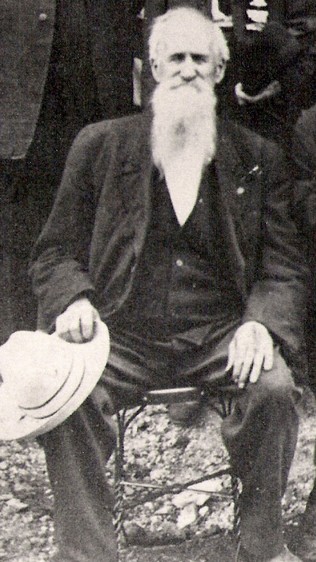 Note: These diaries were in the Waveland Public Library for decades but were disposed of by a librarian several decades ago. Luckily, another librarian's daughter (thanks sooo much Pam, at the death of her mother, Virginia Banta Sharpe found them in some belongings and gave them back for proper housing. A complete circle; however, only 14 of the 50+ diaries were saved from the library's incinerator. I'm a librarian too and thought since they'd been lost to posterity for so many years that it would be a good thing to transcribe them and give them to the world. They are currently housed in proper temperature/storage at the Crawfordsville District Public Library - typed as they were written
Note 2 : Karen Bazzani Zach (transcriber) was raised in the big 'ol town (500 people) where HA Pratt lived 5 decades before I was born. I remember the building where his little shop was and wish it was still there. What an interesting little place. ALAS! Progress !
Note 3: Some information about Pratt -- he was born in Parke County, Indiana April 20, 1840 the oldest child of eight born to Erastus & Elizabeth Allen Pratt and died October 12, 1914 in his beloved Waveland, Indiana. He was twice married, first to the love of his life (he kept a life-sized poster of her in one of his cabinets at his barber shop, even long after his second marriage) Eliza Franklin Shaw (born Oct 23, 1841 died Oct 12, 1887), and #2 to his friend, Evaline "Eva" McMains. He was very active in the community where he and Eliza chose to live. He gave generously of his time and money to the Methodist Church in Waveland. For a few years, he served as Marshall of the town. Also, he worked diligently for his Odd Fellows, Rebekah & Knights of Phythias Lodges, was for a time on the town board, and read to those who could not read from the several newspapers he was agent for. Pratt volunteered and served for three years during the Civil War (Co. B, 36th Infantry), and spent time in the dreaded Andersonville prison. He and Eliza adopted a son, Willie Franklin Stump, age two (not sure ever officially or just had permission to take him from the Poor House in Crawfordsville) and he was an amazing young boy (high grades, worked in the church, quite musicially inclined, just an ideal child) until Eliza was taken to the hospital where she was operated on for six cervical tumors (one weighing six pounds) from which she died. Willie went wild after that and he and Hiram's second wife, Eva never got along. He ended-up in Reform School (for stealing a dollar twice from Eva among other small crimes), and later sent home to die due to consumption (what we know as tuberculosis) dying in Hiram's arms on April 12, in 1894. Hiram missed Willie and Eliza more than most I do believe as he wrote about them so often in these diaries. Just wish the rest of Pratt's diaries he wrote for over 50 years as a barber in Waveland still existed :( kbz
---
Wednesday, Aug 1 --$2.55 -- Green corn 15 cts. Butter since last report 85 cts. Milk 30 cts. Very warm yesterday and today. Warmest of the year. There is a free concert in the street tonight and all week.
Thursday, Aug 2 -- $2.70 -- David Brush donated a package of green beans, cucumbers and beets for our table use. This has been the warmest day of the year. Mercury 104 degrees in the shade.
Friday, Aug 3 -- $1.65 -- Ten months ago this morning my little woman and I left for Terre Haute. Mrs. Bloomfield, sister Eliza, Mrs. Ellis and her sister Evan McMains were at the Shades today. Trip cost $2.10.
Saturday, Aug 4 -- $9.40 -- Four pounds of back .50 cts. Apples 35. Bread 10 cts. It was tolerable late in theday before the work began coming in very fast. The weather has been real warm. A big rain last night. The wheat crop is very light.
Sunday, Aug 5 -- Willie and I remained at home all day. Our church house is undergoing repairs papering on walls. I enjoyed a good nap on a bed comfortable spread on the grass on east side of the house in the shade. Eliza is not feeling so well as before her trip to the Shades of Death.
Monday, Aug 6 -- $10.65 -- B&L 5. Vinegar 25 cts. 12 1/2 pounds of sugar $1. Window curtains 50 cts. Two qts of mixed pickles .50. Butter 30 cts. 1 bottle Lactopetine 85 cts. 2 doz eggs 20 cts. 1 gal oil 20. 20 yds of whitelinnen lawn for Eliza $1.40 I was with Eva McMains until 12.20 last night.
Tuesday, Aug 7 -- $1.35 -- Last night Eva McMains and her sister Mrs. Ellis was in at our house for a few minutes. I had a water melon and ice cream for them. 65 cts for the cream and mellon. Bought another window curtain .50 Rained last night
Wednesday, Aug 8 -- $2.35. Sent $7.90 to Cincinnati for daily papers of last month. To the Indianapolis Journal 416.35. ($16.35?) I desire to attend the "old Settlers Reunion at Russellville" next Thursday. The nights are getting much cooler for the last week.
Thursday, Aug 9 -- $2.55 -- Paid a half dollar for the round trip to the "Old Setlers' reunion. There was a large crowed present estimated at 5,000. Paid 30 cts for a mellon 50 cts for a can of baking powder.
Friday, Aug 10 -- $2.80 -- Was with Eva last night until one o'clock this a.m. The arrangements are made for our marriage the 18 of next Oct. She accompanied her sister Miranda to her house at Rossville, Ill and will be away four weeks. Gass 1.35
Saturday Aug 11 -- $8.65 -- 27 bread tickest for $1. Two chickens of Mr. HIll 50 cts and one of Mrs. Demarre 25 cts. Lunch at midnight 10 cts. Our work was late coming in . I was at the depot this a.m. when Eva and her sister left for Rossville. Butter .30.
Sunday Aug 12 -- Willie was put under arrest yesterday for willfull disobedience and on bread and water for one week. This of his wrong doing and asked to be forgiven and I forgave and he had a good dinner with us. I answered a letter from Miss Harrow which had been rec'd since last Monday. Rained a little.
Monday, Aug 13 -- $6.50 -- B&L $5. Shirting for Willie .30 Buttons for Eliza .5 Have agreed to get Mrs. McMains old clock repaired with the understanding that at her death it will be give on to me. Sent Eva a daily Journal. Rec'd a letter Hallowa & Co. of St. Louis.
Tuesday, Aug 14 -- A letter from Clara Shaw. $40.40. (Note: This is not a typo nor was it commented upon but it is 4 times what he'd usually make on his best day of Saturday). Caster oil 20 cts and bottle of Lactopreptine this is four I ahve bought. Milk 7 days one out a day 35. Mrs. Augusta Leonard and daughter wife of cousin John Grimes was in to day and bought a sewing machine. Weather cool. 10 mos. today since the burial of my little woman.
Wednesday, Aug 15 -- $10.20 -- Sent the Sentinel Co. $3.20 James G. Blaine is home form the old country. He was given a grand reception at NY and on his way to Augusta ME his home, was greeted by citizens all along the route.
Thursday, Aug 16 -- $2.05 -- $1.60 cts for shop supplies. Fresh beef 50 cts. $1 for repairs on the McMains clock. 6 12/ # of bacon .95. Postage stamps .15 cards .25 My bed broke down at day light. The casting on end of rail pulled out. Rain this evening. Cooler.
Friday, Aug 17 -- $3.70 - Twi chickens 40 cts. 1 gal gasoline 15. Sent the Bluffton Manufacturing Co $23.85 The weather has turned a good deal warmer. I took an cow home this morning. She has a cow 4 days old.
Saturday, Aug 18 -- $9.80 -- Meal 1 peck 20 cts. Wallen (?) Trallen?) 35 cts. Apples one pck 10 cts. This is the first Saturaday within my recollection that I had no one to call for a hair cut. The weather is beautiful. 2# butter 30 cts. Dreamed of my little woman last night.
Sunday, Aug 19 -- Willie is saturated from the use of calomel for which I paid 35 cts. He remains at home al day. I attended our church twice. The house is newly prepared and seats are fresh painted. Very nice indeed.
Monday, Aug 20 -- $5.15 -- B& L $5. 35 cts for milk. Repairs were to have commenced on our house but a slow and constant rain prevented. One bottle of Lauctopeptine .85 cts. This is the best prepration I ever used for indigestion. I feel perfectly well.
Tuesday Aug 21 -- $8. Three nutmeg mellons 25 cts. Rained a little this forenoon. Sent Clara a letter and a draft to her father for $85. He previously owed me $5. He will return me a note for $100. Apples 15 cts. My coal and wood are in for the winter.
Wednesday, Aug 22 -- $3.65 - My shoes mended .80 cts. Pearl breast pin for Eliza also 2 colars .25 Hair pins 10 cts. Eggs 25 cts. Stamps 30. Helpmate SM $1. The weather a little bit cool. I am thinking of going out to Iowa Sept 3. Spent 5 cts for grapes. Freight 60 cts.
Thursday Aug 23 -- $4.65. The carpentes have made a considerable show ont he repairs of the house. Cinnamon bark 10 cts. Spice. 10 green coran 10 cts. The corn is our garden is all too hard for table use. Stampes 30 cts.
Friday, Aug 24 -- $22.25 -- Butter 2 1/2 # 35 cts. Ice cream since last report 1.25. The weather is quite cool of nights. Three cover ledge are not uncomfortable to sleep under. Freight on gass lamps 70 cts. Bottle Kenedy's Med for Eliza 1.25
Saturday, Aug 25 -- $10.35 -- The foremost part of the week I paid $5 for cigars. Have made arrangements for a visit to Uncle Roy Grimes tomorrow. Had had a good trade since 4 o'clock. At home by 12 or midnight. A letter from Eva.
Sunday, Aug 26 -- We were on our way to Uncle Roy's by 7 o'clock. Arrived at about 9. Uncle Roy had started to the funeral of Andrew Boyd. Had a good visit. Started home at 5 o'clock. The corn crop had the appearance of being immune?
Monday, Aug 27 -- $5.25 Wrote a letter to Eva last night. One water and two nutmeg mellons 45 cts. 30 cts for buter. B & L $5. Had a magnifficent rain this afternoon. One week from today I am expecting to start to Iowa Billings Eliza ?
Tuesday, Aug 28, --$1.80 -- Pd $3 for the livery hire on last Sunday 41.10 for a bottle of Elixir of Lctopeptine. The carpenters have our house all messed up. It is impossible to keep it clean now.
Wednesday Aug 29 -- $2.00 Gave Harry last night a dime for the show. Paid $3.50 for cigars at Canines and $1.70 for cigars at Robertsons. Thus far, I have not been able to procure any hay for my cow this winter. She has failed in milk.
Thursday Aug 30 -- $1.00 - Ticket to Terre Haute and return $1.15. FOr something to eat 25 cts, box of peaches 65 cts. Wire woven catt 2.50 - 50# sack of flour 130 Met with sister Clara, my little woman's siter in Floral hall at the county fair in Terre Haute was in for company nearly 2 hours.
Friday, Aug 31 -- $2. AOUW $2. Coal for the winter $36.05. Supper 25. Wrote a letter to Eva. The weather is cooler tonight. I have a good stove in at Wint Fullenwider's that is giving perfect satisfaction. Home by 11 o'clock. I am feeling well.