AUGUST 1911 - HIRAM PRATT DIARY
Waveland, Indiana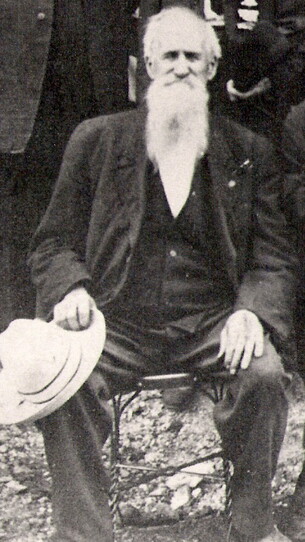 Note:
These diaries were in the Waveland Public Library for decades but were disposed of by a librarian several decad
es ago. Luckily, another librarian's daughter (thanks sooo much Pam, at the death of her mother, Virginia Banta Sharpe found them in some belongings and gave them back for proper housing. A complete circle; however, only 14 of the 50+ diaries were saved from the library's incinerator. I'm a librarian too and thought since they'd been lost to posterity for so many years that it would be a good thing to transcribe them and give them to the world. They are currently housed in proper temperature/storage at the Crawfordsville District Public Library - typed as they were written
Note 2 : Karen Bazzani Zach (transcriber) was raised in the big 'ol town (500 people) where HA Pratt lived 5 decades before I was born. I remember the building where his little shop was and wish it was still there. What an interesting little place. ALAS! Progress ! Oh, and I've tried to type the diaries as is - mistakes & all
Note 3: Some information about Pratt -- he was born in Parke County, Indiana April 20, 1840 the oldest child of eight born to Erastus & Elizabeth Allen Pratt and died October 12, 1914 in his beloved Waveland, Indiana. He was twice married, first to the love of his life (he kept a life-sized poster of her in one of his cabinets at his barber shop, even long after his second marriage) Eliza Franklin Shaw (born Oct 23, 1841 died Oct 12, 1887), and #2 to his friend, Evaline "Eva" McMains. He was very active in the community where he and Eliza chose to live. He gave generously of his time and money to the Methodist Church in Waveland. For a few years, he served as Marshall of the town. Also, he worked diligently for his Odd Fellows, Rebekah & Knights of Phythias Lodges, was for a time on the town board, and read to those who could not read from the several newspapers he was agent for. Pratt volunteered and served for three years during the Civil War (Co. B, 36th Infantry), and spent time in the dreaded Andersonville prison. He and Eliza adopted a son, Willie Franklin Stump, age two (not sure ever officially or just had permission to take him from the Poor House in Crawfordsville) and he was an amazing young boy (high grades, worked in the church, quite musicially inclined, just an ideal child) until Eliza was taken to the hospital where she was operated on for six cervical tumors (one weighing six pounds) from which she died. Willie went wild after that and he and Hiram's second wife, Eva never got along. He ended-up in Reform School (for stealing a dollar twice from Eva among other small crimes), and later sent home to die due to consumption (what we know as tuberculosis) dying in Hiram's arms on April 12, in 1894. Hiram missed Willie and Eliza more than most I do believe as he wrote about them so often in these diaries. Just wish the rest of Pratt's diaries he wrote for over 50 years as a barber in Waveland still existed :( kbz -- ENJOY
---
On front of this diary is a piece of paper glued that says, "Waveland Ind HA Pratt, Diary for the year of 1911.
Inside there is a page to fill out that says "Remembrancer"
Reisdence Waveland PO BOX Ind. Telephone NO 24-6. Business Address Cross Street Telephone no. 6.
Other things are not filled out
Life Ins Policy Union Mutual of Maine at Portland
In case of accident notify Mrs. SE Pratt
---
Tuesday August 1 - $3.65. We have been blessed with the best rain shower since the corn planting last spring. It has not yet started the water to running in the branches. It will take several more like the one of today to fill up the dry holes in the ravines. Bob McMains is our guest tonight, he has been down to Marshall to have some lettering done on a tombstone. Paid 25 cts for beef steak.
Wednesday August 2 - $4. Paid $1.50 for 25 pounds of Heavermire and Elder's Granulated sugar. 17 lbs of bacon cost me $1.30. 1 pound of butter 25. Corn meal 25 cts at 2 c a pound 5 c for a piece of galvanized iron to use in the gasoline stove for baking biscuits. The gallon of cider made by Ed Milligan is not fit for use. I got a gallon and he wants 25 for it. Ronda and Eva will go up to Crawfordsville in the morning R'town ? Monday?
Thursday August 3 - Cloudy yet the Sun shone through the openings of the clouds. 80. Eva and her sister Miranda got started on their visit to Crawfordsville at 8 o'clock. The mail train from Terre Haute had arrived. Bob McMains telephone me to learn if they had started. Sant Moody moved his household goods to his own New Home and FC Milligan has moved to Crawfordsville. Cross Street is being covered with finely crushed lime stone.
Friday August 4 -- $9.15. Clear with the exception of a few ? Late this evening a part of a rainbow was seen in th east. Paid 10 c for a small bit of lunch roll at 18 c a pound. There is a switch ? from an apple tree in the window in the Post Office, about 3 ½ feet long with 36 apples on it. The apples are known as Grim's Golden. There is a wonderfull crop of apples this year on every farm that have the trees. Ben Harbeson is the owner of an automobile - a run about.
Saturday August 5 -- $5.55. 84. Cloudy, a rain passed to the North. Rained in and this side of Crawfordsville. Ben Harbeson and wife autoed to Crawfordsville after 5 o'clock this evening and were home between 8 and 9 o'clock. A box of sardines 10 c lunch tonight 20c. Paid $1.05 for 10 gallon of gasoline. I have run out of anything to eat at home that Eva had prepared for me. I am thinking of going up to Crawfordsville in the morning. I will be a surprise to all of them.
Sunday August 6 - Cloudy. 85. I concluded last night that I would go to Crawfordsville this morning. I had thought I would go down to Rockville to hear Billy Sunday. Paid 60 c for a round trip ticket and boarded the car at 7.50 and half past 8 was at Jim Alfrey's. They had just got the table cleaned up from eating their breakfast. After dinner I drove over to Andersons and we went out to Bob McMains and stoped a few minutes at Jim McCoys. They called at Alfreys at even tide.
Monday August 7 -- $2.30. 83. Cloudy. The corn and potatoes are in great need of rain. I paid the laundry account of 2.17 and 30c for a ticket home, my return ticket I had left in my vest and Eva had that in the buggy with her. I got home an hour before she and Miranda. Paid 30 for a water melon 15 for a can of peas. Billy Colman is going to remove to Crawfordsville and will perhaps return after two years. I had spoken to him about making me a suit of cloths, will now make other arrangements.
Tuesday August 8 - Cloudy in part. 87. $1.25 Paid 20 c for a beef steak. Dr. Ball said to me would you like to take a ride, and his invitation was accepted at once. He had a call at Marshall in Park (sic - Parke) Co. about 9 miles distant. Left here at about 10 and were back at 12:30 a puncture of a tire took about half an hour of our time or we would have been home a half hour sooner. Paid 25 c for melons $1.50 for 25 lbs granulated sugar 65 for 24 lbs flour, 10 gal gas 10.5
Wednesday August 9 - 50 cts received today 88. Cloudy all day. This afternoon there was a high gale for a few minutes and looked like we were going to have a shower, a very light sprinkle was all we got. Sent the News of Indianapolis $13.04. The Terre Haute Star 54. The Crawfordsville Journal reported mercury up to 97. At our house it registered 97. When in Crawfordsville last Monday called at Grimes' Laundry and paid 2.17. I notice a record was made of it on that date.
Thursday August 10 -- $3. 95. One quart of ice cream. 25. The Thermometer at Frank Kritz's registered 100 at our house 98 at the Signal Service at Indianapolis The News had it 95. I was not seemingly as hot as at an earlier date. Showers are probable before morning. We need a good soaking of rain to we the ground deep. There is no damp dirt to be had short of 6 or 8 feet. Ten bare of Daylight (Daybright?) soap 50 cts.
Friday August 11 - 88. $48.70. Cloudy but no rain in sight. My pension check come in today. "Bobby" got a dollar for the trip he made to Demarees. I got the other two at my shop work. Paid 25 c for a gallon of cider and 10c for a nutmeg melon. Frank Shanks was in to see me this afternoon. Bob McMains stayed overnight with us and took breakfast. Eva had a lot of company to spend the evening. The Bloomfields, Lucinda Sutton and her niece Mrs. Mariam Collings and daughter.
Saturday August 12 -- $7.15. 20 c for my evening lunch at Jones' Restaurant. Cloudy 88 degrees today. 15 c for a slice of cured ham. $1.15 for 15 gal of gas. This date 23 years and 10 months ago my precious little lady went home to live with Jesus. I hope to be able to visit her old home in the month of Sept. Her brother Jim will live on it, no. ? is her brother Theodore. This date 16 years and 5 months ago our little Willie died. $36.72 for coal.
Sunday August 13 - Cloudy yet not so densely so as to exclude the rays of the sun. I went up town and got 9 lemons for 30c and a small bit of ice and we had good cold lemonade for dinner. The melon I paid a dime for yesterday was too hard to eat. This afternoon I got Miss Rice (11) and Miss Gilliland (7) and went to "The Shades" and heard Ex. Governor Yates of Illinois at 2 p.m. He is a son of Richard Yates Gov of Illinois during the early days of the Civil War. He is a good speaker.
Monday August 14 - 85. Cloudy. $.85. About the same as yesterday. Corn and all other vegetation is badly in need of rain. Some of the wells in town are failing in the necessary supply of water, some had never before done this. Billy McCalls oldest daughter (19) was married last evening at 6 o'clock by Bro. Fertich to a man of Russellville by the name of Curry. He had been a widower for 5 years. Paid Max Dillman a dollar and 1 ½ for 100 lbs of bran for horse feed. (Note: This marriage is between William W. Curry son of Calvin and Sarah Emerson and Grace May McCloud daughter of William and Leota McCall - as of now, I don't know Leota's maiden name - KZ)
Tuesday August 15 -- $3.80. Cloudy. 84. Yet there was sunshine, water melon 25. 5 people eat of it and all had all they wanted, and I took a part of it to Nancy Kelso. Paid 8 c for a small chunk of ice and we had all of the good cold lemonade for dinner we could use and gave Nancy Kelso pint cup full. Mrs. Amanda Bloomfield and her daughter, Nancy and Mary spent the day at our house. Sent the Chicago News 2.50 for Bro Satin ( clearly written Satin then he has Solin in parenthesis - hmmm)
Wednesday August 16 -- $2.50. 87. The sky was not free from clouds yet the sun shone real warm some allowed today was warmer than any we have had this season. Two packages Arbuckle coffee 50 c. 1 can BC Baking Powder 10 cts. Buddy Kelso and Miranda spent the day at Mrs. Nancy Davis'. She is an old woman, Charles Patton's grandmother. Paid Margarett Moore 40c for doing our weeks washing. The laundry a check for 3.86.
Thursday August 17 - 65 cts. There was a good prospect for a rain this evening but it passed over, leaving a few drops at Rockville and Brazill (sic) they had a real good shower. We live in hopes that we will be remembered with a good shower before many days. Corn is in need of much rain for there is no dampness apparently in the ground. Our cistern is so low that we cant raise water anymore "" ? is next.
Friday August 18 -- $1.65. 83. Sent the laundry a check for last weeks work and it was returned to me yesterday morning for my signature. Nancy Kelso and "Buddy" took dinner at Mrs. Bell Oglesby's today. Paid $2.10 for 20 gallon of gasoline. There was no rain in our near or surroundings today. Sent by Henderson Oliver to Chicago. $5.06 for a ham of meat - a gallon of honey and 25 lbs of granulated sugar. Saved 1.37 over prices here.
Saturday August 19 -- $7.90. Cloudy but no rain. The evening paper allowed we might have rain tonight or sometime tomorrow. We are ready, willing and prayerfully wasting. A box of Washington Crisp Flakes 10 cts. Lunch at Jones 20 cts. I was done work by 10 o'clock One gallon of cider 20c one pound of creamery butter made at the creamery in Brazill in Clay County, Ind 33 cts a pound of country butter 25 c.
Sunday August 20 - Clear or in a manner so. 80. There was no preaching at any of the meeting houses in town and we remained at home all day. In the evening, late I provided a full quart of ice cream for 25 cts which answered for our supper. We would have dinner out at Frank McClains ? but for the condition of "Bobbies' front foot he has to have a new pair of shoes before he can be put on the road. The booked ? for rain never came. Budd Clore is a moon prophet, says rain next Tuesday.
Monday August 21 -- $2.10. 79. The weather today has been very pleasant. No rain yet, the signal service report rain by morning. Paid 60 c to have our "Bobs" hind feet shod. The front shoes it is thought will last two weeks longer. Frank Clark repaired the east porch floor around the cistern paid him 75 and Charlie Spencer 95 for the material used. Bob McMains helped us eat a 20c water mellon. Paid 10 c for a gallon jug full of good buttermilk.
Tuesday August 22 - Clear as common - looked a little like it would rain before morning. $1.60. temp 79. Paid 10 for a jug of sweet milk. 25 for a water melon. Our "Bob" made a trip to the Shades today for a dollar. Eva is cutting and sun drying apples. She wants me to have plenty of apples for use this winter. Tom Burrin from Advance called on me this evening, he was once a citizen of this place. His father lives here now, his brother also. They (sic) a drugists (sic).
Wednesday August 23 -- $2.15. 65 A verry light and gentle rain was falling when we arose from our bed by 9 o'clock it had ceased. Last night when we went to bed the stars were out bright. The dust in the roads was not wet through. We are hoping to get a "root searcher" right away. "The Traged (sic) of Anderson" is the little of a verry interesting book I received from Sanfrancisco, California last Monday Gen NP Chipman is the Author.
Thursday August 24 -- $3.15 Rained nearly all day. Y68. The rain fell gently and was all taken up by the day ground. The branches have not enough water in them to fill the holes. Paid 60 for four gauze vests for Eva and $1.75 for a pair of shoes for her also. The sale at Oliver Boyds was largely attended. The rain caused the surface of the Earth to work into a slush of mud. I brought my lamp or lantern to the shop to light me home. Sent the laundry $3.91.
Friday August 25 -- .60. The rain fall is now gone, everything looks clean, grass will soon cause the pasture to freshen up. At 10 o'clock I closed - this last item will occur in tomorrow space. Old "Uncle Tommie' Lampson died this morning at 8 o'clock. The funeral will be held at "Old Union Church" house on tomorrow morning at 10:30 Rev SK Fuson will preach the funeral. It is my intention to go. Brother Lampson was an old soldier. (Note: Thomas W. Lamson born 19 Nov 1836 died 25 Aug 1911)
Saturday August 26 - Cloudy but no rain. 61. $4.00 Paiad 20 for evening lunch. For a water melon 25 cheese 1 ¼ lbs 25 c . Five pounds of Sweet potatoes for 25 c. Bro Lampson dief on Thursday a.m. Anderson McMain was with us for supper and until after dinner today. We went at Comrade Lampson's funeral. Jim and Mary Alfrey came in time for dinner. They are at our house tonight. Eva is using the coal cook stove since cooler weather sat in.
Sunday August 27 - Cloudy, without rain fall. 63. Jim and Mary stayed with the Kelso's last night. I went to hear brother Birkhart (sic) at 11 and as soon as I could get ready HH Lough and I went over to the Shades to hear Ex Gov J. Frank Hanly. We got to hear him about 35 minutes. He had been talking about a half hour when we got to the gate. He was very interesting in his exultation of Christ. He was ALL and in A all (sic)? Bro Burkhard (sic) and wife are at our house tonight.
Monday August 28 - Cloudy and a very little rain. $2.15. Paid Max Dillman $1. Last Saturday I paid 1.53 for 15 gallon of gasoline, and the day before sent 3.91 to James P. Grimes and sons of Crawfordsville. Jim and Mary left for home yesterday soon after dinner. Bro Birkhart and wife are at our house tonight not last night. Gov. Hanly has a contract to make a 10 day campaign tour of the state of Maine in defense of the Temperance cause.
Tuesday August 29 -- $1.00. 66. Clouds were not much in the way of sunshine. Buddy Kelso went over to Russellville for some meal and feed, got no feed for chicken nor for the horse. Miranda Ellis left this afternoon on the train leaving here at 2.23 for Crawfordsville. Don't know when she will return. Her trunk and winter clothing she did not take away. Eva is cutting and drying apples for use this winter. The apples are not wormy this year.
Wednesday August 30 -- $1.00 Paid $2.20 for 100 lb of Bran & Shorts and 95 lbs of cracked corn for the chickens and our horse "Bobbie Pratt." Eva attended the nite society of the Christian Church. I am thinking some of going to Crawfordsville in the morning. I gave T. Hanna an order to get me a can of California Honey on his next trip out there. He says they been workin on the Orange Bloom Honey fine.
Thursday August 31 -- $1.00. Clear this morning 72. Dr. BM Harbeson with his Buzz wagon was in front of my shop and I said, Ben are you going up to the Fair he said he was going to Crawfordsville and when I learned that no one was going with, I asked why can't I go and he said all right and in a few minutes we were on the way and in 50 minutes were in Crawfordsville and at half past 10 at Lafayette. It took 14 hours to make the run.
---