DECEMBER 1895 + Extra at end - Hiram Pratt Diaries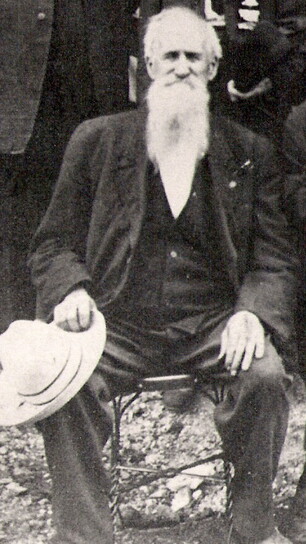 Note: These diaries were in the Waveland Public Library for decades but were disposed of by a librarian several decades ago. Luckily, another librarian's daughter (thanks sooo much Pam, at the death of her mother, Virginia Banta Sharpe found them in some belongings and gave them back for proper housing. A complete circle; however, only 14 of the 50+ diaries were saved from the library's incinerator. I'm a librarian too and thought since they'd been lost to posterity for so many years that it would be a good thing to transcribe them and give them to the world. They are currently housed in proper temperature/storage at the Crawfordsville District Public Library - typed as they were written
Note 2 : Karen Bazzani Zach (transcriber) was raised in the big 'ol town (500 people) where HA Pratt lived 5 decades before I was born. I remember the building where his little shop was and wish it was still there. What an interesting little place. ALAS! Progress !
Note 3: Some information about Pratt -- he was born in Parke County, Indiana April 20, 1840 the oldest child of eight born to Erastus & Elizabeth Allen Pratt and died October 12, 1914 in his beloved Waveland, Indiana. He was twice married, first to the love of his life (he kept a life-sized poster of her in one of his cabinets at his barber shop, even long after his second marriage) Eliza Franklin Shaw (born Oct 23, 1841 died Oct 12, 1887), and #2 to his friend, Evaline "Eva" McMains. He was very active in the community where he and Eliza chose to live. He gave generously of his time and money to the Methodist Church in Waveland. For a few years, he served as Marshall of the town. Also, he worked diligently for his Odd Fellows, Rebekah & Knights of Phythias Lodges, was for a time on the town board, and read to those who could not read from the several newspapers he was agent for. Pratt volunteered and served for three years during the Civil War (Co. B, 36th Infantry), and spent time in the dreaded Andersonville prison. He and Eliza adopted a son, Willie Franklin Stump, age two (not sure ever officially or just had permission to take him from the Poor House in Crawfordsville) and he was an amazing young boy (high grades, worked in the church, quite musicially inclined, just an ideal child) until Eliza was taken to the hospital where she was operated on for six cervical tumors (one weighing six pounds) from which she died. Willie went wild after that and he and Hiram's second wife, Eva never got along. He ended-up in Reform School (for stealing a dollar twice from Eva among other small crimes), and later sent home to die due to consumption (what we know as tuberculosis) dying in Hiram's arms on April 12, in 1894. Hiram missed Willie and Eliza more than most I do believe as he wrote about them so often in these diaries. Just wish the rest of Pratt's diaries he wrote for over 50 years as a barber in Waveland still existed :( kbz
---
Sunday Dec 1 - The rain has not let up throughout the day. I was at church at the usual hour of the morning. Visited the grave of little Willie. At night I went to meeting 19 persons composed the audience tonight and 30 this forenoon. Miss Carrie Talburt of West Baden is visiting friends here. She used to live here. Her mother is now the wife of LD Stone. Eva has been at home all day.
Monday Dec 2-- $14.00 Cold 7. I heard today that James Cooper was not expected to live 48 hours. One day last week he hurt the back of his left hand. Inflammation set in his arm is swollen to the shoulder. He is dying of blood poisen. He was a pension or rather is, having been a member of the 43d Ind Volunteers. His regiment was brigaded with min e(36 Iowa) in 1863 and 1864. Potatoes 50 cts.
Tuesday Dec 3 -- $6.00 James Cooper died this morning at 3 o'clock. He will be buried tomorrow at 2 p.m. The news came to me by Charley Richey. He had been up to the store (Canine's grocery) and heard of the death. I was yet at home. The presidents message is in todays papers. He recommends the retirement of the greenback currency which is over 346,000,000. James Alfrey has give me the privilege of using the coal he left at the old home.
Wednesday Dec 4 -.85. James Cooper was put away in the Methodist Cemetery. I attended the funeral. Bro. Vessels was in charge. The GAR boys read the prayers at the grave. I visited the grave of poor little Willie. We had Kate Vandavere and her niece Jessie Mercer of Albion (?) Iowa took dinner. Miss Mercer will return to her home early in Jan if not the last of this month.
Thursday Dec 5 - 35 cts. The Laundry for last week cost 2.57. I was at prayer meeting tonight. We had 19 in attendance and a real good meeting. We have about 2" of snow and pretty fair winter weather. By some mercury was reported at zero. Snow melted a little during the middle of the day. Eva is making some mince meat using pork instead of beef. She has made herself a new calico dress.
Friday Dec 6 -- $2. Two weeks ago today I received a telegram from Sister Clara Shaw that her father was dead. This telegram was rec'd a few minutes before train time and so late in the week I could not have gone. On Saturday I have more or less work to do and cant afford to loose the time. His wife died a couple of years ago. They were my first wifes parents.
Saturday Dec 7 -- $6.35. Paid 35 cts for Express on laundry basket. The snow has melted away pretty fast today. Mary Kelso Lewis is not so well. Bob McMains was in to see me today. He came down to attend the sale of Nettie Moore's house hold goods but for some cause the sale did not come off. I was done work t 10 p.m The weather is getting a little cooler to what I feel like I was taking cold.
Sunday Dec 8 - It was 7 o'clock when we got up this morning. I was at class meeting 16 persons were present. We had a wonderful good meeting. Sister Crooks was in the enjoyment of the fullness of God. I was unusually blessed. I do love a real good spiritual meeting. I did not make the usual visit to Willie's grave somehow I did not think of it at the time I was at meeting.
Monday Dec 9 -- $5.60. It seems now that the Cubans will have to give up to be ruled by the Spanish government. The troops from Spain seem to be too numerous. I would like to hear of the Cubans being victorious. Eva done her usual work today. Bell Durham called to see her and to have a talk with her about the death and burial of his wife who was a niece of hers. Bell will spend the winter at his bro Johnies.
Tuesday Dec 10 -- $1.10. 12 # of meal .15 Shoe polish 10. Indianapolis Journal $9.29. Sentinel Co 3.12. Chicago $2.02. Ed E. Lawrence (The Laundry Co) $3.82. THB McCain $3.91. Money order fees 28 cts. Anderson McMains was at our house last night. Eva went with him last night to Kelsos they returned by 9 o'clock. Bob McMains was in my shop today. He said he would be at our house tonight. He was not for supper.
Wednesday Dec 11 -- $2.00. Steve Gott moved his new room this evening. His room is 40 ' long and 15 ' wide room enough for a 6-chair shop. Cost 75 dollars again. I had a very light list of laundry goods today. 42.38 Two weeks ago I had a bill of 2.28 and last week 4.04. Sack of flour 45 cts. Honey from Florida 10 cts. I did not like it. We are having alight fall of snow I have a cold.
Thursday Dec 12 -- $1.00. I paid 95 cts for 10 gal of oil. 10 cts for box blueing and 10 for a cabbage head. Eva had a boiled dinner consisting of back bone and cabbage. I enjoyed it ever so much. We had a good prayer meeting. 21 present. Mrs. Vessles the preacher's wife broke down in prayer, her heart was filled to over flowing. The weather has turned a little colder. Snow melted a little in sunny places.
Friday Dec 13 -- .45. Paid 40 for bay rum for shop use 10 cts for cough medicine. Eva was uptown this evening. She bought herself a new bonnet for which she paid 1.50. I bought her a calico dress and 4 yds of gingham cost 83 cts. Bob McMains stopped at our house last night and after dinner today returned to Crawfordsville Heard this evening that Fred Stebbins at leased the hotel. I am now suffering with a bad cold. My eyes (legs?) are sore.
Saturday Dec 14 -- $2.25. Paid 35 laundry express. 30 cts for a quart of oysters. I had very little work today and only a few cts paid in on laundry work. I do wish I could get more work in my shop. I had a barrel of gasoline sent to me today from Crawfordsville by Newt McCampbell. The cost per gal all expense added is nearly 13 ½ cts. Minnie McMains Ratcliff, husband and babe and May Rambo were to see us today.
Sunday Dec 15 - I was at the Methodist meeting today. Visited the grave of Willie before going in to hear the sermon. Mr. David Fullenwider took dinner wit us. Doctor OF Crafton was called in to see Lloyd today. He has a very bad cold, not able to sit up and yesterday did not eat a bite of anything. Today he ate oyster scallops. I went again to hear our preacher Will G. Vessels. Mercury stood all at or nearly at 32 degrees.
Monday Dec 16 -- $2. Eva done her usual Mondays work. The weather being unfavorable to drying the cloths in the open air and she put them on a line in the summer kitchen. Lloyd has been out of bed all day. He tallied for me while I emptied the barrel of gasoline. The barrel was labeled 50 gal. The tally showed 51 ¼ gal and cost even $6.00. The freight 48 and drayage 15 cts. I attended the IOOF's tonight.
Tuesday Dec 17 -- $1.45. Mercury has stayed all day at near 45 degrees of hist. ? The day has been cloudy and rained several little showers. I am fearful the Cubans are going to have to give up the continuous ruleing of Spain. I would like for them to be released from further ruling by the Spanish government. There is an Indian Medicine Co. giving entertainment in Milligan's Hall. My cold is still with me. Bob Kelso dined with us today.
Wednesday Dec 18 -- $1.25. Paid 30 cts for oysters 25 "cts for 4" crackers 15 for 5# of buck wheat flour. The daily papers host a special message of Pres Cleveland on the Venezuela claim of Great Britain. It seems like England and the US are sure to have a war. This country will defend the Monroe doctrine to the end. John Foster is going to return and set up again in the barber business. Rained nearly all day.
Thursday Dec 19 -- $1.05. Paid 1.43 for 15 gal of oil. Wind from the south all day, rained nearly all of last night and oftimes during the day and is at it at half past 8 o'clock tonight. Bro. Banister of Terre Haute was with us at prayer meeting tonight only 16 persons including the janitor were out. Sister Vessels was the only woman. Had a good prayer meeting. Eva's nephew, Guy McMains, Anderson's son is with us tonight.
Friday Dec 20 - 1.00. The rainy weather continues, but very temperate, Eva was at Jim Vandeveres tonight until bed time. Mary Kelso was there for the night in order to take the train for Crawfordsville in the early morning. Her health is much better than a few weeks ago. Jessie Mercer a niece of Mrs. Vandevere's will return to her fathers at Albia, Iowa on Friday after Christmas.
Saturday Dec 21 -- $6.00. I had a fair days work considering there are two other shops in operation. The Express on laundry was 30 cts. I did not remit for the laundry work last week or rather of this week but will pay all next week. I was at home 15 minutes of 12 o'clock. We have had no rain today. The roads are real sloppy. Eva received a letter from Henry Ellis of Rossville, Illinois. He will not come on a visit for several weeks yet.
Sunday Dec 22 - We had a real good spiritual class meeting a rather good attendance. I took a ramble in the cemetery before going in the meeting house called at the grave of little Willie. I noticed the grave of Henry McIntosh and James Cooper need to be filled up. I also noticed a cow brutus (?) had been tramping over the premises. Eva, Lloyd and I were at Kelso's for dinner. Lloyd did not return home with us. My wife and I were at Ohio Millers until 9 p.m.
Monday Dec 23 - 2.00. We have had more rain than usual today. Wells that for months have been in a manner dry are beginning to fill up. Paid 30 cts for a pound of coffee. George Hanna brought me a couple bushel of nice eating apples. I am to pay hi one dollar. A partial payment has been made. I owe him just 15 cts. Proff Henry S. Kritz and Penn Hanna were visitors in my shop tonight. My cold has not entirely left me I am a great deal better than a week ago.
Tuesday Dec 24 -- $1.50. Paid 32 for the 4 ½ yds of gingham. She bought of CA Milligan last week. Eva was at the Baptist meeting house where Christmas presents were displayed on what is known as a Christmas tree The house was full of people. Two years ago Willie was on a visit to father Shaw's at Farmersburg. I invested 50 cts in mixed candy for Christmas use.
Wednesday Dec 25 -- $7.00. I paid 3 dollars into the AOUW to John Spruhan. He has been financier of the order since its organization. Eva and I took dinner and at Kelso's. Mary came in from Crawfordsville. Her Dr. says she needs not come back anymore from this I suppose he has dismissed the case. She does not look as well as I have seen her. The laundry was the lightest today of any yet.
Thursday Dec 26 -- $35. There was a man by the name of John M. Gilliegan from Rockville up to see me. He held a note on me for 35 dollars. I effected a $ trade with him and he took up my note. I will prepare the articles traded for shipment. The ground is covered with snow, it has been falling most of the day. Weather is not uncomfortable.
Friday Dec 27 --- $1.25. Eva and I were at the supper given by the Mason fraternity in their new hall over TL Hanna's new store room. We had a good supper for 15 cts each. After the supper public installation of officers of Masons and Eastern Star. We left before this. Eva spent the evening at Mrs. Amanda Bloomfield's. I called there for her at 15 minutes after 9 o'clock. My cold is getting better. I was at prayer meeting last night.
Saturday Dec 28 -- $3.50. Paid for laundry this week $5.12. 8 cts for Money order and 30 cts for the return of the basket. My profits in the laundry this week is 6 cts. James McMains and wife took dinner with us today. I have recently paid 1.45 for cow and chicken feed. The snow is melting away pretty fast. Eva has a new calico dress in which looks the best I ever seen her with.
Sunday Dec 29 - I was at the Methodist meeting house and heard our preacher WG Vessels. At night I went back. I did not visit Willie's grave until I went to the night meeting. I put 5 cts in the contribution for running expenses of the society. There are indications of rain or snow. Bro Vessles announces meeting to continue throughout the week.
Monday Dec 30 - 2.90. Mary Ellen and Jimmie Alfrey were at our house for dinner yesterday. They brought us a mess of Venison. John Alfrey has been down at Poplar Bluff, MO on a hunting tour and brought a ham of a deer. He did not kill it. Mary Bloomifeld was also at our house to spend the day after the morning meeting. I was at the revival series of meeting tongi8ht, a very few attended.
Tuesday Dec 31 - 1.45. Snow fell until nearly noon yesterday we now have the deepest snow for several years. Mercury fell below zero in some places. Ed Oldshue reports two degrees below at his house. Eva and I were at Mrs. Smalleys awhile after meeting. Lloyd has been at Jim Alfreys since last Sunday. To the old year I must now bid adieu. I have been preserved in peace and bless the Lord for all his mercies.
---
End of the Year Information
I, HA Pratt owe the following accounts
Aug 1893 JW Stout 121.16 crossed out (NOTE: NOT 1895 1893)
Same Hulman & Co 249.50 not crossed out
June 6 Note to GW Stout 128.42 "
July 4 - Standard Oil Co 39.55 crossed out
Same John M Gilligan 35.00 crossed out
1896 7/10 - Stnadard Oil Co 34.55
January 21.98 19.93 + 2.00 AOUW dues