OCTOBER 1911 - HIRAM PRATT DIARY
Waveland, Indiana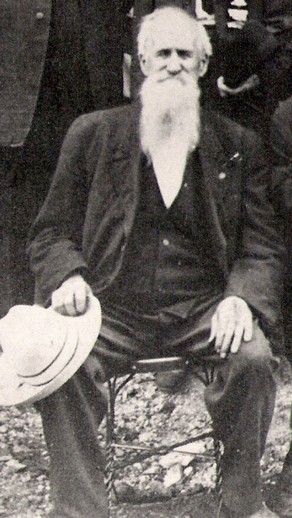 Note: These diaries were in the Waveland Public Library for decades but were disposed of by a librarian several decades ago. Luckily, another librarian's daughter (thanks sooo much Pam, at the death of her mother, Virginia Banta Sharpe found them in some belongings and gave them back for proper housing. A complete circle; however, only 14 of the 50+ diaries were saved from the library's incinerator. I'm a librarian too and thought since they'd been lost to posterity for so many years that it would be a good thing to transcribe them and give them to the world. They are currently housed in proper temperature/storage at the Crawfordsville District Public Library - typed as they were written
Note 2 : Karen Bazzani Zach (transcriber) was raised in the big 'ol town (500 people) where HA Pratt lived 5 decades before I was born. I remember the building where his little shop was and wish it was still there. What an interesting little place. ALAS! Progress ! Oh, and I've tried to type the diaries as is - mistakes & all
Note 3: Some information about Pratt -- he was born in Parke County, Indiana April 20, 1840 the oldest child of eight born to Erastus & Elizabeth Allen Pratt and died October 12, 1914 in his beloved Waveland, Indiana. He was twice married, first to the love of his life (he kept a life-sized poster of her in one of his cabinets at his barber shop, even long after his second marriage) Eliza Franklin Shaw (born Oct 23, 1841 died Oct 12, 1887), and #2 to his friend, Evaline "Eva" McMains. He was very active in the community where he and Eliza chose to live. He gave generously of his time and money to the Methodist Church in Waveland. For a few years, he served as Marshall of the town. Also, he worked diligently for his Odd Fellows, Rebekah & Knights of Phythias Lodges, was for a time on the town board, and read to those who could not read from the several newspapers he was agent for. Pratt volunteered and served for three years during the Civil War (Co. B, 36th Infantry), and spent time in the dreaded Andersonville prison. He and Eliza adopted a son, Willie Franklin Stump, age two (not sure ever officially or just had permission to take him from the Poor House in Crawfordsville) and he was an amazing young boy (high grades, worked in the church, quite musicially inclined, just an ideal child) until Eliza was taken to the hospital where she was operated on for six cervical tumors (one weighing six pounds) from which she died. Willie went wild after that and he and Hiram's second wife, Eva never got along. He ended-up in Reform School (for stealing a dollar twice from Eva among other small crimes), and later sent home to die due to consumption (what we know as tuberculosis) dying in Hiram's arms on April 12, in 1894. Hiram missed Willie and Eliza more than most I do believe as he wrote about them so often in these diaries. Just wish the rest of Pratt's diaries he wrote for over 50 years as a barber in Waveland still existed :( kbz -- ENJOY
---
On front of this diary is a piece of paper glued that says, "Waveland Ind HA Pratt, Diary for the year of 1911.
Inside there is a page to fill out that says "Remembrancer"
Residence Waveland PO BOX Ind. Telephone NO 24-6. Business Address Cross Street Telephone no. 6.
Other things are not filled out
Life Ins Policy Union Mutual of Maine at Portland
In case of accident notify Mrs. SE Pratt
---
Sunday October 1 - Cloudy and a little rain which kept the people at home and consequently but few people were in church. 78. A young man and his wife united with the church Clifford Rogers is a barber and works for Lee Crist in the hotel. His wife was a member of the Christian Church I do not know of what place, perhaps at New Market or Browns Valley. They were received at night into the church in full connection as members. The day was well enjoyed by all. It was Bro. Fertich's last day as pastor.
Monday October 2 - Cloudy and considerably cooler. $4.15. Paid Cuppy $2.85 for Horse feed and 10 pounds of corn meal. I invested 5 c in an oxtail and hope to enjoy a good meal of real Oxtail soup. It will be my first. Last Saturday I paid The Standard Oil Co $2.18 for Oil and Gas. Paid Max Dillman a dollar. If it clears off tonight we will have a frost. I was strongly tempted to put a fire in the heating stove, a coal oil stove kept the water hot for shaving.
Tuesday Oct 3 - Clear. $2. Rained a little very early this morning. 60. I was detailed at home until noon in arranging for the winter. We have a lot of apples to be made into cider and boil down to be used in making apple butter. Mary Barr is to be married on the 11th. This date 24 years ago my dear little woman was operated on for the removal of Ovarian tumors in Terre Haute by Dr. Lues ? of Winestine or Winestead. The School board is now dissolved.
Wednesday Oct 4 - Cloudy. The sun shone at intervals. $1.50. 60 degrees. Eva got a card from Danville, Illinois. She went over there from Crawfordsville that morning and would return in the evening. She had a note that was given to Anderson at his sale before he went to Cal. Her husband had bought it with others from Anderson and had put them in Bank for collection. Two mackerel fish for 20c. A quart of ice cream for 25. 13 pickles for 5. (Note; This entry seems the most confusing of any I've read - I'm not sure who the "she" or "her husband" is).
Thursday Oct 5 -- $3.35. Heap much rain nearly all afternoon. Paid 20 c for 4 lbs of sweet potatoes, 1 lb of fresh pork 18. 80 c for 47 ½ lbs of cracked corn. $1.60 to The News 60 for 3 lbs of cabbage 6 c for 3-2- stamps $3 for a new black hat and one $3 for a pair of new shoes. .I am calculating to go to Terre haute on the 10 o'clock train tomorrow night to be at the Conference session on Sunday morning. Charlie Jones sent 2 pies to Eva, his own baking.
Friday Oct 6 -- $4.30. 76. We had another good shower of rain early this morning. The water in the branches is beginning to run a little. Paid 35 for Express on laundry. 25 for a pound of butter, 25 for 10 milk tickets, each ticket good for one pint. Ticket to Terre Haute and return $1.50. I put a fire in the heating stove after 3 o'clock. Ethel McMains, Eva's niece will be with Eva while I am gone. Rec'd a card from Clara Shaw.
Saturday Oct 7--- $4.35. Cloudy all day. Paid Charles Kritz $3 for anew hat and the same for a pair of shoes. 15 c for lunch at Jones' restaurant. At 10 o'clock tonight I started for Terre Haute and in 1.30 1 hour & 30 minutes at the end of my journey. It was nearly 12 or midnight before I got to bed. The girls had not gone to bed. Three of the preachers were putting up there until Monday.
Sunday Oct 8 - We all went to the First ME Church in time for the Love Feast. Old Brother Mahan was on the rostrum and is the only services of the clas (sic). That was in the organization of the first Methodist Society in Terre Haute 50 years ago. Nearly every one had something to say of the date and of Bro. Mahan. We had a splendid dinner. The Bishop talked 55 minutes ordained 8 young men which made it late for dinner.
Monday Oct 9 -- $.50. I was out of bed at 5 o'clock. The girls set me a cup of coffee, some bread and butter. Bade Clara and Hellen good by and sent word to those who were yet in bed. The train for Rockville left the station 6.30 and I was at the station here 7.50. Paid Max Dillman a dollar. Street care (sic) fare 40 cts in Terre Haute. I gave Miss Bertha Roll one of my pictures. She is a niece of my first wife's sister, Mary Shaw. (Sure wish we had that photo to include. Guess we're lucky to have the one we do have since there are no descendants - kbz)
Tuesday Oct 10 - $.75. Cloudy most of the day yesterday afternoon and this forenoon. I helped to make about 18 gallon of cider. Buddy helped me. Paid Mrs. Margarette Moore 40. Max Dillman has quit delivering the Evening News and in his stead, got Hugh and Ted Moore. Yesterday was the 23rd anniversary of our wedding. Twenty three years ago today, Eva and I were at John P
etty's at Foster, Missouri. He married Eva's sister Almira McMains. The airs is a little cooler.
Wednesday Oct 11 -- $.90. Clear most of the day. 60. Spent most of this forenoon and yesterday afternoon at home making cider. Miranda Ellis (with l's crossed) will be here next Friday afternoon. She took dinner at her Bro. Bob's. Wm. M. Jackson of Washington Co Washington is dead. At one time was a citizen of this town. Miss Ella Barr and Wm. McGaughey were married at 4:30. He is a farmer and lives near Dana. Her name is Mary and not Ella.
Thursday Oct 12 -- $1.30. 55. Cloudy all day. Buddy Kelso went to Crawfordsville to have his face treated for that pain of the nerve from which he has suffered for several years. Paid $1.50 for 100 lbs of bran and a dollar and 75 for 2 bag of cracked corn. 24 years ago at 20 minutes of 3 o'clock in the morning my little woman died in Terre Haute. T his date of the month of March in 1894 our foster son Wm. F. Pratt died. He was put away in the ME Cemetery of this place.
Friday, Oct 13 -- $2.20. Clear in part. 54. Sent $7 in a check to Montgomery Ward & Co of Chicago for a 25 lb bag of granulated sugar. 10 of Rio & Santos Coffee 5 of Tea (Japan) 5 of Baking pdr ½ pint Vanilla Extract and 30 bar of Hanna Cobbs laundry soap. The whole would retail for 10.50. Miranda came in at 3.33 this afternoon. I met her at the train with Bobbie and the buggy. Paid 20 c for fresh pork. The nights are cool. Bob Mc here last night.
Saturday Oct 14 -- $3.33. Cloudy. Had two good rain showers. 54. Eva and her sister Randa at 3.33 were at the Vandalia Station for Mrs. Jennie Hanna of Crawfordsville who will return home sometime next Monday. My supper at Jones Restaurant to night cost me 20. 1 lb of butter 25. Pork Chops 25 at 18 per pound. Yesterday there was held on the street in front a lecture and demonstration of nicest line of stoves I ever saw by the Universal Stove Co.
Sunday Oct 15 - 60. Cloudy in part. I and Budd Kelso went to hear Brother WH Fertich on his last morning sermon for this place. He will preach his first sermon as pastor of Trinity ME Church next Sunday in Crawfordsville. Bro. Riley our new preacher will preach his first sermon of the conference year at New market next Sunday. This afternoon we made a call of one hour at Henderson Alward ? 5 miles west and north of here.
Monday Oct 16 - Cloudy and rained a little. 76. $3.40. Paid the Moore boys $1. The storm we were threatened with last Saturday was very destructive at Hillsboro, Danville and Ben Davis, no lives were lost but lots of property ruined. We could notice a big change in the motion of the air. Jennie Hanna took dinner at TL Hanna's yesterday. I took her to the railroad station this morning. The train came in just as we were driving in.
Tuesday Oct 17 -- $1.10. Cloudy most of the day. 72. Had a little rain. Russell Sharp received a Telephone Message that Sylvester Wolever of Oregon would be here on the evening train from Terre Haute. He was once a citizen of this place. This was a long time ago several years before Eliza my first wife died. She has been dead since the 12 of this month. I am going to help Buddy kelso pick apples tomorrow the Lord willing.
Wednesday Oct 18 - 35 c. Cloudy sun shone a little while 70. I spent the day in gathering apples in Buddy Kelso's orchard by noon I was nearly all in. I did not have strength enough to climb a ladder. Waxey Wolever and Russ Sharp called on me last night and this evening. I shaved Waxey and he paid me 25 cts. I never charged him anything but he would not have it that way. He intended to take dinner with us tomorrow but Eva and 'Randa had made other arrangements.
Thursday Oct 19 - Cloudy. Rained very little $2.05. Paid 80 c for 2 under shirts bought of Mrs. Anna Smith at a reduction of 20 cts each. Waxey will leave here on the up train in the morning for Frankfort. He will visit an only brother over 80 years old. Paid 10 c for a small side ? 25c for a pound of butter 5 cts milk. Buddy Kelso gave me a half bushel of apples. Eva and Randa visited Jap Rice's family in Marshall today.
Friday Oct 20 -- $1.30. 61. We had a little bit of rain yesterday and today. I had a fire in my shop heating stove all day, had plenty of company. I think I have enough apples picked and engaged to do us all winter. I can get all I want by picking. Have bought 1 ½ bushel for 75 c. Dave Russell will make a few gallons of cider tomorrow. The apples he gets from under trees in our lot. He will give us half of what he makes.
Saturday Oct 21 -- $4.10. Rained this afternoon. 59. My side hurts me with every breath I draw. I never had time to get any supper nor anything to eat since dinner. Dave Russell made 10 gal of cider today, we get half of it. He picked the apples up from under our trees. Used our little wagon and horse. Paid 27 c for pork chops at 17c per lb. Six potatoes for 10 c at 2 c per lb. 10 pounds of sweet potatoes 30 cts.
Sunday Oct 22 - Rained all night and was still at it until after nine. 53. My arrangements were to take our Pastor to New Market to his appointment and return with him tonight. He telephoned me early that on the account of bad weather and a blooming prospect for its continuance he would go on the train. This was good news to me. I went to meeting with Eva, but returned before the preacher had began his sermon. I had neglected the heating stove.
Monday Oct 23 - Cloudy and damp. Paid the More boys a dollar. Warren Butch and wife of Ky are at Crawfordsville tonight. They were here about 4 years ago. Warren's father and mother were former residents. They are expected to come down on the 3 o'clock train tomorrow. Paid 50 cts for not quite 6 ½ lbs. 25c for a soup bone. 25 cts for 3 pounds of crackers, 10c for 5 lbs of potatoes. 10c for a scraper to pull soot out from under the cook stove oven. Eva had lost the one we had.
Tuesday Oct 24 - 45. Clear. The surface of the earth looked white with a frost. When it melts away all vegetation will be done growing this season. There is talk of a car load of Michigan potatoes to be here by the last of this week to be sold at 85 cts a bushel. Warren Butch and wife called on me on their way from the station to Mrs. Mary Cook's a sister of Warren's. They will go to Logansport to visit another sister wife of Dan McCall.
Wednesday Oct 25 - 35. Clear all day. We are invited to be at Mrs. Cook's for dinner today. Warren spent most of the forenoon with me at my shop. We were on hands promptly at noon for dinner. After dinner we visited a few minutes. I was so well pleased over the sales tive? That Warren had made in the choice of a wife that I dreamed of them nearly all night. I wanted him to love her with all his ransomed power. She is a griver? (very hard to read - not his usual straight deliberate penmanship).
Thursday Oct 26 -- $1.25. Clear most of the day. 50. Paid laundry express for 3 weeks $1.05. Cheese 30 celery 05. Milk 35 cts. The goods ordered from Montgomery Ward & Co came in yesterday. The freights was 32 cts. Paid box rent 15 cts for 3 months. Sent the Laundry $5.94. I shaved Warren this morning, he paid me 25. Made no charge but he didn't want it that way. I gave him yesterday one of my photographs taken Sept 7, 1911. it looks like an old man.
Friday Oct 27 -- $.75 Little snow was noted by a very few persons. Cloudy 37. I started our Hard coal stove this morning. Mrs. Mary Cook, her brother Warren Butch and Della his wife and Eva's sister Mary E. from Crawfordsville were at our house today for dinner. Eva and her sister Miranda put up a fine dinner. Sister Mary returned home at 7:18 p.m. Warren and wife will leave in the morning. God bless them.
Saturday Oct 28 -- $9.25. 45 clear or nearly so all day. Spent 10 for my supper. 25 cts for a pound of butter 10 for a gallon of buttermilk. Buddy Kelso started his new Hard Coal base burner stove this morning. The Indianapolis News was nearly 3 hours late in getting in tonight. I delivered 27. There was 75 came. I was done work by 11 but when I got home it was after midnight. I believe the frost will show in localities in the morning. I am ready for winter.
Sunday Oct 29 - Cloudy most of the day. 47. I went to hear our newly appointed preacher at both morning and evening service. At night the Presbyterians were united in the services. The hour was delightfully spent. The singing was splendid. Miss Waneta Kleiser used a violin and is a good one. Miss Allene Fisher was at piano. She is about 13 and plays like one of the best. Eva and her sister Randa went to hear brother Burkhart. The hard coal burner is fine.
Monday Oct 30 -- $1.25. Rained this forenoon. 45. Paid 25 c for sausage at 15 per pound, 10 for a yard of rubber tape. Buddy kelso is thus far well pleased with the hard coal burner he got from Montgomery Ward & Co. He thinks he saved $25 above the cost of one bought here. He says it is a good looker and thinks it will meet all requirements. Eva and her sister will go over to Rossville, Illinois next Saturday don't know how long they will stay. Miranda until winter.
Tuesday Oct 31 - Cloudy with a very light rain. 48. This being the last day of the month of
October it is the occasion of a vast floor of mirth. Some times every thing moveable is mixed up in bad shape. I have moved my sign. Laundry box and door step within the shop. Paid Mrs. Moore 35 cts. The News carriers a dollar. 4 ½ lbs of corn meal 10cts. 25c for pork chops at 18 cts per pound. There was a large crowd upon the street tonight.