LULA GOSHORN Diary 1936
(Ladoga, Indiana)
"A little background from Judy Goshorn, Lula & Ezra's granddaughter"
My grandfather, Ezra Goshorn, kept a journal, which I have somewhere. He died in April 1930 and that is when this one starts. Lula wrote for her church magazine and the county paper, but apparently had not been keeping a journal. The first entry is a few days after Ezra's funeral, when the older (Marie, John and Roland) children were going back to their lives. Only two children were left at home, my dad, Lewis, age 15, and Ruth, age 9. The running of the farm fell to my dad and Lula. I am amazed at the work a 15-year-old boy did, while attending school and doing well there.
Many of the snapshots I have are early 30s and make good illustrations for this journal :)
Note
: Their church was the Brethren Church on 750 South - Ezra had both the pastors :)
1931
--
1932
--
1933
--
1934
--
1935
-- 1936 -- 1937 -- 1938 -- 1939 -- 1940 -- 1941 -- 1942 -- 1943 -- 1944
JANUARY 1936
Note: She did not write on several days so will just put in the ones she did
Jan 13 – Eva Harshbarger died today almost exactly 3 months after her husband, Geo's death. Had been at her sister's in Bedford since she left Ladoga about 3 months ago. Died at ME Hospital, Indianapolis.
Jan 22 – We are having the worst blizzard in 35 years it is reported. 30 below zero in Chicago. A terrible west wind and snow storm 14 below here. Schools were dismissed at noon today. Snow badly drifted.
Jan 23 – 20 below zero. All we get done is heat water for slop for hogs, carry in coal and carry out ashes. The coal pile is melting fast.
Jan 27 – 17 below zero this morning with cold west wind. Almost a week now zero and below.
Jan 28 – Sun shone today. Temp 20 at noon. Ruth went with a crowd of 60 pupils to see "A Tale of Two Cities" at C'ville. They were given special admission rates.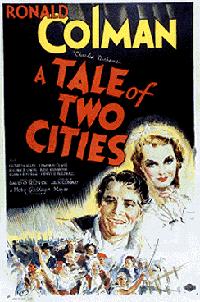 Jan 30 – 17 below zero this morning a strong west Wind blowing snow.
FEBRUARY 1936
Feb 3 – Moderated slightly commenced to rain in the evening then turned colder.
Feb 4 – Roads so icy like glass. No school – water pipe to tank frozen, have to carry water to stock. Icy everywhere and a blizzard wind. Ground is frozen 3 ft deep.
Feb 11 – Another blizzard wind and snow drifted roads shut no school yesterday. Still icy under the snow and zero and sub zero weather. This is longer zero temp than even the oldest residents can remember.
Feb 12 – Still slippery. Had Featherston's truck take red cow to Geo. Kessler's bull. Too icy to drive her. Geo. Suggested we keep the bull until he needed him as we have more cows ready soon, so they brought him back in the truck.
Feb 18 – Another blizzard yesterday evening. Snow on the ice we already have makes it more slippery than ever. No school today. Drifted road, ice, 13 below zero and a fierce cold wind. Two sows lost all their pigs.
Feb 20 – Paid $25 for 2 sanitary toilets (Government relief work for the unemployed). The labor cost nothing. Harley's had to have something down there so had one built at each place. The men found the ground frozen 30 " deep. The building are put up under government specifications. 5' deep pit. Fly & vermin proof.
Feb 21 – Many people losing stock by falling on the ice. Mr. Webster lost 2 cows almost ready to calve. Little pits and lambs dying and horses fall and cause colt abortions. Not to mention any number of human accidents.
Feb 26 – Raining hard. Snow and ice gone, but ground is in awful shape. Has been frozen 3' deep and water can't soak in till it thaws through. George Kessler's here today. Paid 200.00 on this year's rent. Owe 100 yet. I paid him for work done on estate for hairs (No 10) settled for last yr.
MARCH 1936
March 7 – Sowed clover and timothy seed on the wheat today.
March 9 – First lamb came. Paul M. and Geo. K got the clover seed today to sow on wheat.
March 17 – the pipes to both water tanks have thawed today. First time we could pump to the tanks for weeks and weeks. Plowed the garden so could set a few fruit trees in east part. 1 Sun Gold and 1 Champion peach and 1 Early, Richmond first tree and 4th tree 1 Montgomery cherry. Over with the berries set 1 "Carrie" and 1 "Poorman" gooseberry.
March 23 – Got 20 R. stock & poultry fence for around garden at Harleys – 45 c rod. Paul just finished the fence between us & Peffley place last week. Should have been done a year ago. Had the wire there since last Mar. Had to get a little more fence to finish out cost 1.15
March 27 – Had Claud Rogers help lay 6 tile (24 in' long) at east end of little field east of house where several were broken. Also fixed a place in field at Pauls. Tile were 9" 30c each.
March 30 – Commenced sowing oats.
March 31 – Finished oats & clover seed disced one way. Turned very cold. Dropped from 65 to 28 above zero.
APRIL 1936
April 3 – Snowing and
blowing – down to 23 above zero this morning.
April 6 – Orel Sillery, Mary Rogers step father died today of TB.
April 12 – Easter Sunday. Lewis home for a couple days from No. Manchester. Always so glad to see any of the children come home and sorry to see them leave.
April 14 – Planted potatoes today.
MAY 1936
May 3- Roy's here Sat. night and Sunday. All looking well. Boys growing so fast.
May 6 – Planted corn in east field today. Has been cold and too wet to work ground. We are the first to plant corn around here. Roy Stover bought Sam Himes' farm 112 acres $75/acre.
May 9 – Finished planting corn. Had Chas. Glover help one day.
May 20 – Eston (el. Ron McClure's Russellville) Noland of Wallace – sheared 17 sheep – 15c a head. 165 lbs of wool. Average 9 lbs _. Most wool light on account of bad weather last fall and winter. Ours was best sheared this year. 31 c per pound. Sold to Henry Ragstle (Ragsdale?) Ladoga.
May 23 – Paul planted his corn.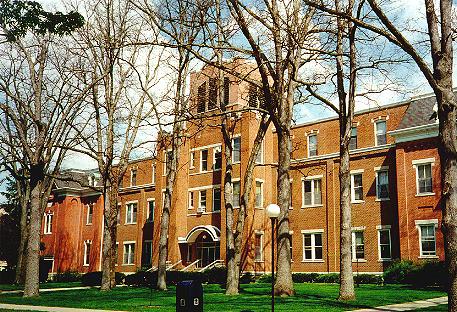 May 27 – Ruth went to No. Manchester today with Avis Baker & Mary Ellen Mills. They went to bring Russell home and Ruth went to represent our family at Lewis' graduation. John went over too and that was a fine surprise. Ruth stayed with Francis Miller in Oakwood Hall. I stayed at home wishing so much I could have gone too. Lewis graduated with "High Distinction," as they term it, and was honored before the entire audience by a statement that he has made the best grades, all As the entire four years of any one ever graduated from No. Manchester. How glad I am that he is able to do these things and may the future be happy and busy worthwhile years.
May 29 – John came down for an overnight visit and how glad we are to see him. Marian & Johnny could not come this time. Wish they could. Am so thankful John could be with Lewis awhile. How proud Papa would be now. He was always so pleased with good work. John must hurry home in the morning.
May 30 – Harley has the mumps. Lewis home just in time to help with work. Harley's father does the milking.
JUNE 1936
June 3 – Chas. Glover papered ceiling of dining room. Charged 20 c double roll. 5 rolls 1.00
June 14 – Sunday. Harley Rogers have a boy. 7 # Ralph Denny.
June 20 – Finished working hay west of road in corner field – 12 ½ loads.
June 21 – Stanley Dean Mahorney 8 # born about six o'clock this Sunday evening to Paul & Blanche. Just one week after Harley Rogers' boy came.
June 25 – Lewis & Ruth started to Cincinnati today. Lewis to see about the prospect of work. Left Indianapolis on train 1.50 a.m. to arrive Cincinnati 5.10 Ruth has been assistant in vacation bible school in Ladoga all week.
June 27 – Lewis & Ruth came home today, brought Richard along to stay a week. Had a fine trip tho very hot. Lewis took some tests for the placement bureau. No immediate job. Must go back again.
June 30 – Finished cutting wheat today.
JULY 1936
July 4 – Marie's came. Roy left in evening for NY teaching in Columbia U. summer term. Marie & children here for a while. Very hot and dry. No rain since in June.
July 14 – No rain. Garden's all dried. For 8 days the temp has been more than 100 in the shade. 106 today. At 5:30 p.m. was still 104. Cut oats yesterday.
July 16 – Temp has been 110 at Cville two days. Moderate rain (some hail) today. First rain in six weeks.
July 19 – Roland & lady friend came down and Marie & children, Lewis & Ruth went to Turkey Run. (Note: Photo suspension bridge - turkeyrunstatepark,.com)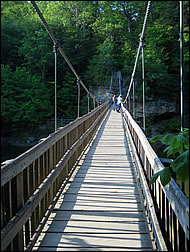 July 20 – Threshed 368 bu wheat ave 19+ bu to acre on railroad field. 5c per bu. Threshed by James Newell. Sale price 95
July 22 – The folks went to see the parade and Centennial celebration of Ladoga's 100th birthday. Continues for 4 days.
July 23 – Paid Geo. K. $5.00 for bull service to seven cows. We kept the bull several months.
July 25 – Mr. Ryker of Linden used our corner clover field for a landing place for plane during Ladoga Centennial paid 10%. We got $7.00 Lewis & Ruth had a free ride – will use the money for linoleum on kitchen.
AUGUST 1936
Aug 3 – Threshed oats today 360 bu. 25 c @ 9.00. Leonard Himes water boy for all the threshing. Oats yielded about 19 bu. To acre. Stll dry and ot. Pastures eaten off and young clover killed.
Aug 6 – Floyd Rhodes hauled 39 + tons line on railroad field $79.34 – medium fine $2.00 ton delivered.
Aug 10 – Sowed alfalfa seed today. 4 bu on railroad field. Disced wheat stubble twice. Put lime on - disced & dragged lightly. Sowed seed and cultipacked it east and west way. We have tried to do our part now may we have the needful weather conditions for it to grow.
Aug 12 – Lime spread on the 8 acre field on estate today.
Aug 25 – Traded 1926 Model Willys Knight for 1934 used Ford V8 coupe. Montg. Motor Co Cville. Lewis paying for it 200 dollars so I have no car and am glad. (note: 1st photo Willy Knightof that era - Willis Overland Knight Registry photo and 2nd photo is of a V8Ford Coupe from WheelsAge.org)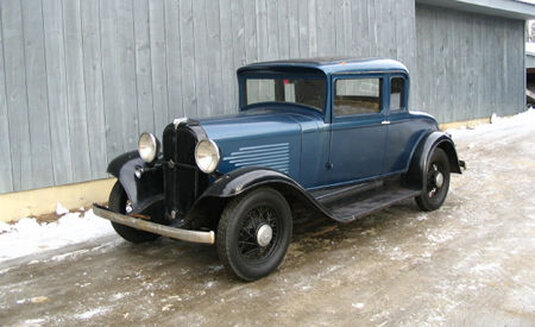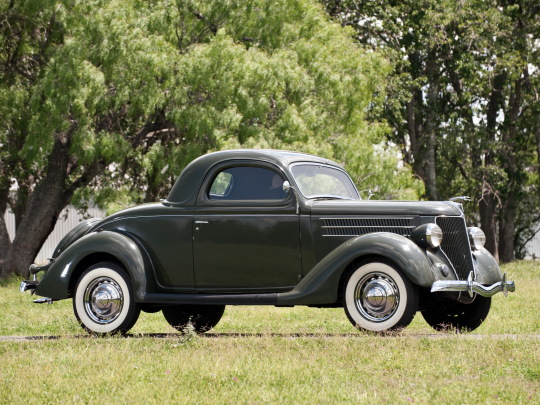 Aug 28 – Seems very quiet since Marie and the boys have gone (the 26th) we miss them so much. Have had three rains this week – they will help pasturage but gardens are past help now.
Aug 30 – Alfalfa is up – sowed 10th of Aug. Most of the time very hot 102 to 90 with no rain until the past week had 2 good rain showers. Most folks thot it would not sprout at all but , thank goodness it has.
SEPTEMBER 1936
Sept 12 – 30 bags of 4 – 24 – 12 – fertilizers bought about 3750 lbs. for 38 acres. Will try it this year in place of 2-12-6-it does not require as much per acre as the 2-12-6.
Sept 17 – Marie sent me $10 a present to do with as I please. Bless the dear folks. I do not want to keep it but they insist I must. I certainly appreciate all this kindness but I do feel so unworthy.
OCTOBER 1936
Oct 16 – Finished sowing wheat. Commenced about 3 week ago. Rained so often kept ground too wet to sow. Wish we could have had some of it earlier in the summer. No frost yet at all. Grass very green. Amazing how it can sprout (?) after looking so dead and dry.
Oct 23 – First frost of the season. Froze ice on chicken water pans. Frank Buchanan died today at Indianapolis. Funeral at Gottschalls in Ladoga Sunday p.m.
Oct 26 – Turned on our first light this evening from the Crawfordsville Electric Light and Power Co. Edwin Barnard electrician, wiring the house or rather overseeing the job as his hand is hurt and cannot work. Clyde Surface and Merle Hart are the workmen. Have been here two days and not done yet. It seems too good to be true – that we are getting electric lights.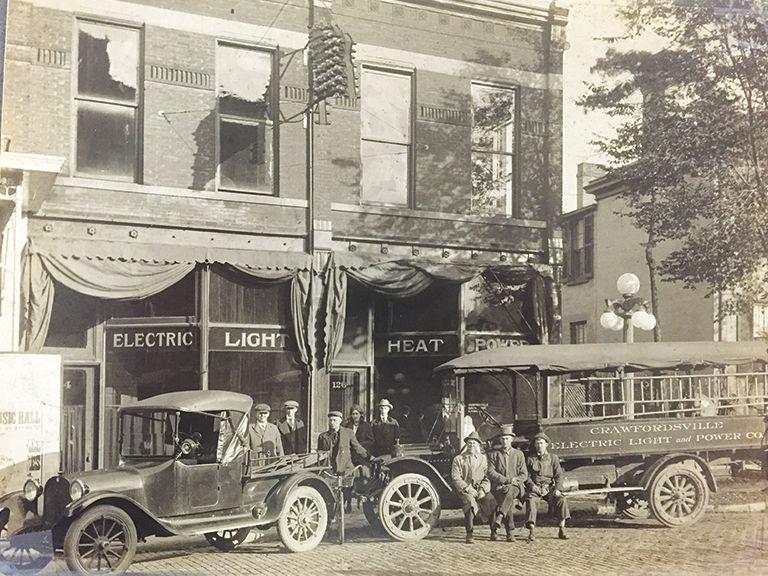 Oct 30 – Finished with the wiring. It seems so wonderful. Lewis traded our Maytag motor for an electric motor (second hand one) even trade, so we will have an electric washer now. It runs so quietly its hardly noticeable. Hope it works all right.
NOVEMBER 1936
Nov 4 – Franklin D. Roosevelt (Dem) elected president for second term by largest vote ever polled and by greatest margin. Alfred Landon Rep opponent have only 8 electoral votes. Vermont & Maine only states going Republican. Lewis voted for first time. (note: photo from PicClick)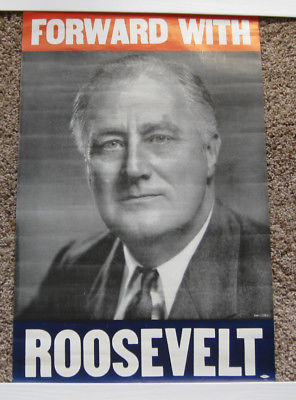 Nov 4 (sic – two of this date) – Traded old tractor for F-20 rebuilt Farmall with new rubber tires & tire gage, wheel weights, 2 row cultivators, power lift and new grease gun. 90 day guarantee so for new tractor also traded in old 2 row cultivator and sulley plow.
Nov 6 – Tractor delivered. Total price 825 to be paid April 1 1937 on interest. Cultivator to be delivered later. 200 was allowed on old tractor and 40 on the two plows until 4.00 off besides to make the even $825. All this because Harley is leaving next yr to farm for himself and Lewis will try it here. Besides our old tractor was a 1927 model and due for change. International Co made us such a good trade this fall so they could rebuild it ready for spring sale. Would not trade at such a bargain next spring.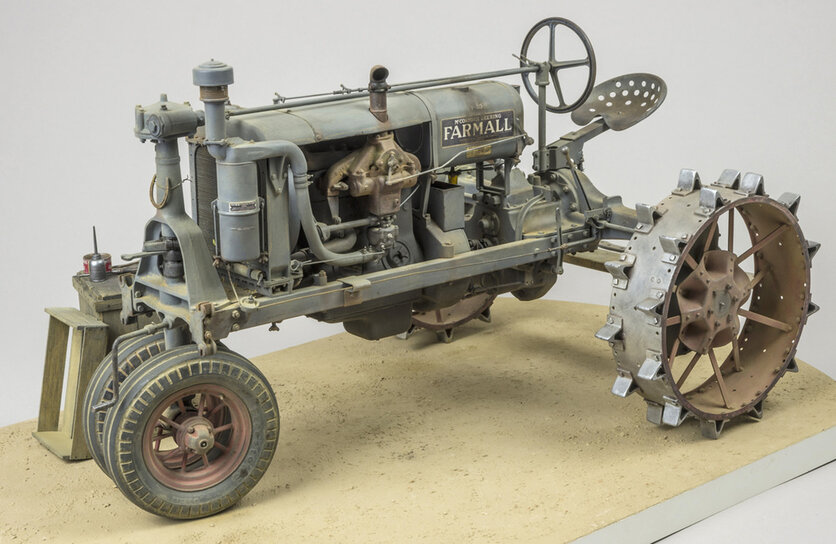 Nov 13 – Chas. Glover papered two middle rooms for 20 c per double roll & 25 c for paste. Paper cost 1.75 12 double rolls. 6 rolls and ceiling – six sidewalls. Labor 2.65.
Nov 20 – Traded Mrs. Werts our old radio (wet battery) hadn't been used for 4 years for an RCA Victor, reduced price & trade in amounted to $9.00. Paid 4.00 Lewis to share expense when he gets money. The children have been good and deserve more than I can afford just now. May God bless and keep them, every one.
Nov 23 – Finished husking corn. Aobut 400 bu. Am thankful for that much, considering the drouth.
Nov 24 – Harley helping load logs on car for Milo Williams – Frankfort timberman. Lizzie Himes died of apoplexy at Clayton Mahorneys last night. Only sick a few minutes. What a blessing to go quickly. May I be so favored also.
Nov 26 – Marie's here for Thanksgiving brought a fine turkey. Roland here for dinner going to Sharpels Solvents Co., Wyanotte, Mich to work in research dept. About 300 miles from home. I'm glad he has this advancement but he's farther from home. How one's heart strings are stretched as the children get away. This p.m. the men were going hunting. Richard had the rifle and the bullet had jammed in working with it. It was discharged and bullet hit a brick in the shed floor and glanced off striking Donnie, who was standing by in the left side. A doctor was called and Donnie taken to hospital for x-ray. The bullet cut thru the skin but had not lodged. He is sore and his arm muscles hurt but we are so thankful it is no worse. Guns and boys just do not mix well. We are all nerve shaken and anxious.
Nov 29 – Roy's started home. Donnie seems all right except some soreness in side and in arm muscles. How thankful it to no worse (sic). Fine cold sunny Sunday.
Nov 30 – Got a card from Roland stating he and Mildred were married Sunday morning at 9 a.m. and started to Wyandotte, Mich where he has research work with the Sharpels Solvents Co. How heartstrings stretch as the children go away but our love and prayers know no distance and follow wherever they go. May every good thing attend this new home and happiness and prosperity abide with them always.
DECEMBER 1936
Dec 10 – Bought Holstein cow 3 yrs old of Charley White $35 fresh next summer or fall.
Dec 11 – Bought 4 bu white sweet clover seed $8.00 bu. 2 bu timothy @ 3.75 for Paul's pasture (20 a) south of road. Recommended fine line & inoculation next spring – cost of lime for 20 a about $24.00
Dec 18 – Had our first snow (except just a few sprinkles once) five inches deep. Just finished sawing up the tops of the trees cut last fall. Got Mr. Webster's buzz saw and it surely helped so much.
Dec 28 – Tractor developed a knock when it sawed wood and was hard to start. Men came today to fix it. Adjusted carbureator, put in new breaker point assembly and did some other things. Seems all right now.
Dec 25 – Roland came this evening and how glad we are to see him. He looked better now. Mildred stopped at her folks and tells Rev. Conrad Hand who performed the ceremony for her father and mother when they were married. Roland must go back Sunday but it's so nice to see him again. Wish M could have been here too. Note: Possibly it was there but did not find on page 6-12 of the Lafayette Journal-Courier the rest of this article that was on page 5 - kbz)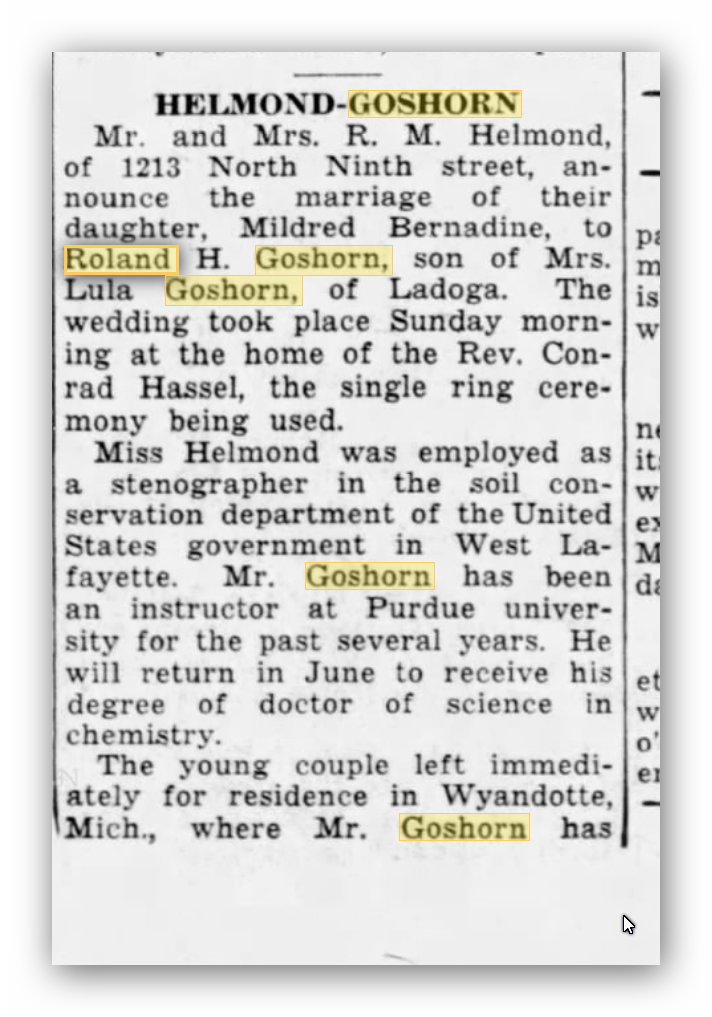 End of 1936 Goshorn diary