Diary of Hiram A. Pratt, Waveland Barber
(Standard Diary #31)
-- November 1870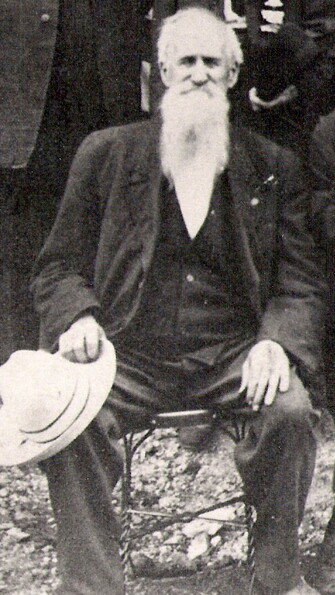 Note: These diaries were in the Waveland Public Library for decades but were disposed of by a librarian several decades ago. Luckily, another librarian's daughter (thanks sooo much Pam, at the death of her mother, Virginia Banta Sharpe found them in some belongings and gave them back for proper housing. A complete circle. I'm a librarian too and thought since they'd been lost to posterity for so many years that it would be a good thing to transcribe them and give them to the world. They are currently housed in proper temperature/storage at the Crawfordsville District Public Library - typed as they were written
Note 2 : Karen Bazzani Zach (transcriber) was raised in the big 'ol town (500 people) where HA Pratt lived 5 decades before I was born. I remember the building where his little shop was and wish it was still there. What an interesting little place. ALAS! Progress !
Note 3: Some information about Pratt -- he was born in Parke County, Indiana April 20, 1840 the oldest child of eight born to Erastus & Elizabeth Allen Pratt and died October 12, 1914 in his beloved Waveland, Indiana. He was twice married, first to the love of his life (he kept a life-sized poster of her in one of his cabinets at his barber shop, even long after his second marriage) Eliza Franklin Shaw (born Oct 23, 1841 died Oct 12, 1887), and #2 to his friend, Evaline "Eva" McMains. He was very active in the community where he and Eliza chose to live. He gave generously of his time and money to the Methodist Church in Waveland. For a few years, he served as Marshall of the town. Also, he worked diligently for his Odd Fellows, Rebekah & Knights of Phythias Lodges, was for a time on the town board, and read to those who could not read from the several newspapers he was agent for. Pratt volunteered and served for three years during the Civil War (Co. B, 36th Infantry), and spent time in the dreaded Andersonville prison. He and Eliza adopted a son, Willie Franklin Stump, age two (not sure ever officially or just had permission to take him from the Poor House in Crawfordsville) and he was an amazing young boy (high grades, worked in the church, quite musicially inclined, just an ideal child) until Eliza was taken to the hospital where she was operated on for six cervical tumors (one weighing six pounds) from which she died. Willie went wild after that and he and Hiram's second wife, Eva never got along. He ended-up in Reform School (for stealing a dollar twice from Eva among other small crimes), and later sent home to die due to consumption (what we know as tuberculosis) dying in Hiram's arms on April 12, in 1894. Hiram missed Willie and Eliza more than most I do believe as he wrote about them so often in these diaries. Just wish the rest of Pratt's diaries he wrote for over 50 years as a barber in Waveland still existed :( kbz
---
Tuesday Nov 1 --The shaw II got for Eliza at Davis & Hannas does not suit
her and I have taken the same to Glovers and exchanged it for a plaid one
that does give satisfaction. Bought one sack of flour for $1.50. Went to see
Mrs. Allens sewing machine (Wheelers & Wilson) to see if I could make it
work any better. I do not know that I done it any good.
Wednesday Nov 2 -- $2.30 I made to day. Bought one yd wool delane for Eliza
.25 and 1/2 gal coal oil for 25. The day has been one of the nicest kind,
late this evening the wind was pretty high. Rec'd a letter from Father Shaw
his sons Stephen and James are teaching school in Park(e) Co. Mary wrote a
letter to her sister Alice. I am afraid Alice will have to go home soon.
Thursday Nov 3 -- Three yds canton (sic) flannel for Eliza cost .85 $65. I
made this evening. Last monday I mashed my left hand thumb with the ax it
bothers me considerable. Today I accidently run a needle through the point
of my right hand fore finger. The weather is very pleasant. The bombardment
of Paris commenced yesterday at noon. Metze has capitulated 190,000
prisoners.
Friday Nov 4 -- We went over to George McIntosh this morning (walked) stayed
untill late in the evening, then George brought us home on a load of coal. I
sewed some on the machine. The old bay mare that uncle Dave sold George has
been badly used up. She was tied in the stable and was kicked by another
mare.
Saturday Nov 5 -- $5.75 I rec'd today at the shop. Last night I went out
with John and Dave Moore and Hen Sytes coon hunting. We found one opossum
and one pole cat. Run a coon trail up a large oak, but did not cut it. We
got soaking wet with rain. 3 yds of calico 35. 1 7/16 # butter .35 Fresh
beef 1.95. 1 yd canton flannel .30 The weather is not cold yet.
Sunday Nov 6-- We stayed at home before noon. John Crutchfield and David
Grimes were here for dinner. At 3 p.m. Eliza and I went to prayer meeting.
David Grimes he stayed here with Alice. Tonight we went to hear the
Cambelites or Christians as they term themselves. Warm day.
Monday Nov 7 -- 2.10 mad (e) at the shop today. I was not well enought this
morning to eat breakfast, have been sick all day. I have a bile that gives
me considerable pain, cant sit down with ease, nor hardly find a position to
recline. Bought one pint of hair oil for 75 cts and one box Wrights
Vegetable pills 25. The agent took the machine away today. Paid Dick Ball
for cigars 3.00
Tuesday Nov 8 -- I have not eat a bite of anything today. At noon I felt a
pain through the right breaest it has bothered me severaly. I buried my
cabbage this morning. After dinner time I went over the Sympsons for some
straw to put over some turnips at about half past 2 I got home and found
that my Grandfather Allen had come to pay us a visit. Just one year ago
today he came to see us. He is well and 72 years old.
Wednesday Nov 9 -- I was not able to do any work today. Granpa has had to
saw wood for us today. I was up town this morning and got 6 powders from Dr.
Ball. Bought one doz eggs for .15 had my boots half soled for 1.10. George
McIntoshs women folks were here visiting. The wind has been real high. Got a
letter yesterday from Ause Pratt he had been chilling.
Thursday Nov 10 -- I was uptown early this a.m. and got 75 cts worth of
sugar and 40 cts worth of tea. Late in the afternoon I went up again got my
mail matter and some medicine from Dr. Wm. Steele. I have not had quite so
high a fever as on yesterday. The Dr. thinks I may have a spell of typhoyd
fever.
Friday Nov 11 -- I am not so well today. Rec'd a letter from Bro Ben. He has
a strong notion of going west and sell goods. Our good friend SA Swiggets
has made him a good proposition. Alice will go with McMains girls to Ladoga
tomorrow evening and return next day evening. Grampa keeps us in wood.
George Wymore got us some beef .95.
Saturday Nov 12 -- I have set up a little today. Alice has gone on her trip
to Ladoga. My bile is not so sore anymore. Last Tuesday we got a letter from
Uncle Daves folks. Ause had been having the ague. Uncle was not very well.
Bill Cruchfield is well pleased with Kansas. Eliza has good health now.
Sunday Nov 13 -- I have felt tolerable well. Dr. Wm. Steele came in after
dark to see me. John Crutchfield has been in a couple of times, yes three
times. Father Hanna was in and so was our new preacher Bro. Stallard.
Grandpa went to ME Church at 10 1/2. Alice never got home untill 9 p.m.
Monday Nov 14 -- I have laid in bed all day. Budd Marshall, his right name
is Leonard D. died this evening at about half past six. Half hour before he
died, he had a sinking spell when he came to his senses he appeared very
happy he had them all to come and shakes hands with him. Bought 5 -3 cent
stamps 15 cents.
Tuesday Nov 15 -- Snowed some today. Have been confined to bed all day.
Several friends have called to see me. Budd Marshal will not be burried
today. The order of Odd Fellows will burry him. Some women came in here to
do some sewing for Mrs. Marshall's children.
Wednesday Nov 16 -- Grandpa' left here at noon today . I seen through the
window the funeral procession. Budd's body was placed in a nice plain black
walnut coffin and carried in the rear of the procession by the order. I have
been in bed all day. Wish I could be at my work, but I must submit.
Thursday Nov 17 -- Dr. Steele has been here 6 times today. John Crutchfield
got me 2# of crackers for 25 yesterday. Phil McGill and James Roberts moved
the stoves and put me in the east room. I have been in bed all day. The
Doctor thinks I may have to keep my bed for 3 weeks or more.
Friday Nov 18 -- Dr. Steele made his 7th visit this morning he left me 6
powders to take. I am getting tired of taking medicine . Alice went to Jack
Sympsons tonight with McMains girls, they will be back by 10 or 11. Since
last Sunday I have done my writing laying on my back in bed. Weather is cool
1 gal coal oil .50 Beef .90
Saturday Nov 19 -- 8th visit for the Doctor. James Roberts came this evening
and cut us enough of wood to last us over Sunday he then went up town and
got our mail. A letter from brother BIll he says the folks are all well and
that cousin Mary E Macy (King) was there on a visit. Brother Ben is at
Ottumwa one can of oyster 75 cts.
Sunday Nov 20 -- 9 visit for the Dr and several persons have been in today. I
had considerable fever last night. The Dr. thinks that I am getting along as
well as could be expected. At 3 this evening Sam Shellada and Theron Austin
came in and spent half hour. Alice went with Bob McMains to singing. The day
has been cloudy and tolerable cool.
Monday Nov 21 -- 10th visit the Dr. made today. I can eat my oyster soup
first rate. The only thing that I really feel like eating. Eliza went up
town today and got some coffee 1.00 worh and 2 # of crackers for 25. We have
to get groceries on tick (sic -- ticket -- credit?) now I will pay up when I
get to making money.
Tuesday Nov 22 -- 11 visit for the doctor. I am getting some better but not
yet able to set up. My fever has not yet left me, though today I have had
less than at any time since sick. Eliza sent uptown today and got 25 cts
worth of black pepper.
Wednesday Nov 23 -- 12 visit the doctor made today. He left me no medicine
said that he would come back this evening and see how I was getting along
but failed to come. This is the first time I have set up to write with a pen
since the 12th between that time and this I have lain in bed and wrote with
a lead pencil. Bought one can of oyster for 75 cts.
Thursday Nov 24 -- 13 visit the doctor made today. I have set up some not
very long at a time. I am in hopes that by next week I will be able to go
about and do a little work. George Wymore came over this evening and cut up
a lot of wood for the women. Thanks to Mr. Wymore.
Friday Nov 25 -- 14 visit for the doctor today. He left me 4 powders to be
taken 4 hours apart. George Wymore brought me a pack of flour from John
Talburts yesterday evening. Alice went up town and got 2# of crackers .25
and one yd of ribbon cord 5. The weather is cloudy and cool.
Saturday Nov 26 -- 15 visit the doctor made today. He said I had no fever
and left me no medicine said he would call in again and see how I was
getting along. Rec'd a letter from Bro Ben he had heard I was sick sent 5
postage stamps and wanted Eliza to write every other day so as to keep them
posted as to how I was getting along. Rec'd one from my friend BF Abegg he
was well. Ben McIntosh fixed the cooking stove pipe.
Sunday Nov 27 -- The doctor never called today. Alice went with Sarah
Marshal to ME Church at 10 1/2 and at night with Bob McMains. I have set up
more today than at any other time since having been sick. Eliza does not
feel very well. I wrote a letter to Bro William .Eliza wrote some too.
Monday Nov 28 -- Yesterday and today were the prettiest days of this fall.
The sun shone warm and birhgt, warm enough to do with but very little fire.
Scarsely any wind at all. I have been up most all day, lay down at times to
rest. Eliza and Alice have done their washing.
Tuesday Nov 29 -- James Roberts cut us some more wood 16 visit the doctor
made late yesterday evening. He gave me two powders to take. Frank Shally
and Polly, John Ause (?) Rush's wife and Myra Patterson were here for
dinner. Jim and Kate Yount were here too. Aunt Polly and and Kittie Rush
both had young babies. Rained some today. I have sat up most all day, once I
had today down because I was so tired that I can not set up long and do
justice to myself.
Wednesday, Nov 30 -- I have been up the most today of any other day since
sick. This afternoon I went up in town and got my mail matter, one letter
from Father Shaw, he wrote us a good letter did not send for Alice, but said
for her to write them when she wanted to come home. The day has been nice.
Bought 6 1/2 # sugar of Mr. Glover for 1.00 on tick.
---