NOVEMBER 1911 - HIRAM PRATT DIARY
Waveland, Indiana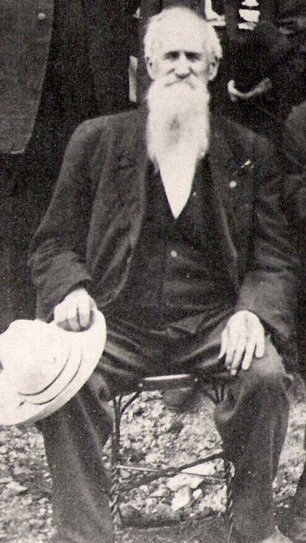 Note: These diaries were in the Waveland Public Library for decades but were disposed of by a librarian several decades ago. Luckily, another librarian's daughter (thanks sooo much Pam, at the death of her mother, Virginia Banta Sharpe found them in some belongings and gave them back for proper housing. A complete circle; however, only 14 of the 50+ diaries were saved from the library's incinerator. I'm a librarian too and thought since they'd been lost to posterity for so many years that it would be a good thing to transcribe them and give them to the world. They are currently housed in proper temperature/storage at the Crawfordsville District Public Library - typed as they were written
Note 2 : Karen Bazzani Zach (transcriber) was raised in the big 'ol town (500 people) where HA Pratt lived 5 decades before I was born. I remember the building where his little shop was and wish it was still there. What an interesting little place. ALAS! Progress ! Oh, and I've tried to type the diaries as is - mistakes & all
Note 3: Some information about Pratt -- he was born in Parke County, Indiana April 20, 1840 the oldest child of eight born to Erastus & Elizabeth Allen Pratt and died October 12, 1914 in his beloved Waveland, Indiana. He was twice married, first to the love of his life (he kept a life-sized poster of her in one of his cabinets at his barber shop, even long after his second marriage) Eliza Franklin Shaw (born Oct 23, 1841 died Oct 12, 1887), and #2 to his friend, Evaline "Eva" McMains. He was very active in the community where he and Eliza chose to live. He gave generously of his time and money to the Methodist Church in Waveland. For a few years, he served as Marshall of the town. Also, he worked diligently for his Odd Fellows, Rebekah & Knights of Phythias Lodges, was for a time on the town board, and read to those who could not read from the several newspapers he was agent for. Pratt volunteered and served for three years during the Civil War (Co. B, 36th Infantry), and spent time in the dreaded Andersonville prison. He and Eliza adopted a son, Willie Franklin Stump, age two (not sure ever officially or just had permission to take him from the Poor House in Crawfordsville) and he was an amazing young boy (high grades, worked in the church, quite musicially inclined, just an ideal child) until Eliza was taken to the hospital where she was operated on for six cervical tumors (one weighing six pounds) from which she died. Willie went wild after that and he and Hiram's second wife, Eva never got along. He ended-up in Reform School (for stealing a dollar twice from Eva among other small crimes), and later sent home to die due to consumption (what we know as tuberculosis) dying in Hiram's arms on April 12, in 1894. Hiram missed Willie and Eliza more than most I do believe as he wrote about them so often in these diaries. Just wish the rest of Pratt's diaries he wrote for over 50 years as a barber in Waveland still existed :( kbz -- ENJOY
---
On front of this diary is a piece of paper glued that says, "Waveland Ind HA Pratt, Diary for the year of 1911.
Inside there is a page to fill out that says "Remembrancer"
Reisdence Waveland PO BOX Ind. Telephone NO 24-6. Business Address Cross Street Telephone no. 6.
Other things are not filled out
Life Ins Policy Union Mutual of Maine at Portland
In case of accident notify Mrs. SE Pratt
---
Wednesday November 1 - $5.40. Cloudy all day 44. I went to the station for the 10 o'clock train to shake hands with Waxey Wolever and to say good by. He was on his way to his home in Oregon. He will remain in Terre Haute until morning. George E. Hanna and wife returned last Monday from their western tour. They left here June 10 of this year. We disposed of 18 old hens at 7 ½ to per pound. They weight 69 pounds. Had two new shoes put on "Bobs" hind feet and the 2 front shoes reset. Colder tonight.
Thursday November 2 - $.85. 28 The weather has been quite cool. The tops of the cars going south today had their tops covered a foot or more with snow. At South Bend snow was reported to be 22 inches deep. Paid 65 cts for beef to boil. Paid McNutt a dollar for meat and groceries. I did not know I owed. I am verry much interested in hearing George Hanna talk of his trip to the far west.
Friday November 3 - Cloudy today and yesterday 35. $2. Yesterday afternoon I burried nearly 2 barrel of Gentain apples and done some other work preparatory to winter. Ice was about half inch thick in the tub at the well. Buddy Kelso went to Crawfordsville yesterday to have his face doctored. Eva and her sister Miranda are ready to start for Rossville, ill in the morning. Herbert Lewis will take them over to Milligan in the morning.
Saturday November 4 -- $7.25. Cloudy 40. Paid Emery Cuppy the dollar and 85 cents I owed him for a bushel of corn in the ear and 47 ½ lbs of crashed corn for chicken feed. I was done work by 11 o'clock and did not get home until after midnight. Received a card from Warren Butch and wife. They were at Milan, Indiana were on their way home. After a day or so visiting would be at home in Kentucky.
Sunday November 5 - 45. Cloudy all day long. I was on time to hear Bro. Riley at 11 o'clock and also at 7 this evening. I called at Sant Moody's before church time, his wife was not well. Suffering with her liver. They are well fixed to live in their new home. Have a beautiful hard coal base burner "Bucks Radient" is the name of the heater. I never went to bed last night. Slept in a large chair until nearly day and lied upon a lounge till day.
Monday November 6 - Cloudy and a good shower of rain. 57. $2.05 Sent the Crawfordsville Journal a check for $2.55 for a renewal to Mrs. NJ Fullenwider and HCC Loudermill as a new sub for 1 year to the Daily. There was a call came in of the telephone for Eva to meet with The Ladies Aid Society to tack comforts; I answered, she was at Rossville, Illinois. Dave Russell returned from his sister Nora's at Wanetown (sic - Waynetown) since last Friday - cooler tonight.
Tuesday November 7 -- .85. Cloudy but no rain 42. Dave Russell and I made about 15 gallon of cider this forenoon we had 3 bags left over to be pressed out when we went to dinner. I eat my dinner at Russellville. Dave concluded he could go back and complete the cider making and I opened up shop. I miss my old Sweetheart very much yet there is great consolation in the thought of her returning before long.
Wednesday November 8 -- $1. Cloudy and damp 45. If Eva was here she would take care of the pears that are almost ready to commence to decay. I had Mrs. Moore to do the washing and ironing. Expect it will cost a dollar. The fountain pen with I am writing has never droped the ink while in use. The writing is a little heavy. I think the pen is a stub. The laundry was a little more than in bulk than last week.
Thursday November 9 -- .80. The weather has been damp all day. 48. Came verry near snowing at about 4 o'clock. I sent a subscription to the Delineator for Miss Emily McCormick. The Ladies world was included in the $1.30 money order. This was sent yesterday. Paid Elmer Dietrich a dollar for horse shoeing. 2 shoes were new and two were reset. There will be hundreds of bushels of apples and pears go to waist (sic). They are being worked up into cider as fast as the people can find time to do it.
Friday November 10 -- $1.25. There was a light mist of rain not enough to be called a shower. I got a letter from Eva this morning. She was at Hoopston Illinois and calculated to go back to Rossville Monday. She asks me to meet her in Crawfordsville Sunday November 19 with the horse and buggy and she will accompany me home on Monday. The papers were late tonight. A box of fish 2 lbs.
Saturday November 11 -- $6.25. 45 dollars pension. Rain after lamp lighting paid 80 c for the washing and ironing. My guess was too high. My supper cost 20 c. I wrote Eva a card hurriedly told her if the weather was favorable I would meet her in Crawfordsville Sunday Nov 19 and we would come home together on Monday. Paid 25 c for 6 bread tickets. I want to go up to Crawfordsville in the morning and hope to hear our former pastor at 11 o'clock. I was done work by 10 o'clock.
Sunday November 12 -- $.50. Mercury was up to 78 degrees yesterday at 2 pm. At 7 this morning it was down to 10. The ground was covered with snow and the wind was blowing at a high speed. We will be apt to hear of a storm. The Sunday papers gave notice of storms on the lake and another place. Attend Christian Church at the morning service. Presbyterians tonight. Dinner at Russels.
Monday November 13 - Cloudy and snowed a little. $.75. We are having a real winter yesterday morning. I put a pie in the cookstove and had coffee and sausage for breakfast warm for the first time since Eva has been gone. She will be home one week from today. I am glad to give her a royal welcome. The storm was bad over in that part of Illinois where she was 15c for meat sent Chicago News $3.51 for paper received in Sept and October.
Tuesday November 14 - Snowed a little during the day. 32. On the account of the hot weather on last Saturday in Chicago one man died of sun stroke and the next day one more froze to death and 14 was expected to die of pneumonia. Sent Eva a copy of the Waveland Independent. The Terre Haute Star 87 cts. Paid 14 c for sausage. I will try to be in Crawfordsville next Sunday and come home with Eva next day on the cars.
Wednesday November 15 -- $3.25. Cloudy sun was out a few minutes. 39. Wrote a card today to my Eva. Report came in about 7 o'clock this evening that Gov Durham was dead. I was surprised very much. He was in my shop yesterday and was shaved by me last Monday morning. He said he was not well, had vomited several times last night he made his way to his brother George's and died. He was known by the name of Gov. His name was Crittenden Durham. Eat dinner at Buddy Kelso's.
Thursday November 16 -- $3.25. 35 Cloudy and rain seems to be assured before morning. Paid John Robertson a dollar for a couple of bags of corn. 2 bushel. The funeral will be held in the ME Church house at 11 tomorrow morning. Bro WH Fertich will preach. The sermon The Masons will have charge of the services. Only 2 more days before I can greet my sweetheart Bless the Lord.
Friday November 17 -- $6.50. Rained all day. 48. Commenced some time before day light. Bob McMains was my bed fellow last night. I got breakfast for us. Had coffee, pork chops and light bread. The funeral was well attended. The rain kept some away. I paid 14 cts for pork shops. Sent The News a subscription for Irvine Deer - a check for 2.50. Ten tickets for milk cost 25 cts. The rain subsided by 9 o'clock. This indeed has been a rainy day.
Saturday November 18 -- $11.20. Cloudy all day. 35. A can of salmon 20 cts. I did not eat my dinner until after 2 o'clock, never eat any supper until I got home, then milk and bread. TL Hanna and wife and one daughter will leave for Redland, California. Their daughter Ollie is now in Rome, Italy and one is in Redland. I will go up on the train in the morning to Crawfordsville and meet my Eva at - don't know when. At hour by midnight.
Sunday November 19 - Cloudy all day. 40. I came very near missing the train for C"ville - it had started, the conductor signaled the conductor to stop and I got on. Got off at the station and by telephone failed to locate my wife. Then walked over to Bob McMains and there learned she was at her sister Mary's. Met her on the street at the Christian Church. Dined at Bob's. Heard Bro. Fertich tonight. At Jim Alfrey's tonight.
Monday November 20th -- $1.50. While in Crawfordsville we heard of the death of Grace McMains and as soon as we could, hithered up the house and went over to Frank McClains to the funeral. Airheart was the preacher in charge. FW Kritz had the charge of the burial. The casket was made to order. She was very large and only 4' tall and 2 ' wide. Paid $1.40 for fresh pork at 15 cts a pound. Bob Mc is with us tonight. House at night by 9. (Note: Grace is Eva's niece, daughter of her brother, James & wife, Sarah Ware. She was born 18 Dec 1875. She never married)
Tuesday November 21 - Cloudy and damp and threatening rain. 36. $2.20. Paid $1.45 for 100 lbs of bran and shorts. Eva has been hard at work cleaning house. She brags on me for having messed up the house so badly while she was out on her two weeks visit. Richard Rusk and Mary are at WR Kelsos tonight. Eva spiced a 2 gallon jar of pears besides what she canned. Cooking in paper bags is a new fad. Paid the Moore boys a dollar for delivering the News.
Wednesday November 22 - Cloudy all day long. 40. $3. Sent eh laundry $5.30. The sausage I bought of Bud Clore was fine and 2 lbs for 25 cts. The Journal of Crawfordsville for Mr. G Vail cost me a dollar and 70 ct. He will get the paper one years. Paid 70 ct for an adjustable back wall for the fire box in our cook stove. Will have to send to the factory for the front piece of the fire box. Paid 25 c for a bottle of cough medicine. 35 cts Express on Laundry 40c for washing to Mag Moore.
Thursday November 23 -- $3.35. $5.47 I sent sometime last week to the Union Mutual Life Insurance Co of Portland, Maine. Paid 25 c for a pound of butter 50c for a few pounds of beef to be made up into mince for pies. Sent a dollar to the Imperial Rang (sic) for the front lining of the firebox. There was a snow fell at some time last night and continued at intervals during the day. Eva has been over at Buddy Kelso's every night this week same time ? (a t and squiggle after it).
Friday November 24 - Cloudy. Sun was not seen 33. $5.60. I was done work by 11.30 but it was after 12 or midnight before I got started for home. I did not get the opportunity to take my evening lunch. I do what I can for Buddy Kelso in the way of chouring (sic) about the house. Bud and Doren Clore are expecting to get started for Floriday by the 12 of next month. They will return in March. Cloudy and a little cooler.
Saturday November 25 - $5.10. The day has been rather damp. Cloudy and threatening rain. Ed Heslar has promised to let me have a back bone and a pair of ribs with plenty of meat on them, at hog killing time nothing was said about the price to be paid, I will have to pay the market price at that time. He also said he would let me have a 50 pound can of lard. The cock struck 12 soon after I got to bed. I write this Nov 28th
Sunday November 26 - Cloudy. 40. I did not get ready for church this morning. Alva Good came over in response of a telephone call and we got to talking and the time passed unnoticed until it was too late. Eva went to the church service. Before time for the meeting tonight we called at John De-Witt Fishers until time to go to meeting. We usually after returning from meeting eat a lunch but tonight concluded not to, as neither of us felt any hunger.
Monday November 27 -38. Cloudy all day I never seen the sun all day. $1.10. Paid the boys a dollar for distributing the News last week. Mrs. Margarette Moore never went out to meeting at all yesterday and when I took the washing over this morning she explained that she was not well. She was feeling as well as usual. Burt Upton paid me $.70 for the brick he got last spring when I built the sidewalk. I neglected to note it in the receipts of today. Paid 50 c for 5 lb of beef for mince pies.
Tuesday November 28 -- $2.35. Clear for about half of the day. Paid Mrs. Moore 40 cts 45 for trimmings for the mince meat. Snow began falling this evening. I have concluded to use my overcoat this winter. I have not worn an overcoat for 40 years only on special occasion such as riding out in a buggy or going a trip on the cars. If I live will use it more this year than in all my life before. The stove that Buddy Kelso got of Montgomery Wards and co is giving the best of satisfaction.
Wednesday November 29 -$2.25. Clear 22. The laundry was sent to Crawfordsville at 2:18 p.m. The employees of the laundry would be off duty taking Thanksgiving. Eva and I are calculating to take dinner at the hotel tomorrow with the new landlord, Ed Cuppy. The ingredients Eva put in the mince meat cost 60c. We had mince pie for supper. The weather has been pretty raw all day yet in places fair to the sun it thawed a verry little bit.
Thursday November 30 -- $1.60. Clear most of the day 25. Eva and I were at Ed Cuppy's for dinner. There was 25 persons at the tables. Everything was served cold except the coffee which was at the last with ice cream. It was 20 minutes after 2 o'clock when we were through. The dinner was good a dollar paid the bill. There was 7 persons to come in for supper. Prof HS Kritz was the oldest of any at the table. He will be 87 in Feb. Zachie Robertson was the next oldest and I the next.