DIARY OF HIRAM A. PRATT, Waveland Barber (50+ years)
FEBRUARY 1885 (Standard Diary #31)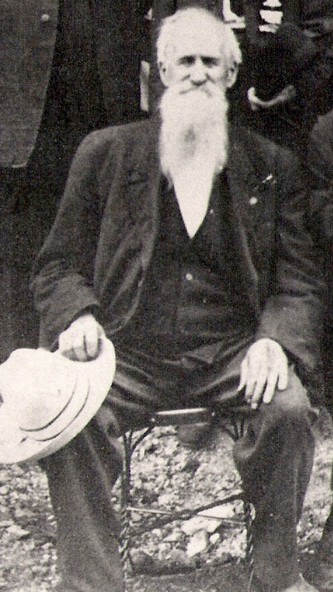 Note: These diaries were in the Waveland Public Library for decades but were disposed of by a librarian several decades ago. Luckily, another librarian's daughter (thanks sooo much Pam, at the death of her mother, Virginia Banta Sharpe found them in some belongings and gave them back for proper housing. A complete circle. I'm a librarian too and thought since they'd been lost to posterity for so many years that it would be a good thing to transcribe them and give them to the world. They are currently housed in proper temperature/storage at the Crawfordsville District Public Library - typed as they were written
Note 2 : Karen Bazzani Zach (transcriber) was raised in the big 'ol town (500 people) where HA Pratt lived 5 decades before I was born. I remember the building where his little shop was and wish it was still there. What an interesting little place. ALAS! Progress !
Note 3: Some information about Pratt -- he was born in Parke County, Indiana April 20, 1840 the oldest child of eight born to Erastus & Elizabeth Allen Pratt and died October 12, 1914 in his beloved Waveland, Indiana. He was twice married, first to the love of his life (he kept a life-sized poster of her in one of his cabinets at his barber shop, even long after his second marriage) Eliza Franklin Shaw (born Oct 23, 1841 died Oct 12, 1887), and #2 to his friend, Evaline "Eva" McMains. He was very active in the community where he and Eliza chose to live. He gave generously of his time and money to the Methodist Church in Waveland. For a few years, he served as Marshall of the town. Also, he worked diligently for his Odd Fellows, Rebekah & Knights of Phythias Lodges, was for a time on the town board, and read to those who could not read from the several newspapers he was agent for. Pratt volunteered and served for three years during the Civil War (Co. B, 36th Infantry), and spent time in the dreaded Andersonville prison. He and Eliza adopted a son, Willie Franklin Stump, age two (not sure ever officially or just had permission to take him from the Poor House in Crawfordsville) and he was an amazing young boy (high grades, worked in the church, quite musicially inclined, just an ideal child) until Eliza was taken to the hospital where she was operated on for six cervical tumors (one weighing six pounds) from which she died. Willie went wild after that and he and Hiram's second wife, Eva never got along. He ended-up in Reform School (for stealing a dollar twice from Eva among other small crimes), and later sent home to die due to consumption (what we know as tuberculosis) dying in Hiram's arms on April 12, in 1894. Hiram missed Willie and Eliza more than most I do believe as he wrote about them so often in these diaries. Just wish the rest of Pratt's diaries he wrote for over 50 years as a barber in Waveland still existed :( kbz
---
HA Pratt - April 20th his birthday age 45 written in front of book (not sure if it's his writing or someone else's' - looks like his)
---
Sunday Feb 1 - I called and shaved bro AJ Wolfe this morning. He has a sore foot. We attended church this morning and at night. At 2 ½ Willie and I were at Sunday school. Had no class meeting. The snow melted considerably today. Froze up tonight
Monday Feb 2 - 46.65. Sent 95 cts to St. Louis Globe Dem. And 83 cts to Commercial Gaz. Paid 4.50 for three wagon loads of coal. 25 cts for 25 lbs of Salt. Snow melted more today. A few of the house tops are now bare. Willie is considerable better of his cold.
Tuesday Feb 3 -- $13.55. Snow has almost disappeared from off the house tops. Sent 5. to Times Co 4.55 to PS Westfall, Terre Haute. Stamps 35 cts thread .20 There is a dance in Milligan's Hall tonight. Church members are participating. Too bad
Wednesday Feb 4 -- $7.55. There was no snow or rain last night but a little snow fell today. The town board have for the present let up on the prosecution of the illegal whiskey selling, a small defect in the corporation law has been discovered.
Thursday Feb 5 -- $7.50 Sent one dollar to George W. Peck for Peck's Sun. The weather is turning colder, more snow is falling. Paid $2 rent for Jan. 12 cts for prop corn about 3 doz ears. A protracted meeting commenced last night at the MEC.
Friday Feb 6-- $3.85. Paid $1 for groceries. Coal oil 25. Last Sunday I gave to the ministers salary $2 to the Sunday School 5 cts. More snow today in all about one inch deep. The Crawfordsville Star are being sent me on sale by the publisher.
Saturday Feb 7 -- $7.75. Groceries $1.80 Snow melted rapidly. We were done work by nine o'clock. Eliza & Willie went to church tonight. Cincinnati papers failed to get in this evening. A slight rain is falling tonight. Most to cold to rain much.
Sunday Feb 8 - Willie and I attended quarterly meeting services at 10 1/2 . John Todd and wife were at our house for dinner. We did not go to Sunday school. Dr. Prettyman called after Sunday school and ate supper with us. He preached for us today. Our preacher done a similar service for him.
Monday Feb 9 -- $6.10. Yesterday I gave at church $1. Paid 2.15 for a ham of meat, 3 lbs of corn starch 25 cts. Sent 16.72 to John C. New & Son for papers received last month. Sent Globe Democrat 95 cts for D. Fullenwider. We are having a regular blizzard tonight, cold and snowing.
Tuesday Feb 10 -- $3.80. Turned very cold last night, mercury was 16 below zero this morning. The snow last night drifted so bad that trains from the north were abandoned. Coal oil 25 cts. Willie took his dinner with him today. Wife set a hen with 15 eggs.
Wednesday Feb 11 -- $3.25. Paid 1.40 for 2 small sacks of flour. Water froze deeper in my shop last night than it has heretofore this winter and yet the mercury was only 16 below zero this morning. The meeting is not verry (sic) well attended owing to the cold weather.
Thursday Feb 12 -- $8.75. Pd Geo Haley on wood $5. Globe Dem 95. NY Tribune 2.70. Star 2.35. Enquirer $3 Rubber tape .20 3 yds of flanne 1.35. Postage 10 cts. Snowed a little today after which the sun shone and melted a portion of it. I was over at Bob Moore's and shaved him.
Friday Feb 13 -- $3.30. 25 cts for coal oil. Bob Moore is now likely to get well a couple of weeks ago he was of the opinion he'd die. Dan Greene died today he was an old man. Snow melted a very little. I was at church last night a few minutes.
Saturday Feb 14 -- $8.85. 50 cts paid for a bottle of cough medicine. We were done work tonight by 20 mins after nine. We expected Billy Hauger to have been here last night but some how he failed to make his appearance. Snow melted considerable.
Sunday Feb 15 - We attended church today and tonight. The sermon today was a soul searcher by it Mr. Zachie Robertson came on his way to church to make up with me. He had not spoken to me for 3 years. He acknowledged he was in the wrong. Storm.
Monday Feb 16 -- $3.55. Snowed yesterday and drifted so bad that the mail train was not in until after 10 p.m. The weather has turned very cold. Billy Hauger was disappointed in getting off last Friday. He will be here next Thursday. Meeting has closed at our church.
Tuesday Feb 17 -- $2.05. Paid 41 for the use of 50 for 3 months. Sent yesterday 2.30 to the Herald & Presbyter and 1.20 to the Russell Pub Co of Boston, Mass. The weather has been extremely cold all day, more snow today, trains from the north were abandoned. Zachie Robertson was in to see me.
Wednesday Feb 18 -- $2.65. Paid $2.95 for cow feed. Our cow is not well tonight. Train was late again today. Snow melted a little at noon. Cold as Greenland tonight. Harry Kritz and I visited the public school today. There is not much to do in the shop.
Thursday Feb 19 -- $3.25. Paid 40 cts for lard, rice .25. The weather is verry (sic) cold and getting colder all the time. Billy Hauger faild (sic) to arrive tonight. I had a card from him the forepart of the week that he would be in here tonight. I was a visitor at school today.
Friday Feb 20 -- $5.20. Five cts for a spool of thread. Billy Hauger came in this evening. He will stay about two weeks. This summer he will work for his uncle Steve Shaw, Mercury was 22 below zero this a.m. Thawed a very little at noon. Crout .25
Saturday Feb 21 -- $7.05 Sent $1 to Enquirer Co. 1.00 to TH Martin. 2.25 Chicago Herald. .20 cts for postage. The weather has moderated a little today. No papers from Cincinnati-Trans late everywhere. I have taken cold today.
Sunday Feb 22 - I remained at home until 2 ½ p.m. when Willie and I attended our Sunday school. Class has been discontinued on Sunday afternoon. The weather has moderated considerable. Wife is suffering tonight from indigestion. She has had several seasons of this.
Monday Feb 23 -- $5.10. Pd 40 cts for a couple pounds of roasted coffee. 35 cts for a pound of ground black pepper. 25 cts for 1 lbs of raisins. Coal oil 1 gal .25 Wife was able to do her usual Monday's work. Late this evening a little snow began falling. Barr & Bloomfield have failed in business.
Tuesday Feb 24 -- $4.20. Sent 95 cts for the NY Herald for JP Mahorney. Billy Hauger has a job in the flouring mill the remainder of this week. Jim Robertson whose place he takes is not feeling very well. More snow this morning. The weather has turned so warm that it melts soon after falling.
Wednesday Feb 25 -- $3.05. Paid $1 for the splitting of 4 cords or wagon loads of wood. Had a little more snow today. The weather is getting warmer and the snow is disappearing. Paid 25 cts for a gallon of coal oil. Jim Robertson has bought the bakery store.
Thursday Feb 26 -- $2.05. Wm. Jackson is out of employment, he had an engagement with a Broom manufacturing Co. of Paris, Illinois. His bondsmen are notified that Jackson is behind in his account nearly $600. Snow melted fast today. Road is bare in spots.
Friday Feb 27 -- $5.30. Sent the American News Co $10.10. the 10 cts are expenses. John C. New & Son have notified me that they intend to send me Sunday Journals. I cant get them until the next day. Warm today.
Saturday Feb 28 -- $10.45. Last Tuesday I paid in the AOUW $2.45. Paid for Barber supplies $11.85. We were done work by 10.10 p.m. Raining tonight, snow melted fast today. I have had but very little fire in the shop. Willie distributed papers.