JULY 1903 - HIRAM PRATT DIARY
Waveland, Indiana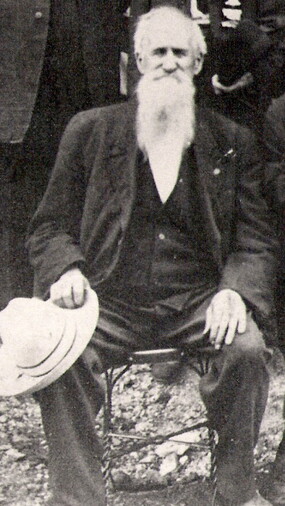 Note: These diaries were in the Waveland Public Library for decades but were disposed of by a librarian several decades ago. Luckily, another librarian's daughter (thanks sooo much Pam, at the death of her mother, Virginia Banta Sharpe found them in some belongings and gave them back for proper housing. A complete circle; however, only 14 of the 50+ diaries were saved from the library's incinerator. I'm a librarian too and thought since they'd been lost to posterity for so many years that it would be a good thing to transcribe them and give them to the world. They are currently housed in proper temperature/storage at the Crawfordsville District Public Library - typed as they were written
Note 2 : Karen Bazzani Zach (transcriber) was raised in the big 'ol town (500 people) where HA Pratt lived 5 decades before I was born. I remember the building where his little shop was and wish it was still there. What an interesting little place. ALAS! Progress ! Oh, and I've tried to type the diaries as is - mistakes & all
Note 3: Some information about Pratt -- he was born in Parke County, Indiana April 20, 1840 the oldest child of eight born to Erastus & Elizabeth Allen Pratt and died October 12, 1914 in his beloved Waveland, Indiana. He was twice married, first to the love of his life (he kept a life-sized poster of her in one of his cabinets at his barber shop, even long after his second marriage) Eliza Franklin Shaw (born Oct 23, 1841 died Oct 12, 1887), and #2 to his friend, Evaline "Eva" McMains. He was very active in the community where he and Eliza chose to live. He gave generously of his time and money to the Methodist Church in Waveland. For a few years, he served as Marshall of the town. Also, he worked diligently for his Odd Fellows, Rebekah & Knights of Phythias Lodges, was for a time on the town board, and read to those who could not read from the several newspapers he was agent for. Pratt volunteered and served for three years during the Civil War (Co. B, 36th Infantry), and spent time in the dreaded Andersonville prison. He and Eliza adopted a son, Willie Franklin Stump, age two (not sure ever officially or just had permission to take him from the Poor House in Crawfordsville) and he was an amazing young boy (high grades, worked in the church, quite musicially inclined, just an ideal child) until Eliza was taken to the hospital where she was operated on for six cervical tumors (one weighing six pounds) from which she died. Willie went wild after that and he and Hiram's second wife, Eva never got along. He ended-up in Reform School (for stealing a dollar twice from Eva among other small crimes), and later sent home to die due to consumption (what we know as tuberculosis) dying in Hiram's arms on April 12, in 1894. Hiram missed Willie and Eliza more than most I do believe as he wrote about them so often in these diaries. Just wish the rest of Pratt's diaries he wrote for over 50 years as a barber in Waveland still existed :( kbz - ENJOY !
---
Wednesday July 1 -- $1.60. Eva's face while it is not so badly swollen is yet red and more painful. The doctor recommends she continues the use of the medicine already prescribed. Richard Rusk's daughter Carrie came in from Ft. Wayne tonight.
Thursday July 2 -- $2.10. Hubert Loudermill went out to Deer's Mill for me this morning and got $1.95 worth of bran for cow feed. Had a bag of corn cracked for chicken feed. Paid $5 for another thousand pounds of ice. The ice bill will exceed the bill for coal during the winter. Paid 30 c for a pound of chiped dried beef. Eva complains more of her face being sore than at nay time since her affliction.
Friday July 3 -- $5.60. Mercury up in the 90s. Mrs. Smalley of Greencastle, Ind called to see me a few minutes yesterday morning. Her daughter Edith was with her, also a young woman from Indianapolis who remained in the carriage. They were over to the birthday gathering in honor of Mrs. Lloyd, Mrs. S paid Eva $3.25 and took up her note $50.00
Saturday July 4 -- $5.90. Paid 10 c for 5 lemons 10 c for a dish of cream and 5 c for a lemonade. Just 40 years ago today, I was a participant in the battle of Helena, Ark. It was the biggest celebration of the 4th that I ever saw. A great many people got badly hurt that day. We had 2 good showers of rain this p.m. I could not go to the ice cream supper given by the women of the Christian church. Fire crackers were all the rage ? tonight.
Sunday July 5-At 15 minutes after 6 a..m. Mr. James Alspaugh and I were on way to Greencastle. 5 minutes pas 11 I was in college Ave ME Church. We took dinner at his daughters, Mrs. Walls. Mr. A eat dinner with his daughter, granddaughter and great granddaughter. There was 4 generations sitting at the table.
Monday July 6 -- $5.50 Paid 4.90 for 35 gals of gasoline. 25 c for a quart of ice cream took it home Eva and eat it before our bedtime. While in Greencastle I called to see Mrs. Smalley and her daughter Edith. Some say it is 25 and some 28 miles from Waveland to Greencastle. Bob made the trip in fair time and did not seem to be much tired. Paid 30 for return charges on the laundry. 35 c for the washing of our wearing apparel. We are having warm weather.
Tuesday July 7 -- $1.20. I sent $1.50 to the Benicia ? Diamond Co of Indianapolis for a ring for my wife. I have been promising to get her one for a long time. Sent the St. Louis Star $2.70. The wheat threshers have begun wheat threshing. The t urn out is sure to be light. Paid Doren Clore $3.60 for 20 lbs of honey
Wednesday July 8 -- $2.30. There was a good big rain passed from the west going south of us. Well I am glad it done some body much good. We are ready for a good down pour in this vicinity. I contracted with Winter Fullenwider today for a load of 30 bushel of corn to be delivered some time in the month of August.
Thursday July 9 -- $1.60. Paid 25 c for a couple packages of Arbuckle Bros coffee .20 for a can of red salmon. My rate of assessment in the AOUW is now $8.40 per month and I am not able to pay it. I expect I will have to drop it. We eat ice cream tonight at James Alfreys hot 96.
Friday July 10 -- $3.95. Paid 25 c for one doz of lemons. We had a good lot of lemonade to drink at the dinner or noon meal. The ice cream we used at Alfreys last night cost 20 c. Paid 50 c for a pair of spectacles for Eva. She cant see to do her housework without the aid of spectacles. Zola Maring (Moring? Maning?) was married last Sunday. 96 today.
Saturday July 11 -- $7.90. Paid 60 for beef and pork steak. Had two shoes put on Bobs feet behind cost 60 c. One quart box of blackberries 10. Repairs on the wheelbarrow 50. There was a splendid rain commenced to fall at 11 o'clock and lasted for 45 minutes. Bless the Lord for the rain it was a God send. I wont quite make home by midnight 15 of 12 now.
Sunday July 12 - Visited Willies grave at 15 after 12 or noon. The beautiful rain of last night kept me from getting out of bed as soon as I had intended. I was in me seat at church in time for the morning sermon by the Presiding Elder Schell. He spoke for nearly an hour. I liked him fine. Never got sleepy. Late this pm. We returned from Kelsos and I took Charlie Connors children out riding. Heard Bro Moorman preach tonight.
Monday July 13 - $3.53. Paid 35 express on the return of the laundry. $7.70 for 55 gals of gasoline. So nice the rain we are having cooler weather, can sleep comfortable under one cover. Mrs. Dulin spent the afternoon with Eva. There is a free concert in town tonight. They are medicine venders Eliza was buried 15 years and 9 months ago today. Willie was buried 9 years and 4 months ago today.
Tuesday July 14 -- $6.40. Paid 35 c for family washing. 25 c for doze lemons 10 c for ex-cels a prepared wheat for eating. 45 c for two pair of Shawknit socks for myself. The weather after the rain remains cool, corn will not do much good at growing until warmer weather. I gave John Rosebaum $3 tonight to give The Benitia Diamond Co in exchange for a ring for Eva. He will go over the Indianapolis tomorrow.
Wednesday July 15 -- $4.25. Paid 5 c for 8 small cucumbers. I took John Rosebaum over to Milligan this morning in time for the train for Indianapolis. His wife is over there confined in the hospital for the insane. She is unable to recognize her husband. John bought the ring for Eva. It is real pretty. Farmers are over whelmed in work putting away the crops.
Thursday July 16 -- $.70. Paid the laundry bill $4.83 Sent Coulter Optical Co $1.20 Acorn Manufacturing Co both the later of Chicago $4.23 expense 10 John Spruhan and son Guy returned from Texas yesterday a.m. day before yesterday. I sent the Sentinel Co $3.13 (expense 7c ) for FN Johnson and HA Cuppy and Co. Eva and her sister Mary were callers at Mrs. Bloomfields this p.m.
Friday July 17 -- $1.85. Ten cents for ½ gallon of milk. We do not think it best to use our cows milk at present. She will be refreshed next month due to calve 9th. Paid 15 for 1 doz bananas 10 c for 2 doz small cookies. 5 c for 4 tomatoes 5 c for a loaf of bread. Rained a little today. I was sick nearly all of last night.
Saturday July 18 -- $9.05. Paid 20 c for beef steak. 35 c for express in the laundry returned from Logansport. 75 c for money order sent to Hearts, Chicago American. We were done work a few minutes before 12 or midnight. For my supper I paid 15 for ice cream. There was a big rain and wind storm past north last night
Sunday July 19 - I visited Willie's grave before going into the meeting house. Bro Paxon was more than usually interesting. I did not get a bit sleepy. I took Eva over to her sister Nancy Kelsos before church time and on the return took Miss Sadie Barton to church. After dinner I took Edith Gilkison and Madge Spruhan out to Pleasant View. Bob McMains and his daughter were here today. I was at church tonight and did not get sleep cool tonight.
Monday July 20 - $3.80. Express on goods from the Acron Manufac Co of Chicago $6.30 for 45 gal of gasoline. The News of Saturday came in tonight. The News due tonight will be here tomorrow night. I am going to order them via Guion when they miss they will come up on the early morning train. Paid 35 c for washing of wearing apparel. This amount is paid weekly.
Tuesday July 21 -- $1.05. The weather is getting a little warmer. We had a light rain fall late this evening. The Pontif Pop Leo III of the Roman Catholic Church died yesterday morning at 4.06 New York time 12 high noon. He was born 1810. He had never been sick.
Wednesday July 22 -- $1.60. Eva had a nicely fried chicken for our dinner. It was the first of our raising. Bought of Bob Kelso a load of mowed oats 1822 pounds at 30 c a hundred $5.46. Miss Bertha Switzer of Terre Haute is up on a few days visit. She taught in our t
own school last year. I sent sister Maggie Pratt of Ottumwa a letter and a present to Carrie.
Thursday July 23 -- $2.35. Paid 20 c for meat 60c for milk. Mr. Wm. G. McVey in the interest of the Indianapolis News was to see me today. I gave him $10 for dues on the News. He is going to see if arrangements can be mad e at Guyon (sic- Guion) to have the paper put on car even if train does not stop. Warm today.
Friday July 24 -- $4.00. Bob earned a dollar of this and Eva bought 6 gal of black for $1.50 using 50 c more the she got of "bob" He was out until after 9 o'clock tonight. Clay Lewis put a load of hay in the barn this morning. I have not paid for it yet. The weather is getting real warm again. Eva was up yesterday and selected some dress goods by samples.
Saturday July 25 - -$8.80. Paid 30 c for steak 2 lbs 10 c for a dish of ice cream we were done work by 15 min of 12. Harry Barr took in 2.55 this is the most he has taken in any one day since he has been with me. The women of the Methodist Church gave an ice cream social tonight. They were short on cream. Sold 19 gal and could have sold some say 50.
Sunday July 26-I went to meeting this morning with my wife. Hitched to the Phaeton and went to Maude Bloomfields for her. This afternoon we went up to Alfreys and spent a part of the evening. At 15 minutes after 4 o'clock I took a drive had John Spruhan for company . We went to Browns Valley, Lapland, Parkersburg, Russellville and home. Heard Moorman tonight 15 minutes.
Monday July 27 -- $5.05. Paid 2.10 for gasoline. Paid 30 c for milk. We had a beautiful shower of rain commencing after 1 o'clock. The corn ground was needing it very bad. Lightning struck one Doc Sullivans big barns and it was burned. About 40 ton of hay and a 1000 bushel of corn. Paid the Star of Indianapolis $1.02 by "meek." ?
Tuesday July 28 -- $1.45. Took home a half gallon of ice cream cost 50. Doc Sullivan said he had 90 tons of hay in the barn that burnt and 2000 or more bushel corn. He allows his low aside from the insurance will be 43100. We had another rain tonight. These rains are not general but go in showers. 4 miles south and 7 north there was no rain.
Wednesday July 29 -- $4.40 Paid 4 weeks rent to and including the last Saturday in June Mrs. McCormick says her husband will want to use the room for other business and I will have to vacate the room. Sprinkle can cost 40. Eva was out to the "Shades" yesterday.
Thursday July 30 -- $2.55. The amount paid for rent yesterday was $4.40. For beef steak tonight 30 c 2 lbs. Will Milligan has put a load of snowed oats in my barn. Don't know yet how much it weighted. Showers of rain today passed us by. Sent the Columbian laundry 96 the amount due them for work done last week. Sent yesterday $5.47 to Uion Mutual Life Ins Co of Portland Maine.
Friday July 31 -- $2.45. One gallon of vinegar 20. Half doz sugar barrels 60. I want to have these filled with oats. I am expecting 50 bushel from Jim Alfrey. Bought one pound of butter of Nancy Kelso for 20. Within the next 3 weeks we are expecting to be prepared to make butter for our own use and then some. Cool of nights.