FEBRUARY 1895 - HIRAM A. PRATT DIARY
Waveland, Indiana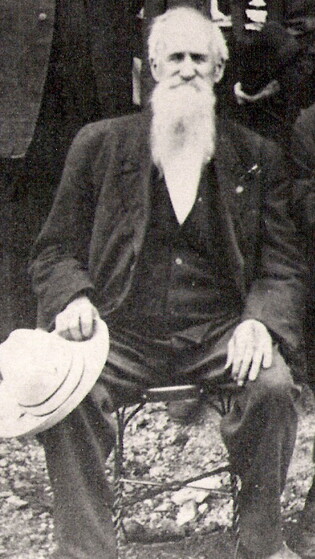 Note: These diaries were in the Waveland Public Library for decades but were disposed of by a librarian several decades ago. Luckily, another librarian's daughter (thanks sooo much Pam, at the death of her mother, Virginia Banta Sharpe found them in some belongings and gave them back for proper housing. A complete circle; however, only 14 of the 50+ diaries were saved from the library's incinerator. I'm a librarian too and thought since they'd been lost to posterity for so many years that it would be a good thing to transcribe them and give them to the world. They are currently housed in proper temperature/storage at the Crawfordsville District Public Library - typed as they were written
Note 2 : Karen Bazzani Zach (transcriber) was raised in the big 'ol town (500 people) where HA Pratt lived 5 decades before I was born. I remember the building where his little shop was and wish it was still there. What an interesting little place. ALAS! Progress !
Note 3: Some information about Pratt -- he was born in Parke County, Indiana April 20, 1840 the oldest child of eight born to Erastus & Elizabeth Allen Pratt and died October 12, 1914 in his beloved Waveland, Indiana. He was twice married, first to the love of his life (he kept a life-sized poster of her in one of his cabinets at his barber shop, even long after his second marriage) Eliza Franklin Shaw (born Oct 23, 1841 died Oct 12, 1887), and #2 to his friend, Evaline "Eva" McMains. He was very active in the community where he and Eliza chose to live. He gave generously of his time and money to the Methodist Church in Waveland. For a few years, he served as Marshall of the town. Also, he worked diligently for his Odd Fellows, Rebekah & Knights of Phythias Lodges, was for a time on the town board, and read to those who could not read from the several newspapers he was agent for. Pratt volunteered and served for three years during the Civil War (Co. B, 36th Infantry), and spent time in the dreaded Andersonville prison. He and Eliza adopted a son, Willie Franklin Stump, age two (not sure ever officially or just had permission to take him from the Poor House in Crawfordsville) and he was an amazing young boy (high grades, worked in the church, quite musicially inclined, just an ideal child) until Eliza was taken to the hospital where she was operated on for six cervical tumors (one weighing six pounds) from which she died. Willie went wild after that and he and Hiram's second wife, Eva never got along. He ended-up in Reform School (for stealing a dollar twice from Eva among other small crimes), and later sent home to die due to consumption (what we know as tuberculosis) dying in Hiram's arms on April 12, in 1894. Hiram missed Willie and Eliza more than most I do believe as he wrote about them so often in these diaries. Just wish the rest of Pratt's diaries he wrote for over 50 years as a barber in Waveland still existed :( kbz
---
Friday Feb 1- 70 cts was the receipts today. Mercury at 7 this am. Was 10 above. Cloudy. Paid the same for flour 50 lbs. Mary Kelso Lewis stayed at our home last night. Ice is about 10 inches thick now and as clear as chrystal. I was at prayer meeting tonight. Our new preacher Campbell by name was present, closed the meeting with prayer and testimony. I know that I will like him. He is full of salvation.
Saturday Feb 2 - Cloudy & Clear. 12 below $1.50. The snow melted in favorable places. The new preacher has gave a talk in the small room. I did not get to go. Paid 35 for a bag of flour. The Rebecca's gave an entertainment in the IOOF hall. They had lunch, all for 10 cts. I quit the shop at 10 ½. F or some reason I do not get very much work to do. My lungs are sore caused from coughing. I have a cold.
Sunday Feb 3 - Cloudy. Snow. 10 above. Eva and I went out to hear our new preacher Campbell is his name. He refered at one time when speaking of the different churches to the Christian church as "Campbellite" Eva being a member of that church took him to task for using the name Campbellite when referring tot eh church to which she belonged. I went out to hear him tonight. Visited Willie's grave.
Monday Feb 4 -- .50. Cloudy. At 7 this morning mercury 10 below. Uncle Jim Alfrey went with me to church last night. He was well pleased with the sermon. Eva stayed with Mary Ellen. I went to meeting tonight. Brother Campbell read the 2nd chapter of 1st Cor with comments as he read. Paid 35 cts for flour and 15 for a 10# sack of meal. Eva done the usual weeks work this a.m.
Tuesday Feb 5 - .10 - Cloudy. At 6 o'clock this a.m. mercury was 12 below. We have had some snow and sunshine rather a blustery day. We eat dinner at Alfreys after dinner I helped unload a wagon of hay. At 2 ½ p.m. I attended meeting only 9 were out and we had a real good meeting. After meeting was out I walked home with Eva. She was there all the time but I did not know where she was sitting. Sittie Ellis her niece at Roseville is very bad sick.
Wednesday Feb 6 - 55 cts. Cloudy and snow lots of wind. At 6 this morning Mercury was 6 below. I did not get to go to our little meeting this afternoon. Bro McL Wasson stoped in for a few minutes and told me that they had a good spiritual meeting. The weather being so very blustering I did not go home for supper. Yesterday I took home a broom cost 30 cts and bought a bag of cow feed weight 87# cost 70 cts. It is my purpose to attend meeting tonight. Bro Campbell called to see me this evening.
Thursday Feb 7 -- .00 Cold and more snow. 10 below. Last night I had a dream I thought Willie was living at home and was at peace with my wife. It appeared to me that I never seen him look more natural. I was glad to see him even in my dream. I was at meeting this afternoon and tonight. The weather is so cold that not very many come to the services. I think we are sure of a real good meeting.
Friday Feb 8 - 1.25. Clear Mercury at 6 this a.m. was 1 below. Last night the Lord permitted me to see my deceased wife. I was oh so glad. Would to God I was permitted such blessings more frequently. I was at our meeting this afternoon and tonight. Had a splendid meeting Bro Campbell took dinner with Smalley's family and afterward visited my wife. He reported a very pleasant visit with her. Great suffering throughout the world in the account of the extreme cold.
Saturday Feb 9 - 26.35 Clear Cold. At 6 this morning it was 1 below. I did not attend meeting today. Bro Mc L Wasson reported a good meeting. My pension check of $24 came in today and I turned it over to the Waveland Bank to replace money taken out of bank to apply on Building & Loan stock. There is to be no meeting tonight. Next Monday night protracted meeting will be commenced. I do hope we may have a deluge of Gods spirit poured upon us.
Sunday Feb 10 - Clear. At 7 this morning mercury was 0. I attended class meeting this morning. It was lead by Brother Conner we had a good attendance and a good meeting. I stood at the head of poor little Willie's grave. I have visited his grave every Sunday save one since his death, then visited it on a week day. Tonight I went to church with Eva and heard TJ Shuey lecture on Christian Citizenship. I was very well entertained. Bro Galey of the Baptist Church preached in the ME Church.
Monday Feb 11 - Cloudy. At 6:30 Mercury was 2 above. 20 cts. I attended meeting tonight. Our little man preached from Acts 1-8 first clause one of the best sermons I ever had the pleasure of listening to. Jim Alfrey met with a very serious accident. He was at the saw dust pile getting dust for packing ice. The pick was under the frozen crust overhead, it fell and caught him. He is now laid up for several weeks.
Tuesday Feb 12 - At 6:30 mercury was at 4. 15 cts is the amount received today on the 11 I gave 25 cts to church for a coal bill. 15 cts for 7# hominy. 15 cts for Daily Journal and today 3.50 for relief on Nebraska suffers. The response is going in from all over the United States to their relief. Two seasons past they have failed to raise sufficient for their substance. Eva and her sister Nancy Kelso visited Aunt Freelove More today. She is their mothers only sister. Cold all day Jim Alfrey is no better is badly hurt.
Wednesday Feb 13 - Cloudy $1.40. At 7 o'clock Mercury 1 above. I had a dream last night and dreamed that it was not a dream for it appeared to me that I saw my deceased wife and talked with her while she was preparing a meal. I told her that I had oftentimes dreamed of her return but now I know that his is no dream. She has been buried 7 years 4 months today. Pd 30 cts for shaving soap. 20 for 2# of beef. Eva prepared some of it for dinner which I enjoyed so well. Ice is 12" thick, very nice.
Thursday Feb 14 - 35 cts. Clear At 6:30 a.m. 3 above. This being St. Valentine day was observed generally by the young. Bro Campbell's text was about what would a man give exchange for his soul, provided he should gain the whole world. His sermon tonight was not as interesting as on last night, but was good. I do not remember to have if ever heard a more interesting sermon than the one last night I have the witness of Gods spirit that I am his child.
Friday Feb 15 -- $1.05. At 7 this am. 5 above. Bro C's text tonight was john 3.3 Verily, verily I say unto you He spoke for an hour his view son conversion are the same as I entertain. To me he was most wonderfully entertaining Eva was at meeting last night but I did not know it. She was at meeting tonight. Bro Fretzer of Russellville was over and joined in the service with song and with prayer. Thawed.
Saturday Feb 16 - Clear. 8 above. 1.50 Snow melting where fairly exposed to the sun. Mercury was 27 in the shade. Eva went to the meeting tonight. I remained at my post all day but got very little to do. Bro Campbell is getting hoarse, having taken cold. He is the best Methodist preacher I have ever heard in Indiana. Paid 25 cts for 5# of white soup beans James Alfrey is getting better. He was at our house.
Sunday Feb 17 - Clear. I attended meeting today. 10 above. Bro Campbells text was St. John 3.3. His discourse to me was wonderfully interesting. When meeting was out Eva was in the carriage of Kelso's and were out at the street waiting for me to go with her over to Kelsos' Mary and her two boys were over with the carriage. I came home at 5 p.m. and milked the cow. Eva came over with the family to attend church. Attendance was large.
Monday Feb 18 - 10 cts today. Cloudy. Snowed a little last night. 23 above. Snow melted considerable today. Mercury 31 in the shade at noon. Last evening at about sun down I visited Willie's grave. Bro Campbell took for his text tonight 11 Tim 2 c 19 v being very hoarse he was not as interesting as he otherwise would have been. His talk was good to the point. Eva was out to meeting. The services to her seem very foolish.
Tuesday Feb 19 - Clear. 35 cts. Snow melted fast today 15 above. In the shade mercury was a very little below the freezing point. Br Campbell preached a good sermon tonight about the wages of sin is death. We are having a real good old fashioned Methodist meeting. Eva was not at meeting tonight. Nancy Kelso was there. Bob Barton returned from Texas. He used to live here 20 years ago. Aquilla Groves eat supper with us tonight.
Wednesday Feb 20 - 30 cts. Cloudy 7 a.m. Mercury 17. Snow melted rapidly at 5 this evening it was 34 above zero. I wrote a card to our presiding Elder HM Middleton to come over and assist a few days in the meeting. We had a real good meeting at 2 ½ this evening. Coffee 2# 58. Fresh backbone 25. 1# evaporated pears 20. Baking powder one lb 10 total 1.06. Rain after night turning colder. Wind high. Eva intends to attend her church prayer meeting. Good meeting tonight.
Thursday Feb 21 - 55 cts. After night awhile 20. Clear. We had a very sort rain fall. The day meetings are the most interesting of any we have. Bro AJ Wolfe takes issue with the minister on the line of Holiness. While he believes it is a bible and Christian doctrine, he don't believe the people will tolerate it here. Bro Campbell presents the doctrine of full salvation with wonderful clearness. We had a good meeting this p.m. and also tonight.
Friday Feb 22 - 90 cts. Cloudy. 18. Ex Gov Isaac P. Gray died a few days ago in the city of Mexico (sic). He was a minister of our government by the appointment of President Cleveland. His body arrived at Indianapolis today. Fredric Douglas is dead. He died of heart disease in the city of Washington a day or so ago. He was the most noted man of color of his race. I was at meeting at 2:30 and 7 p.m. Good meetings.
Saturday Feb 23 - 2.60. Clear 21. Snow about all gone. Mort Butcher reports the meeting tonight real good. I would like to have been there. It is now 11 o'clock and I am going to go home. After church last night I went to the Knights of Pythias Hall. Charley Oglesby was made an Esquire. Paid 10 cts for repairs of washing machine 50 cts on past payment of a load of stove wood. 8 cts a gal for 5 gal oil on yesterday. Eva does not go to our meeting often.
Sunday Feb 24 - Clear Sun up by this time we were up. 25 degrees. I was on my way to meeting by 10.30. Visited poor little Willies grave before I went in the meeting house. Services were good home well filled. I was back at 7 o'clock for evening services. Attendance was good, a goodly number were forward for prayers. Eva went to hear Bro Shuey said she never heard a better sermon in her life. She was well pleased.
Monday Feb 25 - 40 cts. Snow is about all gone. 34. There remains ice and snow in places drifted. Anderson McMains was in town this a.m. he dined with Jas Alfrey's Lloyd went home with him. There was no afternoon meeting. A real good sermon tonight. Text "What would a man give in exchange for his soul." The call for seekers resulted in one coming forward. Eva was at Alfrey's when I called at our home. Bro C's wife and two children came home.
Tuesday Feb 26 - 40 cts. Clear. Paid .50 for a load of stove wood. 28 degrees. Eva went to the lecture tonight. I went to meeting had a good meeting. Bro. Bannister of Terre Haute was there also. The crowd was not more than half as large as usual. I left my lecture ticket with Eva and she gave it to her sister Mary Ellen Alfrey. Mercury was 50 degrees above zero at one o'clock. Sugar Camps are being opened. Work has been commenced on the hotel sight.
Wednesday Feb 27 - 30 cts. Paid on account 75. 40 degrees, cloudy. Snow is all gone on places fair to the sun. The meeting this afternoon was not very well attended, yet we had a good meeting. Bro. Wolfe has gone wrong. He does not want the pastor to preach Holliness to Christians. If he does, he will withdraw from the services but was not at the meeting tonight. I was at the AOUW tonight. Eva attended her church prayer meeting.
Thursday Feb 28 - 35 cts. Rain 50 degrees. One year ago today Willie was moved down to Mrs. Bloomfields from the rear room of my shop that he might have a comfortable place to spend his last days. The weather was nice and warm. He drove the horse which was hitched to the dray. I was at the meeting this p.m. and at night. Good meetings. Eva is 50 years old today. She and Jimmie Alfrey and wife spent the day at Buddy Kelso's. Herbert Lewis came home with her.