Diary of Hiram A. (Hick & also called HAP) Pratt,
Waveland Barber
(Standard Diary #31)
-- February 1884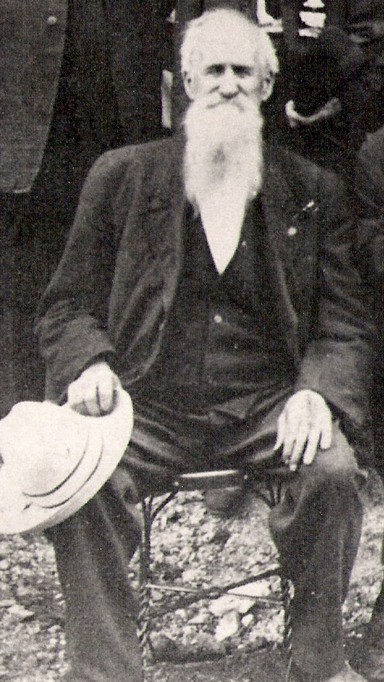 ---- On cover page -- HA Pratt age 44 on April 20, 1884 - note this is Leap Year
---
Friday Feb 1 -- $2. Paid $1.15 for meat 10 cts for spice - 40 cts for coal
oil 2 gal. My wife sent Mrs. Hollingsworth a basket of porivion (provisions?) this
afternoon. I received 10 copies of the Terre Haute Express sold all but one.
My lungs are sore from cold.
Saturday Feb 2 -- $19.20. Paid $1 for the half soling my shoes. We were done
work by 11 o'clock. Have had a big run of custom (ers?). The snow is all
gone, a little ice yet remainst o be seen on the north side of hills.
Sunday Feb 3 -- For this date see Feb 9 -- $10.35. I sent Indianapolis
exchange to John C. New & Son of Indianapolis $20.67 fee 10 cts. Sent 3.33
to Sentinel Co. fee 3. Paid 40 for a can of oysters. A little snow fell
today. Done by 10 1/2.
Monday Feb 4 -- For this "date" see Feb 10 - attended class this morning
P.M. Conner leader. Had a good meeting was at SS this p.m. There was a
temperance lecture in the Methodist church tonight by Hoffman, a blind man.
Tuesday Feb 5 -- $1.30. 1 lb roasted coffee 20. Paid AOUW $3. A rain has
been falling all day. Train coming down was detained several hours on the
account high water. Paid 90 cts for church expenses.
Wednesday Feb 6 -- $3.55 Paid 50 cts for rubber shoes for Willie. 45 cts for
beef steak. A slow rain has been falling almost all day. The Ohio river is
up about as high as it was last spring. Wm. Canine Sr was burried (sic)
yesterday. Died 3rd at 4 p.m
Thursday Feb 7 -- $8.55 - Pd .40 for fresh beef .20 for 1 package of coffee.
.75 for express on a sewing machine to Chicago for readjustment. A rain has
been falling all day. The Ohio river is about as high as it was last year.
Friday, Feb 8 -- $4.25 Paid $1 for postage Stamps. Camp boal ? .45 The day
has been damp - cloudy. Flour 80 cts. 1 can of peaches 20 cts. For dentistry
for wife $7. Tonight I am feeling much better than for several days.
Saturday Feb 9 -- marked out by him 3rd - We all attended divine worship at
the Methodist Church at 10 1/2 a.m. This afternoon at 2 1/2 the two Willies
and I attended SS. Since last report I have paid for church and Sunday
school $3.50.
Sunday Feb 10 -- marked out by him with 4th marked above -- $4.70. Paid 50
cts for sorghum molasses and 20 cts for thread and 15 cts for shoe pollish.
Rained this ought to have been writen (sic) on Feb 4. The mistake occured by
turning two two (sic) leaves at once.
Monday Feb 11 -- marked out with 7th by HAP -- $3.95. Paid 50 for a bottle
of cough medicine and 45 Eliza was up town and made a purchase of $1.20. We
have had rain most all day - just a light rain. I attended prayer meeting
tonight - For paper $1.75
Tuesday Feb 12 -- $3.50. Pd rent the first of the month for last month. Sent
$1.08 to Texas Siftings Company NY. The Ohio is reported raising higher and
higher money and clothing is being sent in from all over the country. Rain
today.
Wednesday Feb 13 -- $2.90. Soap 3 cakes 25 cts. yarn 10 cts. thread .05
chicken feed 30 cts. Rained more today. Then rise has beat last years record
several inches reported this morning 67.3 ft in and rising. Will Thornton
has bought Andress' barber shop.
Thursday Feb 14 -- $7.15. I returned a sewing machine to Chicago Ill today.
Freight $1.15 Sent to SH & E Y Moore $9 Cost .08 .05 cts for candy. Ticket
for Willie to attend the play, 25 cts "Elenore" by home talent tonight in
Milligan's Hall.
Friday Feb 15 -- $2.65 sent .60 to Farm & Fireside Pub Co Springfield Ohio
and 90 cts to commercial gazette. Paid 70 cts for lard and 30 for fish. The
Ohio yesterday at one o'clock reached its highest being a rise of 7'3/4 of
an inch.
Saturday Feb 16 -- $8.65. Paid 40 cts for beef - The Cin Enq did not arrive
this evening. An original play entitled Elenore was played here tonight for
the third time this week - it was writen by JD Tracy.
Sunday Feb 17 -- Today I attended preaching at the Methodist Church and
Sunday school same place. The rain fell nearly all day. Tonight I went early
to bed. Willie Hauger went to meeting.
Monday Feb 18 -- $10.75. Yesterday I gave the church $1. A week or more ago
I paid 3.59 for a load of coal. 2 gal coal oil 40 cts. 5# fresh beef .50.
Last week I paid $2 interest on $100 for 3 months. Pd 35 cts. for 4 rubber
bands for our little boy. He uses them on a cross gun.
Tuesday Feb 19 -- $6.20. Sent $15.10 to the American News Co NY 2 gal saur
kraut .50 Late this evening we had a big snow and wind storm which lasted
for several hours. Murcury fell in a few minutes from 54 degrees to way down
below the freezing point.
Wednesday Feb 20 -- $2. Paid 55 cts in return of machine head from Chicago
and .80 for sack of flour .20 for 1 pack of coffee .41 yds cotton good
$4.40. Mrs. Hutton called on my wife this evening. Roller skating in
Milligan's Hall tonight.
Thursday Feb 21 -- $2.45 Six boxes of matches sent a sewing machine head to
Chicago freight .55 Eliza visited the school today. She was accompanied by
Mrs. John Hutton. The storm of Tuesday reached as far south as Florida. The
weather remains cold yet.
Friday Feb 22 -- $2.50. We butchered our big turkey this morning. It was
about 7 months old and weighed when dressed for the oven 13 1/2 #. Mrs. Read
and daughter Lizzie ate supper with us tonight. Snow and wind.
Saturday Feb 23 -- $10.10. Paid 20 cts for coal oil; 40 cts for beef. We
have not had a very busy day. Yet a little Moore (sic) than last Saturday.
The cold weather continues, thaw'd a little. 60 persons went to Rockville
tonight, "Union Spy!"
Sunday Feb 24 -- Had a light snow last night, a very little fell today. I
attended class this morning, Sister Hollingsworth gave in a good testmony.
She had as she said a new testamony. She now realized that the blood of
Jesus did or does cleanse from all sin.
Monday Feb 25 -- $7.35. Paid $1 for a gallon of new maple molasses. One pk
of coffee .20 Sent 85 cts to Chicago for the Inter Ocean for JW Jenkins. Tom
Campbell of Darlington was in to see me today. Paid $1, for 11# sugar. Eliza
did her usual washing this a.m.
Tuesday Feb 26 -- $5.05 3 cakes of soap .25 Sent Enq Co. $5.88. I have
engaged 5 sugar trees from John L. Goben, Billy Hauger will work them up
into stove wood. The weather continues very damp. No sun for several days.
Wednesday Feb 27 -- $1.70. Pd 30 cts for chicken feed and 60 cts for corn
feed. They (Hummels) are preparing to mvoe. The weather has turned
considerably colder and a snow is falling. Little WIllie has a bad croupy
cough. I got a couple of powders from Dr. Ball. I am not well.
Thursday Feb 28 -- .80 Pd .40 for meal .10 for 2 shirt fronts. .70 for lard
.70 for flour cought Medicine $1. The weather is growing cold all the time.
I attended our prayer meeting tonight. There was a good attendance and we
had a good meeting.
Friday Feb 29 -- $2.70. Pd 50 cts for cough medicine. The weather has been
real cold all day. Water froze in the house and shop. I have a very bad cold
and cough and am so hoarse that I can't hardly talk. Pills .30