1933 Lula Goshorn Diary
Lula Goshorn's Journal - Ladoga, Indiana (1930-1944)
"A little background from Judy Goshorn"
My grandfather, Ezra Goshorn, kept a journal, which I have somewhere. He died in April 1930 and that is when this one starts. Lula wrote for her church magazine and the county paper, but apprently had not been keeping a journal. The first entry is a few days after Ezra's funeral, when the older (Marie, John and Roland) children were going back to their lives. Only two children were left at home, my dad, Lewis, age 15, and Ruth, age 9. The running of the farm fell to my dad and Lula. I am amazed at the work a 15-year-old boy did, while attending school and doing well there.
Many of the snapshots I have are early 30s and make good illustrations for this journal :) ENJOY! - JWG
Note

: Their church was the Brethren Church on 750 South - Ezra had both the pastors :)
Note

: This is Lula with her chickens and cows - this is much earlier - probably 10-12 years but it shows what a farmer's wife would do at this point in life!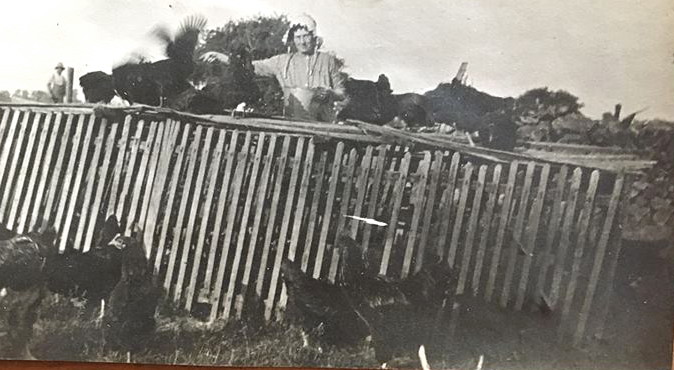 1930
--
1931
--
1933
--
1934
--
1935
--
1936
--
1937
--
1938
--
1939
--
1940
--
1941
--
1942
--
1943
--
1944
---
JANUARY 1932
Jan 1 - Nothing
Jan 2 -- Harley hauled 2720 lbs. Ken. coal 5.25 ton today. Hauled up small load corn to feed pigs out in field instead of muddy lots.
Jan 3 - Nothing
Jan 4 - Nothing
Jan 5 - Nothing
Jan 6 - Nothing
Jan 7 - Bought light bay mare about 10 or 11 yrs old of Marion Cummings $35.00. John Himes taken to ME Hospital for bladder treatment. Anointed last evening
Jan 8 - Nothing
Jan 9 - Ruth took music lesson - we took 2 hams - 1 shoulder to meat shop to be smoked
Jan 10 - Nothing
Jan 11 - Harley butchered pot bellied spring calf. Sold him 1 hind quarters we kept 1 - Sanders 1 front of Mark H the other. 8c front. 10 c hind qr. Weighed 45 & 46 lbs. Ruth went to school. Has had w. cough about 7 weeks. Whooped & vomited for 3 weeks, mostly at night. Still warm for winter, the coldest was 17 above just one morning. I'm about sick with my nerves. Reaction from whooping cough, etc. I guess sick nerves are awful feeling things.
Jan 12 - Sold "Peaches" brindle cow on market. Top price for beef cow. $4.50 weight 1300 lbs. $54.79 clear after trucking etc. Sold calf hide for 66 c at C'ville. Sanders got his beef today paid 3.60. Mark H got his but didn't pay yet. Calf hide 3 c lb. good hide seconds 2 c.
Jan 13 - Temp 65. Above zero.
Jan 14 - Nothing
Jan 15 - Nothing
Jan 16 - Ruth took music lesson. Lewis has bronchitis. Harley did all the work this eve. Two insurance inspectors here yesterday. Must fix chimneys in Paul's house and get spark arresters for all chmns in use on all th ehouses. Move gas & fix exhaust pipe to engine.
Jan 17 - Nothing
Jan 18 - Nothing
Jan 19 - Nothing
Jan 20 - Nothing
Jan 21 - Nothing
Jan 22 - Nothing
Jan 23 -Ruth took music lesson. She coughs pretty hard at times yet. I suppose will until warm weather. Grandma had her tumor lanced this week and it has been bleeding. Dr. doubtful it heals again. The desease (sic) has eaten through to the veins.
Jan 24 - Nothing
Jan 25 - Nothing
Jan 26 - Harley butchered one small hog for us yesterday p.m. brought it up today. Rainy and muddy can't fry out the lard outdoors. Hold it over until tomorrow. 1730 lbs coal hauled yesterday for kitchen.
Jan 27 - Refunds from Farm Bureau. Gas. oil. & kerosene $11.81 . Farm B elevator, salt. tankage ? etc $2.16. Produce asso for cream $18.50
Jan 28 - Claud Harshbarger worked all day at Paul Mahorneys fixing chimneys with cement and fixing fireplace sheet. $6.,00 charge.
Jan 29 - Mark Himes paid 3.60 for the beef bought Jan 12.
Jan 30 - First real cold snap down to 10 above. Ruth took music lesson, got a new book of childrens songs. $1.25. Paid Mr. Marks 30 c for transfer of title to Goshorn Heirs.
Jan 31 - Nothing
FEBRUARY 1932
Feb 1 - Nothing
Feb 2 - Nothing
Feb 3 - Nothing
Feb 4 -- Nothing
Feb 5 -- Roland came home Tues. night and went back today. Between terms. So glad for him to come. Mack nearly goes wild over him, he's so glad to see him. Roland fixed the oats seeder, a drain pipe and the Maytag engine and went to C'ville for me.
Feb 6 - Ruth took music lesson. We went to C'ville got Lewis graduation clothes, suit cost $14.95 went to Leo Smiths east of Mace to see about a cow. He is having big sale Wed. May sent Ruth a birthday cake. Mary A & Lois Irene came up the first since before Thanksgiving. We were so late at C'ville took L& R to restaurant for lunch. Ruths first experience. Mark & Leonard here. John Himes operated on Thursday. Getting along very well. 2nd time.
Feb 7 - Nothing

Feb 8 - Geo. K & Harley fixed a gate for the corner at McKinseys on the estate. Geo's cattle had broken out. Got 25 bu oats ground at elevator for the hogs. Cost 85 c.
Feb 9 - Sold Rosa Rogers 11 doz eggs 13 c doz to set. Paul M. says clover is all dead and thinks we will have to sow soy beans. He furnish 1/2 seed & put up the hay. We to furnish 1 team & hand at hay time and get 1/2 the hay. Later we will 1 hand alone.
Feb 10 - Harley got a 7 yr old Jersey cow for us at Leo Smiths sale. Be fresh June or July 30. Bud Elmer Porter 1.50 to truck her here. Hope to sell more cream now. The other Jersey has brought the test up. Warmest Feb day on record 70 above zero. Cloud & damp.
Feb 11 - Nothing
Feb 12 - Nothing
Feb 13 - Got Lewis picture taken for grad. Layne's Studio C'ville. 3.00 doz special price cheapest regular $5.00 Ruth took music l. Paul M. contracted for 54 bu soy beans of Ward Young. 50 c bu. to sow on 27 acres where clover died. Harley been working in town for three days. I will not have to pay him then. Mack been gone ever since Roland left except one day. Suspect some one killed him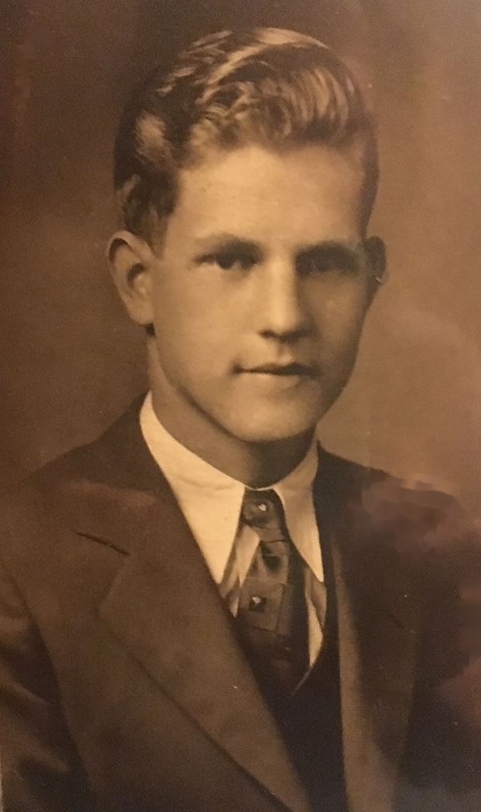 Feb 14 - Nothing
Feb 15 - Just heard from John. Has passed the Bar examination and now we have a Lawyer in the family. He has studied at night, attended night classes and carried on his chemistry work in the day time. Perserverence - grit and hard work that is John. How pleased Papa would have been to know this.
Feb 16 - Ralph Gotschalls have a new girl - Gene Himes little girl 5 yr old died with scarlet fever. All the child they have. (note this is Marianna Jo Himes born 1926 died 1932 buried Ladoga Cemetery)
Feb 17 - Beginning to sell cream to Farmers Co. Leslie Bruce, Cream truck driver. Sold Blackie at stock yds got $22.35 after expenses (25.50 total)
Feb 18 - Nothing
Feb 19 - Harley paid for his beef $4.00. Has worked at town 5 days which relieves me of payhing him for that time. Lewis is home with fever and sore throat. First school he has missed on account of his own sickness in 3 years. Had measles last yr just after school closed.
Feb 20 -Rented Paul the woods pasture (8 acres) for $22 so he can pasture his cows. We can rent the estate pasture for that and wont be so hard on us for we won't have the milk cows to drive each day. Lewis been sick for 2 nights and days with flu. In bed fever 103, slightly better today. Schools were dismissed at noon yesterday on account of the epidemic. Everyone seemed to get sick at once. The Dave Mangus house burned this a.m . so many big houses have burned during the last year. Red cow had calf this eve. Brought 5 old sow sup today.
Feb 21 - Nothing
Feb 22 - Nothing
Feb 23 - Nothing
Feb 24 - Nothing
Feb 25 - Nothing
Feb 26 -- Fine weather. All the spring birds singing. Harley plowed our garden yesterday and he and Geo. K fixed the ditch on Estate. Today commenced to plow th eold wheat field with the horse plow. Ruth has had a touch of the flu for two or three days. Lewis got out doors aobut an hour today. Ruths fever not nearly so high as his was. School dismissed all week. School at New Ross closed.
Feb 27 - Nothing
Feb 28 - First pigs came. 1 sow 8. 1 old snuffly sow 5.
March 1932
March 1 - Old sow 8 pigs
March 2- Old sow 6 pigs. Lindberghs 20 mo. old boy kidnapped.
March 3 - Mark Himes here assessing. Ugly cold wind all week. Children in school again. I'm still coughing. Lewis coughs too. Old sow 9 pigs - lost 2
March 4 - Nothing
March 5 - Ruth took music lesson. Snowing & blowing a blizzard today, most like winter of anything yet. Sold load wheat $28.29 - 46 c bu.
March 6 - Coldest this winter 2 above zero. Church services recalled - so cold & so much sickness.
March 7 - Lewis has pleurisy. Had Dr. L see him. Thinks I am doctoring him all right. Bryonia & aronite alt. every hr. Ruth went to school. 2 above zero
March 8 -- Lewis much better. Very cold yet. Such dreadfully cold wind. John's moved this week to 961 Palmer Rd, Columbus, O.
Mar 9 - Nothing
Mar10 - Nothing
Mar 11 - Nothing
Mar 12 - Cold yet. Ruth took music lesson. W. McCoy had to come get the machine and clean the oil screen & put in new oil. Men came and put "spark arresters" on chimneys free of charge for the insurance co. Doubt if they do any good but am thankful we don't have to pay for them. Lindberger baby not found yet. (photo crimefeed.org)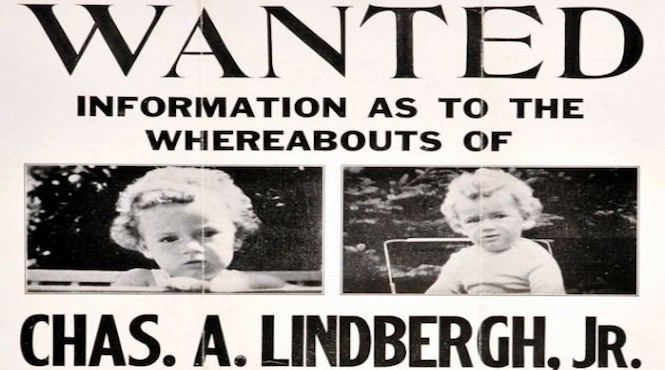 Mar 13 - Nothing
Mar 14 - Nothing
Mar 15 - Nothing
Mar 16 - Warmed enough today to thaw out the seperator. Have 3 lambs. Harley went to Ind'plis stock yards with Davidson boy just to see the sights. Let old sows & pigs out this p.m. cleaned out sheds. Everyone most losing pigs. One man lost over 100, another every one from 20 sows. Sanders lost sow & pigs.
Mar 17 - Nothing
Mar 18 -Nothing
Mar 19 - Ruth took music lesson. yesterday bought 500 lb. Murphys Hog mineral $23.00 ave 40 c on each 100 lbs by getting that amt. Got 2130 lbs coal. Hope this will last the winter out.
Mar 20 -- 7 lambs how. Cold wind yet. Ground frozen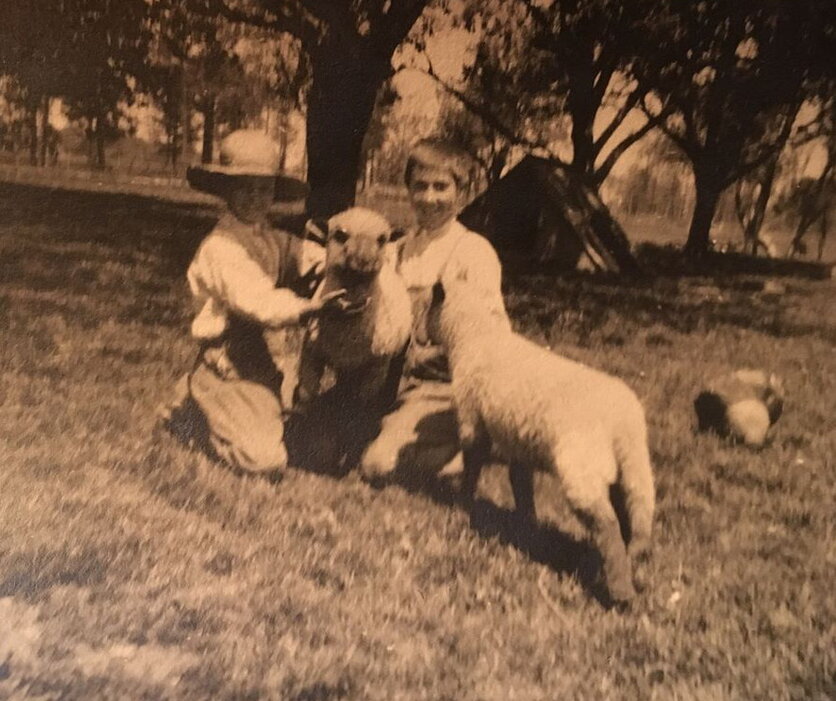 Note:

Although these lambs are about 10 years earlier, they are Goshorn lambs
Mar 21 - 1 lamb died. Bad, rainy & cold. Lewis working on an electric machine this evening. Has made two fine air plane models.
Mar 22 -- New McNess man here, OB Swiggett. Harley brought up 2 young sow, the 3d one is having pigs at the straw stack. I was just afraid he'd leave them too long I told him last week. Mr. Harmon & Mr. Yeater want 70 bu. seed oats. 20 c bu market price 16c. Jack Grantham died of heart trouble las tnight
Mar 23 - Brought the sow & Pigs up. 5 pigs. Have 19 igs with 3 young sows.
Mar 24 -- Nothing
March 25 - Nothing
Mar 26 - Comingore tuned piano. Roland came Thurs eve. John's came Saturday (today). They went home Easter Sun 27th. Brought Lewis & Ruth some Easter candy. Roland brought a lot of different things in the candy line all very nice. Geo. Frantz bought the estate corn that was in the northwest stall at barn. One hundred (note shrinkage from estimate when new) 90 some bu 25 cv. Total $48.86 - shame for it to go so cheap. Betty Harshbarger sprinkle has a boy.
March 27 - Nothing
March 28 - Nothing
Mar 29 - Harley commenced sowing oats. Roland went back to school. Helped Geo K sow his down ?
Mar 30 - Sent 15 of the largest hogs to Indianapolis today. Mr. Harmon got 42 1/2 bu seed oats @ 20c. Mr. Yager got 25 1/2 bu seed oats @ 20c. Rained yesterday so could not work (at our oats)
Mar 31 -- Hogs averaged 204 lbs. $4.30 top price. Buyers said was "a mighty fine bunch of hots." Trucking etc costs a good bit.
April 1932
April 1 -- Nothing
April 2- Mr. Lee 25 1/2 bu seed oats $5.10 Harley commenced to disc in oats today. Frank Mangus paid for oats he got yesterday 60 bu 10 lbs 15c off for weighing $11.91. Ruth took music lesson. Oats for estate 92 bu.
April 3- Nothing
April 4 -- Harley sowed clover seed on east 20 acres. Terribly windy. In afternoon sowed down the oats across the road in other 20. Paul M. sowing oats today. 34 acres. We furnish oats. He sows clover seed & husks corn free.
April 5 -- Fine spring day. Claude Rogers got 19 bu oats 20c $4.40
April 6 -- Mr. Lee got 5 1/2 bu oats $1.10. Harley finished discing in oats. Paul M & Geo. K. got each of their clover seed sowing.
April 7 - For estate 2 bu & 1 pk clover seed. 1 bu and about a gallon of timothy seed 34 acres. Aobut same amt for Paul M. We used aobut 2 bu tim. seed not quite 2 and 4 bu clover seed here. 40c. Geo. K. using our horses to disc 6 days.
April 8 - Set a hen on duck eggs 10 for 10c Mrs. Clark. Dave Harshbarger died yesterday. Senior class play tonight. Lewis is "property" man. Arranges stage.
April 9 - Ruth took music lesson. She and Lewis planted potatoes. Edith Smith paid for 33 bu oats $6.60. Harley finished sowing oats in east field. Docked lambs. Lewis went to Indianapolis with class to senior banquet at Hotel Antlier.
April 10 - Nothing
April 11 - Nothing
April 12 - Nothing
April 13 - Got 50 g kerosene 5 g gasoline 5 lbs cup grease for Geo K to use on the 14 acres on estate. He will disc the stalks down too before he plows.
April 14 -- Nothing
April 15 - First real springlike day. Sold 26 shoats yesterday. Average 194 lbs top price. $4.25 Cleared $199.00. Paul M. paid 1/2 of pasture rent $11 little woods. Lewis went to the Seniors last class party at Mrs. Harrison's (class sponsor) had a nice time. They gave her a magazine rack.
April 16 - Cool and cloudy all day. Paid tax 154.84 first install. Ruth took music lesson. We made some garden this p.m. engaged 1 ton and a half of 2-12-6-fertilizer 1/2 a ton for the 18 a. back of Harleys and 1 ton for Pauls 24 acres. He pays 1/2. Cost little over $27.00 per ton. GOt Ruth 2 gold fish and bowl that I had promised her a good while ago.
April 17 - Nothing
April 18 - Geo. K. got done plowing with the tractor on the estate. Used it 5 days. Disced the stalks down both ways. Broke one of the discs off the tractor plow. Took one off the old plow down there. Harley finished the field he was "horse plowing" too. I went with Lewis & Ruth to the Baccalaureate sermon yesterday p.m. at Christian Ch by Rev. McNelly. Everything real nice and while I'm glad for Lewis to graduate, yet it makes me sad to think he will have to go away before so long to college. It is so hard to see them leave.
April 19 -- Nothing
April 20 -- Nothing
April 21 - Rained some, first warm rain. Had our first mess of greens. Geo K. got the horses yeterday to disc with. Harley plowed & dragged 20 acres with horses. Commenced on the 18a with tractor yesterday.
April 22 - Lewis graduated in "cap and gown" from Ladoga High School. EM Servies, Princ.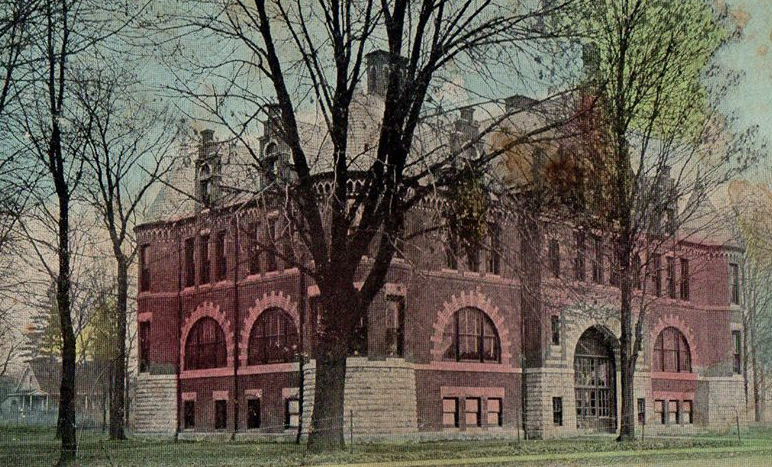 April 23 - Ruth took music lesson. Roy came yesterday evening. We all went to Lewis' Commencement. Very nice. So glad I could go. Roy delivered two comm. addresses in No. Indiana this week. His babies have whooping cough.

April 24 - Roy left this morning. So glad he came. BYPD met here this p.m. cold rainy day.
April 25 - cleared off this a.m. Senior class went to lafayette for their picnic. Rained and hailed in p.m. on them. Rained here but no hail.
April 26 - Nothing
April 27 - Very cold & windy. Geo K. brought horses home. Used them 4 days discing and dragging on estate.
April 28 - Made Harley & Mary a "wedding cake" with 6 candles and had a fish dinner for them. Their wedding day is May 1 but I might not be able to do it then. They have been so faithful, I felt they deserved something.
April 29 - Commenced planting corn. Rained. Geo K used horses and manure spreader 1/2 day.
April 30 - Ruth took music lesson. Grandma's tumor is bad. Opened in 3 places inside of a week. Has 4 openings now. Dr. says it is eating fast.
May 1932
May 1- Nothing
May 2- Geo. K. turned 4 cows on estate pasture today. 1.00 head per month. Rent for other stock goes back to summer rates. We turned 3 yearling on pasture on estate. Geo K. took the horses to work corn ground. We got his team and finished the field back of Harley's house. George's horses won't work with other horses or seperated. So we have one field of corn planted. Took 7 gilts to the woods and took Red cow to Lights Male. Heard Otho Winger give a temparance lecture last night. Very good. We have engaged room 116 in Dorm for Sept for Lewis. Following is a Winger story in regard to personal liberty along the line of Temperance. "A man had a dog. The dog died. The man threw it out in the back yard and let it lie. By & by a neighbor asked him why he didn't bury the dog. "Oh, I'm not ready to," was the answer. A little later another man says, "Why don't you bury that dog its a nuisance." That's my dog, it's on my lot, I own both dog and lot and its no body's business what I do with either. It went on a week or so more, still the man would not bury the dog. Finally, not knowing what else to do they appointed a committee to wait on the man and he repeated the story of his dog and his lot and nobody's business. "Yes, said the foreman of the committee, We know its your dog and your lot but the stink has become ours!" Moral: So long as personal liberty doesn't interfere with others it may be all right, tho harmful to onesself.
May 3- Cold rain. Ruth spent p.m. at Harleys. Lois Irene's birthday 4 years old. Mary Alice will be 5 the 2nd day of June.
May 4 -- Very hot. Too sudeen change. Prayer meeting met here. I got hard spell with heart aobut 6 o'clock and couldn't see the folks at all. Didn't get relief till almost 9 o'clock. I do hate such spells. This is "next day." Feel awfully weak.
May 5 - Ruth took music lesson. Mr. Dibble sheared 15 sheep at Sam Himes for us. 15 c a head. Commenced planting corn in field south of cow pasture. Wool 8 c lb.
May 6 -- Finished planting above field of corn this forenoon. Geo. K. used 4 horses 2 1/2 days. 2 h 1 1/2 days this week.
May 7 - Nothing
May 8 -- Mother's Day. Children sent cards. Mary & Harley gave me a nice red geranium plant. Have 9 little ducks. One egg didn't hatch. Pretty little things. Very nice day. Didn't feel equal to going to church. (quotesgram.com image)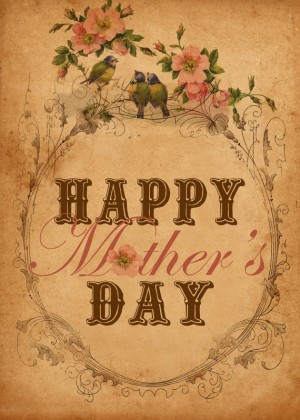 May 9 - Nothing
May 10 - Nothing
May 11 -- Ruth took music lesson. Started to Vacation Bible School yesterday. 9 to 11:30 - 5 days a week for 3 weeks. Autos come and get here and return About 100 enrolled. Sent 5 old sows and 3 shotas off yesterday. Sows were breaking out and we didn't want to breed them. Would have gained by feeding awhile but no good place to feed them. They were fat anyway. Brought only $12 apiece. Hogs lower now than in 32 years Pigs $3.50 hundred. The 3 avg 196 + lbs. Geo. K. finished planting corn on estate. 34 acres 20 & 14 acre fields. Hogs are lowest in 33 years and still going lower.
May 12 - Lindberg's boy found murdered. Had paid $50,000 ransom but did not get the boy.
May 13 - Nothing
May 14 - Finished planting corn today. Sold the wool 141 1/2 lbs 8 c a lb cheapest we ever sold wool. Paid for Ladoga Leader renewal.
May 15 - Nothing
May 16 - Turned the sucking calves out in the orchard today.
May 17 - Nothing
May 18 - Ruth took music lesson. I traded 78.23 bus corn (23 c) for Tannworth gilt and 6 1-month old pigs ($18) Marion Cummings. He delivers hogs and hauls the corn. Over run 3 bu he paid 69c.
May 19 - Nothing
May 20 - Nothing
May 21 - Nothing
May 22 - Nothing
May 23 - Turned 3 sows with boar.
May 24 - Nothing
May 25 -- Ruth took music lesson. Got lumber to make feed coop 70c. Awfully dry & windy weather. Got the inoculation for soy beans. Paul wants to plant this week or first of next. Found Pet, the black horse dead this morning was all right last night at 9 o'clock.
May 26 - Rung & casterated pigs this evening. Chester Rogers came out and helped. He is working for Claud Harshbarger $2 to day he said he made. Better than we are a lot.
May 27 - Nothing
May 28 - Nothing
May 29 - Nothing
May 30 - Nothing
May 31 - First mess of strawberries. Old patch dried up for rain. New one so well mulched with straw is holding on yet. Leaf-hoppers are on the potatoes. Using "black leaf 40" as spray. Ruth turns vines over, Lewis sprays up under.
June 1932
June 1 -- Ruth took music lesson today. GOt 100 chicks mixed heavy. Mary took 50. 2 were mashed. Will see what the "guarantee 100% live deliver," means now. Had a real good shower this p.m.
June 2- Nothing
June 3 - Nothing
June 4 - Nothing
June 5 - Nothing
June 6 - Nothing
June 7 - Nothing
June 8 - Nothing
June 9 - Nothing
June 10 - Nothing
June 11 - Marie's came today. All look fine. Donnie has grown so much. Such a nice family.
June 12 - Roy. Marie. Donnie went to Annual Conference at Anderson today. Other boys stayed here. Roland went to Ill will graduate from U. tomorrow with Master of Science degree. Am so glad he could finish all right but sorry he had to quit before the f years were out. Dont see how we could have done without him last year tho. May all the children be blessed as they truly deserve for their kindness and consideration of me
June 13 - Nothing
June 14 - Nothing
June 15 - Ruth took music lesson. Roys came back from Ft. Wayne. Had real good rain. The Cummings horse had indigestion. Dr. Fee $4.50.
June 16 - Nothing
June 17 - Boys fixed tile ditch on estate. 4 tile 2 ft long $1.36. OH Feiler preaching at the church each evening now. Real pleasnat appearing man. Wish I could go to church more. He called here today. Siglers bull turned on estate today.
June 18 - Marie, the boys, Ruth & Lewis went to C'ville got Lewis a school suit at a clearance sale. $12.88. Very hot today.
June 19 - Maud Sillery left Claytons and the care of Grandma. Mrs. Brown came. Seems very kind & nice.
June 20 - Got Claytons horse to plow corn. Strained them. Gave Clayton $20 to use for Grandma till they can get the building & loan money.
June 21 - Ruth took music lesson. Yesterday Marie & the children, Roland & Lewis and Ruth went to Lafayette. Roland to Purdue the rest to Columbia Park for the afternoon.
June 22 - Boys fixed fence on estate today 1/2 d work. Harley commenced to plow with Claytons horse today. Grandma very low - looks so bad. Just skin and bones. Suffers to much. Marie, Ruth & Lewis went to church tonight. Bro. Feiler seems to be doing well here. People like him. Has large crowds they say.
June 23 - Nothing
June 24 - Nothing
June 25 - Saturday - Grandma died this evening about 9 o'clock. In bed 3 weeks. Cancer of the breast. Been suffering with it for over a year. Had been a tumor for several years and developed cancer. Suffered intensely at times. Odor so bad one could not stay in room but short time. 77 years old. Invalid for 45 years.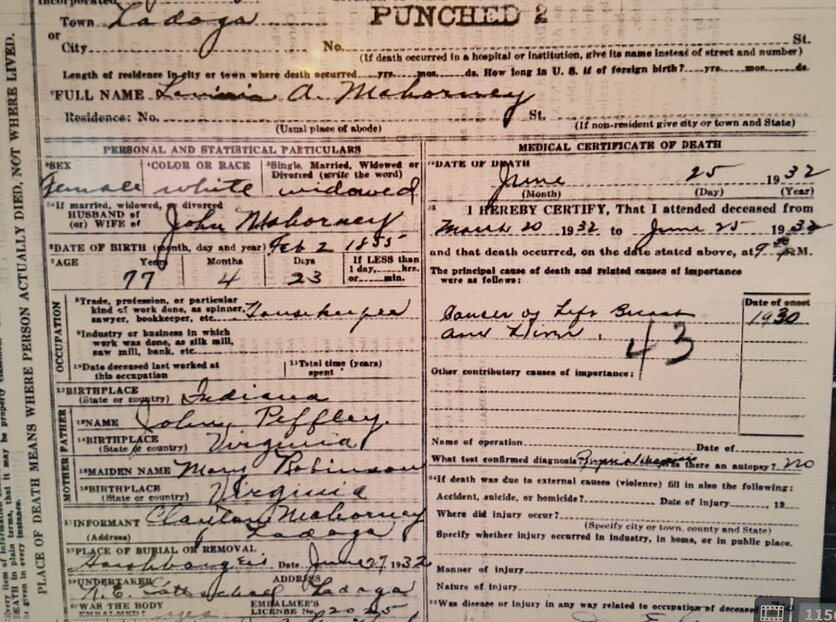 June 26 - Grandma buried today had hard shower just at grave. Funeral at Gottshall Funeral Home 2 p.m. SW Root preached funeral BF Summer assisting. Maud Ronk, Mrs. Summer sang. Roland, Lewis, Paul M; Ollie Miller; Gerald Rose & Paul Benson pall bearers. At 4 o'clock there was baptizing. Virginia Miller; Dorothy Summer; Eddie Cline. Lowell Ronk. Mr. Harmon & son and one of Mark Ronk's children. Meetnigs closed now. Roys went home yesterday. Have to move this week.
June 27 - McClelland bought 100 + bu corn of estate today. 25 c paid 28,26. Wm. Lee bought 20 bu our corn 25c. Paid for corn July 15 - 22 bu $5.50
June 28 - Nothing
June 29 - Ruth took music lesson. Mr. Marks & John Stanley badly hurt in auto accident. Stanley is Pres of B&L. Marks just been elected Sec to take the place of Gene Ashby, deceased. The wheat was cut this week and last. About 2 weeks early. We have none.
June 30 -- Nothing
July 1932
July 1- Nothing
July 2- The Pavilion Jersey cow had bull calf. John & Marian came about noon. So glad to see them. John has bad cough. Brought some fire works. Bill Whistler wife Elsie & baby Margarey here to see Roland. They live in South Bend.
July 3- Cool rainy children all went to Shades in p.m. Johns go back tomorrow.
July 4 - Got 2 1/2 gals Early Harvest Blk Berries of Geo Himes. 40c gal 6 qts 4 glasses jelly. 2 pies 2 messes for table out of them.
July 5 - Took Claytons horse home today. Used her about 8 days. Has rained and hindered work some. Harley cut weeds on estate.
July 6 - Ruth took music lesson. Harley cutting oats for hay. Took up 2 loads this p.m.
July 7 - Harley mowed around oats field rained & could not take it up. Mowed weeds at far place this p.m.
July 8 - Took up 2 plus loads oats off oat fields very light. Roland has worked 1 1/2 days in oats.
July 9 - Cut oats in south east field. Did not get quite all shocked. Roland work all days. Promised Frantz Myers the estate corn in east slat crib. 25c bu if taken this month.
July 10 -- At sepcial counsel today it was voted 23 to 19 not to keep the pastor another. Sorry for I think he was trying to work for our spiritual good. Rained this p.m. will hinder oats cutting tomorrow.
July 11 - Boys finished shocking oats this p.m. on 20 acres.
July 12 -- Cut (with tractor) 20 acres oats and got it all shocked today. Lewis shocked most of it alone. Roland ran tractor, Harley the binder, then they helped finish shocking. hot today. Ruth mowed yard all by herself. Big days work by everybody but me, I'm just no account at all.
July 13 - Homer Graybill paid 50.15 on corn bought of estate. 202 bu lacked 65 c coming out as should. Left money at bank. Ruth took music lesson. Roland driving tractor p.m. for cutting oats on estate. Too hot for horses. Harley cut weeds down there p.m. About 2 p.m. lost a little wheel off binder had to send to Indianapolis for repair
July 14 - Nothing
July 15 - Repaired binder and cut yesterday p.m. finished about noon today. Very hot. Frantz Myers commenced hauling corn from east slat crib. Harley cutting weeds on estate. Tri Mu class party at Paul M's. Roland went.
July 16 -- Harley finished mowing weeds on estate. A little cooler this a.m. we went to C'ville got Lewis truck $10.35 (reductin of $2.00).
July 17 -- Nothing
July 18 - Roland went to Indianapolis to see about a job with Eli Lillys or Riley Chem. Co. Bosses off on vacation, not much encouragement for anyone new. Treated him very nicely asked him to come again. Would have plenty work if depression would ever end.
July 19 - Roland went to So. Bend today. Bill Whisler thought might get a place with the Ball Rubber Co where he is. Very hot.
July 20 - Ruth took music lesson. Still hot. Roland came back ab out 5 p.m. Has some prospect of a place a bit later.
July 21 - Harley helped Clayton make hay today didn't get quite done, will finish tomorrow forenoon. Very hot. 102. Just got word Roy has an offer from U. of Cincinnati, O. of Associate Prof. of Econ at $500. Quite a nice bit these hard times. Am so thankful they are doing so well. Sold 10 lambs today. $43.31 after trucking etc. part is childrens share.
July 22 - Commenced threshing in this ring today (PM). No rain on oqats since it was cut. Wheat 34 c. Oats. 11.
July 23 - Nothing
July 24 - Roland took Lewis & Ruth to Ind'plis this p.m. Show Lewis about Union Station and see about trains to No. Manchester.
July 25 - Lewis & Roland hauled a load of hay to Ollie Miller. Clayton gave it to him. He isn't able to work on account of operation for piles. Frantz Myers finishing the corn in slat cribs (estate corn). Got Ruths teeth cleaned.
July 26 - Nothing
July 27 -- Good rain last night. Tin roof leaked awfully where the insurance man's ladderpunched a hole in it when he was fixing screens on the kitchen chimney. Soaked the paper lose on ceiling. Rusted the stove and warped the linoleum. Lewis' teeth cleaned at dentists. Ruth took music lesson. Dr. Schwartz filed the horses teeth & took the growth out of one of the horses eyes (Lady). Since June 21 we must pay 3c letter postage and 2 c on every check we give - a part of the new tax to help balance the government budget.
July 28 - Nothing
July 29 - Nothing
July 30 - Commenced to thresh our oats - 12 c bu finished this a.m. ave 32 to 35 bu to acre. Corner field was best. Herman Davis bought 100 bu. Sam Himes two loads. We kept bal. hoping for better price.
July 31 - Nothing
August 1932
August 1 - Nothing
August 2 - Nothing
Aug 3 -- Insurance Co. finally sent man to see about tin roof that had been broken when they put on the spark screen. Had leaked in the kitchen and a lot of paper came off. They will pay for hanging new paper. Got some today. $1.77. They fixed roof here and chimney at Harleys. Omer Gates fixed the leak next the house where tin roof joined $3.00 Got paint for the tin roofs. Getting quite thin. Have had two or 3 big rains since last week. Stopped the threshing all week. Rented estate to Geo K. for $335 cash next year. That is a little over $100 more than the tax. Under the circumstances that is doing very well.
Aug 4 - Nothing
Aug 5- Nothing
Aug 6 - It has commenced to rain and rains about every other day so we can't thresh. Roland and Lewis are cleaning insides of tractor and grinding valves. Took part of the $5.00 grandma gave me some time ago and got paper for the dining room, its so smoked & dirty. This stove does not smoke and the paper should keep clean longer. It has been about 8 years since it was papered; don't know when can get it put on, but the paper is cheap now just $2.00 for this room. The last time it cost $7.00 for paper alone. This paper is good as that was.
Aug 7 - nothing
Aug 8 - Threshed oats on estate. Wet - dock ? 2 c got 16 c for them. 116 bu to canning factory$45.79. Been wet so long they wer ein bad shape. Threshers are rushing things to get done. Lots of wheat spoining in shock. Paid 37.44 fo rour threshing. Havent sold near enough oats to pay for it.
Aug 9 - Nothing
Aug 10 - Ruth took music lesson. Insurance man sent paper hanger to paper kitchen today. Finished threshing in this ring. Marle Himes got load of corn. Not paid yet - paid Aug 13 - $10.86.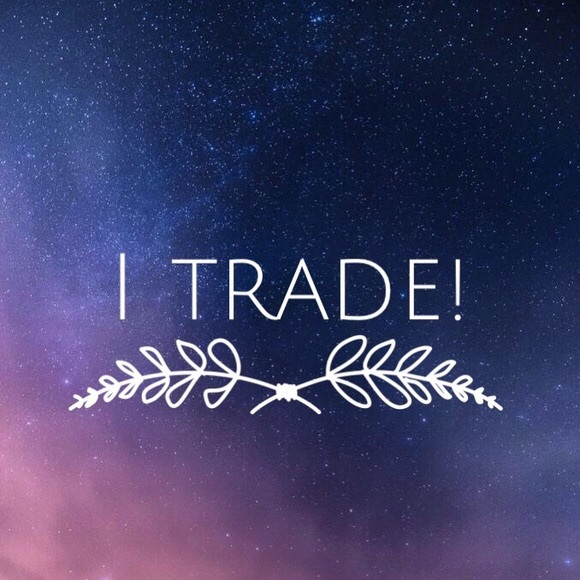 Aug 11 - Traded the paper hanger, Mr. Moyer chickens, duck, eggs & garden stuff for most of the papering of dining room. The walls look so nice and clean. They were so black & dirty. The room looks so much lighter. Clayton paid back the $20 I loaned for Grandma's sickness. Roland cleaned the washing machine engine and practically made a new mail box. He & Lewis finished painting the tin roof. Harley is painting theirs too.
Aug 12 - Clayton gave me $76.76 1/3 of the settlement remainder of Grandma's money after expenses were paid. I wanted him to keep it and divide equally between him and Snow's girls. He wouldn't as I gave him $10 as a presnt for the care he had that. I was not physically able to share.
Note:

Clayton is John Clayton (Lula's brother) and Snow is Sarah Snow Mahorney Miller, her sister. They also had two sisters pass early Gracie & Ruth, gone long before Lavinia Ann Peffley "Grandma" died 25 June 1932.
Aug 13 -- Bought 3 bu postates 70 c - 2.10. Roland went to thresher settlement meeting. Our part for help was 9.45. Mark Himes paid for corn. $10 about 43 or 4 bushels. Leonard got the old bicycle for 15 c. Took Lewis to town for examination as required by college. Blood pressure a little low. Saw Dr. about my ear. Not much hope of helping it. Specialist might give some relief but not very permanent. It is annoying butnot painful yet. Put $50 of the Grandma money in Crawfordsville Trust Co 4% interest.
August 14 - Nothing
Aug 15 - Nothing
Aug 16 - Nothing
Aug 17 - Nothing
Aug 18 - Harley got $4.17 lumber of Gates to fix stalls, etc. at that barn. We went to Randal orchard got 3 bu apples 1.40 canned some. Roland went to Ohio to visit John's.
Aug 19 - Ruth took music lesson. Has a two weeks vacation. Roland came back from visiting John's. Had a nice time. Isabella Frame was operated on for appendicitis Wednesday.
Aug 20 - Nothing
Aug 21 - Lewis went to Turkey Run yesterday with the BYPD on a picnic.
Aug 22 - A girl from New Market came today and offered to stay with us this winter for $1.00 a week. Name Fern Reed, makes her home with Ellis Ingersoll's. Is working now at canning factory. Don't know what we will do money is so scarce - yet that is a low wage.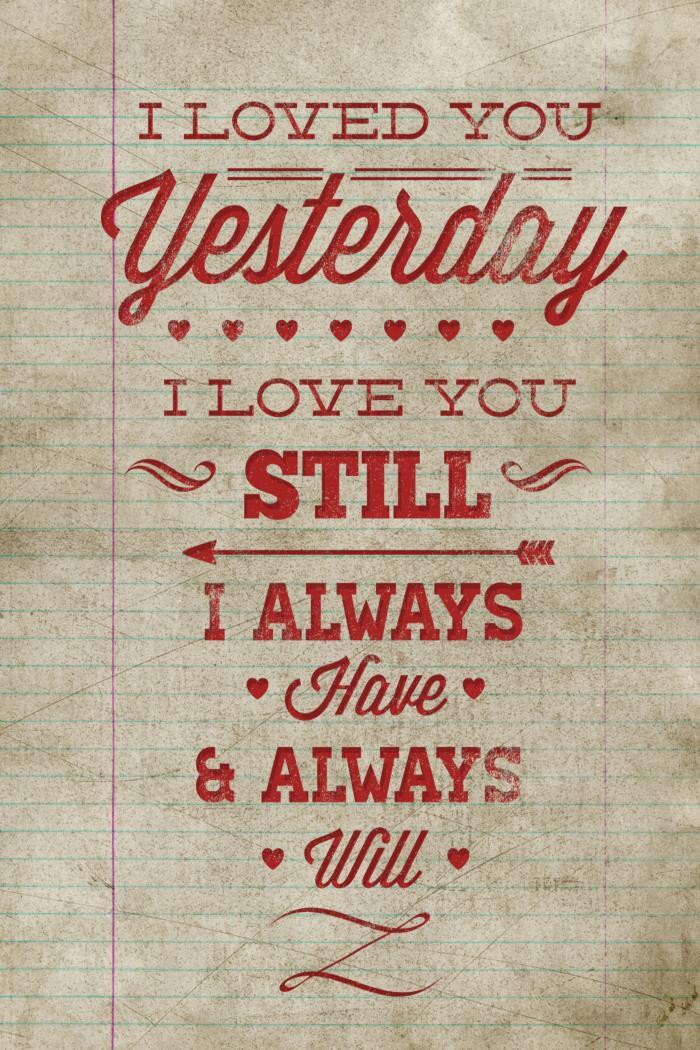 Aug 23 -- Our wedding day. Much the same kind of day it was 33 yrs ago. Roland went to So. Bend to see aobut a position with the US Rubber Co. (thanks to Sillycanvas for the neat old looking sentiment)
Aug 24 - Nothing
Aug 25 - Roland home. No chance for a job now. US Co. not hiring any more men at all. Studebaker Co almost idle. Bendix plant only running part time. Singer Sewing machine Co not doing anything. An awful time to get work. Ruth went to band concert with Harley's. Sold 16 Mar. Shoats are about 182 lbs got top price $4,80. Tamworth sow $10.26. Sold bal. lambs and one small sheep.
Aug 26 - Nothing
Aug 27 -- We went "out west" (of New Market) on a watermelon hunt. Found some fine elderberries, saw some rugged hills and long bridges. Got 7 big watermelons & 3 musk melons about a mile south of Yountsville. Cost 95 c. Had fine trip.
Aug 28 - Nothing
Aug 29 - Oats ground for sows. 12 c for grinding. Paid in oats 13 bu. 13c. Cost $1.56. 5 sows had pigs in last 3 days (46 pigs).
Aug 30 - Nothing
Aug 31 - Nothing
September 1932
Sept 1 - Roys here over night on way to Cincinnati to live. Address: 575 Evanswood Place, Clifton, Cincinnati, Ohio. Billy has hay fever. Donnie cute as can be. Richard fine.
Sept 2 - Lewis gone to North Manchester to college. How we do miss him. May his year be a happy profitable one. Roland took him up. Harley went along. Ruth went to school yesterday a.m. to get book list. School starts Monday. Roys brought 2 big watermelons and some peaches.
Sept 3 - Nothing
Sept 4 - An old sheep died. DON't know what was trouble. Have lost 5 little pigs. Tomorrow school begins.
Sept 5 - Nothing
Sept 6 - Nothing
Sept 7-- Nothing
Sept 8 - Nothing
Sept 9 - Nothing
Sept 10 - Lost 2 more little pigs. Putting up soy bean hay. Got 10 loads here. Very weedy. Not quite done. East half field not much account. Too late & dry for it. (Field in front of Paul's house).
Sept 11 - Nothing
Sept 12 - Nothing
Sept 13 - Got 15 loads bean hay in barn here. harley & Roland commenced tearing out old fence at south side of estate ready to put up new one. Fence material from Edgar Mangus - cost $54.50 1/2 days work today.
Sept 14 - Boys worked on fence all day. Very farm. Finished the grapes. Bees eating them badly. Gave Mary some and the preacher some. Also to Morris's.
Sept 15 - Boys worked on fence all day got done all but fixing the water gap. Aid So. met here this p.m. 9 here and 6 children. Big rain this evening.
Sept 16 - Boys worked on fence. Taking out posts fixing north fence etc. Took 40 rds wire and 29 posts. Have 1 sp. wire - 20 rds (and 2 end posts) fence 11 posts left. Can be used on next fence to be fixed.
Sept 17 -- Boys worked 1/2 da fixing fence and cleaning up trash. Fixing watergap. Paid to Roland & Harley each 6.00 from Estate for the fence building and repairs. Cost of fence south and of estate along road including two days work on other fence $49.65. Fencew pupt up for 15 c. rod. work by day $1.50
Sept 18 - Nothing
Sept 19 - Nothing
Sept 20 - Nothing
Sept 21 - Roland & Harley butchered a pig. We took half - H. half. We were out of lard & hogs are so cheap we just killed one. Cold packed the meat, fried down the sausage. Only a gallon.
Sept 22 - Nothing
Sept 23 - Nothing
Sept 24 - Put up bean hay from Paul's in Harleys barn.
Sept 25 - Nothing
Sept 26 - Rainy all day. Geo. Anderson was found dead about 7 o'clock yesterday eve. Had been well as usual. Supposed heart trouble.
Sept 27 - Fertilizer came today. 1 ton 2-12-6 $22.69 and we haul it. Still rainy. Will begin to sow wheat as soon as it clears up. Had a good letter from Lewis. Seems so strange for him to be away and getting letters from him. Heard Clarence Lytles have a boy.
Sept 28 -- Boys brought up a little over 2 tons of coal. Ground most to wet to sow wheat. Ruth having examinations this week. Has brought home 5 papers each grade "100 excellent." This has been a fine day. Cool andc clear. Roland & I went to a sale near New Ross this a.m. see about hog houses. Things went high we came back before it was over. Didn't get anything
Sept 29 -- Fine day. Commence to sow wheat in corn by railroad. I went to see Lora Miller. Her tumor is bad again. Ruth got 2 more 100 grades today. Got 1 ton fertilizer of Paul Stoner.
Sept 30 - Had to help make bean hay today. Had to stop sowing wheat. Got about 40 loads of "stuff" altogether. Ruth has 8 papers grade 100 Excellent now. Surely had some luck this examination. Roland dug sweet potatoes. Had a bu. and a peck. Roland went to Paul Ronks to a Tri Mu Class party.
October 1932
Oct 1 -- Nothing
Oct 2- Nothing
Oct 3 - Mollie Peffley died last night. Funeral tomorrow at the church at 11 o'clock. Had to get 3 more sacks fertilizer (125 lb. each). Drill for sowing in corn sows more than the other drill.
Oct 4 - Nothing
Oct 5 - Nothing
Oct 6 -- Harley commenced to plow the field east of our house. Using horses. Counsel meeting last night lasted till 10:30. John Harshbarger. Supt. SS Roland asst. Frances Miller Sec. Veva May Gotschall acct. CC Harshbarger treas. Paul Mahorney asst. Minister Summer called for ch. letters. Time expires Sunday. Has not had a very agreeable pastorate. Seems to stir up oppoisition altho he means well. Ruth, in her usual monthly tests made 8 grades marked "100 Excellent." A little more and she would have 1000.
Oct 7 - Nothing
Oct 8 - Finished sowing whea tin corn. Got 3 bu apples from JR South orchard. West of Bainbridge on road 36 to 2nd cross road then south about 1/2 mile.
Oct 9 - Nothing
Oct 10 - Nothing
Oct 11 - Butchered small hog to sell. Kept head bones, tongue, heart, liver. Made bal into sausage (64 lbs) sold back bones & ribs. Total 6.60 about 4 1/2 gal. lard value 4 c lbs. Not sold.
Oct 12 -- Nothing
Oct 13 - Nothing
Oct 14 - Paul M. sowed wheat in north end of bean field about 11 or 12 acres. Sold Mark Himes load corn 23 c bu. $9.99. Took 3 bu potatoes part pay 1.20 due 8.79 not pd. Lawyer Marks says where renters pay grain rent and have as much as 8 or 10 acres privilege & pasture they usually pay about 50 c yr. Said landlord should get 6% int. on investment and taxes. Can't now tho!
Oct 15 - Harley has been husking corn for a couple of days. Roland went to No Manchester to the annual homecoming.
Oct 16 - Nothing
Oct 17 - Nothing
Oct 18 - Nothing
Oct 19 - Paul brought first load corn. Boys here butchered 2 hogs this week. 1 to Stover $6.52. One to McMurtry $5.23. Head bones of 1 to Rosa Rogers 15 c lard 25 c. Mark Himes 58 c tenderloin. 10 1/2 lbs lard @ 5c lb. 160 lbs. lard engaged at 5c. Harley gets 1 c on each lb for all he sells. Bought 500 lbs .sure pay mineral for hogs $22.54. Sold Mrs. McCormack 22 c side meat 40 c lard. Shoulder to Zachery 46 c. Lard 50 lbs 2.00 Lard to Mr. Gordon 1.58. Paid tax today Fall Payment $154.84.
Oct 20 - Sold sow 550 lbs 2.25 after expenses paid got $10.92. Lora Miller went to Champaign, Ill, this week for cancer treatment.
Oct 21 -- Nothing
Oct 22 - Nothing
Oct 23 - Maud Ronk taken to St. Vincent Hospital for observation & treatment Dr. here do not know her trouble. Norman Hines operated on for appendicitis at ME Hosp.
Oct 24 - Butchered a hog again
Oct 25 - Roland husked corn 1/2 day after got hog finished. Rained this evening.
Oct 26 - Nothing
Oct 27 - Roland husked corn this pm.
Oct 28 - Roland husked corn all day. Paul brought 2nd load corn. Weaned the first 5 sows pigs today about 8 weeks old
Oct 29 - Roland husked corn this p.m. Paul Ronk took Maud away from hospital before they quite finished examination. Took her to the home of the brethren minister, Russel West and has a chiropractor treating her. People think he is almost crazy about chiropractors. She has had those treatment before and they haven't been successful. Dr. Lidikay says he thinks she has tubperotinitis. It is a peculiar situation. Paul R. stays over there. Clayton, Paul M. and Kesslers are looking after the stock. Paul M. husks corn for the hogs. Kesslers have the children. Our ducks havae begun to lay. Not quite 6 mos. old.
Oct 30 - Nothing
Oct 31 - Butchered 2 hogs.
November 1932
Nov. 1 - Nothing
Nov 2 - Nothing
Nov 3 - Nothing
Nov 4 - Nothing
Nov 5 - Paul M. brought load corn. Roland husked all day.
Nov 6 - Nothing
Nov 7 - Butchered 2 hogs.
Nov 8 - Election Day. Franklin D. Roosevelt, Gov. of NY, Dem won for Pres. Majority of co., state & nations officers, Dem. Biggest vote ever polled. Herbert Hoover defeated with only 6 states to his credit. Had first snow today. Covered the ground. Geo K. brought first load of estate corn over. (thanks to britannica.com - A New Deal was his 1932 campaign theme)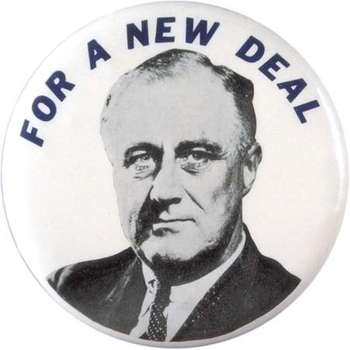 Nov 9 - Nothing
Nov 10 - the Clark Grocery at New Market will buy all our lard. Sent Lewis ck for school. Enroll the 15th.
Nov 11 - Freezing & spitting snow. Roland hauled 2 loads of stumps for butchering wood. Husked corn this afternoon. Geo. K. brought another load of corn today.
Nov 12 - Nothing
Nov 13 - nothing
Nov 14 - Paul M. has brought 5 loads of corn now. Boys butchered 2 hogs. Paul Ronk still in Indianapolis the neighbors doing his work. Maud is slowing improving. Goes to the chiropractor for treament. Has been gone 3 weeks. People think Paul better be home attending to his things.
Nov 15 - Nothing
Nov 16 -- Biggest snow for more than 6 yrs 10 in on the level and big drifts. Ruth's teacher couldn't get to school. Some trucks couldn't. Snowed most of it in the night.
Nov 17 - Nothing
Nov 18 - Rung and castorated pigs today. Still cold. Snow on, and looks like more coming. Lots of folks got cornm out. We are about 1/2 done.
Nov 19 - Butchered two hogs today.
Nov 20 - Snow going off today with a south wind. Maud Ronk was brought to a chiropractors Thurs at C'ville where she is staying & taking treatments. They say she is some better. Can't get much infomation from her.
Nov 21 -- Butchered 1 hog today. Cold with some snow on yet.
Nov 22 - Nothing
Nov 23 - Nothing
Nov 24 - Paul M. brought load of corn
Nov 25 - Paul M. brought load of corn. Thanksgiving Day. Very fine day. Maries & Lewis here. So glad to have Lewis home. His first time away. Glad to have the others also. The little grandsons are so fine.
Nov 26 -- Paul M. brought load corn.
Nov 27 - Took Lewis to New Ross to bus fare 1.00 to Indplis. Will have to wait 3 hrs for train to No. Manchester. Had special rate of $2.80 round trip. Regular fare 3.70 one way. Do hate to see him leave. Boys left yesterday.
Nov 28 -- Butchered 2 hogs. Paul brought load of corn.
Nov 29 - Paul brought load of corn. Had letter from John say8ing the co wants him to attend a convention in New Orleans next month and will pay his expenses. Think thats quite an honor. Do hope he can go.l
Nov 30 -- Paul brought load of corn. Brought our lard jar home from New Market. Took 10 gallon lard to Stover to sell. Will quit butchering now. Sending 10 hogs to market tomorrow.
December 1932
Dec 1 - Paul M. brought 2 loads corn. Sent 10 hogs to Indianapolis today. Ruth got her grade card. Has 8 subjects with grade of 98 % and 1 with 95 (music).
Dec 2 - Paul brought 2 loads corn. Got 71.34 for the 10 hogs after trucking etc. taken out. It paid to butcher & sell the meat. Got a young male hog of Grant Wyles, will exchange for one of our pigs. Quite warm again looks like rain.
Dec 3 - Paul M. brought 1 load corn. Lots of flu now.
Dec 4 - Nothing
Dec 5 - Paul M. brought 2 loads corn. We took load of oats to Whitesville got 2 sacks tauage? and some oats ground for pigs.
Dec 6 - Ruth has touch of flu. Epidemic of it again. Chester & Harley has it. Chester is out of work and they are staying at Harley's. Marie fell and cut her leg last week. Required 6 stitches to close it. John went to New Orleans to convention Co. paying expenses. Fine trip for him. How things do happen. Glad everything is well as it is.
Dec 7 - Nothing
Dec 8 - Nothing
Dec 9 - Nothing
Dec 10 - Nothing
Dec 11 - Nothing
Dec 12 - Butchered last hog today. Kept some for ourselves. Quite cold 6 above zero. Ruth had earache Sat. night & Sunday did not go to school. Paul M. finished paying for pasture today (little woods)
Dec 13 - Nothing
Dec 14 - Had the pig that we got from Wyles vaccinated today. cost 30c the vet has had the flu. Ruth went to school for the first this week has had earache. Still coughs. Lewis writes he still has his cough. Also a very sore toe. His bad foot is giving him trouble. My!~ How sorry I am he is so crippled, and through no fault of his own.
Dec 15 - 4 below zero coldest for over 2 years. Geo. Mahorney got load of oats 12c bu. 71 _ bu.
Dec 16 - 11 below zero this morning. Snow on the ground makes it awful cold.
Dec 17 - Nothing
Dec 18 - Nothing
Dec 19 - Nothing
Dec 20 - Nothing
Dec 21 -- Butchered the Jersey calf. Roland was at Purdue, Lafayette yesterday to see about work for next year.
Dec 22 - Paul M. brought load of corn. First the waether has been fit to gather corn for a long while. Harley butchered a hog for himself and is selling the meat. It was one he found along the road last spring. Just a pig then.
Dec 23 - Lewis to Dr. 3d time foot is better. Dr. reommended bi-ci (or ci-ci - soft leather) shoes or tennis shoes for him. Fine sunny sunny day up to 40.
Dec 27 - Paul brought load of corn.
Dec 28 - Paul brought load of corn
Dec 29 - Paul brought load of corn - Advanced Harley $12 (total $27) to buy cow. Settled with Stover for lard 74 lbs 4 1/2 in trade $3.33. Hogs butchere d& otherwise totaled $362.55 $2.l50 more than Harleys wages for the yr. Now for tax and where and how
Dec 30 -- Lewis & Ruth took 1.00 each from C'ville Trust Co and bought each a shar ein Ladoga B&L.
1932 CORN YIELD of our farm - 1932 estimate about 1769 bu here & Harleys.
END OF 1932
---