NOVEMBER 1888 - Hiram Pratt Diary
Waveland, Indiana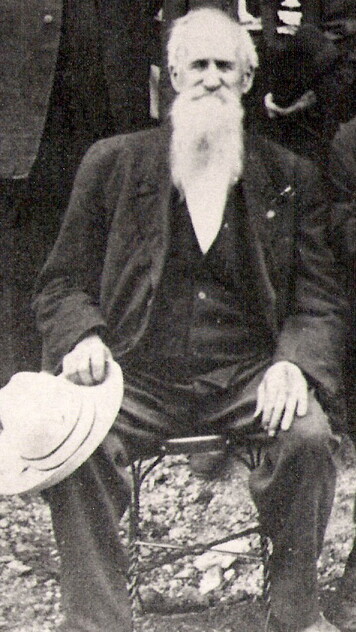 Note: These diaries were in the Waveland Public Library for decades but were disposed of by a librarian several decades ago. Luckily, another librarian's daughter (thanks sooo much Pam, at the death of her mother, Virginia Banta Sharpe found them in some belongings and gave them back for proper housing. A complete circle; however, only 14 of the 50+ diaries were saved from the library's incinerator. I'm a librarian too and thought since they'd been lost to posterity for so many years that it would be a good thing to transcribe them and give them to the world. They are currently housed in proper temperature/storage at the Crawfordsville District Public Library - typed as they were written
Note 2 : Karen Bazzani Zach (transcriber) was raised in the big 'ol town (500 people) where HA Pratt lived 5 decades before I was born. I remember the building where his little shop was and wish it was still there. What an interesting little place. ALAS! Progress !
Note 3: Some information about Pratt -- he was born in Parke County, Indiana April 20, 1840 the oldest child of eight born to Erastus & Elizabeth Allen Pratt and died October 12, 1914 in his beloved Waveland, Indiana. He was twice married, first to the love of his life (he kept a life-sized poster of her in one of his cabinets at his barber shop, even long after his second marriage) Eliza Franklin Shaw (born Oct 23, 1841 died Oct 12, 1887), and #2 to his friend, Evaline "Eva" McMains. He was very active in the community where he and Eliza chose to live. He gave generously of his time and money to the Methodist Church in Waveland. For a few years, he served as Marshall of the town. Also, he worked diligently for his Odd Fellows, Rebekah & Knights of Phythias Lodges, was for a time on the town board, and read to those who could not read from the several newspapers he was agent for. Pratt volunteered and served for three years during the Civil War (Co. B, 36th Infantry), and spent time in the dreaded Andersonville prison. He and Eliza adopted a son, Willie Franklin Stump, age two (not sure ever officially or just had permission to take him from the Poor House in Crawfordsville) and he was an amazing young boy (high grades, worked in the church, quite musicially inclined, just an ideal child) until Eliza was taken to the hospital where she was operated on for six cervical tumors (one weighing six pounds) from which she died. Willie went wild after that and he and Hiram's second wife, Eva never got along. He ended-up in Reform School (for stealing a dollar twice from Eva among other small crimes), and later sent home to die due to consumption (what we know as tuberculosis) dying in Hiram's arms on April 12, in 1894. Hiram missed Willie and Eliza more than most I do believe as he wrote about them so often in these diaries. Just wish the rest of Pratt's diaries he wrote for over 50 years as a barber in Waveland still existed :( kbz
---
Thursday Nov 1 -- $3.15 -- Pair of shoes for Harry $2.25. AOUW $2. The nice weather continues. Sent the union Mutual Life Ins Co. $5.47. Eva has been ironing most of the day.
Friday, Nov 2-- $5. John M. Buttler of Indianapolis a republican delivered here this afternoon the best speech of the season. Eva made a kettle of apple preserves. Next Tuesday is presidential eletion Predict Harrison's election.
Saturday Nov 3 -- $9.10 - Beef 25 cts. Oil cloth for parlor stove $1.35. For the table .75. I am at home by 11 o'clock tonight. Had a big rain last night. Clear weather all day. Temperature about like summer Eva has things fixed up very neat.
Sunday Nov 4 -- Mrs. May Lewis a niece of Eva's and I went to the Methodist Church. I became very sleepy and dozed in spite of my best efforts to keep awake. She remained with us until late this p.m. The weather has been real nice.
Monday Nov 5-- $9.40. Rent for the two mos. past $6. B&L $5. Four pounds of butter 60 cts. Meat 90 cts. Two chickens 50 cts. The weather has been most delightful all day. Bread tickets $1. Rec'd a letter from Sittie Ellis.
Tuesday Nov 6 -- $4.00. Bacon 1.40 beans 60 cts. Oyster supper for benefit of the Presbyterian Church 25. Just at the last nick of time WW Steele was in time at the polls for a vote. He was intoxicated. Rain early this morning. I voted the republican ticket.
Wednesday. Nov 7 -- $4.00. The election yesterday was the most exciting of any I have any knowledge of everybody was in a good humor and on the lookout for votes. The president elect is of the Republican Party. Gen. Ben Harrison of Indiana.
Thursday, Nov 8 - Cow pasture last month $1.50 $3.10 - Eva visited at Mr. James Smith's near New Market. Rained nearly all day. Had the carriage to meet her at the Depot. Trip cost 70 cts. Meat 50 cts. Enquirer 2.20. Commerceial Gazette Co. $17. Med for Eliza $1.25. Potatoes $2 (5 bu) Coffee 3 1/3 lbs $1.
Friday, Nov 9 -- $5.15. Pair of shoes for Willie $3. Pair of rubber shoes for Eva 40 cts. The gold watch I presented Eva the evening before our marriage cost $25.50 had neglected to make a note of it at the time. Rained all of last night -portion of today.
Saturday Nov 10 -- $9.30. Sugar $1. Turnips 10 cts. Flour $1.50 Salt .35 Meat .50 Rained nearly all day. Roads are quite muddy. Johnson republican candidate for congress from this the 8th dist was defeated by Brokshire, Dem.
Sunday Nov 11 -- Eva and I dined at her mother's today by invitation of her sister Mary. Had a real good dinner. Miss Sally Moore was there too. We have had a clear day, the first for this week. I was home by 11:30 last night.
Monday Nov 12 -- $5.20 -- Letter from Emma Harrow. B&L $5. Beef 80 cts. Mrs Mary Lewis had me send for her a plush sacque (?). Sent to Charles A. Stephens of CHicago, Ill. Butter 90 cts. Apples 3 1/2 bu 1.40 We are not having delightful weather.
Tuesday, Nov 13 -- $2.80. One year and one month ago today wife was buried. $2.80 Cotton flannel 9 yds for sister Eliza and a spool of thread $1.20. Eva called in company with her sister Mary to see Mrs. Shepperd who is soon to die of consumption [tuberculosis]. Nice weather all day.
Wednesday Nov 14 -- $2.10. Sentinel Co. $5.85. The News 2.30. Beef 25 cts. 25 cts for Jollifycation over Ben Harrison's election to the Presidency of the United States. Mary kelso Lewis took dinner with us today. Eva was uptown to night. Clear.
Thursday Nov 15 -- $2.30. Expense in shop including B&L while off on the trip to Missouri was $7.80. Sausage .50 Cider 35 cts. Gave Willie 10 cts for school purposes. Rained a little last night. One hundred cigars $3.50. When sold will bring five dollars.
Friday Nov 16 -- $2.80. Globe Democrat for Jenkins and Hocker $1.50. Stamps 10 cts leavy ? Chimneys 50 cts. Snowed most of this forenood. Rec'd yesterday a good letter from Miss Carrie Harrow of Blakesburg Iowa.
Saturday Nov 17 -- $9.55 -- A dress pattern for Eliza $3.05. Eva and I eat our suppers at her mother's yesterday evening. We had a good mess of oysters. It near past 11 tonight when I retired for the night.
Sunday Nov 18 -- Eva attended the Campbellite church and Willie and I the Methodist Church. Elder Badger came home iwth Eva for dinner. Nannie B. a close neighbor girl stoped in too. Rained nearly all day.
Monday Nov 19 -- $6.15 B&L 5. Meat 35 cts. Butter .40 Pickle keg for kraut 75 cts. Cloudy all day drizzled rain a part of the time. Eva attended the funeral of Mrs. Shepherd Cow pasture last month $1.50.
Tuesday Nov 20 -- $5. Four lbs of sausage.50 The gravel road workers commenced work in town today. Eva recieved a letter from her sister at Foster Mo. The weather is remarkably fine since the rain. Freezing of night.
Wednesday Nov 21 -- $2.90. Fresh pork 20 cts. yesterday I called to see John T. Moore who is down with the rheumatism and gave him a sack of flour cost .80 cts. Mrs. Jim Dulin visited Eva today. Butter 1.45 Goods for Eliza .15
Thursday Nov 22 -- $5. Sent the daily Journal of Indianapolis $32.70. Dress buttons for ELiza 15 cts. Fresh beef .90. Postage .10 Eva's mother was to see her today. We made a 1/2 bbl of kraut last night. Pd $2 for cabbage, oil .20 gas .15 Pleasant.
Friday, Nov 23 -- $2.75. The cutting of Eliza's dress 35 cts. Coal hod .75. One hen 25. Eva and Cinda Bloomfield attended the baptist meeting tonight. The weather is most delightful. Republicans will organize the next house of Congress, Good.
Saturday, Nov 24 -- $8.25. Oyster stew at 11 o'clock tonight. pair of gloves for Willie 65 cts. Eva concluded not to attend the baptist church tonight. Had a letter this week from Sister Petty at Foster Mo. Weather continues very fine.
Sunday, Nov 25 -- I was ready for class this morning but waited for Willie and by the time he was ready we were too late. Eva and I called on John Moore, Spruhans and at Penn Hanna's.
Monday Nov 26 -- $4.75 -- B&L $5. Five yards of gingham for Eva and 2 1/2 for Eliza .75 cts. Onions .20. 2 doz cloths pins .05. 10 lbs of hominy 25 cts. The good weather continues with colder weather of nights. Helped Eva with her work this a.m.
Tuesday Nov 27 -- $16.85 -- 50 cts for sausage and 50 cts for beef for mince pies. Broom 30 cts. The cold weather is a little off--fixing for rain I think. Eva wrote to Sittie Ellis and Eliza to Bro. William Stamps 10 cts.
Wednesday Nov 28 -- $3.55 -- For ingredients for mincemeat 1.55. Stamps 30 cts. I am on detail tonight to sit up with Comrade John T. Moore who is bedfast with rheumatism. Eva put up about 4 gal of mince meat today.
Thursday, Nov 29 -- $2.80. Cinda Bloomfield. Eva and I were at the Thanksgiving entertainment at the Presbyterian Church tonight cost 50. 6# fish 75. I was at Thanksgiving services in the Bpatist Church at 11 a.m. Eva had proceeded me half hour.
Friday, Nov 30 -- $2.45. Sent 1.25 to Helpmate SM Co of CHicago. Yeterday and today have been rather damp, not raining but misting. Snowed a little last night. Eva and Nannie Bloomfield called on a few neighbors in the west part of town.