APRIL 1907 - Hiram Pratt Diary
Waveland, Indiana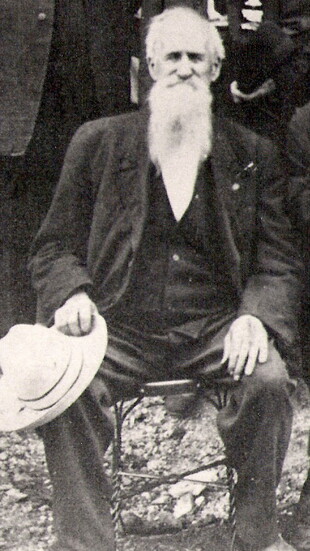 Note: These diaries were in the Waveland Public Library for decades but were disposed of by a librarian several decades ago. Luckily, another librarian's daughter (thanks sooo much Pam, at the death of her mother, Virginia Banta Sharpe found them in some belongings and gave them back for proper housing. A complete circle; however, only 14 of the 50+ diaries were saved from the library's incinerator. I'm a librarian too and thought since they'd been lost to posterity for so many years that it would be a good thing to transcribe them and give them to the world. They are currently housed in proper temperature/storage at the Crawfordsville District Public Library - typed as they were written
Note 2 : Karen Bazzani Zach (transcriber) was raised in the big 'ol town (500 people) where HA Pratt lived 5 decades before I was born. I remember the building where his little shop was and wish it was still there. What an interesting little place. ALAS! Progress ! Oh, and I've tried to type the diaries as is - mistakes & all
Note 3: Some information about Pratt -- he was born in Parke County, Indiana April 20, 1840 the oldest child of eight born to Erastus & Elizabeth Allen Pratt and died October 12, 1914 in his beloved Waveland, Indiana. He was twice married, first to the love of his life (he kept a life-sized poster of her in one of his cabinets at his barber shop, even long after his second marriage) Eliza Franklin Shaw (born Oct 23, 1841 died Oct 12, 1887), and #2 to his friend, Evaline "Eva" McMains. He was very active in the community where he and Eliza chose to live. He gave generously of his time and money to the Methodist Church in Waveland. For a few years, he served as Marshall of the town. Also, he worked diligently for his Odd Fellows, Rebekah & Knights of Phythias Lodges, was for a time on the town board, and read to those who could not read from the several newspapers he was agent for. Pratt volunteered and served for three years during the Civil War (Co. B, 36th Infantry), and spent time in the dreaded Andersonville prison. He and Eliza adopted a son, Willie Franklin Stump, age two (not sure ever officially or just had permission to take him from the Poor House in Crawfordsville) and he was an amazing young boy (high grades, worked in the church, quite musicially inclined, just an ideal child) until Eliza was taken to the hospital where she was operated on for six cervical tumors (one weighing six pounds) from which she died. Willie went wild after that and he and Hiram's second wife, Eva never got along. He ended-up in Reform School (for stealing a dollar twice from Eva among other small crimes), and later sent home to die due to consumption (what we know as tuberculosis) dying in Hiram's arms on April 12, in 1894. Hiram missed Willie and Eliza more than most I do believe as he wrote about them so often in these diaries. Just wish the rest of Pratt's diaries he wrote for over 50 years as a barber in Waveland still existed :( kbz -- ENJOY
---
Monday April 1 -- $8.65. Telephone rent $2.10 Can of beets 15. Sent he Chicago Record Herald $5.62 including 10c expense. Mercury at 6 o'clock this morning 20 degrees during the day it went up to 40. Ice was half an inch thick on the water left in a bucket used in watering the horse and cow at the barn. There will be more frost in the morning. All small fruit is considered destroyed.
Tuesday April 2 -- $2.90. 50. Sent the News of Indianapolis $10.73 expense 10c. 38 for cured ham at the rate of 20 per pound. Paid Mag Moore for washing 35. There was a very little ice in the water pail at the barn early this morning. I noticed when I went home to supper the Mercury was up to 50. The peach crop is reported as destroyed. There is a good bit of news to this end.
Wednesday April 3 - Cloudy. 42.10. Paid a dollar for Oliver McCall to Bert Kritz. Paid 10 for two spools of thread. Herbert Lewis and his wife are going to make their home with his grandparents - Kelso. Tonight they are at his uncle Bob Kelso's. There was a free show in town tonight and last night. Paid 25 c for 3 packages of toasted corn flakes. 5 for a bunch of green onions. 15 for a bottle of Chillisauce. 3 lbs crackers 25. Rain.
Thursday April 4 - $5.30. Cloudy. Fish 25. A bottle of Horlick's malted milk 50. Beef roast 30c Mercury was up to 5 at noon today. Some say the peach crop is not damaged but little. My opinion is that it is a failure. I sold our Bob horse today for $125 but Eva would not part with him. I had previously had a talk with her and we agreed that he might go at that figure. Rained last night. Will be at home by 10 p.m.
Friday April 5 - Cloudy. 54. $2.45. yesterday I paid $6.30 for oil and gasoline.
Gasoline 15 c a gal and oil 9. 3 oranges 10. Salad dressing 25. $2.60 for a ton of coal for the shop. A small cabage had 12. Herbert Lewis and wife at our house tonight. The weather has turned cooler tonight. I don't think there will be any freezing. John l. Goben a former citizen of this place was in town today.
Saturday April 6 -- $12.50. Cloudy 48. $12.50. Two small cans of pine apple 25. 30 c for pork and beef. Weather has been bad all day. Eva went with me to hear brother Hershey today and tonight. After dinner we took a short drive and called at the Fullenwiders. Jessie Alspaugh was there. I took her home. Ethel Fullenwider road over with us. When we had returned I took the little children 4 of them out riding. Visited Willie's grave at 12:09 p.m.
Sunday April 7 -- $1.50. Two pounds of Arbuckles coffee 34c. We have had more disagreeable weather. Rained some and snowed a very little. I find that a part of what I wrote yesterday was for this date. Commencing with "Eva went with me to church." Then the first 4 lives of this date is for tomorrow. Ira Butcher and family came in yesterday, they live at Morton in Putnam Co. His wife is a daughter of Zach Robertson's a citizen here.
Monday April 8 - The Indianapolis News did not get to this place tonight. When it fails to get in we are all put out of the world so far as news is concerned. As I went home for dinner I met Ira Butcher and family on their way home. It looked a little odd to see fruit trees in full bloom and snow falling such was the case here today. Ethel Fullenwider has a position as deputy post master here.
Tuesday April 9 -- $1.25. Paid The Indianapolis Star $9.31. Expense 10. The Terre Haute Star $1.13 expense 5. Two and a little over a half pound of Lake fish .30. 4 pounds of coffee I mean flour 55 cts. There was a wasbit ? of snow seen falling in the mist today. It was cold enough last night to form a very light spray or sprangle ? of ice. Mercury was 2 above the freezing point at 6.30 p.m. ? Paid R L. Rusk yesterday a dollar for apple trees.
Wednesday April 10 -- $1.70. Paid 30 c for pork at 12 ½ cts per pound. For a few minutes this morning snow fell fast and covered the ground deep enough to be tracked. It was all gone in a few minutes after it had quit falling. The trial of Hary K. Thaw for the murder of Stanford White in NY June 25 last year is closed after nearly 2 months. It is the most noted trial ever held in this country.
Thursday April 11 - Cloudy 35. $0.95. Three oranges 10. The sun shone nicely early this morning. There was ice as thick as a common pane of glass over the water in a tub at the well. The small fruit is now considered hopelessly dead. The jury in the Thaw trial in NY are not agreed as to the verdict to be rendered. The body of Jo. Hick's wife is expected to arrive tonight. She died in Pensacola Floriday.
Friday April 12 -- $1.20. Cloudy 34. Snowed so much that everything out of doors was wet and sloppy underfoot. The corps refered to in yesterday came in at 2:32 p.m. 16 years and 5 months ago at 2:20 this morning my little lady Eliza F. Pratt died. 13 years and one month has passed away since our foster son Willie died. Paid $3 for 20 gal of gasoline. 10 c for a mat on which to set the coffee pot at meals.
Saturday April 13 -- $6.00 Paid John Holland for a double cooker $10. One doz bananas 20. 1 can of Pine apple 20. 3 oranges 10. ? butter beans 25 one pound of dried sweet corn 10. Small roast of beef 25. Snow about an inch deep covered the ground this morning. Snowed several times today. The sun shown or shone a few minutes. I will be at home by 11 o'clock.
Sunday April 14 - Clear 32. Eva and I attended the funeral of Nannie Hicks, wife of Joseph Hicks who died in Pensacola Florida last Thursday at about 10 o'clock p.m. The services were held in the Baptist meeting house by the pastor of the church at Anderson, Indian. It was a beautiful, nice and solemn service. We had with us for dinner Miss Lucy and Rachel Byrd. We attended meeting tonight.
Monday April 15 - Cloudy 40. $1.40. Saturday night I paid 25 for 6 oranges. Eva went to her church last night and I to mine. Elder Cissel made his last visit to this class as elder. He is now in his 6 year. At the next Annual Conference we will have a new one appointed. The quarterly conference collections will be gathered in within the next 3 weeks. Elmer Williams has the use of our Bob at 50 a day to help his horse pull the dray.
Tuesday April 16 -- $3. Paid 25 for dried beef 25 for 2 fish 15 for beef steak. Cloudy 48. I have agreed to pay 10 a week to Frank Leslie's weekly for 18 months and get a book Modern Book of Knowledge Ten books in one binding." The weather is some colder tonight. The freezing will do no more damage to small fruit this season. Eva sent her niece Mrs. Ida Feld of Champaign Ill a letter.
Wednesday April 17 -- $2.05. Cloudy 50. Two new shoes for our Bob 60. 1 peck of apples 45. 1 orange 5. For the cleaning of my watch $1. Eva received notice that her town lot in Terre Haute has to be improved by putting down a cement concrete sidewalk. There is a firm sent up word they would put it in for 90c per lineal foot. Mr. Albright of Crawfordsville offered me a ride home with him tonight but I could not go.
Thursday April 18 -- $2.55. Cloudy 46. Yesterday morning I sent the News $2 including expense. This afternoon a slow easy rain has been falling at 10 o'clock tonight it had not let up. I sent in the Hamper this morning a 5 dollar money order to JJ Campbell for laundry work, Paid 30 c for 4 slices of beef steak at the rate of 12 ½ per pound. Paid 41 on sub for Leslie Weeks?
Friday April 19 - Cloudy 41. $2.20 Paid 15 for a can of sweet corn put up in New Brunswick, Maine. Snow as falling this forenoon. I hope the cold freezing weather is at an end. A man by the name of Harry Stranagan will help me in the shop tomorrow. He was presented to me by NFS Steadman as a good barber and a sure enough gentleman. He will get 75 cts on every dollar he earns.
Saturday April 20 -- $8.20. Cloudy 53. paid 43.83 for cow feed 25 for 6 oranges 55 for a beef roast 15 for a can of grated pine apple. 20 for a doz bananas. Today I am 67 years old and am writing this by the light of a gasoline lamp without the use of spectacles at 10 m of 12. Nearly midnight. I am thankful to the Lord for life and health & c. (etc?)
Sunday April 21 - I made n o visit to the grave of poor little Willie after church service. Eva remained at home she had company for dinner her sister, Nancy and her man, Robert Kelso her nephew and his son Herbert. The sun shine for a little while. Ice in the tub at the well this morning. This afternoon Buddy Kelso and I went to J. Robertsons to see Wm. Peterman an old man 92 ?
Monday April 22 - Cloudy 56? 0.75. Paid Oliver McCall $2. Mag Moore 35. April 8 I sent $1.10 to Kirtland Bros of New York for a telescope 3 ½ feet long and have never heard a word from them. A post office money order was sent them 13258 is the number of the order. There has been no real good sun shine today. Eva has an answer from the letter sent her niece Monday.
Tuesday April 23 -- $.45 receipts for the day. Cloudy 66. Wind was from the SE weather nice and warm. I paid 15 for nails. Mr. Browin ? is fixing our barn to give us room for our new buggy. President Roosevelt will be in Indianapolis May 30 at the unveiling of General Lawton's monument. He was killed in the war with the Philippines. Sadie (my wife) spent the evening at her sister, Nancy Kelso's Rained this forenoon.
Wednesday April 24 -- .90. Cloudy 66. 30 c for bread since last report. 20 c for beef steak. We now have a place prepared for the buggy. I have spent 2 days helping about the house. At some other time in the near future I have some more cleaning about the barn to be done. The telephone ordered on the 8th of this month came in today. I have not had time to examine it. Big wreck on the Van last Saturday.
Thursday April 25 -- $1.60. Cloudy 64. Tom Rice reports that out in the field where he was plowing that there was a snow flurry of about 2 minutes. Rained nearly all afternoon. Paid JR Canine 25 for a big lot of cakes that were broken otherwise good. John Holland 20 cts for a can of sliced pineapples. Oranges 30. Bananas 20. Sadie sent to her niece Mrs. Jennie Hanna for another letter. I wrote a card to Ida Feld.
Friday April 26 - $3.25. Cloudy 31. Paid 10 for 2 oranges. The Jamestown Exposition was opened for business today by the President of the US. He pressed or punched a gold button attached to an electric wire which put things in motion. There is a great display of Naval vessels from all parts of the civilized world. Sadie spent the evening at Mrs. John Rices. Yesterday I sent the News 42. Expense 5c.
Saturday April 27 - Cloudy. 46. $9. Two pounds of prunes 25. Beef steak 25. The Greene Brothers are going to cut down a dead pear tree that is in our lot west side of the house and into stove wood for 25. I received a copy of the Home Magazine from the Bobbs Merrill Co of Indianapolis. I have agreed to canvass this town for it. On every sub that I get 40c is mine.
Sunday April 28 - Cloudy 68. I did not call at Willie's grave today when I was out with the horse and buggy I passed by the Methodist Church house twice but never once thought of it. The Sunday before last I visited his grave after the meeting was dismissed. Charley Deere and wife and wife's sister Mary Bloomfield's were at our house for dinner. I went to sleep at church today.
Monday April 29 - Cloudy. $1.95. we have had April showers at intervals through the day. Eva has commenced house cleaning. She is going to take her time for it and if she doesn't get done this week, there will be another week coming and if not she wont need it. Paid 2.50 for cow feed $2.10 for telephone rent. A 4# package of Gold Dust washing powder 25 c. Weather a little cooler tonight.
Tuesday April 30 -- $4.55. Cloudy 46. Paid 25 c for a beef steak. Todays papers have an account of snow and sleet in Iowa, Nebraska, Kansas and as far to the south as northern Texas. Snow was reported 4" deep at Oskaloosa, Iowa. The running of trains were interfered with in some part of the Northwest. The weather is getting cooler tonight.