JUNE 1886 - DIARY OF HIRAM AUSTIN PRATT
Waveland Barber; CW Soldier + More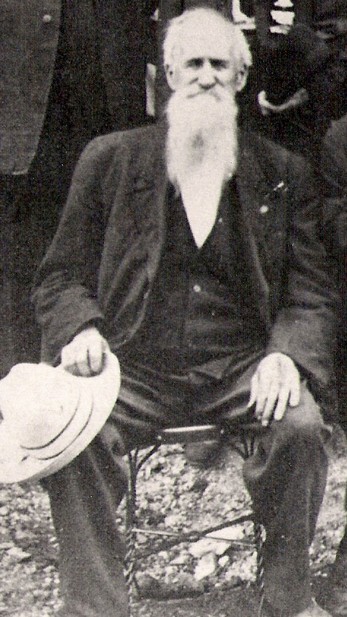 Note: These diaries were in the Waveland Public Library for decades but were disposed of by a librarian several decades ago. Luckily, another librarian's daughter (thanks sooo much Pam, at the death of her mother, Virginia Banta Sharpe found them in some belongings and gave them back for proper housing. A complete circle; however, only 14 of the 50+ diaries were saved from the library's incinerator. I'm a librarian too and thought since they'd been lost to posterity for so many years that it would be a good thing to transcribe them and give them to the world. They are currently housed in proper temperature/storage at the Crawfordsville District Public Library - typed as they were written
Note 2 : Karen Bazzani Zach (transcriber) was raised in the big 'ol town (500 people) where HA Pratt lived 5 decades before I was born. I remember the building where his little shop was and wish it was still there. What an interesting little place. ALAS! Progress !
Note 3: Some information about Pratt -- he was born in Parke County, Indiana April 20, 1840 the oldest child of eight born to Erastus & Elizabeth Allen Pratt and died October 12, 1914 in his beloved Waveland, Indiana. He was twice married, first to the love of his life (he kept a life-sized poster of her in one of his cabinets at his barber shop, even long after his second marriage) Eliza Franklin Shaw (born Oct 23, 1841 died Oct 12, 1887), and #2 to his friend, Evaline "Eva" McMains. He was very active in the community where he and Eliza chose to live. He gave generously of his time and money to the Methodist Church in Waveland. For a few years, he served as Marshall of the town. Also, he worked diligently for his Odd Fellows, Rebekah & Knights of Phythias Lodges, was for a time on the town board, and read to those who could not read from the several newspapers he was agent for. Pratt volunteered and served for three years during the Civil War (Co. B, 36th Infantry), and spent time in the dreaded Andersonville prison. He and Eliza adopted a son, Willie Franklin Stump, age two (not sure ever officially or just had permission to take him from the Poor House in Crawfordsville) and he was an amazing young boy (high grades, worked in the church, quite musicially inclined, just an ideal child) until Eliza was taken to the hospital where she was operated on for six cervical tumors (one weighing six pounds) from which she died. Willie went wild after that and he and Hiram's second wife, Eva never got along. He ended-up in Reform School (for stealing a dollar twice from Eva among other small crimes), and later sent home to die due to consumption (what we know as tuberculosis) dying in Hiram's arms on April 12, in 1894. Hiram missed Willie and Eliza more than most I do believe as he wrote about them so often in these diaries. Just wish the rest of Pratt's diaries he wrote for over 50 years as a barber in Waveland still existed :( kbz
---
Tuesday June 1 - $3. The daily papers are giving a good deal of space to the marriage of Grover Cleveland to Miss Frances Folsom at the White house on tomorrow evening at 7:30. Paid Charlie Hunt 45 cts. 5 cts for a paper of raddish (sic) seed. WILLIE ran off today. Whipped him.
Wednesday June 2 -- $1.15. Four bushel of chicken feed $1. James Johnson Representative in Congress delivered a decoration speech at Alexander, Va on last Monday .He denounced Jeff Davis as a traitor and the reconstruction rebels denounced Johnson. Papers have a good deal to say of Decoration day everywhere.
Thursday June 3 -- $1.90. Paid 35 cts for Postage. Sent John C. New & Sons $8.99. Commercial Gazette Co 2.29. The gasoline stove ordered last week was shipped last Saturday. I am having trouble with my stomach caused by indigestion. Rain. Weather very nice.
Friday June 4 -- $2.25. Bought 2 doz glass fruit cans of one quart each 2.45. One sack of flour .60. Twenty seven break tickets $1. Freight on Gasoline stove $1.17. The stove was badly broken - have ordered duplicate pieces. One garden hoe 50 cts.
Saturday June 5 -- $8.30. Sent 4.47 to Thomas H. Martin of Chicago for sewing machine needles. One fish .50 One beef steak .25 We were done work by 11:30 tonight. Weather had been very pleasant as yet there are no signs of rain and the ground is getting very dry.
Sunday June 6 - I was at meeting this morning. Clara was with me, wife and Willie remained at home. This afternoon Mrs. Fred Smith took Willie and I to see Jimmie Acker. I shaved him. He is not very long for this world. We were at church tonight.
Monday June 7-- $4.10. B& L 2.50. The American News Co 5.05. John C New & Son 8.99. Judging from the appearance of the sky & general appearance of the weather it will not be very many days until we have rain. In my opinion it will be a God send.
Tuesday June 8 -- $1.80. Sent $1.55 to Buckey cash store for one yd of velvet for wife to use in dress trimming. There was no one went from here to Terre Haute to day to see Barnums great show. Several are talking of going down on tomorrow -the round trip being only 75 cts.
Wednesday June 9 -- $3.05. Sugar $1 - One lamp flue 10 cts. We have had a glorious good shower of rain. The ground is now thoroughly soaked and the farmers are rejoicing - the wife of George B. Haley died yesterday and was buried this afternoon. 48 went to Terre Haute.
Thursday June 10 -- $2.30. One beef steak .25. 12 ½ gal gasoline 2.00 Sentinel Co 1.73 Times 1.38. one bottle of medicine for myself for the cure of indigestion $1.10. The Sunday School Teachers meeting appointed at our house for last night was not attended by anyone.
Friday June 11 -- $3.35. Paid cow pasture 1.50. Buckwheat flour 35. Candy 20. Coffee 15. Paris Greene 10. Soap. 25 The town boys have organized a baseball club. Clara is talking of selling out and going home. She is tired of the business. Her profits has been thus for over $100.
Saturday June 12 -- $13. I did not get home until half pats one o'clock. Waited for a man who was at work on a mill boiler. Paid 25 cts for beef. 30 cts for one doz lemons. The sick boy at Mr. Ackers died at 11:30 today. Poor Jimmie. (Note this is the son of Leonard & Cyrena Acker - born 28 April 1869 died 12 June 1886 buried Maple Ridge Cemetery nice stone in 2016). He suffered much long.
Sunday June 13 - Rained most all the forenoon. I had lost so much sleep I thought it best to lay down and rest. I slept most all the time. Tonight we attended the Childrens day meeting at the Methodist Church. It was very nice indeed.
Monday June 14 -- $1.55. We had more rain today. Wheat harvest will be on by next week. I sent by Frank Kritz to THB McCain at Crawfordsville $5. Sunday school teachers meeting is again announced to be at our house on next Wednesday night.
Tuesday June 15 -- $2.00. Three gallons of coal oil 45 cts. The repairs on the broken gasoline stove cost 2.65. Mr. Swaim says that stove as it is does good work. I had to give Willie a whipping for going off not having permission.
Wednesday June 16 -- $1.65. Paid James Scott $5. On Monday I paid into the B& L 2.50. Lamp chimney and wicking 10 cts. I am troubled with indigestion and fear. I shall have serious trouble. Sam Jones & Sam Small are holding a revival in Indianapolis.
Thursday June 17 -- $1.85. Paid $2 for a piece of drid beef. 57 cts for chicken feed. Had a good shower of rain last night. Clara has been sick yesterday and today. I have ordered for Jap Miller a gasoline stove.
Friday, June 18 -- $1.70. One pair of suspenders 50 cts. Paid 95 cts for freight on the castings for the gasoline stove that was broken in shipping. I attended the Post meeting the GAR tonight. Clara Shaw has sold her Milliner shop to Miss Cinda Bloomfield.
Saturday June 19 -- $6.10. Ten cents for Cazonne Pepper which we intend to feed to cabbages worms. One gal vinegar 20 cts. 1 paper of coffee .15 2 gal of gasoline 35. Charlie Kritz helped me today. I gave him 60 cts on the dollar. The weather was cooler today.
Sunday June 20 - We attended church at 10:30 a.m. I did not attend Sunday school. Willie did. To night we attended church. Our last quarterly meeting will beheld there July 10 & 11. The charge here is nearly 3 ol ? dollars behind with the Pastor.
Monday June 21 -- $3.50. B&L 2.50. One hammock 2.45. Piad Mr. McCall for work in the garden 25 cts. Wife and Clara done their weeks work this forenoon. Paid CF Moore 85 cts for a bottle of medicine - self.
Tuesday June 22 -- $1.40. The bill for the stove for Miller has come in. Willie comes uptown every day to practice in his part in the Play for next Friday night. Since taking the first dose of that medicine I have had no more trouble.
Wednesday June 23 - $2.10. 1 kit of salt fish 50 cts one sack of flour 60 cts. Starch .25. Thread 10 cts. Miller stove came in today. It is a good one. We had a good rain today. At night there was strong indication of a storm. Bought raspberries 1.65. 5 ½ gals.
Thursday June 24 -- $1.10. One doz lemons .50 cts. Four bushel chicken feed $1. 36 ½ lbs of sugar 2.38. Pea huts .5 cts. Clara caught Willie stealing her money 3.15. He gave it back to her. I gave him a whipping. He is not doing as he ought to do.
Friday June 25 - 1.35 Honey 3 lbs 35. Wife and Willie attended the bat ? Cat? Gat ? entertainment at Milligan's Hall tonight. Spent 25 cts. I sent to Perrin Hardware Co for gasoline stove and other good 18.45. To ML Hull & CO 12.35 to Hull Vapor Stove Co 70 cts. Rained.
Saturday June 26 -- $4.80. The work has been very short today. From 6 to half past 11 p.m. we had steady work. Wife & Clara have been out in call makings this p.m. Paid 15 cts for a paper of coffee. Rained a little today. Gasoline Burner 7.15
Sunday June 27 - Willie and I attended Sunday school at 2 ½ p.m. A man by the name of Leonard Galey preached in the Methodist Church this forenoon and at 4 this evening. I did not attend. Tonight Clara & I attended services in the Campbellite church. Rained today.
Monday June 28 -- $3.90 B& L 2.50 One bottle of medicine for wife (Nash's Kidney cure) 80 cts. The weather today has been real nice. Clara has sold her shop to Cinda Bloomfield and will leave for home next Friday. Wife spent 30 cts Saturday for flowers.
Tuesday June 29 - 1.70. Granulated sugar 3 pounds 25 cts. We expect to make a trip to the Shades of Death tomorrow. Going with the Methodist Sunday school AJ Wolfe, superintendent has made all arrangements necessary. The weather is warm.
Wednesday June 30 -- $6 dollars. I received for the two gasoline stoves. Willie and I went with the Sunday School picnic party to the Shades of Death. We had a real splendid time. Clara and Eliza concluded they would rather stay at home.