OCTOBER 1884 - HIRAM PRATT DIARY
(Waveland Barber 50+ years)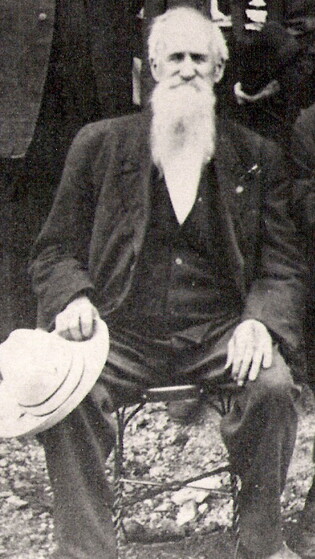 Note: These diaries were in the Waveland Public Library for decades but were disposed of by a librarian several decades ago. Luckily, another librarian's daughter (thanks sooo much Pam, at the death of her mother, Virginia Banta Sharpe found them in some belongings and gave them back for proper housing. A complete circle. I'm a librarian too and thought since they'd been lost to posterity for so many years that it would be a good thing to transcribe them and give them to the world. They are currently housed in proper temperature/storage at the Crawfordsville District Public Library - typed as they were written
Note 2 : Karen Bazzani Zach (transcriber) was raised in the big 'ol town (500 people) where HA Pratt lived 5 decades before I was born. I remember the building where his little shop was and wish it was still there. What an interesting little place. ALAS! Progress !
Note 3: Some information about Pratt -- he was born in Parke County, Indiana April 20, 1840 the oldest child of eight born to Erastus & Elizabeth Allen Pratt and died October 12, 1914 in his beloved Waveland, Indiana. He was twice married, first to the love of his life (he kept a life-sized poster of her in one of his cabinets at his barber shop, even long after his second marriage) Eliza Franklin Shaw (born Oct 23, 1841 died Oct 12, 1887), and #2 to his friend, Evaline "Eva" McMains. He was very active in the community where he and Eliza chose to live. He gave generously of his time and money to the Methodist Church in Waveland. For a few years, he served as Marshall of the town. Also, he worked diligently for his Odd Fellows, Rebekah & Knights of Phythias Lodges, was for a time on the town board, and read to those who could not read from the several newspapers he was agent for. Pratt volunteered and served for three years during the Civil War (Co. B, 36th Infantry), and spent time in the dreaded Andersonville prison. He and Eliza adopted a son, Willie Franklin Stump, age two (not sure ever officially or just had permission to take him from the Poor House in Crawfordsville) and he was an amazing young boy (high grades, worked in the church, quite musicially inclined, just an ideal child) until Eliza was taken to the hospital where she was operated on for six cervical tumors (one weighing six pounds) from which she died. Willie went wild after that and he and Hiram's second wife, Eva never got along. He ended-up in Reform School (for stealing a dollar twice from Eva among other small crimes), and later sent home to die due to consumption (what we know as tuberculosis) dying in Hiram's arms on April 12, in 1894. Hiram missed Willie and Eliza more than most I do believe as he wrote about them so often in these diaries. Just wish the rest of Pratt's diaries he wrote for over 50 years as a barber in Waveland still existed :( kbz
---
Wednesday Oct 1 -- $3.95. 40 cts for half soling Willie's shoes. Gen Benjamin F. Butler candidate for president of these United States on Peoples ticket will make a short speech at the depot tomorrow at 10:30.
Thursday Oct 2 -- $3.65. Sent $2 to Merril Meigs & Co of Indianapolis for papers. 10 cts for Post Office box rent. $1 for sugar. Sent $5 to Chicago for oil for sewing machines. I shook hands with Gen Butter (sic) at the depot today. The weather is very warm for the season.
Friday Oct 3 -- $3.15. Pd 15 cts for repairs on a tea kettle $4 on coal and $2 for 2 gal of Apple butter. The weather has been as warm as at any time during the summer. Honey 6 lbx 1.20. I signed a resolution for our Elder to send us another preacher as ours dia ? to move to Frankfort.
Saturday Oct 4 -- $12.40. 20 cts for honey. Hon. JT Johnsen rep candidate for congress spoke here tonight. The town was full of people. A brass band from Rockville and also a Blain & Logan drill corpse (sic) was in attendance.
Sunday Oct 5 - We all went to meeting this morning. Wife and I remained for class after the sermon. This p.m. little Willie and I attended Sunday school after which wife, Eillie and I called at Prof. Pattisons and at Mort Butchers.
Monday Oct 6 -- $7.50. Sentinel Co $5.19. Coal $5.35. Since last report I have paid Billy Hauger $28.20. The weather has been real warm. Rained a little last night. Our cistern has about 2' of water in it. It is nice.
Tuesday Oct 7 -- $2. Paid 25 cts for beef and 20 cts for 1 lb of roasted coffee. Rained last night & this morning and at noon prospects are good for a big rain tonight. There is again strong talk of the Anderson, Lebanon & St. Louis road being built.
Wednesday Oct 8 -- $1.70. 35 cts express charge on 30# of paper. 1 gal vinegar .25 & head of cabbage 20 cts. Oat meal 20 cts. Our preacher has concluded to move to Frankfort and will leave here next week some time.
Thursday Oct 9 -- $3.85. 1 gal coal oil .20 cts. The weather has suddenly turned much cooler. There has been no rain today. Willie Hauger went over to Russellville tonight. Gen Grubb is to speak from a republican standpoint.
Friday Oct 10 -- $2.65. 70 cts for flour .30 for a can of gages ?. 25 cts for 3# granulated sugar? I received 2 doz campaign badges from Capt. SA Swiggett of Des Moines, Iowa. Selling at 25 each. Father and mother Shaw are to be here tomorrow.
Saturday Oct 11 -- $11.65. Pd for fresh beef 80 cts. Rec'd for Willie .10. Nearly every body went to Crawfordsville tonight for the big rally. Father Shaw and wife came up tonight. We got a card from them this morning stating they would not be here until Monday.
Sunday Oct 12 - Father Shaw & I went over to hear Elder Plunkette (without the last te in Hiram's writing) is a good preacher and is here once a month. We went again tonight. I did not attend class nor Sunday school. Eliza and her mother were at home all day.
Monday Oct 13 -- $7.15. Willie Hauger $2. 25 cts hack hire for father and mother Shaw. They went away on the 10.10 a.m. train. 25 cts for soap. 40 cts for a shirt front a present to father Shaw. My wife gave him goods for a shirt. 60 cts for 6 barrels. 80 cts for beef. 1.85 on coal. I am done with the coal purchase.
Tuesday Oct 14 -- $3.05. Rent for Sept $3.50 EM Milligan & Bro have made an assignment in favor of their creditors their liabilities are in the neighborhood of $20,000. I have a letter from 3 of my brothers and sister Eliza.
Wednesday Oct 15 -- $6.20. Paid $1.30 for bacon. 8 ½ lbs. Reports of the election yesterday in Ohio are that the republican majority will be very near 20,000. I think this is too high. I was not able to fill the demand for papers. The republicans jollify tonight over Ohio.
Thursday Oct 16 -- $6.25 .25 blain cap for a little boy, Jim Connnelley. 35 cts for oysters. 25 cts for crackers. The republican majority in Ohio will not it is now supposed eceed (sic) 13,000. I sent out a telegram last night for 40 journals sold all but two. Rained a little today.
Friday Oct 17 -- $5.05. Pd 25 cts for 15 tile used in our cistern filter. 50 cts for Express on 50 lbs of paper. The republican majority in Ohio has run down to 11,000 and a few hundred. Blaine will be in Crawfordsville next Tuesday.
Saturday Oct 18 -- $12.70. 25 for 3 pumpkins and 10 cts for a larger one. 25 cts for beef 20 cts for coffee. 25 cts for another Blaine cap for Willie. We were done work by 9.45. The weather here turned considerable cooler. I rec'd a letter today from Lottie Hollingsworth in Knoxville Iowa.
Sunday Oct 19 - This being our regular preaching day, we found ourselves without a minister. Should the Elder send us a preacher, he would have to be a good one, or we would not receive him. I attended SS and prayer meeting at morning and evening. Weather warm.
Monday Oct 20 -- $7.15. 30 cts for glycerin and 30 cts for insect power (powder?) and a bellows to scatter it over the room. It killed all the flies in a few minutes. 70 cts for a sack of flour $1 for sugar. 10 cts for crackers. $10 news Co. 4.20 Merril Meigs & Co. John C. New & Sons $15.80.
Tuesday Oct 21 -- $2.75. Billy Hauger $5. 50 cts for bread tickest (13). Coal oil 20. The rain today I think has badly interfered with the Blaine reception in Indianapolis. I am glad that I am at home in the dry and when bed time comes go to be in a clean and comfortable bed.
Wednesday Oct 22 -- $3.55 The weather is getting cooler. Billy Hauger did not get home until about 8 o'clock. He said there was a very large crowd of people out to see J. S. Blaine. Our new stove we believe will work nice. It is very clean.
Thursday Oct 23 -- $4.05. $1 for flannel for Willie. Soap 25 cts. Stove pipe 10 cts. For diamond dye to collor (sic) red. Willie Hauger has picked our apples. We moved the cook stove into winter quarters this evening. My wife is 43 years old today.
Friday Oct 24 -- $2.50. A joint debate took place today in Rockville between JT Johnson rep and J.E. Lambden candidate for congress. A bit frost this morning causes every thing green and perrisable (sic) to go the way of all the earth - coal ion ? .28
Saturday Oct 25 -- $10.40. 50 cts pd for beef and a 5 ct spool of thread. The democrats had a small rally and speaking here tonight. We were done work by half past 10. Our little boy is not very well, has a cold.
Sunday Oct 26 - A slow rain has been falling most all day. I attended class meeting this forenoon and Sunday School at 3 ½ p.m. Tonight I remained at home. Our little Willie remained at home all day. Eliza wrote her pa a letter tonight.
Monday Oct 27 -- $6.90. 20 cts for a one pound package of coffee. 10 cts for a yd of calico. 25 cts for 3# of lard. 5.47 Life insurance paid last Friday. The candidates for 5 governor on the greenback ticket made a speech here tonight.
Tuesday Oct 28 -- $1.20. Paid AOUW $4. The day has been cool had a white frost this morning. One week from today our presidential election will occur. I here predict the election of James S. Blaine and John A. Logan republican candidates.
Wednesday Oct 29 -- $2.30. Paid 2.25 for a pair of shoes for Willie. Billy Hauger went down to Judson tonight to a Republican rally. He has been building a cross fense (sic) at the south end of our lot. Weather cool and chilly.
Thursday Oct 30 -- $2.35. Paid state and county tax $5.20 Wife was up today and spent 20 cts for articles of wear. Two gal of sorghum molasses $1. Stamps 10 cts. Weather clear and considerable warmer. The maltee (Maltese?) kitten we brought from Ill is dead.
Friday Oct 31 -- $2.85. Paid corporation tax $1.95. We have had a very nice day - hardly cold enough to keep up a fire. Billy Hauger has fixed up our south fense (sic) in good style. I gave him .30 cts Wednesday evening - fare to Judson.
---