NOVEMBER 1884 - Hiram Austin Pratt Diary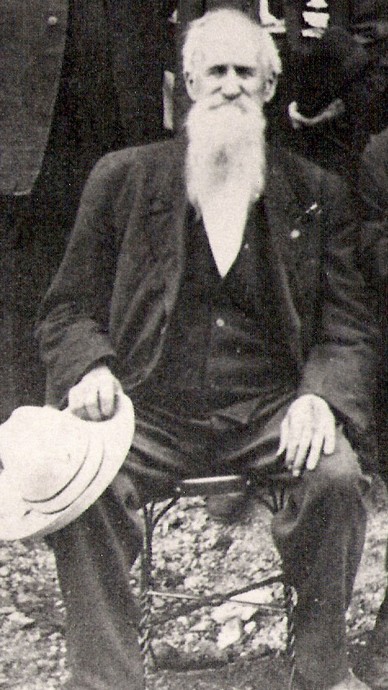 Note: These diaries were in the Waveland Public Library for decades but were disposed of by a librarian several decades ago. Luckily, another librarian's daughter (thanks sooo much Pam, at the death of her mother, Virginia Banta Sharpe found them in some belongings and gave them back for proper housing. A complete circle. I'm a librarian too and thought since they'd been lost to posterity for so many years that it would be a good thing to transcribe them and give them to the world. They are currently housed in proper temperature/storage at the Crawfordsville District Public Library - typed as they were written
Note 2 : Karen Bazzani Zach (transcriber) was raised in the big 'ol town (500 people) where HA Pratt lived 5 decades before I was born. I remember the building where his little shop was and wish it was still there. What an interesting little place. ALAS! Progress !
Note 3: Some information about Pratt -- he was born in Parke County, Indiana April 20, 1840 the oldest child of eight born to Erastus & Elizabeth Allen Pratt and died October 12, 1914 in his beloved Waveland, Indiana. He was twice married, first to the love of his life (he kept a life-sized poster of her in one of his cabinets at his barber shop, even long after his second marriage) Eliza Franklin Shaw (born Oct 23, 1841 died Oct 12, 1887), and #2 to his friend, Evaline "Eva" McMains. He was very active in the community where he and Eliza chose to live. He gave generously of his time and money to the Methodist Church in Waveland. For a few years, he served as Marshall of the town. Also, he worked diligently for his Odd Fellows, Rebekah & Knights of Phythias Lodges, was for a time on the town board, and read to those who could not read from the several newspapers he was agent for. Pratt volunteered and served for three years during the Civil War (Co. B, 36th Infantry), and spent time in the dreaded Andersonville prison. He and Eliza adopted a son, Willie Franklin Stump, age two (not sure ever officially or just had permission to take him from the Poor House in Crawfordsville) and he was an amazing young boy (high grades, worked in the church, quite musicially inclined, just an ideal child) until Eliza was taken to the hospital where she was operated on for six cervical tumors (one weighing six pounds) from which she died. Willie went wild after that and he and Hiram's second wife, Eva never got along. He ended-up in Reform School (for stealing a dollar twice from Eva among other small crimes), and later sent home to die due to consumption (what we know as tuberculosis) dying in Hiram's arms on April 12, in 1894. Hiram missed Willie and Eliza more than most I do believe as he wrote about them so often in these diaries. Just wish the rest of Pratt's diaries he wrote for over 50 years as a barber in Waveland still existed :( kbz
---
Saturday Nov 1 -- $12.20. Pd 60 cts for beef. Wife was up town yesterday and spent $2.45 for dress goods for remodeling a black dress. 20 cts for coal oil. We were done on work by 10 o'clock. Weather continues very pleasant.
Sunday Nov 2 - I attended class meeting this morning at 10 ½ o'clock. It was lead by Aaron Wolfe. This afternoon at 2 ½ Willie & I were at Sunday school. Rev. JH Sammis of the Presbyterian Church preached in the Methodist Church tonight.
Monday Nov 3 -- $8.50. Sent $7.84 - 10 cts fees to Enquirer Co. $2.09 to Thos. H. Martin of Chicago for sewing machine supplies. Paid 50 cts for 12 bars of soap. There has been a steady rain rain falling most of the day. I predict the election of Blaine & Logan.
Tuesday Nov 4 -- $7.05. The election passed of(f) quietly at this precinct today. I gave Willie Hauger 40 cts for the theater tonight. He will take little Willie with him. Pd 15 cts for a small piece of pork and 5 cts for a spool of thread. $1.55 Barbers Lone ?
Wednesday Nov 5 -- $18.70 Paid 4.25 for 12# of honey 20 cts for meat $37 for our heating stove. Flour 70 cts coal oil 20 cts. The Sentinel had up a big rooster for the democratic ticket. The dispatches late this evening indicate the election of Blaine.
Thursday Nov 6 -- $22.85. 20 cts for a package one pacKnights of Pythiasostal cards 25 cts. Sentinel Co $8.75. The result of the election is yet undecided. If Blaine does carry New York it will be by small vote, all is now depending on NY. Blain (sic) 360 ahead now.
Friday Nov 7 -- $8.15 - "Satterday Night" Phila Penn $2.30 for SA Rice ? 25 cts for lard and 25 cts for a gal of vinegar. 20 cts for beef. The final result of the election is not yet known. Both parties are confident they have elected their man. Official vote of NY required.
Saturday Nov 8 -- $12.55. Coal oil 20 cts. Hat for wife $2.25 . Ticket for Willie to see the play "Peck's Bad Boy" 35 cts. Beef 50 cts. We were done work tonight by 11 o'clock. The day has been very pleasant not much use of fire in the heating stoves.
Sunday Nov 9 - We attended church at the Presbyterian Church, heard the Rev. Dr. Robert Irwine (sic KZ has Irwin in my database) of St. Charles, Missouri. He used to be their regular pastor here. Mrs. James W. Milligan is his sister and is a citizen of this place. Weather warm.
Note from KZ: This is James Robert Milligan born 23 Jan 1844 died 28 June 1899 (son of John William Milligan where Pratt probably was confused). James Robert's wife was Mary Francis Irwin - no e) 1846-1920. They are buried in the Waveland Presbyterian cemetery. There are articles about these families on the Montgomery Co IN GenWeb page.
Monday Nov 10 -- $9.75. Paid rent for last month 3.50. The weather has been real nice and warm. The returns of the election for president are yet unsettled. The official report is required. It may be Blaine or it may not.
Tuesday Nov 11 - $4.40 - Paid 25 cts for 8# of hominy. Painted 400 posters for Oyster Supper by the ladies of the Christian (Cambellite) Church to be given in Milligan House next Thursday night. The count of the vote in NY goes off today. Warm weather.
Wednesday Nov 12 -- $8.85. Paid for lard 85 cts. 1 package of coffee 20. Soap .50 1 yd oil cloth 50 cts. The weather is very pleasant - a heavy fog this forenoon. Paid $1 to church expense. Quarterly meeting at New Market Sat-Sun.
Thursday Nov 13 -- $3.00. Paid Spring Emmerson & Co of LaFayette 6 dollars for paper & cards. It now looks like Cleveland would be the next President. Democrats are jollifying over the event. Wife, Willie and I were at an oyster supper for benefit of Campbelite Church.
Friday Nov 14 -- $5.10. One bottle shoe polish 15 cts. Willie sent today an exchange notice to James Elverson Publisher of Golden Days. He wants a violin for 3 volumes of Frank Leeslies Chatter box and 1 Vol. Golden Days.
Saturday Nov 15 -- $12.80. Soda .25 Soap .25 Beef .40 Coal oil .25 Oyster .30 We are done work tonight by 10.45. The day has been pleasant a little cooler tonight. Lizzie Read returned Thursday from her western time of 5 months. Quarterly meeting at New Market.
Sunday Nov 16 - We did not get up till near 7 o'clock this morning. Yesterday I paid 30 cts for a can of oysters and today 1.50 for a livery team. Wife Willie and I went over to Crutchfields. John is very feeble. We come home via Russellville and Browns Valley. Big ride.
Monday Nov 17 -- $7.05. Bacon 2 ½ # 40 cts; coal oil 25 cts. The weather has taken a change today and is a little bit colder. By tomorrow I believe it will be raining. Wife was up town last Saturday, and spent $2.05 (Harp for Willie 50 cts). Cleveland is our new president. Plurality in NY 1105 (I assume he sent money there and it should be 11.05 but it has no period).
Tuesday Nov 18 -- $12.10. No rain. Paid 41 for sugar 12#. The democrats held a rally here tonight. There was a large crowd upon the streets. Speech by Gen M.D. Manson and Col. J. E. Lee. They prophesy good times now that democrats are again in power. Pencil and paper for Willie 10 cts.
Wednesday Nov 19 - Paid for tickets to Indianapolis $1.90 for eatable 60 cts. I was admitted into the cession of the Grand Lodge of IOOF at 1 ½ o'clock. There were 600 delegates present. Pd. Times 22.43. John C. New & Son 19.62. Put up for the night at the English Hotel.
Thursday Nov 20 -- $8.95. Hotel fare, dinner and supper 1.40. Sugar, shoes for wife, pants and vest $7. Kazoo and tin fife .85 Shoe polish 25 cts. Put up for tonight at the Occidental. Milage (sic) and per diam $6.95 and Murril Meigs & Co. refunded 2. Lodge close at 3.35 p.m. Retire at 9 o'clock.
Friday Nov 21 -- $4.15 -- Pd Hauger $5. Ticket to Crawfordsville 45 cts. Hotel bill $1. Express 25. I bought an overcoat for Willie in the city and returned it for exchange. I feel tired tonight and will go to bed 9 1/2. Paid .50 for coal oil, coffee 20. bread 5. The weather continues very fine.
Saturday Nov 22 -- $11.10. Pd 50 cts for fresh meat. Our work was very slow coming in and by half past nine we were done work. A steady rain set in and we went home under the protection of an umbrella.
Sunday Nov 23 - We are having a big change in the weather, raining and sleete (sic) . I and Willie Hauger were out to hear our new preacher this forenoon. I went to Sunday school at 2 ½. Tonight wife and I were out to hear our new preacher. Going to freeze hard tonight.
Monday Nov 24 -- $6.60. Yesterday to church $1. Sent $4.50 to the When Clothing store of Indianapolis for an over coat for Willie. Charges .25 cts. Mercury was 5 degrees above zero this morning. I wrote a letter for Willie Hauger to Delaware, Ohio to get him a position in a shop. Cold now.
Tuesday Nov 25 -- $1.60. The American News Co 10.10 Meat 1. Paid Seybold 4.68 for trimmings to mince meat 45 cts. Enough snow fell to cover the ground, but it did not lay on but a few minutes. Paid to AOUW on death assessments. $3.00 Met with the Lodge.
Wednesday Nov 26 -- $3.35. Paid 25 cts for a dish of oysters and 10 cts for more ingrediances (sic) for seasoning mince meat. There were no daily papers rec'd today. Jap Miller and I set up tonight at Rev. JH Alderdices he is very poorly.
Thursday Nov 27 -- $2.75. Paid 30 cts for one gal of cider. Sent 5 yesterday to St. Stephen NB Canada. The weather has moderated considerable. Indications are good it will rain or snow. Today is by proclamation of the President, Thanksgiving Day.
Friday Nov 28 -- $4.75. Pd 15 for bread. 20 for stamps. 2.10 for stove pipe 50 for fresh meat 20 for coffee. The weather has burned a little cooler, a very light snow fell last night where the sun shone it disappeared.
Saturday Nov 29 -- $9.35. One bottle of Fellows Hyphofolphite (sic) of lime and today for my wife coat 1.50 coal oil .20 Wife paid 2 for a corset. Snowed nearly all day. We were home by 10. Paid Billy Hauger 3.75. He concluded to quit work tonight.
Sunday Nov 30 - This afternoon at 2 ½ Willie and I attended our Sunday school. I remained for class meeting. The ME Church are going to have Christmas entertainment. The snow is about four inches deep. Colder tonight.