Diary of Hiram A. Pratt, Waveland Barber (Standard Diary #31)
January 1870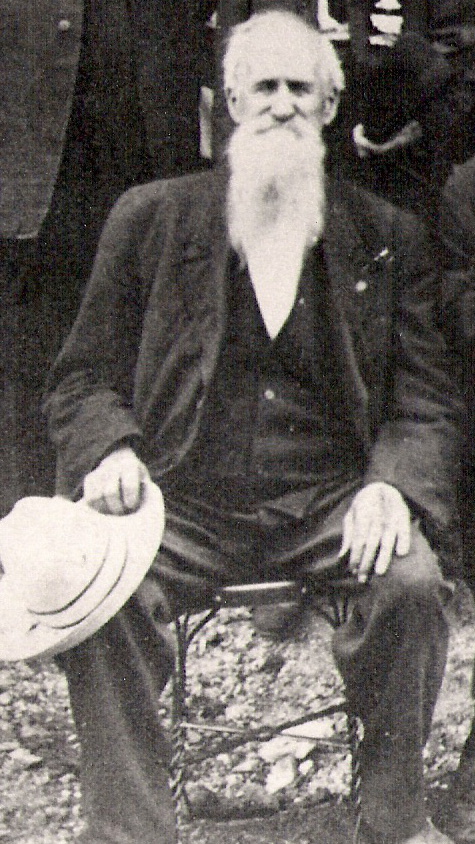 Note: These diaries were in the Waveland Public Library for decades but were disposed of by a librarian several decades ago. Luckily, another librarian's daughter (thanks sooo much Pam, at the death of her mother, Virginia Banta Sharpe found them in some belongings and gave them back for proper housing. A complete circle. I'm a librarian too and thought since they'd been lost to posterity for so many years that it would be a good thing to transcribe them and give them to the world. They are currently housed in proper temperature/storage at the Crawfordsville District Public Library - typed as they were written
Note 2 : Karen Bazzani Zach (transcriber) was raised in the big 'ol town (500 people) where HA Pratt lived 5 decades before I was born. I remember the building where his little shop was and wish it was still there. What an interesting little place. ALAS! Progress !
Note 3: Some information about Pratt -- he was born in Parke County, Indiana April 20, 1840 the oldest child of eight born to Erastus & Elizabeth Allen Pratt and died October 12, 1914 in his beloved Waveland, Indiana. He was twice married, first to the love of his life (he kept a life-sized poster of her in one of his cabinets at his barber shop, even long after his second marriage) Eliza Franklin Shaw (born Oct 23, 1841 died Oct 12, 1887), and #2 to his friend, Evaline "Eva" McMains. He was very active in the community where he and Eliza chose to live. He gave generously of his time and money to the Methodist Church in Waveland. Also, he worked diligently for his Odd Fellows, Rebekah & Knights of Phythias Lodges, was for a time on the town board, and read to those who could not read from the several newspapers he was agent for. Pratt volunteered and served for three years during the Civil War (Co. B, 36th Infantry), and spent time in the dreaded Andersonville prison. He and Eliza adopted a son, Willie Franklin Stump, age two (not sure ever officially or just had permission to take him from the Poor House in Crawfordsville) and he was an amazing young boy (high grades, worked in the church, quite musicially inclined, just an ideal child) until Eliza was taken to the hospital where she was operated on for six cervical tumors (one weighing six pounds) from which she died. Willie went wild after that and he and Hiram's second wife, Eva never got along. He ended-up in Reform School (for stealing a dollar twice from Eva among other small crimes), and later sent home to die due to consumption (what we know as tuberculosis) dying in Hiram's arms on April 12, in 1894. Hiram missed Willie and Eliza more than most I do believe as he wrote about them so often in these diaries. Just wish the rest of Pratt's diaries he wrote for over 50 years as a barber in Waveland still existed :( kbz
---
Saturday, Jan 1
-- $4.55 -- I made today. The new year commences rather cold, turned so some time last night. We look for a cold spell. Next Thursday the little woman proposes to give a few of her friends who have been talking about coming to see her a dinner ? the beginning of the year. I have no Diary and until I get one will have to write on letter paper. I will get one in a few days.
Sunday Jan 2 -- We did not go to sunday school today, in fact we have remained home all day. Snowed some last night and has been making some pretences today. There is to be an election of sunday school officers today - have not yet heard who were elected. Eliza has not been very well especially this afternoon.
Monday Jan 3 - snowed some today. I have been at home most all day at 2 pm. went uptown and attended the meeting of the town board. Turned over to the clerk $11.05 and rec'd for my services in part a payment of $15. This I shall give to one of my friends who were so good to loan me money when I was in need. Pd to Nan English for fixing Eliza's hat .65. Nan has been latly (note he continuously spelled it this way) real sick, but is now getting better fast.
Tuesday Jan 4 -- The sun has shone warm enough to melt the snow from off the south side of house. Uncle Dave has about sold his farm to Mr. Jarvis. Jarvis has offered him 6,800 cash for 149 acres. Uncle want 7,490. Next Monday Mr. Jarvis will let him know more deffinitely (sic). Aunt is not willing to sign the deed but will if 50 an acre is given. Eliza done her washing and ironing today.
Wednesday, Jan 5 -- $2.00. I made in shop today. The weather is turning cold again. Yesterday I rec'd a letter from the Blade Office to those papers for Lewis & Bell. They say my letter owing to the presure (sic) of business had been overlooked and that they had ordered them foward immediately. Mr. John Milligan is talking strongly of buying uncles farm.
Thursday Jan 6 -- Rec'd the Blade & Cin Gazette Edwin M. Stanton, Sec of war during the rebellion and latly appointed associate judge on the bench of the supreme court by the President and confirmed by both houses of congress, died at his residence in the city of Washington Dec 24, 1869 at the hour of 3 a.m. Zachi Robinson and wife uncle and aunt grandma McIntosh, Lizzie and Sarah Crutchfield, Mrs. Crooks, J D Haley and wife and enough more to make out 17 in number were here for dinner today.
Friday, Jan 7 -- Last night was a cold one and today the frost has been flying. Mr. M. was here this morning to see uncle but he had not come over to town. He has offered Uncle $7,000 cash and pay the taxes for last year. Late this p.m. uncle had not come to town and Mr. Milligan went over there and a trade was made according to the above figures. Aunt has not yet signed the deed.
Saturday, Jan 8 -- $5 is all that I made today. Bought hair oil 1.05. 5 1/2 # of sugar for $1.00. Have pd James McCormick $15 on my account. Registered $15.50 to the Toledo Blade. Fred Wymore sent for the Blade and Western Rural by Jas Shellada. Today has been a real cold one. I believe the coldest of the season.
Sunday Jan 9 -- Uncle Dave came by this a.m. and we went with him to meeting at our church services at 10 1/2. This p.m. I went uptown and prepared the town pump for the cold weather. John Crutchfield was here for dinner so was his wife and the preacher a young man by the name of Wm. Hickman. Brother Z ? is attending a protracted meeting at Pisgah. I will close out tonight our quarterly meeting commences next Saturday.
Monday Jan 10 -- The snow that fell the first of the month all melted off to day. The weather appears like that of spring. Uncle sold his farm for $7,000 to Milligan and closed out the bargain this afternoon. Deed was made out by R E Rhoads; Aunt didn't sign it with a free good will. She hoped that she might drop dead as soon as the deed was done. Oh shame!
Tuesday, Jan 11 -- In yesterdays mail I sent to the methodist (sic) book concer $1.50 for Diary for this year and some writing paper and Methodist (sic) Almanac. Eliza done her washing this morning. She was at it by 6 o'clock. Soon afterwards I went over to uncle Daves to get some wood halled; halled one load, it then commenced raining. Aunt grieves more over the sale of the farm than over the death of her mother.
Wednesday Jan 12 -- $2.25 I made today in shop. Bought 1/2 gal tin cup for 25. 3 yrds of cotton .50. 1 box Moody's baking powder .20. One bunch envelopes 20. Paid Bill Cruchfield for cutting wood 1 dollar. This morning at 3 1/2 I was awakened up and went over to set up with the sick. We will set up there until 12 tonight. The first No. of the Advocate for this year came today addressed to my little woman. 'Tis thought that Georgia Ann Marshal will not live till morning. Turned cold.
Thursday, Jan 13 -- I have made a mistake in copying all except the first line for yesterday should fill this space. The sick girl just across the street is nearly dead. Charlie Marshal is just about as poorly as he can be to not be confined to bed but he will not outlive his sister many days. Yesterday we rec'd a letter from brother Bill. He and Ben are going to remain at the Burg a few more weeks.
Friday, Jan 14 -- This morning Johnie Pratt came over, and had me go up town and get him a suit of new clothes, cost even $5. Paid it out of uncle's money. Commenced raining this afternoon. Ground froze hard enough last night to bear a person up. Mrs. Kate Yount was here visiting today. Georgia Ann still lives unexpectedly. Dr's say she has been dying for two days.
Saturday, Jan 15 - $8 I made today. Last night after we had gone to bed Georgia Ann sent over for us as soon as we could get ready we went over. Eliza got over there a little before me. She had been talking to them of her prospects for heaven after death. When I went to her bed, she said, "Mr. Pratt farewell." It was the most soleumn Farewell that I ever heard uttered. Her dying words caused all present to weep. This morning we are supprised to hear she still lives. Tonight at 12 she is still alive. Eliza spent the most of the forepart of the night. Shugar (sic) 50 cts.
Sunday Jan 16 -- George Moore came over this morning just as we were getting up and said she was about gone, we went over to see her, she could hardly get her breath, yet recognized us. By their time it was 20 minutes past nine when she drew her last breath. Commenced to rain before noon and rained until nearly night. Lydia Farmer was here for breakfast her mother was here yesterday morning. I was at church twice today.
Monday Jan 17 -- We were at meeting last night. Elder Hargraves preached. Commenced to freeze early this a.m. We were at the funeral services at 10 this a.m. Elder Hargraves preached the sermon from Phil 1 - 21. "Unto me to live is Christ and for me to die is gain." Bought 2 oz of licerne .25 one bottle expectorant 1.00 1/2 pt whiskey 35. 1 gal coal oil .60. I am now suffering from a very bad cold. Eliza made me a good stew tonight.
Tuesday Jan 18 -- I sweat considerable last night and this morning feel some better and not quite so well this evening. We went over to uncle Daves this morning. Mrs. Moore there and by and by her daugher Lydia Farmer came. Pd. Bill Crutchfield .50 for cutting wood. Eliza made me another good hot stew. I soaked my feet good in hot water and had a hot flat iron put to my feet after I got in bed. Bless her heart she is a good child and wants me to get well. Uncle Dave is 46 years old today.
Wednesday Jan 19 - $1.25 is all I made today. My cold is a little better. I sweat as much last night that my clothes were real wet. Had to put on a dry shirt. The bossom of the one I pulled off was so wet that water could have been wrung out. Eliza went visiting at Mrs. Moore's. Lydia stayed there last night. Uncle Dave and Aunt Susan were there for dinner. RR survey is passed south of town today.
Thursday Jan 20 -- Rec'd this diary by mail from Cincinnati also 1 quire of initial paper, 1 bunch envelopes and one Methodist Almanac; it all cost $1.50. Rail R meeting in this this p.m. Yesterday old Mr. Johnie Milligan hitched his horse on the side walk. I was notified of it by Tom Whittington went and took the horse off and assessed a fine of $3. Mr. M. refuses to pay without a law suit.
Friday Jan 21 -- Bought 3# coffee for 1.00 1 pt hair oil 75. Mr. Milligan fine was settled this morning by his son Edwin. People are now informed that the ways of the transgressor are hard. The weather today is very warm for the season. I paid off my acct to Davis R. Hannah's which was 4.60 and got one oz of indigo for 15 cts. Sent a letter to the Blade Office containing $10.30 ordered one blade for Thomas A. Robertson. Eliza is not very well today.
Saturday Jan 22 -- $6.45 is all I made today. Z M Ball had his trial today for selling whiskey to a minor was fined $5 and the costs took an appeal to common pleas court. My little woman has a very bad cold now. She cannot hardly talk ... I rec'd a letter form Bro Ben he and Bro Bill will continue in business at the Burg for another year. Muddy.
Sunday Jan 23 -- I went to sunday school this morning. Eliza stayed at home not being able to go out upon the cold wet ground. I came back after morning preaching by Let's Celebrate. Hays. He rather talked to his congregation about the duties we owe to one another. We should love our neighbors as we love ourselves and cease to do evil and learn to do good. Thawing out.
Monday Jan 24 -- The weather has been warm today. John Crutchfield was here for dinner. I have done some work in my shop but not much. Tomorrow in Park (sic) County in 3 townships on the RR line to Rockville will vote for and against the RR. Eliza is getting some better of her cold. I come home at 8 tonight. She was looking for me a long while before I came.
Tuesday, Jan 25 -- Turn a little cold last night but turned warmer before noon and thawed considerable during the day. Several citizens went from here to Parkville to electioneer for the Railroad. They feel pretty sure that the vote for the road will carry. We shall know all about it tomorrow. The little woman is still mending.
Wednesday, Jan 26 -- $1.60 is all I have made since Monday morning. Snowed some today and was snowing before we went to bed. Rec'd a letter from father Shaw's folks. They were well. Eliza commenced to write her sister Matt a letter, her sister Allice had a piece in her father's letter. Stephen Shaw promises to come see us as soon as his school is out. Which will be about 8 weeks. One fox collar .25.
Thursday, Jan 27 -- I spent the day at my shop, got some work to do but not very much the amt rec'd will be added to next Saturday's work. Yesterday Austin Pratt gave me a 500 ($5?) dollar bill to pay off a note if presented by Dr. Orear given by Uncle Dave as security for a man by the name of Thompson. Eliza has a very bad cold now is very near sick. RR project granted the 25 inst.
Friday, Jan 28 -- I cut up enough wood this morning to do over Sunday. I mailed $1.30 to the Blade for JR Thornton. This evening Eliza thought she was able to walk on to Uncle Daves and over there we went and will stay over night. Mr. Davis a brother-in-law from near Ladoga is down on a visit. Uncle and Aunt want us to go with them to Kansas.
Saturday, Jan 29 -- $5.40 I made today in the shop. Aunt Susan last night promised to pay Railroad fare for Eliza to Kansas and uncle promised to loan me $100 after we got there if I would rig up and go with them. For my part, I think the offer a good one and would accept if my better half would willingly agree. Her cold is some better. Harriette Pratt came home with her.
Sunday Jan 30 -- Harriette went to Sunday School this morning was here for dinner and went home after prayer meeting this evening. Snowed some last night and some today. It is all gone tonight. We stayed in awhile at Mrs. Haley's this evening as we went up to prayer meeting. John A. Reed attended the meeting for the first time within a month. Uncle Roy Grimes and wife were visiting at Uncle Daves the 27th inst.
Monday Jan 31 -- Snowed this morning enough to cover the ground nearly one inch deep. I have returned Uncle Dave his $500 dollars. Have paid Samuel Milligan $15. Bought 1 qt coal oil 10. Eliza done her washing today. We never got the Advocate last week. Z M Ball has received his magazines from Harpers publishing house. Lewis has not got his yet.