JULY 1911 - HIRAM PRATT DIARY
Waveland, Indiana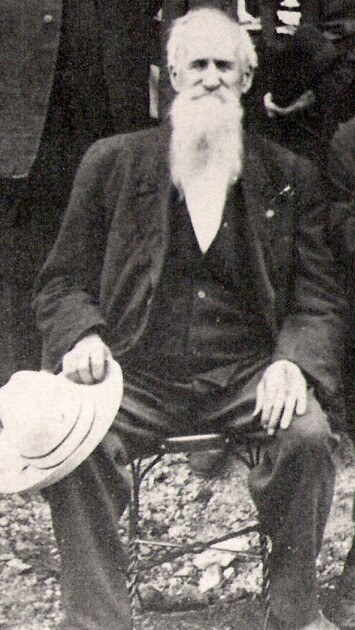 Note: These diaries were in the Waveland Public Library for decades but were disposed of by a librarian several decades ago. Luckily, another librarian's daughter (thanks sooo much Pam, at the death of her mother, Virginia Banta Sharpe found them in some belongings and gave them back for proper housing. A complete circle; however, only 14 of the 50+ diaries were saved from the library's incinerator. I'm a librarian too and thought since they'd been lost to posterity for so many years that it would be a good thing to transcribe them and give them to the world. They are currently housed in proper temperature/storage at the Crawfordsville District Public Library - typed as they were written
Note 2 : Karen Bazzani Zach (transcriber) was raised in the big 'ol town (500 people) where HA Pratt lived 5 decades before I was born. I remember the building where his little shop was and wish it was still there. What an interesting little place. ALAS! Progress ! Oh, and I've tried to type the diaries as is - mistakes & all
Note 3: Some information about Pratt -- he was born in Parke County, Indiana April 20, 1840 the oldest child of eight born to Erastus & Elizabeth Allen Pratt and died October 12, 1914 in his beloved Waveland, Indiana. He was twice married, first to the love of his life (he kept a life-sized poster of her in one of his cabinets at his barber shop, even long after his second marriage) Eliza Franklin Shaw (born Oct 23, 1841 died Oct 12, 1887), and #2 to his friend, Evaline "Eva" McMains. He was very active in the community where he and Eliza chose to live. He gave generously of his time and money to the Methodist Church in Waveland. For a few years, he served as Marshall of the town. Also, he worked diligently for his Odd Fellows, Rebekah & Knights of Phythias Lodges, was for a time on the town board, and read to those who could not read from the several newspapers he was agent for. Pratt volunteered and served for three years during the Civil War (Co. B, 36th Infantry), and spent time in the dreaded Andersonville prison. He and Eliza adopted a son, Willie Franklin Stump, age two (not sure ever officially or just had permission to take him from the Poor House in Crawfordsville) and he was an amazing young boy (high grades, worked in the church, quite musicially inclined, just an ideal child) until Eliza was taken to the hospital where she was operated on for six cervical tumors (one weighing six pounds) from which she died. Willie went wild after that and he and Hiram's second wife, Eva never got along. He ended-up in Reform School (for stealing a dollar twice from Eva among other small crimes), and later sent home to die due to consumption (what we know as tuberculosis) dying in Hiram's arms on April 12, in 1894. Hiram missed Willie and Eliza more than most I do believe as he wrote about them so often in these diaries. Just wish the rest of Pratt's diaries he wrote for over 50 years as a barber in Waveland still existed :( kbz -- ENJOY
---
On front of this diary is a piece of paper glued that says, "Waveland Ind HA Pratt, Diary for the year of 1911.
Inside there is a page to fill out that says "Remembrancer"
Reisdence Waveland PO BOX Ind. Telephone NO 24-6. Business Address Cross Street Telephone no. 6.
Other things are not filled out
Life Ins Policy Union Mutual of Maine at Portland
In case of accident notify Mrs. SE Pratt
---
Saturday July 1 - $9.65. My Evening lunch cost 20c 1 lb of green 15 bacon 1 lb 20. Fresh beef 40. Pd Charlie Moore $2.50. This has been the hottest evening (96) we have had this summer. The News failed to get here tonight and I don't know the degrees in temperature recorded at the office of the Weather bureau. I gave my report from the one in my shop. From a customer of Oklahoma I learned that the hot winds have ruined the corn & potatoes.
Sunday July 2 - Clear and very warm. 96. I failed to get ready in time for church this morning. I neglected to utilize the time. No one but myself to blaim (sic). I was there on time tonight and was reminded by several that they missed me at the morning service. The mercury in our north porch run up to 96 degrees at about 4 p.m. We are praying for a good wet rain, I mean one that will wet the ground down deep.
Monday July 3 -- $7.30. Clear for the most part 98. This afternoon at half past 4 mercury here in the shop registered 100. At Ladoga 104. Several places here in town 102. T his breaks all previous records thus far this season. The corn in our garden rolled up closer than at any other time this summer. Rain and that pretty soon or ruin for most of the crops. Berries will dry up on the vines. Lala Patton a 16-year-old girl of this place is a married woman.
Tuesday July 4 -- $1. A few clouds were a drift most of the time during the day. This date in 1863 I went through the Battle at Helena, Ark It was the biggest 4th of July I ever witnessed. Over a thousand got badly hurt. Our soldiers were out numbered 3 to 1. We killed wounded and took prisoner more than we had in our army. This was 48 years ago today. Ten cts for 3 lemons 5c. for a drink of lemonade. Eva concluded it was too warm for her to be with the crowd.
Wednesday July 5 - We had a beautiful rain this afternoon 100. Water ran in fine style in the drains at the side of the streets. Water stood in the furrows in the cornfields. Everybody is rejoicing on the account of showers of blessing we need. Yesterday in the record of high mercury for this season it has not been so high since about 21 years. 48 years ago I was put on detail at the Hindman Hospital to help to care for the wounded.
Thursday July 6 -- $2 since last report. Not altogether perfectly clear. 98. I heard that some of the cornfields were not yet dry enough to cultivate. The threshing of wheat has been held up for a day at least. The wheat is of good quality and the highest yeald (sic) that I have heard of is 32 bushel to the acre. Some will fall far below but the general average throughout the state is estimate at 18 bushel to the acre.
Friday July 7 - Clear 88. $1.00. A sack of flour 65c 50c for cured ham at 25 per pound. Since the rain. The general appearance of everything is greatly beautified. The corn blade don't rod ? and now looks promising some few places were more deemable. Sant Moody has traded for property in the eat part of town and will make arrangements to move soon. He now lives a cross the street from me.
Saturday July 8 -- $11.20. Clear most of the day 89. Paid 45 for beef roast - 15 for can of Nectar Peas - 15 for my supper - a glass of milk bread and a dish of ice cream. 1 pound of butter 25 cts. I have recently paid to CF Moore $8 for the mowing of the wee house, $2.50 for repair on the barn roof. $1.50 for the walk from the house to the barn. I owe him no more now. Oil Co 15 gal of gas. $173. I am done at 10 p.m. We had a mess of beans and of beets for dinner, the first of the season.
Sunday July 9 - Clear except floating clouds 87. I took Eva to her church and then went to the Presbyterian meeting house to hear Bro FB Solin their pastor. He was a Jew and was converted to the Christian religion in 1900 in a Salvation Army meeting. From a child he was taught to hate the name of Jesus. Tonight I went to church wit h my old sweetheart. We were at Irve Fullenwider awhile this afternoon. Little Miss Evalyn and I were out riding.
Monday July 10 - Cloudy. Rained a little 84. $5. There was a good rain on the Midland East of Ladoga, Lebanon and Anderson when blessed with a good rain. One gallon of mixed sweet pickles 70c. 2 lbs of onions 10. Box rent in the PO 15. Four lemons 10 cts. Sent the star of Indianapolis $2.50 for CA Tague. I signed a paper today asking the Town Board to calling an election for the purpose of putting in a system of water works.
Tuesday July 11 -- $.25. 87 Cloudy and warm. We had a good sized thunder shower at about 5 p.m. Several sharp and loud peals of thunder. There was no damage done as far as heard from. Yesterday I paid 25 c for a purse to carry my receipts of cash in. I put 11 dollars in the bank yesterday and none today Paid 5 for apples to cook, the first I've had for several months past. Apples will be no scarity this season. Our trees are loaded down with them.
Wednesday July 12 -- $1. 84. Clear or nearly so. Paid Fred Rice $1.30 he has concluded to quit delivering the papers. I attended the delivery while Fred was hunting rabbits. Paid Mrs. Moore 40 cts for the washing of our wearing apparel of last week. The corn is needing rain very much. I sent to WE McFarling of Paris, Mo for 100 pounds of honey. On the account of the dry weather the bees have made none. A pound of boiled ham 30 cts can of apple butter 15.
Thursday July 13 - Cloudy and clear 81. $1.15 There was a good rain passed from the south west to north west only a very light sprinkle here. Last night the air cooled off and sleeping was fine. The nights for quite awhile have been so warm a person could not get the required rest. Eva was at Bertha Moores an hour or so and when she left was made a present of some apples to cook. We had some for our supper.
Friday July 14 - Clear or nearly so. 83. $1.15. Paid $2.10 for chees 10c for beef and 23 for bologna. We had the first mess of succotash made from corn and beans grown in our garden for todays dinner. A quart can of cider. Lippincot brand, it was real good. The dry weather continues, rain is hushword in coming to our relief. Paid a dollar to Mr. Grens ? for 4 pair of socks. I thin as good or even better than the usual.
Saturday July 15 -- $8.25. 85. Clear and warm Mercury registered at one time this afternoon in my shop 103 degrees of heat. Rain seems as remote as ever. I hear that Miss Bertha Ward is to preach out at Byron tomorrow and also at night. She a few years ago lived here. She always was a good Christian girl. They moved to Georgetown Illinois from here. Miranda Ellis is at Jim Alfreys and has been for 2 weeks.
Sunday July 16 - This afternoon we had a fine shower of rain. I was asleep and never new anything of it there was no thunder with it. This forenoon, I went to hear Bro WH Fertich. Tonight Eva went with me. Emma Russell rode in the buggy with us on the return. I provided a quart of ice cream. Eva furnished the cake form which we made our dinner. The rain was a real shower and blessing.
Monday July 17 -- $1.25. Cloudy 73. Our Bob was taken by Herbert Lewis out after Blackberries and was out all day. Paid the Boy (Mr. Grens) 50 ct sand 50cts for a package of Fells Naptha soap. Eva and I washed 6 pieces of bed cloths. The most of the forenoon was spent at home. The rain yesterday was local. It was a good one for this locality. It was half past nine when I went home tonight.
Tuesday July 18 -- $1.60. Cloudy 77. The sun shine a good time. Sent the Union Mutual Life Insurance Co of Portland, Maine $5.11 My share of increase for 3 months was 36 cts. Each policy holder is also a stockholder to the amount insured for. We could put up with another good rain. Eva has canned 9 quarts of blackberries gathered from her garden. The weather after night is fine and sleeping is good. With one cover over us are just right for a comfortable nights rest.
Wednesday July 19 -- $7. Mostly clear, a few drops of rain fell shortly after dinner. I received an order for a box of Millards ointment from W C Jackson, 321 E. 45 Street, Chicago. The order went out on the next mail. I found a few ripe tomatoes on the door step of my shop this morning. Ben Harbeson put them there. We are going to have a Chautauqua at the Shades commencing the 3rd Sunday in August to hold over 3 Sundays. We are anxious for more rain.
Thursday July 20 - - $9.30. Dewitt Fisher paid me $8.20. This was to pay for one year on The Indianapolis News 10 gal gasoline and 1 month cow pasture. Miranda Ellis will be here on the train due at 10 o'clo9ck tomorrow. Buddy Kelso will meet her at the station. There has been no sign of rain today. The corn crop in many places will be very light. The Apple crop promises to be good. The blackberry crop is fairly good.
Friday July 21 - Clear or nearly so. 86. $1.20. Paid $1.75 for 100 pounds of cracked corn for chicken feed. Buddy Kelso went over to Russellville this morning, to get some cracked corn for me, they had none was offering 65 cts a bushel for corn but could not get it. Sent the Laundry yesterday $8.30. The record Herald 2.64. Max Dillman is delivering the news for me. Grens quit last night, paid him 50 cts. Miranda Ellis is at our house now. She is well. She had been gone nearly 9 weeks.
Saturday July 22 -- $7.10. Cloudy. 79. Telephone rent $2. Cheese 36c Bologna 20. Twenty five pounds of honey $5. Two nut meg melon 20c. The potatoe crop will be very light retailing now at 5 c a pound by the small. 15 lbs on one peck at 65. Peaches are retailing at a dollar a bushel. Max Dillman and his twin sister have gone t o Indianapolis for a visit of one week. 1 pound of butter 25. I sent 1.57 by Henderson Oliver to Sears, Robuck & Co for 1 doz condensed milk
Sunday July 23 - We had a splendid rain fall this afternoon there was no thunder and not very much wind. The ground being so very dry we could enjoy another good one anytime during the week. I went to hear the pastor of the Presbyterian Church and did not get home until past 12 for dinner. Miss Pearl Osborn of Indianapolis was there in company of a Miss Wm. Milligan Heard Bro Birkhart tonight.
Monday July 24 -- $3.25. 69 The weather has cooled off considerably since last Saturday. 10 does not seem so very much, but a person could wear a coat and not feel too warm. Miranda and Eva spent most of the afternoon over at Wm. Rusks. They brought home a peck basket of real nice apples for table use. Paid 19 for a couple slices of porter house Steak. We have concluded to eat our hens and buy less beef. Corn is to dear and eggs are too cheap.
Tuesday July 25 -- $3.25. Cloudy 68. There was a good rainfall to the northwest and a light shower for us with some thunder. This has been the coldest day in July since 1904 and the hottest for 41 years. Two pounds of Arbuckle coffee 50 1 gallon maple molasses 1.10. Brush for painting 20c. 3 pounds of onions 15. 24 lbs of flour 65. The weather was cold enough to have fire in some of the heating stoves. Eva had a fire in the cook stove.
Wednesday July 26 -- $2.05. 70. Cloudy. Sun shone most of the day. Five pound of new potatoes 25. Two lemons 05. 10 pound of ice 5. Can of pet Cream 05. 9 lbs of cured hog meat (cal or pic nic ham) $1.80. We had Buddy Kelso and his wife. Richard Rusk and wife Mrs. Bertha Moore and son Victor Herbert Lewis, his wife and son and Miranda Ellis with us for dinner. Henderson Oliver took a lot of Sunday School children of the Christian Church out to Bluff Mills for a pic nic. Miss Perla Osborn was in the crowd.
Thursday July 27 - Cloudy 76. and a little warmer than yesterday. Paid 50 for 2 lbs of butter 35 express on package of laundry work. Gusta Hartong once a resident here but now lives in Indianapolis. I don't remember her husbands name. Maude McIntire was with her she too used to live here but lives in Crawfordsville, her husband name I do not now remember. Eva and her sister Miranda were participants in a surprise.
Friday July 28 - 3.05. 82. Clouds were flying but no rain. The body of Mrs. James T. Scott was burried here, this afternoon in the Presbyterian Cemetery by the side of her husbands body. Her home for several years was with her daughter Mrs. Lyford Canine at Paris, Illinois. Ed and Tom Scott were in the shop to see me. 35 gal gas 3.83. The surprise refered to yester (sic) was on Mrs. Mary Cook she was 66 years old. We eat dinner at Buddy Kelso's.
Saturday July 29 - There was a rain falling this morning when I got out of bed. $9.25. 88 degrees. The rain was light and soon over. Gusty Hartung married a doctor by the name of Peterson and Maud McIntosh's husband's name is Harding. Lyford Canine called in to see me this morning. Paid 15 c for my lunch at Jones' Restaurant. Paid Max Dillman a dollar for paper delivery last week.
Sunday July 30 - 89. Cloudy but no sign of rain. There was no meeting at any of the meeting houses and I never left the house until in the afternoon when put "Bob" to the little wagon and took a drive. Buddy Kelso, Miranda, Eva and I constituted the party. We had a very pleasant outing. At night we went to the Presbyterian Church house and heard a good talk by the pastor FB Solin. The congregation were made up by all of the denominations in town. Took home a quart of ice cream for our evening lunch.
Monday July 31 - .50. Clear most of the day 81. It was 5 minutes of 7 when Buddy Kelso and I started for Crawfordsville with "Bob" to the little wagon we were 3 hours and 5 minutes in getting to the Dry Branch. It took us 20 minutes to get to Anderson McMains after dinner we drove to Jim Alfreys and left there at 3 and arrived home by 20 minutes after 6. I paid $2.50 for a Boss oven to use on our gasoline stove for baking. It has a glass in the door, don't have to open door until done.