DECEMBER 1888 - Hiram Pratt Diary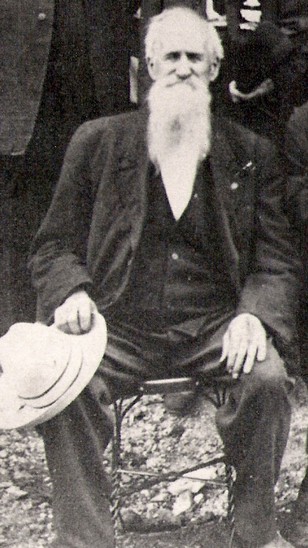 Note: These diaries were in the Waveland Public Library for decades but were disposed of by a librarian several decades ago. Luckily, another librarian's daughter (thanks sooo much Pam, at the death of her mother, Virginia Banta Sharpe found them in some belongings and gave them back for proper housing. A complete circle; however, only 14 of the 50+ diaries were saved from the library's incinerator. I'm a librarian too and thought since they'd been lost to posterity for so many years that it would be a good thing to transcribe them and give them to the world. They are currently housed in proper temperature/storage at the Crawfordsville District Public Library - typed as they were written
Note 2 : Karen Bazzani Zach (transcriber) was raised in the big 'ol town (500 people) where HA Pratt lived 5 decades before I was born. I remember the building where his little shop was and wish it was still there. What an interesting little place. ALAS! Progress !
Note 3: Some information about Pratt -- he was born in Parke County, Indiana April 20, 1840 the oldest child of eight born to Erastus & Elizabeth Allen Pratt and died October 12, 1914 in his beloved Waveland, Indiana. He was twice married, first to the love of his life (he kept a life-sized poster of her in one of his cabinets at his barber shop, even long after his second marriage) Eliza Franklin Shaw (born Oct 23, 1841 died Oct 12, 1887), and #2 to his friend, Evaline "Eva" McMains. He was very active in the community where he and Eliza chose to live. He gave generously of his time and money to the Methodist Church in Waveland. For a few years, he served as Marshall of the town. Also, he worked diligently for his Odd Fellows, Rebekah & Knights of Phythias Lodges, was for a time on the town board, and read to those who could not read from the several newspapers he was agent for. Pratt volunteered and served for three years during the Civil War (Co. B, 36th Infantry), and spent time in the dreaded Andersonville prison. He and Eliza adopted a son, Willie Franklin Stump, age two (not sure ever officially or just had permission to take him from the Poor House in Crawfordsville) and he was an amazing young boy (high grades, worked in the church, quite musicially inclined, just an ideal child) until Eliza was taken to the hospital where she was operated on for six cervical tumors (one weighing six pounds) from which she died. Willie went wild after that and he and Hiram's second wife, Eva never got along. He ended-up in Reform School (for stealing a dollar twice from Eva among other small crimes), and later sent home to die due to consumption (what we know as tuberculosis) dying in Hiram's arms on April 12, in 1894. Hiram missed Willie and Eliza more than most I do believe as he wrote about them so often in these diaries. Just wish the rest of Pratt's diaries he wrote for over 50 years as a barber in Waveland still existed :( kbz
---
Saturday, Dec 1 -- $6.65 - Twenty 5 cts for one peck of onions. Vinegar one gal 25. Sausage .50. Beef 50 cts. Bread two loaves 10 cts. Had a letter from Clara yesterday. Eva has made 4 gal of real nice mince meat for pies.
Sunday, Dec 2- willie and I attended Methodist Church at 10 1/2. For dinner we went over to Wm. Kelso's whither Eva and her sister mary had gone early this a.m. Tonight WIllie and I went to church again. Eva was at her ma's.
Monday Dec 3 -- "My little woman was here 14 months ago today." $6.90. B&L $5. AOUW one day last week $2. Cinda received her new coat which I ordered for her last Monday of Chas. A. Stephens of Chicago. Eva done her usual weeks work today. Ella Steele called to see her this afternoon.
Tuesday, Dec 4 -- $1.90 -- Stamps 30. Butter .60. A letter from Sittie Ellis to her Aunt Eva states that on the 20th of this month she is to wed Bell Durham. Gravel road workers are done. Oyster 15. Crackers 25 cts.
Wednesday Dec 5-- $1.70 -- The gravel road men finished their work this a.m. instead of on yesterday. The weather continued most delightful. Eva was at her mother's this evening and they gave her a gallon jar full of nice sausage. Coal oil & gas 35 cts.
Thursday, Dec 6 -- $1.40. A battle of Snow's linament for Eliza 50 cts. A pair of patns for Willie $1. 5 gal coal oil 75 cts. YukaTan gum .05 cts. Al Wolfe called to see Eva this morning he had not heard of our marriage. Knitting yarn for Harry 75 cts. The good weather continues.
Friday Dec 7 -- $2.65. Thirty five cents for repairs on clotheswash .66 for cowfeed and meal. Eva does not make a success at running our machine or sewing. Weather fair and nice.
Sat Dec 8 -- $8.45. Soap 5 cts. Gas 30 cts. A slow drizzling rain has been falling every since this morning. Have had a fair run of customers today. Eva after supper called at her mother's Home by 11 p.m.
Sunday Dec 9 - We all remained at home this forenoon. Willie and Harry were at Sunday School. Eva and I were at the Baptist Church tonight having previously called at Mr. James Doolin's. Weather very nice
Monday Dec 10 -- $6.25 -- B&L $5. Sent 16.80 to George M. Clark & Co. of Chicago for the stove sold to Charles Scott. Gave Eva a little assistance with the washing. The weather is still as nice as could ask for.
Tuesday Dec 11 -- $2.30 -- Gas 30 cts. Apples 50 cts. Peaches 30. The weather has turned a little cooler. Eva done her ironing. She commenced the making of a shirt for me last Friday - thinks she can get it done by next Friday.
Wednesday Dec 12 - 14 months ago today my little woman died. $1.15 Yarn for Willie 25 and for Eva 35 cts. 30 cts for Calico for a hair cloth. Eva called at Wm. Smith's tonight in company with Mary Bloomfield. Heavy frosts every night. Nancy Kelso fell and sprained a wrist.
Thursday, Dec 13 -- "14 months today buried my little woman." $3. Lamp chimney .25 lamp wicks 05 cts. The American Sewing Machine ordered the last of last week came in yesterday. Will pay for it April 1. Mother McMains was with us for dinner.
Friday Dec 14- $1.95. I ordered Nannie and Mary Bloomifled a seal plush sach (5 acqua) from the A. Stephens Co. of Chicago. Eva remoddled (sic) her silk dress. Had a good letter from Lottie Hollingworth. Cold and clear.
Saturday Dec 15 -- $7.85. Will Moore and Charley Shepherd were arrested today - charged with stealing money from Jas. W. Robertson a druggist. Rained this evening. Eva was at church tonight. Elder Badger commences a series of meetings. Beef 70 cts. Eggs 35.
Sunday Dec 16 - John Goben's house and contents was burned yesterday evening. he is a resident of Crawfordsville was a former citizen of this place. John Moore is worse again with rheumatism. Eva and Willie and I attended church at 11 a.m. at the Campbellite Church. Eva and I attended tonight. This evening Mrs. Mary Lewis, Cinda, Nannie and Mary Bloomfield and Matt WHite called in to see us. Rained nearly all day. I have a cold.
Monday Dec 17 -- $4.40. B&L $5. Butter .50. Fresh pork 45 cts (4 1/2 lbs). Yesterday I put in the contribution box or basket at the church 25. Before starting to Missouri I gave Eliza $1. Harry's school outfit cost 60 cts. Don't believe any note had been made of this heretofore. Colder weather.
Tuesday Dec 18 -- $1.30. Cold weather has set in ground is frozen and a light snow is falling. Eva has concluded to go to Rossville Illinois tomorrow and be at the wedding of her niece, Sittie Ellis on Thursday.
Wednesday Dec 19 - $1.15. Mrs Mary Lewis her brother Bob Kelso and my wife Eva started for Rossville Ill on this morning up train at 7.37. Suit of cloths for Harry $6. Rec'd a letter from Ella and Perla Petty of Foster, MO. Getting colder (no. pasture $1.50)
Thursday Dec 20 - $1.60 I gave Willie 60 cts for to pay on a grammar. He paid 30 cts and invester 25 cts of it for a pair of skates. I was displeased and made him surrender the skates he got all the money back but .6 cts. Eva procured Nannie Bloomfield to cok for us. While she was away. The wedding took place today at 2 p.m. Letter from Perly Pitty yesterday.
Friday Dec 21 -- $25 for the stove sold to WH FUllenwider. Sent 80 cts to the Inter Ocean for Jesse Burford. Pd 20 cts for WIllie on school books. Rec'd a small package of the wedding cakes sent by Eva with Gov Durham. Sitttie and her husband will be at our home Monday eve.
Saturday Dec 22 -- $12. Beef 35. Butter .40. Coffee .25 Coal oil. 20 Soap .15 Apples .50 Supper at the hotel - bread and milk .15. Cincinnati papers did not get here tonight. Wrote to Emma Harrow yesterday. Eva will return via Terre Haute Monday.
Sunday Dec 23 -- Willie and I attendec class this morning. At night we went to the Presbyterian Church. It was a service of song conducted by the pastor. Nannie Bloomfield had two of her little cousins with her for dinner Spruhan (Sween?) girls.
Monday Dec 24 -- $6.15 B&L $5. Fifty lbs of lard 5.50. Knife for Harry .25 Sent $10 to the American News Co of NY. The Sentinel Co. 5.56 Stamps 30 cts. Chicken 20 cts. Sausage 13# 1.30. Knife 25 for Willie Eva came in at 5:30. Bell Durham & wife came too.
Tuesday Dec 25 -- $1.25 -- Gave Willie 15 cts for the Christmas entertainment at the Presbyterian Church. Eva's trip to Rossville and return cost $8.10 Bought 3 lamp chimneys 25. Present for Eva 1.75. Candy 55 cts. Rained nearly all day.
Wednesday Dec 26 -- $2.00 Eva and I ate our dinner at Hon. Jesse Y. Durham's. It was his son Bell's infair (?) dinner. Paid Hugh Hodgkins 80 cts for 2 bu of apples. 20 cts for horse & buggy 30 cts for a chicken. Rained.
Thursday Dec 27 -- $3.25 Eva and I ate our dinner at her mother's today. JY Durham and wife and their son Bell and wife were there. Sent Commercial Gazette 5.40. Snowed today but not enough to cover ground.
Friday Dec 28 -- $5. AOUW 3 dollars. Bell Durham and wife are at our house tonight. Turkey 75 cts. Crackers 50. Oysters 20 cts. Bread 10. Gave our Willie a whipping this morning - he slapped my sister in the face.
Satuday Dec 29 -- $25. Paid Hanna & Byersly $14.25. Bell Durham and his wife left on the up train this morning for Rossville, Illinois. Eva called to see her mother. My health is apparently as good as in the previous history of my life.
Sunday Dec 30 - Willie and I attended the services of our church the methodist (note little m) at 10 1/2 a.m. at 2 1/2 were at our sunday school. Gave the church $2.50 since last report. 5 cts 6 the sunday school. We all remained at home tonight.
Monday Dec 31 -- $9.65 -- The repairs on my house cost $359.70 This does not include anything in the way of house furnishing. Eva did not feel well enough for her task at the wash machine this am. Have the sick headache - nice weather.