SEPT 1895 - HIRAM PRATT DIARY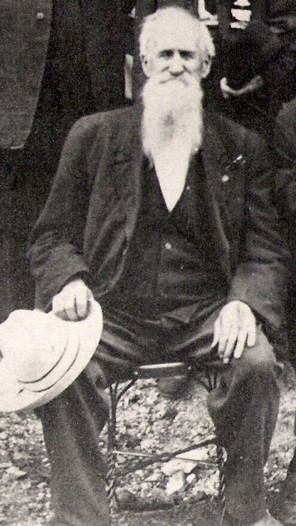 Note: These diaries were in the Waveland Public Library for decades but were disposed of by a librarian several decades ago. Luckily, another librarian's daughter (thanks sooo much Pam, at the death of her mother, Virginia Banta Sharpe found them in some belongings and gave them back for proper housing. A complete circle; however, only 14 of the 50+ diaries were saved from the library's incinerator. I'm a librarian too and thought since they'd been lost to posterity for so many years that it would be a good thing to transcribe them and give them to the world. They are currently housed in proper temperature/storage at the Crawfordsville District Public Library - typed as they were written
Note 2 : Karen Bazzani Zach (transcriber) was raised in the big 'ol town (500 people) where HA Pratt lived 5 decades before I was born. I remember the building where his little shop was and wish it was still there. What an interesting little place. ALAS! Progress !
Note 3: Some information about Pratt -- he was born in Parke County, Indiana April 20, 1840 the oldest child of eight born to Erastus & Elizabeth Allen Pratt and died October 12, 1914 in his beloved Waveland, Indiana. He was twice married, first to the love of his life (he kept a life-sized poster of her in one of his cabinets at his barber shop, even long after his second marriage) Eliza Franklin Shaw (born Oct 23, 1841 died Oct 12, 1887), and #2 to his friend, Evaline "Eva" McMains. He was very active in the community where he and Eliza chose to live. He gave generously of his time and money to the Methodist Church in Waveland. For a few years, he served as Marshall of the town. Also, he worked diligently for his Odd Fellows, Rebekah & Knights of Phythias Lodges, was for a time on the town board, and read to those who could not read from the several newspapers he was agent for. Pratt volunteered and served for three years during the Civil War (Co. B, 36th Infantry), and spent time in the dreaded Andersonville prison. He and Eliza adopted a son, Willie Franklin Stump, age two (not sure ever officially or just had permission to take him from the Poor House in Crawfordsville) and he was an amazing young boy (high grades, worked in the church, quite musicially inclined, just an ideal child) until Eliza was taken to the hospital where she was operated on for six cervical tumors (one weighing six pounds) from which she died. Willie went wild after that and he and Hiram's second wife, Eva never got along. He ended-up in Reform School (for stealing a dollar twice from Eva among other small crimes), and later sent home to die due to consumption (what we know as tuberculosis) dying in Hiram's arms on April 12, in 1894. Hiram missed Willie and Eliza more than most I do believe as he wrote about them so often in these diaries. Just wish the rest of Pratt's diaries he wrote for over 50 years as a barber in Waveland still existed :( kbz
---
Sunday Sept 1 - Turned cooler late this p.m. Mercury was up to 72 today. Last night when I went home it stood at 55. I was not at Sunday school was at regular service at 11 a.m. Visited the resting place of the remains of poor little Willie. I have a continual sorrow for him. I know that he is beyond my reach and does not need my sympathy. But when I remember that in this life he lived so far beneath his privilege I can not refrain from sorrow.
Monday Sept 2 -- $7.00. Wm. Kelso and family except his son Robert who was at the Shades were at our house for dinner. On yesterday Bro Campbell received into full connection into the church 10 persons. Two were sprinkled and three were immerced. The immercing was done in the baptistery in the Christian Church. Eva was called to attend Rhoda Fullenwider last night in confinement. It's a girl. Pd Cuppy 1.00 Life Ins 1.30 I and Lloyd stayed over the night at Kelsos.
Tuesday Sept 3 - 2.75. Cloudy 63. We will not get to see the moon during the eclipse it is to be total. There is indications of a big rain tonight. I paid THB McCain $4.82 including the money order fee and postage stamps. Bob McMains called at our house for a few minutes and then went out to Billy Kelsos to spend the night. He sent down a dress pattern by Frank Johnson to Eva for her sister Almira Petty. She will be here next week
Wednesday Sept 4 - 1.55 Clear 70. We had the biggest rain of the season last night. It reached over a wide scope of country. Something the rain fall here was 5". The branches are nearly bank full. Sugar creek is higher than for 2 years. In Crawfordsville the rain fell so fast that the sewerage could not carry it off. Sidewalks were washed out and cellars were filled. Trains were delayed for more than 2 hours. Eva spent the day at Kelso's. Weather is warm.
Thursday Sept 5 - 1.50 Yesterday I paid 2.49 for Laundry bill. Last Monday morning Robert T. Shaw of Terre Haute on his way home from Crawfordsville riding a bicycle stoped off a few minutes to see me. I met him at the post office. He is a nephew of my deceased wife Eliza. Eva returned from Fullenwiders a few minutes before his departure. I had showed him all through the house and about the premises. Mr. Stewart of the Crawfordsville Journal called to see me today.
Friday Sept 6 -- $1.55 76. Clear. I sent the Chicago Record $4.23 including money order fee of 5 cts and paid 3.50 for gasoline and 45 cts for coal oil. Gasolene 10 cts per gal and oil 9 per gal. I made an effort to adjust Mr. Jas T. Scott's gasoline stove but found it too difficult for my ingenuity. Eva has made 3 gal of plum butter for our use and 2 gals for her sister Almira. A Methodist minister named Hinshaw is arraigned at Danville Ind for the murder of his wife.
Saturday Sept 7 -- $4.65. Sent the Indianapolis Journal 7.72. Fee 8 cts. Stamps 2 and to the Sentinel of Indpls (sic) 2.82. Fee and stamp 7 cts. Express in laundry 35 cts. I have not had very much work to day. Mary Ellen was at our house for dinner. Eva went out home with her and returned to night. Jimmie went to Crawfordsville on the 2 p.m. train and back on the 6. He and his wife will stay at our house tonight.
Sunday Sept 8 - We had the best class meeting this morning that I have had the pleasure of attending for a long time. Nine persons composed the numbers in attendance. I so much love good lively spiritual meetings. The spirit of the blessed Lord was plainly manifest with us, before going in to the Sunday school I visited Little Willie's grave. His body lies buried in the church cemetery and is handy to visit.
Monday Sept 9 - 2.36. The public school began this morning. I used to be called upon for school supplies for Willie. Old uncle Johnnie Philips died Friday of last week and was buried on Saturday he was 76 years 10 months and 22 days old on the previous Thursday he fell on the porch from a paralytic stroke and was never able to speak a word. Eva done her usual weeks washing today.
Tuesday Sept 10 -- .35 Paid out 9.45 for gasoline at 10 cts per gal. Eva paid for it. I had used up all my money as it sells out I will refund it to her.. 90 degrees The rafters is now on the Masonic Hall over TL Hanna new store room. It will be decidedly nicest hall in town. The Knights of Pythias hall is considered very fine and the Odd Fellows Hall is a very respectable hall so we are to have three real good halls.
Wednesday Sept 11 -2.74. 98. This afternoon we have suffered with excessive heat since last report I have paid out for ice 3.60. Frank Belton is the ice dealer and he is in a manner out. I was at Bro. Campbells today and picked a half bushel of plums for Eva. We have an abundance of them but not very many of this kind. Twenty yards of calico for Eva 1.20. Laundry bill 2.47
Thursday Sept 12 - 1.50. Clear 96. Wonderfully earm today. 7 years and 11 months ago at 20 minutes of 3 o'clock of the morning my wife Eliza F. Pratt died at No. 210 S. 13st Terre Haute, Ind. One year and six months ago Willie our foster son died at the residence of Mrs. Amanda Bloomfield, first door east of my present home on West Main street, Waveland, ind. Conference is now in session at Valparaiso, Ind. I am well.
Friday Sept 13 - 5.50. Cloudy 92. Ten pounds of bacon $1.00. I put Charley Scotts gasoline stove in order today. Eva had a nice peach cobbler for dinner. It was a somewhat surprise to me. She came up town tonight and called on Mrs. Bloomfield who lives on the next street north of the one where we live and east of Cross street. The new hotel will be open for business next Monday. Ed Cuppy will move into his new shop on that day.
Saturday Sept 14 -- $6.50. Cloudy 66. Paid 35 cts for Express on laundry basket. Paid 1.80 for ice. A brick walk was lain on the east front of the Stebbins Hotel. It was open to visitors tonight and will serve the first meal at noon next Monday. Several of our citizens are going over to take dinner. The dinner will cost 50 cts each. The proprietor has gone to considerable expense to give a good dinner. Nancy Kelso wanted Eva to go with her on the excursion to Maxinkukey ?. No go.
Sunday Sept 15 - This morning Ohio Miller and I before going into church took a walk over the cemetery of the Methodist Church in our round we stoped awhile at the grave of little Willie. Bro Campbell had for his text the saying of St. Paul "For I am determined to know nothing among you save Jesus and him crucified." A most wonderful sermon. His talk tonight after the praise meeting was splendid. Finally brethren in farewell and c. was his text.
Monday Sept 16 - 3.65. Anderson McMains and his wife were to see us today. We took dinner at the new Hotel. I paid 42 for our dinner. 128 persons eat dinner at the hotel we were all through the rooms and found everything to be in good shape. Cuppy moved into his new shop today. It is not yet complete. The wash stand will be supplied with pipes conveying hot and cold water. I never went home to supper tonight. Weather not so warm .
Tuesday Sept 17 - Mr Stebbins told me that he would give me all the laundry work of his hotel customers he could control. A brick side walk 10 feet wide is now down before the hotel and the bank. Paid 1.65 for Eva a pair of shoes side combs 10. Gauge vest 20 cts. 20 cts I paid for three melons. The weather is very warm. Our new preachers name is GW Vessells only one I knew 2. ?
Wednesday Sept 18 -- $1. We had a splendid rain last Monday morning. Water yet to be seen on the street in low places. Eva went to New Market this morning her brother Anderson will meet her there and take her out home with him and on the morrow he will take her over to Crawfordsville. She will return home some time Friday. Home is very lonesome without her. I paid $3.09 laundry bill.
Thursday Sept 19 -- $1. Paid 90 cts for 9 gal of gasoline yesterday evening. I paid 25 for Sandwitches (sic). Wm. H. Durham of Crawfordsville died yesterday morning. He was for man years president of the First National Bank. He died comparatively poor. Mrs. Smalley does the milking of evenings while Eva is away. A letter from Almira states her husband is sick and she does not know when she can come.
Friday Sept 20 -- $1. When I went home last night was surprised to find Eva had come home. She left the impression when she went away she would be gone over two nights. Was glad to find she was at home for home to me is a very poor place to stay without a woman in it. Charley Richey is furnishing the Bloomfields residence for house keeping. He will close the love story with his wife next Thursday.
Saturday Sept 21 - $7. The weather has been 94 and clear. Very warm. I was sick last night. Had a bad case of diarrhea. Have been annoyed some today. Am feeling better tonight. Paid 22 for a pound package of Arbuckle coffee. Bro LM Campbell's wife and children left town this morning over the Midland for Greencastle. Bro C will remain until Monday. He will go direct to conference in the Des Moines district in Iowa.
Sunday Sept 22 - Clear 96. Bro. Campbell was at our class meeting this morning. We had the best class service. I have attended for a long time. This was the last time for Bro Campbell to be with us. He was the best Methodist preacher we have had since I have been a resident of Waveland, Ind. Before going into meeting I visited Little Willie's grave. Tonight I went with Eva to hear her preacher TJ Shuey. The weather is very warm.
Monday Sept 23 -- $4. Mercury fell 42 degrees last night. I have had a fire in the shop stove most of the forenoon. I paid on mission for last year $2. Gave 1 dollar to the church last Sunday week to help out on preachers salary. Eva done her usual days work for Mondays. She believes in doing work in a systematic way. I look for frost in the morning. My health not very good, but some better than a day or so ago.
Tuesday Sept 24 -- $1. Rain. A very light frost in favored places. Mrs. Nathan Jarvis was buried last Sunday evening in the Jarvis family burying ground. Ed Cuppy is having a bathroom added to his new barber shop. He is fixed up in fine city style. Lloyd McMains and RD Smith ? Smedy ? went out to Alfreys and made some apple cider. Eva boiled it down so as to have it to use in making apple butter. Sweet potatoes 60 cts. 1 doz tin cans 50 cts. Onions .30
Wednesday Sept 25 -- $3. Laundry bill 3.14. Pork steak 12. Beef steak 20 cts. Magic Razor Strap (Loveless Mfg Co of Lafayette, Ind) 4.50. I am entirely out of gasoline. There is not a gal in town for sale. The weather is some warmer had a small sized rain early this morning. Bob McMains came in this evening. He and Eva will go over to old settlers meeting near Russellville in the morning. Ice bill 1.30
Thursday Sept 26 - I went with the excursion to Brazil, Clay County, Ind left here 10:14 a.m. and made the trip of 32 miles in 1 hr 40 min Mrs. AJ Miller and I were the only passengers from here, yet there was seven coaches pretty well filled. It was after 8 p.m. when I arrived at home. Just 38 minutes before the time for departure I met with Miss Estella James. She would have me got with her to their eating room and see her mother and eat a little. She then walked with me to the train.
Friday Sept 27 -- $1.50. Yesterday I paid 90 ct for round trip excursion ticket. Spent 80 cts while in Brazil. Mary Kelso Lewis went home with Bob McMains today. She is in need of medical treatment. Lloyd is at Wm. Kelso's tonight. Yesterday I had Bro McL Wasson to by 40 gal of gasoline for me. Cost $3.80. 25 cts I paid for cards. Dues in Knights of Pithias 1.30 Have had lots of fun with the Phantom Camera I bought yesterday seen our new preacher today. (thanks to piercevaubel.com for the photo as I had no idea what a Phantom camera from early days looked like - kbz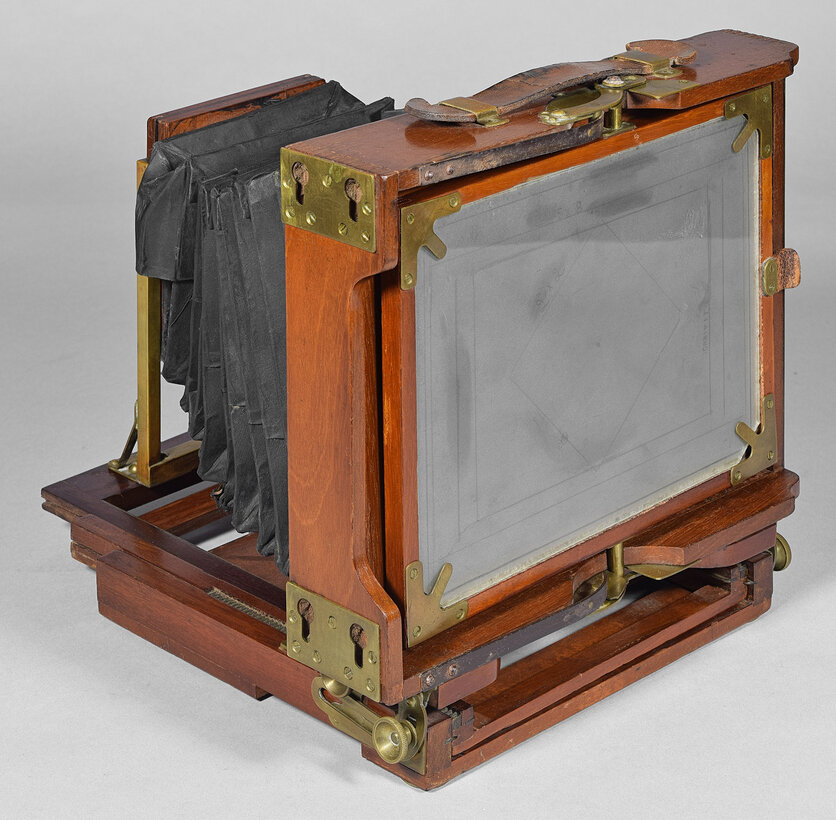 Saturday Sept 28 -- $4.40. I had fire in a gasoline stove all day. Paid rent to Will Milligan 3.00. 75 cts for a load of mill wood. 41 for 20 # "A" sugar. 25 cts for 2 # of pork sausage. 30 for express on laundry basket. I was done my work by 10 p.m. Had but very little work until nearly night. The Enquirer of Cincinnati Ohio did not get in this p.m. Eva has one of her new calico dresses done.
Sunday Sept 29 - I made a coal fire in our sitting room today and found that a warm stove afforded a great deal of solid comfort. Eva went with me to hear our new minister today. His text was the same as was Bro. Campbells last text. He read from manuscript. It is not my idea of preaching. He had his piece put up in good shape and delivered it well. He was interesting throughout. Tonight he went to New Market.
Monday Sept 30 -- $2.00 Before leaving the meeting house yesterday I visited the grave of Willie. Charley Richey and wife took their first dinner alone and at their home. Corporation taxes $5.56. This included tax on the property belonging to my wife and her sister Mary Ellen, which was 42.64. Paid $1.40 dues in the IOOF order. I have not paid my dues in AOUW. Had a white frost this morning.