MAY 1902 - HIRAM PRATT DIARY
Waveland, Indiana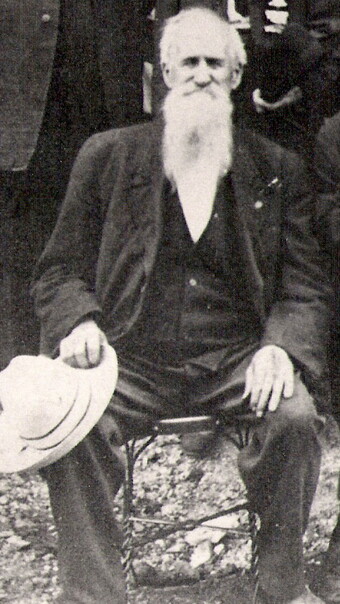 Note: These diaries were in the Waveland Public Library for decades but were disposed of by a librarian several decades ago. Luckily, another librarian's daughter (thanks sooo much Pam, at the death of her mother, Virginia Banta Sharpe found them in some belongings and gave them back for proper housing. A complete circle; however, only 14 of the 50+ diaries were saved from the library's incinerator. I'm a librarian too and thought since they'd been lost to posterity for so many years that it would be a good thing to transcribe them and give them to the world. They are currently housed in proper temperature/storage at the Crawfordsville District Public Library - typed as they were written
Note 2 : Karen Bazzani Zach (transcriber) was raised in the big 'ol town (500 people) where HA Pratt lived 5 decades before I was born. I remember the building where his little shop was and wish it was still there. What an interesting little place. ALAS! Progress ! Oh, and I've tried to type the diaries as is - mistakes & all
Note 3: Some information about Pratt -- he was born in Parke County, Indiana April 20, 1840 the oldest child of eight born to Erastus & Elizabeth Allen Pratt and died October 12, 1914 in his beloved Waveland, Indiana. He was twice married, first to the love of his life (he kept a life-sized poster of her in one of his cabinets at his barber shop, even long after his second marriage) Eliza Franklin Shaw (born Oct 23, 1841 died Oct 12, 1887), and #2 to his friend, Evaline "Eva" McMains. He was very active in the community where he and Eliza chose to live. He gave generously of his time and money to the Methodist Church in Waveland. For a few years, he served as Marshall of the town. Also, he worked diligently for his Odd Fellows, Rebekah & Knights of Phythias Lodges, was for a time on the town board, and read to those who could not read from the several newspapers he was agent for. Pratt volunteered and served for three years during the Civil War (Co. B, 36th Infantry), and spent time in the dreaded Andersonville prison. He and Eliza adopted a son, Willie Franklin Stump, age two (not sure ever officially or just had permission to take him from the Poor House in Crawfordsville) and he was an amazing young boy (high grades, worked in the church, quite musicially inclined, just an ideal child) until Eliza was taken to the hospital where she was operated on for six cervical tumors (one weighing six pounds) from which she died. Willie went wild after that and he and Hiram's second wife, Eva never got along. He ended-up in Reform School (for stealing a dollar twice from Eva among other small crimes), and later sent home to die due to consumption (what we know as tuberculosis) dying in Hiram's arms on April 12, in 1894. Hiram missed Willie and Eliza more than most I do believe as he wrote about them so often in these diaries. Just wish the rest of Pratt's diaries he wrote for over 50 years as a barber in Waveland still existed :( kbz
---
Thursday, May 1 - $1.25. Paid Insurance last month in the A.O.U.W. $3. Gave 25c on expenses of circulating remonstrance against a petition for a saloon for another year. 28c for lard to 15 c a pound, 10c for best seed. John McMains finished the planting of our garden today. The weather has turned off real warm. A thunder shower passed around to the north paid 10c for 2 loaves of bread. John Dietrich has this day moved to Crawfordsville. He is to take care of the gun club property. He will be here to vote at every election . D. V. ?
Friday, May 2 - Paid Dr. K. Straughan $11.25 for his service to Eva a year ago last February. He was owing me $14.65. Yesterday, I wrote a few lines to Miss C. M. Harrow of Ottumwa, Iowa, thanking her for her Photograph received last Monday. Dr. Pike a missionary for 25 years in China is in town tonight and spoke in the Methodist Church on the subject of Foreign Missions. When in Crawfordsville last Monday I paid 50 to the liveryman for keeping the horse over night. The weather has warmed up in good style today.
Saturday, May 3 -- $8.20. Paid .65 for a small beef roast and a bit of steak for our breakfast. Paid $1 for a vinegar barrel to catch rain water in when it rains. Mr. and Mrs. Avritt called to see their daughter, Mrs. Jim Goslin yesterday. I was done work by 10.45 tonight. It was after 11 when I started for home. Eva and Mary were out riding this afternoon. Eva sent a letter yesterday to her sister Almira and one today to her niece Perla Petty. Mort Acker has a gramophone in his restaurant that is attracting a good deal of attention. Dr. Moore of Russellville called to see me after 11 o'clock. Sent a short letter to Carrie Harrow in acknowledgement of her picture received last Monday.
Sunday, May 4 - I hooked Bob to the buggy and took Eva to her meeting then went to mine. Visited Willie's grave before going in the church house. After meeting I invited Mrs. Wall's to ride with me as I was alone and had to pass by her house. She concented and on the way I told her that I was going to take her home with me that she might spend the remainder of the day with me, but when I stoped at her house to inform her daughter she hopped out like a cat out of a bag. She said she was ashamed of herself for having rode with me. She is old and a widow and had never associated with any man since the death of her husband long ago.
Monday, May 5 -- $2. Yesterday evening Eva and I went out to Kelsos and were detained until this morning on the account of a rain that continued far into the night. Everything looks clean and refreshed since the rain. Several places reported by the morning papers as having been visited by storms. One man killed by lightning. Several were drowned by a heavy down pour in Oklahoma. Paid 35 for a bale of rye straw and 75 for a bushel of corn in the ear. Jack Ashley preached in the Christian Church house yesterday afternoon at 3 o'clock and immerced a woman. There were very few people out to hear him, house not half full.
Tuesday May 6 -- $3.90. Sent a 2 dollar note to the Cincinnati News Co. Paid Ghormley a dollar for 18 ½ lbs of granulated sugar. I pay every week 30c for washing and notice that sometimes I neglect to make an item of it. Have rented a gasoline lamp to Mort Acker for use in his ice cream parlor at $1 per month. Paid 5 c for a dish of ice cream. The cream is made in Crawfordsville. We have been blessed this afternoon with another good shower of rain. Crops of all kinds are greatly benefited. Jim Alfrey received a letter from Charley Ellis. He thinks his wife will do to return home in four weeks more.
Wednesday May 7 -- $2.05. Sent the Globe Democrat 31 c. The Post dispatch 20. Stamps 10c. Since the rain of yesterday evening the air is much cooler. Eva had a fire in the cook stove this evening. I was late in getting to eat my supper. The Republicans elected every candidate in Crawfordsville yesterday. They lost in some places and gained in others. Sent Perle Petty and Carie Harrow one each of our school catalogues. Bob Moore survives to this date and it don't now has not seemed like he could live an hour for several days.
Thursday May 8 -- $2.10. Eva was up town and bought her two pair of stockings for 30c. I paid 40c for 2 lbs of steak, 75 for 5 pounds of breakfast bacon. 25c express on package of laundry work for Gosnell's Laundry in Crawfordsville, Ind. Eva and I are contemplating a trip to Ladoga next Sunday and from there home with her brother Anderson McMains. Returning via Carpentersville and take dinner with Uncle Kiah Evan's family. The weather is quite cool. Early this morning the dew on the grass closely resembled a frost. Bob Moore died a little after 9 p.m.
Friday May 9 -- $1.50. Paid 25 c for 1 pint of castor oil for applying to the spindles. It is best for use as a lubricant. John McMains held the harden plow while I acted the horse by pulling it and we plowed the garden in a hurrah. John done some other work about the premises. Paid him one dollar. Have paid the rent on the week before the last $1.25. Bob Moore's funeral will be held at 2 o'clock tomorrow. Jack Ashley will preach it. The body will be burried in Old Union Cemetery. The day has been cool. Eva had a fire in the south room west side of the house. Mary Alfrey will stay over night with us. Jim is out to the farm.
Saturday May 10 -- $4.95. Paid 55c for fresh fish. 10c for 2 sanwiches. Yesterday, was Willie Pratt's birthday, had he lived would have been 29 years old was born May 9, 1873. I shaved the corps of Bob Moore. The body was burried in "Old Union Cemetery" this afternoon. His death was God's blessing. He wanted to die several weeks ago and has been anxious to go ever since. He remarked to Eva one day that if he could, he would laugh when dying. I was done work by half past 10 p.m. John McMains took Bob and the buggy and went to Irve Fullenwiders and got a bag of corn. I will have to go home in the rain.
Sunday May 11 - Eva and I got started for Ladoga by nine o'clock on the account of the rain last night we were undecided until a late hour. We went via Browns Valley and had a muddy drive for several miles. Arrived at the Tabernackle in time for the morning sermon which was preached by Wilson the evangelist who held a meeting there last Summer. The building is 40 x 80 substancially constructed and will seat a thousand people. It is for summer use by raising doors on the out line it is open for free circulation of air from any quarter. Total cost is $1,096.
Monday May 12 -- $1.45. 14 years and 7 months ago my precious little lady died in Terre Haute In at 2:40 a.m. Paid 50c to a young man who claimed to have left with me 6 collars for the laundry. I could find no trace for them. We left Anderson McMain's at 9 o'clock at arrived at Uncle Hesekiah Evan's at 11:15. We took dinner with Uncle Kiah - his wife Hannah is my father's half sister. We arrived at home by 5 o'clock this p.m. Yesterday we ate dinner with Anderson McMain's folks in the Tabernacle and after the three o'clock service we went home with them. They have a real nice home, a farm of 200 acres and pay a rent of $500 for the first year and then $600 a year for two more years. We found "Bob" out in the public highway this a.m. Had he gone home and left us, we would have been in the "soup."
Tuesday May 13 - Little Willie Pratt was buried this date in 1894. Eliza in 1887. $24.00 Pension . Paid 15c for collection $1.30. Paid 25c for 1 ¼ lbs of beef steak, 25c for 1 1/3 lbs of lard. Henry Alfrey and wife of Crawfordsville were at Jim Alfrey's last Sunday. Henry has arrangements with Jim to go down into the Missouri and locate a heading factory or a location for one, and to superintend the erection of the plant. He will be gone two or three weeks. Bro. Moorman pastor of the Christian Church will be married the 28 of this month. He has an appointment to preach here the first service in June. The weather is rather cool for the time of year. There was a very light rain fall this afternoon, not enough to drip from roof.
Wednesday May 14 -- $2.90. Bought of Mrs. James Dulin a can of yard gross weight 54 pounds at 12 1/2c per pound. Sent the Curtis Publishing Co. of Philadelphia, Pa $1 for 3 copies of Saturday Evening Post and to the Cincinnati News Co $2. Jim Goslin was in town today. His wife has order to pack everything she can, ready for shipping. Bob McMains, wife and daughter Hellen were at Alfrey's today. They are at Kelso's last night and tonight. The weather is so cool that Eva has a fire in the dining room stove. I went home at 9 o'clock p.m.
Thursday May 15 -- $2.60. Paid Charley Patton 65c on feed bill for Bob and the cow. Dr. Thomas Z. Ball returned from the Phillipine Islands today. He left here April 23, 1890. He looks to be well and robust. For several days past the daily papers have been telling us of an awful calamity visited upon the Island of Martinque in West Indiana Archipelago by the eruption of a volcano nearly 40,000 souls perished in 10 minutes, the city of St. Pierrie is no more, 16 vessels in the harbor could not get out of the way of the rain of fire. Not a thing living on the Island of St. Vincent was spared 1,600 souls perished. No shrub or any green thing that did not perish, US contributed $500,000 to the relief of the sufferers where ever found.
Friday, May 16 -- $1.60. Dr. TZ Ball gave me 2 papers he brought home from Manila, PI one is The Manila Times of Oct 17, 1901, the other The Manila American of Oct 24, 1901. The Times is printed morning and evening. Either edition cost per month $1 in gold or two in Mexican Silver. $10 per year gold or $20 in Mexican silver. They have free silver as a standard money. I pulled the plow while John McMains held it and we plowed the garden. Evan had planted tomato seed that neither of us knew anything about, we plowed 'em up. Weather getting warm fast.
Saturday May 17 -- $5. Yesterday I bought a pair of No. 1 Brown & Sharp Bresent hair clippers for 42.50. Eva and her sister Mary were up town tonight. I gave Eva 70c with which to buy beef for tomorrows use. She used a part of it for ice cream. Jim Alfrey left on the 10:04 a.m. train for Memphis, Tenn. He expects to be done nearly 3 weeks. His cousin Henry Alfrey pays him for his time, Charles Sutton helped me a while today. I was done work before 11 o'clock but did not get started home until after half past 11.
Sunday May 18 - I put Bob to the buggy this morning and took Eva as far as her meeting house and then went to mine. I got a little sleepy before the sermon was ended. Visited Willie's grave before going in the church house. I made a visit to his grave Monday, Tuesday and Wednesday of last week. T he grave is covered with myrtle in bloom. This afternoon we went down to Irve Fullenwiders. Ruby Goslin was with us. Eva took a cake she had baked yesterday. We all had Ice cream and cake - all we wanted. Tonight I went with Eva to her church. It was Ashley's last night under present arrangement.
Monday May 19 -- $5.25. Paid 25c for beef steak 1 ¼ lbs. Visited the grave of poor little Willie this morning. This afternoon we were blessed with a good gentle rain fall. Charley Ellis of Rossville, Illinois is in town at Mrs. Alfrey's tonight. Mrs. James Goslin has everything pertaining to household goods packed for shipment to Crawfordsville. She and her two children, Opal and Ruby are to stay at our house tonight. I am invited by the Knights of Pythias Lodge to be present in the Lodge room the 23rd to a reception to be given to Lt. Thomas Z. Ball, lately returned from the Islands.
Tuesday May 20 -- $1.45. Paid 25c for a pound can of Chapman Baking powder. 30c for a beef roast at 8 ½ c per pound 10c for a small vial of Extract of Vanila. Today the Republic of Cuba commenced to make history. The United States have no more control about 800 Artilerymen of our army will continue in the Forts for awhile, until they can train soldiers to fill the places. We had 7 good showers of rain today. Week before last I paid $4.40 for 40 gal of gasoline and yesterday 43.30 for 30 gals of gasoline. Paid rent for week before last $1.25. Charley Ellis dined with us today.
Wednesday May 21 -- $1.90. Paid 40c repairs on the buggy. We had another delightful shower of rain this forenoon. The weather is real warm. Mercury was close to 90 above zero. Farmers delayed plowing their corn on the account of to much rain. Received a good letter from Miss Harrow of Ottumwa, Iowa. Her school will close the 20th of June. It will also complete her 19th year as teacher in the public schools of the county and city. This is a splendid record. God bless her in all her undertakings. She would not for the world do anything to debase her good name. She is fearful that Bro. Will is about done with life in this world. His health is at a low ebb and getting no better. I wish I could see him once more.
Thursday May 22 -- $1.10. Paid 75c a bushel of very poor corn. It is the best I could do. We had a real light shower this evening. Jim Alfrey writes that cotton plants are about 6" high, corn about a foot high and wheat is turning yellow and in a couple of weeks, I suppose will do to harvest. He was when he wrote 50 miles from Jonesborough and 12 miles from the Mississippi river. Mercury was up to the 90 mark this afternoon. I noticed a bank of clouds in the far south and lightning was to be seen.
Friday May 23 -- $2.90. Paid 25c for green beans. 25c for a pineapple 16c for 16 large cucumber pickles 5c for pound of soda (?). Sent the Indianapolis News yesterday $12.37 - fee 12c including a 2c stamp. John Gilliland took the household goods of Jim Goslin to Crawfordsville this morning. Mrs. Goslin and her two girls, Opal and Ruby are at Wm. Meeks in the little town of Browns Valley 3 ½ miles from here on the road to Crawfordsville. Oh my! What a beautiful downpour of rain we had this morning at about 5 o'clock.
Saturday May 24 -- $5.05. Paid $1.25 for last week's rent, .25 for cheese 45 for a peck of new potatoes, 25c for the trimming of Evas street hat. We had a real goose drowner this afternoon. Three inches of water fell, farmers have to stop the cultivation of their land now. By Tuesday if no more rain falls, business will commence. The Junior Epworth (?) League gave a variety supper tonight. I did intend to eat with them but was detailed until all the edibles were consumed. I was done work by half past 10. Received 44 copies of the Indianapolis News, all were sold. Repairs on the buggy the first of the week 40c.
Sunday May 25 -- $2.55. Paid $3.30 for 30 gal of gasoline. 25c for 2 quart strawberries 50c for a hen and her brood. Eva and her brother John went over to Kelso's after them this evening. I notice that I have made a mistake as to date. After the meeting we drove down home and attended to the young chicken and supplied the cow with water, then drove out to Mrs. Russell's for dinner and stayed too late for church tonight. The girls and I were interested in the process of development of the locust or cicada from the grub. Pleasant today.
Monday May 26 - This morning (Sunday) I put Bob to the buggy and we drove up to the Baptist Church and heard the memorial sermon by Rev. JC Riley. He had a good house and delivered a good address from the test(iment), "Therefore, endure hardship as a good soldier." It was St. Pauls advice to Timothy. (Monday) We have had a rather cool day as compared to yesterday and Saturday. Just a very little rain fell this afternoon. Ed Casad and Grace English were married yesterday. They took up their abode in one of Mrs. Mary Belton's rooms. Neither I don't think are yet over 20 years old.
Tuesday May 27 -- $.85. Paid 25c for beef steak 1 ¼ lbs 20c for 2 qt boxes of real fine strawberries. 5c for stamps, sent a small packet of pictures to Miss C.M. Harrow. Mercury was 40 above zero at sunup this a.m. I have had fire in my soap stove nearly all day. It was uncomfortable in the room without fire. Bob McMains is at our house tonight. Prospect is good for a frost tonight. John R. Canine has bought of Charles Milligan a beautiful Rubber tire Phaeton. Price $150 less the rebate. Last night I was too cold all night to sleep good and was restless all night. This a.m. at 1 o'clock Simeon Clore was found dead sitting on the side of his bed. He was in his 82nd year.
Wednesday May 28 -- $1.10. Paid 20c for ham sausage, 50c for a 2 ¼ lb bag of flour, "Kirk's Cyclone Patent," is the brand by which it is known. Rec'd a letter from my brother Ed of South Ottumwa, Iowa. Bro. James was in the city last Monday evening and he reported our mother was worse than she was on the Sunday (18) that he and sister Mag were there. She is unable to retain food and can't possibly live but a few days. Bro. William bought his burial suit last week. He wants to die at home and not over in the city.
Thursday May 29 -- $1.25. Sent the Laundry 2.15. 5c for bread 10c for one ounce of Listerine for Eva to use on her gums. Eva and Mrs. Mary Belton were over at Kelso's this afternoon. John McMains and I plowed the potato patch. The weather has warmed up considerable. Buddy Kelso reports that frost was plain to be seen on yesterday morning. I was not out of bed in time to see it. Simeon Clore was buried today. His funeral was at the late residence. Largely attended 81 years old.
Friday May 30 -- $1.55. Four years ago Lloyd McMains committed suicide. This morning I was kept so busy at my work that I could not find the time to attend the decoration address by Rev. Gibson nor to march with the boys to the different cemeteries. This afternoon I went out to Freedom Church cemetery with SW McCormick. Four composed the number. We decorated 9 graves, I stuck the flags in the ground. Miss Cora Moody died at 10:30 this a.m. of consumption. She lived in town.
Saturday May 31 -- $6.55. Milton Laughlin assisted me today in time to light the lamps. Paid 25c to Ed Cuppy his dinner. 30c for a beef ptale? Roast at the rate of __ per pound. Sam McMains was over here yesterday and took the noon meal with Eva. Eva and her sister Mary went out to John Alfreys this p.m. have out to the farm. I was done work by ? p.m. Have had not a bite of food since dinner.