DIARY OF HIRAM A. PRATT, Waveland Barber
Standard Diary #31 - AUGUST 1884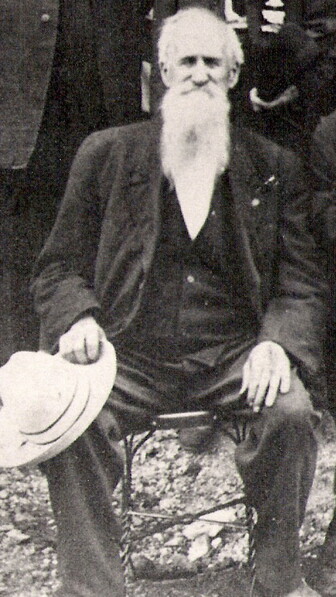 Note: These diaries were in the Waveland Public Library for decades but were disposed of by a librarian several decades ago. Luckily, another librarian's daughter (thanks sooo much Pam, at the death of her mother, Virginia Banta Sharpe found them in some belongings and gave them back for proper housing. A complete circle. I'm a librarian too and thought since they'd been lost to posterity for so many years that it would be a good thing to transcribe them and give them to the world. They are currently housed in proper temperature/storage at the Crawfordsville District Public Library - typed as they were written
Note 2 : Karen Bazzani Zach (transcriber) was raised in the big 'ol town (500 people) where HA Pratt lived 5 decades before I was born. I remember the building where his little shop was and wish it was still there. What an interesting little place. ALAS! Progress !
Note 3: Some information about Pratt -- he was born in Parke County, Indiana April 20, 1840 the oldest child of eight born to Erastus & Elizabeth Allen Pratt and died October 12, 1914 in his beloved Waveland, Indiana. He was twice married, first to the love of his life (he kept a life-sized poster of her in one of his cabinets at his barber shop, even long after his second marriage) Eliza Franklin Shaw (born Oct 23, 1841 died Oct 12, 1887), and #2 to his friend, Evaline "Eva" McMains. He was very active in the community where he and Eliza chose to live. He gave generously of his time and money to the Methodist Church in Waveland. For a few years, he served as Marshall of the town. Also, he worked diligently for his Odd Fellows, Rebekah & Knights of Phythias Lodges, was for a time on the town board, and read to those who could not read from the several newspapers he was agent for. Pratt volunteered and served for three years during the Civil War (Co. B, 36th Infantry), and spent time in the dreaded Andersonville prison. He and Eliza adopted a son, Willie Franklin Stump, age two (not sure ever officially or just had permission to take him from the Poor House in Crawfordsville) and he was an amazing young boy (high grades, worked in the church, quite musicially inclined, just an ideal child) until Eliza was taken to the hospital where she was operated on for six cervical tumors (one weighing six pounds) from which she died. Willie went wild after that and he and Hiram's second wife, Eva never got along. He ended-up in Reform School (for stealing a dollar twice from Eva among other small crimes), and later sent home to die due to consumption (what we know as tuberculosis) dying in Hiram's arms on April 12, in 1894. Hiram missed Willie and Eliza more than most I do believe as he wrote about them so often in these diaries. Just wish the rest of Pratt's diaries he wrote for over 50 years as a barber in Waveland still existed :( kbz
---
Friday Aug 1
- $4.00 - Dried apples .50; Prunes .25; 1 lbs package coffee.20. Express charges .60 Coperas .5 Mentholine .25. Neck tie for Willie.15 cts. Lula Byerly returned this evening from Iowa to Albia. I have a suit of cloths under way at the tailor shop.
Saturday, Aug 2 -- $7.85. Paid 90 cts freight on sewing machine. .25 cts for ice cream. .30 cts for headache medicine. We were done work tonight by 10 ½ o'clock. The day has not been very good for business.
Sunday Aug 3 -- I attended church today and heard Rev. Samuel Beck of Terre Haute preach a good sermon about coming out on the Lord's side. The two Willies and Ida Hauger were out to church too.
Monday Aug 4 -- $5.15. Crash for toweling for home use 90 cts. Lard .40. Meal .40 Daily Enquirer 3.45. Eliza and Ida did the weeks washing this a.m. The Enquirers due last Saturday did not get in until today. Weather cool.
Tuesday Aug 5 -- $2.50. Paid Lewis $4. Two of it but find (?) 2. Paid .05 for one half yeard (sic) mustin (sic) for the purpose of practicing sewing with. I received 10 papers from Buffalo NY giving an account of Grover Cleveland's immoral life in Buffalo; he is a bad one. Mutton .25 cts
Wednesday Aug 6 -- $36.45. Paid Hauger $3. Charlie McCully paid me for a sewing machine. Paid 45 for meat .50 cts for a water mellon (sic) and .25 cts for a fan which my wife gave to Ida Hauger. She went home this evening. I and Willie were out at Gill Blake's to see about a sewing machine.
Thursday Aug 7 -- $1.60. Paid Lewis $1. I have now paid him 10 dollars, one half pint leamon (sic) extract 50. 1 sack flour .75. Sent the Sentinel Co. $6.75. The weather has been autumnal in appearance. I was real sick last night.
Friday Aug 8 -- $13.20. Paid $1 for 12 # of sugar. I have had symptoms of ague for the last two or three days but today I have felt a little better. Have done some printing for a church festival.
Saturday Aug 9 -- $12.40. Meat .25 a water mellen (sic) .30. Eliza and little Willie attended the ice cream festival at the Methodist Church tonight .30 cts for tickets. We were done work by half past ten.
Sunday Aug 10 - I attended class this morning which was lead by Br. AJ Wolfe. 5 male members constituted the assembly. The meeting was lacking in interest. Sunday school at 2 ½ p.m. To bed at 7 ½.
Monday Aug 11 -- $7.95. Paid rent for last month $3.50. Paid 2.47 for 22 ½ lbs of lard and 90 cts for a bottle of cough medicine for my self. Paid $5.25 on 20 yr in Congress by Jas. S. Blaine Iowa 4.25 on the next vol.
Tuesday Aug 12 -- $5.30. The weather has been real warm. I paid 20 cts for medicine for wife. Apples .25 Cabbage .10 I have concluded to start for Ottumwa, Iowa the 20 of this month to be away 3 weeks.
Wednesday Aug 13 -- $11.55. I took a sewing machine over to Lewis Reynolds. They were not at home. I put it in the house the door not being locked. Penn Hanna and I will go west together as far as St. Louis - he goes to Kansas.
Thursday Aug 14 -- $4.38. I sent to John C. New & Son $17.25. Paid 10 cts for a head of cabbage 1.25 for 7 gals gasoline - 5 cts for nails a pair of shoes for myself 3.50. The day has been real warm. Willie Hauger is painting our barn.
Friday Aug 15 -- $17.95. Paid Frank Kritz for 42 hun. wt [In U.S. customary units, a hundredweight ('short') is defined as 100 pounds and is normally abbreviated 'cwt.'- Jeff Scism] of hay 16.50. For chicken feed since last report 5.80. I sold a sewing machine today to Mr. Lewis Reynolds for 30 dol. Take 15 of it in corn this fall at Market price.
Saturday Aug 16 -- $40.90. Wife paid 20 cts to Sacred concert at the Methodist Church. 12 yds of calico .85. Our Willie took part in the concert. He can sing and play well for one of his age. We were done work by 10 o'clock.
Sunday Aug 17 - We attended church this morning and heard our preacher's last sermon for this conference year. He talked to the children tonight. We did not go. Willie and I attended class and Sunday school at 2 ½ p.m.
Monday Aug 18 -- $9.40. Paid 70 cts for a sack of flour. 50 cts for meat. 3.50 for Missionary cause. 10 dollars to Scott. Willie and I took a buggy ride of 2 hours. I sold a machine to Israel Wilkinson to be paid for next March.
Tuesday Aug 19 -- $10.30 - sugar $1. IOOF 1.60. AOUW $3. AOUW Recorder .50 Repairs on gasoline oven .20 NY Sun .95. The weather has been extremely warm today. The ground is getting verry (sic) dry. I have my arrangements to start to Iowa tomorrow evening.
Wednesday Aug 20 -- $60.25. Paid $10 for a ticket to Ottumwa Iowa. Crowder for printers stock $4.50. Broom .45. Water mellon .25. $2.75 for repairs shoes $3 for chair rebottomed 5 of them. Sam Milligan $2 rent. I left $20 with my little woman. Left at 6:15 p.m.
Thursday Aug 21 -- $1.05 - Penn Hanna paid me yesterday evening. Left Terre Haute this morning at 2:17. Had a good rain before leaving Penn and I separated at Moberly, MO. We crossed the Mississippi on the big bridge. Arrived at Ottumwa at 10:20 p.m.
Friday Aug 22 - I called at Ben Pratt's last night, he was not in. Met with Meg, my brother Bill's wife. She said all the beds were full and said for me to go to the Hotel. I did so and went to bed, but was soon aroused by brother Ben, he paid my hotel fare and had me go back home with him. He and I slept in Al's room. All well.
Saturday Aug 23 - Yesterday I spent the entire day at the fair ground. Bro. Ben had a lunch stand there. Met with my father. He did not know me, met with several of my comrades of the army. Have had a real nice time. Went out home with brother Will. He is a brick maker by trade.
Sunday Aug 24 - We left for Blakesburg at 6:45 arrived at 10:30. Found all well. Mother and sister Eliza are well and glad to see me. Bill and Ben with their families were here for dinner. Ben took father, mother and I out riding. Saw Aunt Ellen Cooper and her daughter, Mussey and Mary Reading.
Monday Aug 25 - I called at Mary Readings seen her son George, daughter Effie and husband called at Thomas Fowlers seen his wife "Aunt Polly" we used to call her. Seen Mrs. Wilson at her home and at Fowlers called at Virginia Verden's her mom is dead her sister Julia was there. Mrs. Fritz died this evening was at the deer lick.
Tuesday Aug 26 - Since leaving Waveland, I have spent 95 cts. This afternoon father, mother and I ate supper at Charlie Readings. I met with Fletch Blake, Jake West, Sam Finney and Albert VanCleave and two of his granddaughters, children of Lin and Sal, they are nice looking young ladies aged 18. Nancy Barber talken ?
Wednesday Aug 27 - We attended the funeral of Mrs. Fritz this forenoon. There was a large assembly. Handwritten but marked out is this - Father, mother and I eat supper at Charley Readmas. Met with Jake West a comrade of Co. B 36 Iowa Fletcher Blake and Sam Finney, have spent the day very pleasant. Written above this is - I went out home with Zep Barnes his wife was a Scool (sic) mate and an old acquaintance of mine. I rec'd a letter from my wife this evening. Big rain tonight.
Thursday, Aug 28 - This morning Ben Chrisman and wife came by and took me and Jake Osweld over to Nelson Derby's. Here we met with Ben Abegg and wife. John Baless and wife, Cal Smith and wife. These men were all comrades of Co. B 36 Iowa Reg. Derby, Christman, Smith and I were made prisoners at the battle of Mark's Mill in Ark. April 25, 1864 and confined at camp Fort Tyler Tex 9 mos. Charley Reading another comrade was with us from noon until night. We have had a very pleasant time together. I went over home with Abegg and will stay overnight. He has 7 children, 6 girls.
Friday Aug 29 - My mother and I took dinner with my Aunt Rhoda. Before we left Nett Derbys this morning we took a walk out on the farm when on top of the straw stack we could see for a great many miles in all directions. We walked over to Calvin Smiths was in his house a few minutes. I called in at John Belles' on the way home.
Saturday Aug 30 - Mother and I took dinner at Jep Barnes' he married Mursey Cooper, Ell Coopers oldest daughter. Murray has a girl named Zettie who is 16 years old and is larger than her mother. We ate supper with Ell Cooper and got home after dark.
Sunday Aug 31 - Father and I took a big walk this morning went out to Joe Johnson a mile west of town. Went with sister Eliza to Sunday school at 3 p.m. did not remain. Went over to Mrs. Fowler's. Her youngest daughter Mag Greene was at home. I had not seen her for 20 years. Called to see Si VanCleave and John Toben and last at Charley Readings. Mrs. Reading gave me her daughters Effie's picture. She is a sweet little maiden. Should she ever live to be a married woman, she deserves the best of man. The lord bless her. Tonight I went with Father, mother and sister to church. Shook hands with lots of friends.