DECEMBER 1885 - Diary of Hiram Austin Pratt
Waveland Barber 50+ Years; CW Soldier + More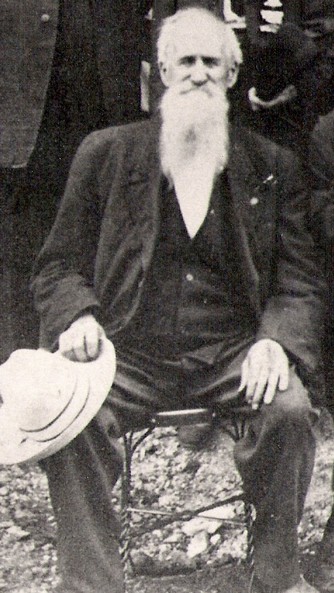 Note: These diaries were in the Waveland Public Library for decades but were disposed of by a librarian several decades ago. Luckily, another librarian's daughter (thanks sooo much Pam, at the death of her mother, Virginia Banta Sharpe found them in some belongings and gave them back for proper housing. A complete circle. I'm a librarian too and thought since they'd been lost to posterity for so many years that it would be a good thing to transcribe them and give them to the world. They are currently housed in proper temperature/storage at the Crawfordsville District Public Library - typed as they were written
Note 2 : Karen Bazzani Zach (transcriber) was raised in the big 'ol town (500 people) where HA Pratt lived 5 decades before I was born. I remember the building where his little shop was and wish it was still there. What an interesting little place. ALAS! Progress !
Note 3: Some information about Pratt -- he was born in Parke County, Indiana April 20, 1840 the oldest child of eight born to Erastus & Elizabeth Allen Pratt and died October 12, 1914 in his beloved Waveland, Indiana. He was twice married, first to the love of his life (he kept a life-sized poster of her in one of his cabinets at his barber shop, even long after his second marriage) Eliza Franklin Shaw (born Oct 23, 1841 died Oct 12, 1887), and #2 to his friend, Evaline "Eva" McMains. He was very active in the community where he and Eliza chose to live. He gave generously of his time and money to the Methodist Church in Waveland. For a few years, he served as Marshall of the town. Also, he worked diligently for his Odd Fellows, Rebekah & Knights of Phythias Lodges, was for a time on the town board, and read to those who could not read from the several newspapers he was agent for. Pratt volunteered and served for three years during the Civil War (Co. B, 36th Infantry), and spent time in the dreaded Andersonville prison. He and Eliza adopted a son, Willie Franklin Stump, age two (not sure ever officially or just had permission to take him from the Poor House in Crawfordsville) and he was an amazing young boy (high grades, worked in the church, quite musicially inclined, just an ideal child) until Eliza was taken to the hospital where she was operated on for six cervical tumors (one weighing six pounds) from which she died. Willie went wild after that and he and Hiram's second wife, Eva never got along. He ended-up in Reform School (for stealing a dollar twice from Eva among other small crimes), and later sent home to die due to consumption (what we know as tuberculosis) dying in Hiram's arms on April 12, in 1894. Hiram missed Willie and Eliza more than most I do believe as he wrote about them so often in these diaries. Just wish the rest of Pratt's diaries he wrote for over 50 years as a barber in Waveland still existed :( kbz
---
Tuesday Dec 1 - $5.40. 1 gal of coal oil 25 cts. Hominy 8 lbs 15 cts. Peppermint Lozengers(sic) 20 cts. Stamps 55 cts. TA Hendricks, VP was buried today at Indianapolis. We have had nice weather today. There will be an end to it befor (sic) many days.
Wednesday Dec 2-- $10. Paid rent for last month 2. The weather continues fine. I rented a sewing machine to Mrs. John Spruhan for 25 cts per week. Wife is seeling butter and milk at the rate of 1.50 per week.
Thursday Dec 3 -- $1.80. Bought Mince meat 8 pounds 50 cts. The weather is compliante (sic) so far as temperature is concerned. The lecture or rather entertainment given last night at the Methodist Church for the benefit of the church by JW Riley was a success in every particular.
Friday Dec 4 -- $3.45. The ingredient for our mince meat cost $1.45. We have a radical change in the temperature since 2 p.m. Freezing cold, wind high and snowing. I attended GAR Encampment after 8 p.m. was elected quartermaster.
Saturday Dec 5 -- $12.40. One gal of Sorghum molasses 50. Sent Gazette Co 2.25. National Tribune .90 The weather has been considerably like winter today. Paid 50 cts for beef. 25 cts for a broom American News Co 2.
Sunday Dec 6 - I attended church this morning. Willie and I were at Sunday school at 2 ½ p.m. at night the family attended church tonight. The weather was very cold. C onsequently the congregation was slim
Monday Dec 7-- $3.40. Paid 25 cts for 6 bars of soap. CA Milligan, Br & Co have opened out their new cash store. There is signs of rain or snow as the weather has turned warmer and the clouds are thickening up.
Tuesday Dec 8 -- $2.10 - Bought 53 yds of Lonsdale Muslin at 8 cts per yd -$4.24. Stamps 6 cts. 2 shirt fronts 40 cts. There has been a rain falling all day. The ground is covered with ice. I paid 25 cts for ice slaws which were padded (?) securely under the boathed I could not ship.
Wednesday Dec 9 -- $1.35 Bought 4 shirt fronts 80 cts candy 10 cts. Beef 55 cts. The ice is all off. More rain. Congress convened Monday -President message out today. Vanderbilt WH died late yesterday evening in NY. He was worth $200,000,000.
Thursday Dec 10 - $2.70. Boot price .35 Repairs on Willies boots 50 cts. One paper of needles 10 cts. 6 spools of thread for 25 cts. Americas News Co $6.05. yesterday I sent the Gazette Co of Terre Haute 1.32 Times Co 1.05. Sentinel 1.61. Weather is turning cold fast.
Friday Dec 11 -- $2.00 Paid 15 cts for a gal of coal oil. The cheapest I ever bought. One bush of meal 30.4 The weather is cold and dry. There is a very light snow. One pint of Campho 60 cts. I have a small job of printing for the post office.
Saturday Dec 12 -- $10. We have had a pretty even days work. Weather was cold at night a snow was falling. The Cincinnati papers failed to get in tonight. I was at home by nine and a half o'clock. My wife complains of a hurting all over her person.
Sunday Dec 13 - This afternoon Willie and I attended Sunday school. I remained for class meeting, there was but barely a half dozen who remained at night. We attended Camolite meeting. Elder Plunket their preacher is holding a protracted meeting.
Monday Dec 14 -- $4.60. Paid 1 dollar for a bushel of nice eating apples. $1 for 10 pounds of sausage $1.25 for cow feed. Yesterday snow fell nearly all day, also more snow last night. The day has been clear but cold, snow melted a little on the tops of houses.
Tuesday Dec 15 -- $3.45. Sent 95 cts to washing DC for Tribune for SD Sutton, paid 50 cts for candy. The weather has been quite pleasing and considering we have 3" of snow. Charley Roberts is again in jail. He broke jail one year ago last March at Rockville.
Wednesday Dec 16 -- $5.85. Sent for Youths Companion 1.25 for Wallace Conner. National Trib 95 cts for SD Sutton. The weather is not so cold as the first of the week. The prof of our High School gave a. revolver which he said our boy had at school. I did not know that he had one.
Thursday Dec 17 -- $4.60. Sent John C. New & Son $13. Paid 25 cts for a gal of coal oil. Willie says that Johnie (sic) Hamm gave him the revolver to fire, and he done it. The pistol he said was not his but Hamm's. I gave the pistol to Mr. Ham. There is a mystery about this yet to be solved.
Friday Dec 18 -- $4.80. Freight on Electric burners 1.30. Sent American News Co day before yesterday 6.55. Willie has finally confessed that he took the money 25 cts from his Ma's pocket book and bought the revolver of Billy Moore. Billy M. had told me that he had sold it to our boy.
Saturday Dec 19 -- $10.90. Willie confessed this morning and not last night or yesterday. I made a mistake in writing it for yesterday. Last night he denied it in the most positive terms. He asks to be forgiven and is again on probation. Coal oil 30 cts. We were done by 10 o'clock.
Sunday Dec 20 - We attended church at 10 ½ a.m. Willie and I attended Sunday sc at 2 ½ . I remained for class meeting. Tonight we attend church again and were home and in bed by 8 ½. The weather has fared up and is real nice.
Monday Dec 21 -- $4.55. Sent the Hectograph Manufacturing Co of NY $9-10. The lamps give the best of satisfaction. All sold except two. Coffee 15 cts. Coal oil 30. Suspenders for Willie 22. Skate straps 30 cts. To Messa Woodgate for helping wife wash .25
Tuesday Dec 22 -- $5.70. $3 to AOUW. This is for insurance on $2,000 for the benefit of wife. I pay on 2,000 for her for my benefit. I have subscribed for #5 shares in the 2nd series of Building & Loan Association. Rain weather turning bad.
Wednesday Dec 23 -- $1.80. The American News Co. 5.07. To James Elverson of Philadelphia $4.33. I have ordered another doz of those Burnes for lamps. The weather has fare dup and is real nice. Gen Grant's "Personal Memoirs" First Vol. 3.50. One gal pickles 50 cts.
Thursday Dec 24 - $7.40. Sent THB McC of the Crawfordsville Journal $5. Wife and Willie paid 25 cts for admission to the entertainment at the Christian Church for the benefit of their S School. There is no snow on the ground, though a very little was seen falling this afternoon. Fine winter weather.
Friday Dec 25 -- $3.50. T ea 25 cts. Coffee 45. Coal oil .20 The bad bys done considerable mischief last night just because it was Christmas eve. Bells were rung for nearly 2 hours. There was but little business today.
Saturday Dec 26 -- $10.60. We have had a fair days run - Charley Kritz helped until after 8 o'clock when he got sick and turned his part of the work over to his brother Frank. Sent the Enquirer Co $2.50. BF Avery & Son for Southern Ribrance ? 15 cts. Stamps 10 cts.
Sunday Dec 27 - Billy Hauger came in Friday evening from Newman, Ill and will stay over to Monday morning. Willie and I attended Sunday school at 2 ½ p..m I remained over for class meeting. Only one lady present. Nice weather.
Monday Dec 28 -- $5.40. Sent by Charley Kritz to McCain for paper 50 cts. To the Star for paper for Hodgkins 1.25. One gal of oil 15 cts. Oysters and crackers which we used yesterday 40 cts. Soap 50 cts. Writing paper 40 cts. The weather is threatening.
Tuesday Dec 29 -- $1.80 One gal of oil .15 30 cts for Entertainment at the Presbyterian Church. Wife and Willie went. I had work to do which kept me until too late. The weather is damp and threatening rain or snow. Ed Davis has bought out Thornton in the barber's business.
Wednesday Dec 30 - $6.80. Beef 30 cst. Paid Glover & Sons 1.50. 25 cts Express on 50 cts worth of cut paper. A few days ago I rec'd a letter from a little lady friend at Knoxville, Iowa. She is past 12 years. Her name is Lottie Hollingsworth. I have sent her "Golden days" for one year.
Thursday Dec 31 -- $24.65. Paid $1.50 for 19 pounds of sugar. I now came to the close of the year. I always feel sad at the expiration of an old year. What there is in store for me in the year to come, The Lord only knows. Sent $5 to Terre Haute for coffee.
Total Receipts of Hiram Pratt's for 1885